Regular Price: $249.99 USD
Special Price $62.99 USD
Overview
The natural choice for installers and contractors and those who demand ultimate peace of mind, Defender® PRO can protect you or your client's investment and keep your building safe and crime-free. This system includes a 1TB HDD to provide up to 4 years of recording and this system offers the hassle-free installation and functionality you expect from Defender. In addition to its good looks, PRO systems are ideal for protecting a wide range of outdoor applications and larger locations including building perimeters and parking lots. ClearVu Digital Wireless Technology
No more port-forwarding or waiting for software to network your system for you. Simply download the ClearVu® app, scan the QR code and begin monitoring remotely in seconds. 1TB Delivers four years of memory
The included 1 TB HDD allows for continuous monitoring and can store over four years' worth of recorded footage. Maximize available memory with motion activated recording and H.264 compression technology. DVR alerts will activate to notify user when HDD is full. Back up and transfer footage to USB flash drive or external hard drive via USB port. Multiple viewing options to suit your customized needs
Setting up your viewing options for up to 8 cameras gives you the option to customize each area you wish to monitor. Custom name each individual channel so you can easily identify the location of activity. Use the Masking feature to block out a portion of the scene from an individual camera such as a cash register or safe while still seeing the activity around the masked area. Select the Covert feature to protect an entire channel from public or user viewing so only authorized viewers can see the activity in that location. Other viewing options include picture-in-picture, full screen, quad screen, 9 channel view, digital zoom and sequence switching. Each recorded area is complete with time and date stamp so you can search by event and find recorded footage from each area you are monitoring.
DISCLAIMERS

Recording capacity may vary based on recording resolution and quality, lighting conditions and movement in the scene. Based on a 1TB hard drive, using lowest quality settings.

Defender highly recommends the use of an Uninterruptible Power Supply (UPS) with surge protection for all products.

Although the cameras are water resistant they are not waterproof. Cameras are not intended for use in direct exposure to water, rain or snow.

Requires broadband router and broadband Internet connection–not included. Internet Explorer is required.

IR illumination range up to 15ft under ideal conditions. Objects at or beyond this range may be partially or completely obscured, depending on the camera application USB flash drive, CD/DVD writer, and external hard drive not included

Any record times mentioned are based off lowest record settings with one camera connected
Specifications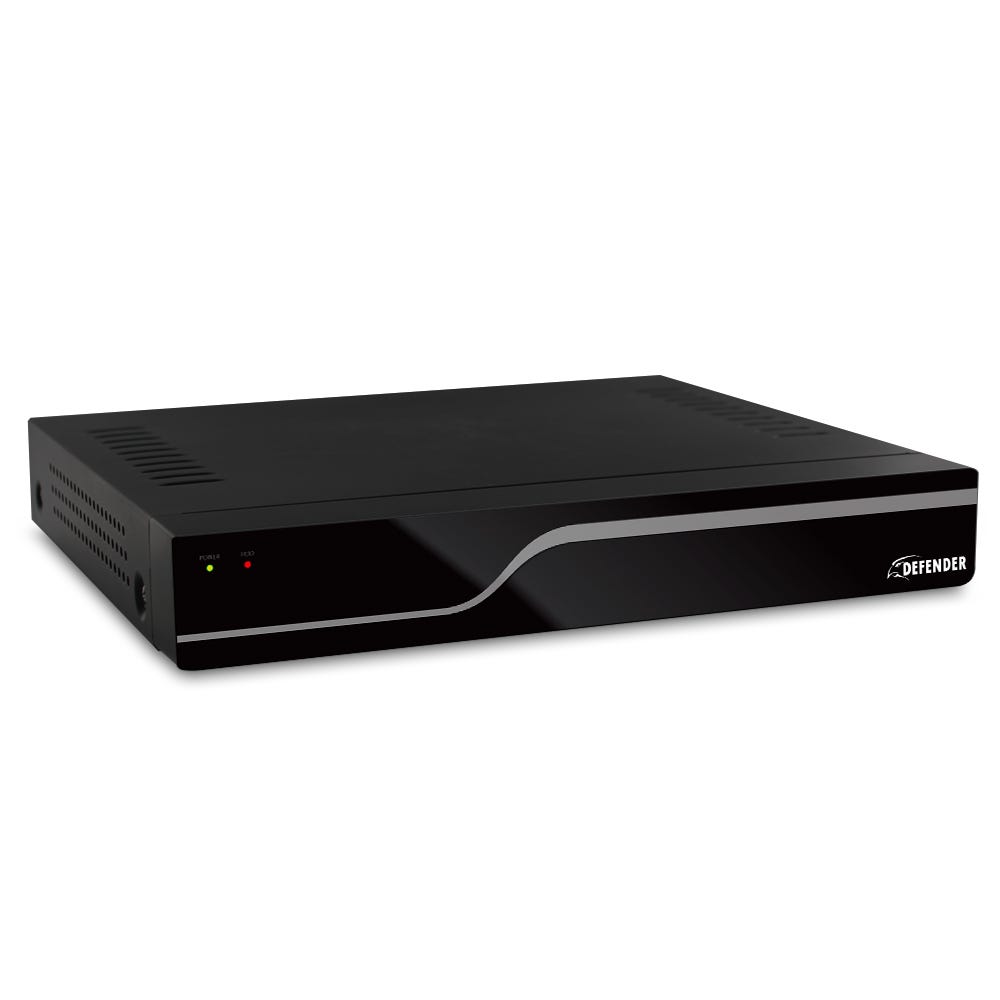 | | |
| --- | --- |
| Functionality | Pentaplex |
| Video Compression | H.264 |
| Audio Compression | G.711 |
| Video Input | 16 x BNC |
| Video Output | 1 x BNC, 1 x VGA |
| Audio Input | 2 x RCA |
| Audio Output | 1 x RCA |
| USB Port | 2 |
| Resolution | 800x600, 1024x768, 1280x1024 |
| Recording Total Frame Rate | NTSC?480 [email protected][email protected] |
| Recording Frame Rate Per Channel | NTSC: 1fps~30fps adjustable        PAL: 1fps~25fps adjustable |
| Recording Resolution | NTSC :  CIF(352 X 240) PAL:  CIF(352 X 288) |
| Recording Modes | Motion Record,  Schedule, Always |
| Pre Recording | Max 10 seconds |
| Recording Media | HDD (Backup via USB) |
| Storage Capacity | Max 2TB |
| HDD Type | SATA 3.5" |
| HDD Size | 2 TB |
| Video Format | NTSC/PAL |
| Video Loss Alarm | Auto Detect Alarm |
| Audio Bitrate | 8 kbps |
| Live Frame Rate | 30 FPS |
| Live Viewing | Full, Quad-view, 9CH, 16CH, SEQ |
| Picture-in-Picture | Yes |
| Network Protocol | TCP/IP, DDNS, DHCP, PPPoE,UDP |
| Network LAN IP | Static, Dynamic |
| Network Connection | 10/100 BaseT Ethernet (RJ-45) |
| Supported Operating Systems | Windows XP, Windows Vista, Windows 7OSX 10.5 or above |
| Browsers | Internet Explorer, Safari |
| Back-up | USB Flash drive, USB HDD & network |
| Play Search Mode | Time/Date, Event list |
| Play Speed | 2x, 4x, 8x, 16x |
| Pan/Tilt/Zoom | RS-485 Pelco D & P |
| OSD Language Display | Multi-Language |
| Time and Date Stamp Display | Yes |
| Password Protection | Yes, Menu Password, Clear HDD Password |
| Operating System | Linux |
| Processor | ARM 9 |
| Disk Full Warning | Yes |
| Automatic Overwrite Option | Yes |
| LED Indicators | Power, HDD |
| Housing | Aluminum |
| Housing Color | Black |
| Power Input | 12V DC 2A |
| Power Consumption | 10W~15W |
| Power Input | 100V 50/60HZ~240 50/60HZ |
| Operating Temperature | 32°F~104°F |
| Operating Humidity | 10%~90% |
| Dimensions | 11 ¾x 8 ½x 2 inches |
| Number of Channels | 16 |
| UPC | 871363024060 |
Customer Reviews
tramoslt1

January 26, 2016

Great very easy to use and setup

tramoslt1

5

Dooman

November 30, 2015

I currently own a garage door business and we install camera systems through another company that cost 10 times what the defender unit cost and we receive the same results with the defender for a fraction of the cost. This unit is awesome and Sarah in cust. service is great.

Dooman

5

DaveP

November 30, 2015

Excellent wireless camera. Very clear and easy to install and set up

DaveP

5

EDWARD

November 30, 2015

I bought this unit hoping that I would get better night vision. The unit did slightly better then the 75ft night vision camera. but did not go the full 100ft.

EDWARD

4

Syfynut78

November 30, 2015

This system, though you can only get it in 1TB or larger now, is overall good. It is not quite as easy to set up as stated, this is because the instructions are hard to read and the CD/DVD is worthless. Once you get past the set-up stage the cameras 75ft night vision is pretty good, and daytime clarity is very good also.

Syfynut78

3

advwarz54

November 30, 2015

i have 8 of these babies and now my wife and i feel so much safer

advwarz54

5

mikbig1

November 30, 2015

Bought two cameras and installed a couple months ago. Decided to order two more. No problem, had them up and running in five minutes. I would definitely recommend this setup. Didn't need support this time but did the first time and support is great.

mikbig1

5

bluewrench

November 30, 2015

Ive purchased several different brands of cameras and these are by far the best execpt the wireless range advertised is not right. I have reciver next to window and it bairly reaches 180 feet. Ive messured. Nothing in way of signal exept a wood wall. My lorex and security man cameras have that beat but the quality of the defender camera, picture, and wide view is by far better than any other even my other brands of wired cameras. Night vision is by far the best but would be nice if it were more spread out rathere than a spot light efect. Night vision is beter than advertised i think it reaches very far but not spread out. Id give it 5 stars if the wireless range was beter. Would be awesome if had a mic and would sound as good as the security man cameras then would be a perfect camera. :-)

bluewrench

5

Carolyn

November 30, 2015

I added cameras to my system with on problem,very easy to configure.

Carolyn

4

jessbff

November 30, 2015

We bought these to add to the DVR camera set that we bought

jessbff

5

Naenae

November 30, 2015

I was given these cameras as a Christmas gift. Good viewing. Range not so good. Had to run wire to connect to a source of eleu, closer to the camera. Further away the wiring from the camera, no signal at all. Also, one camera just refused to work at all. No signal from the camera at all. Overall, I like the cameras and would recommend.

Naenae

4

jvar2992

November 30, 2015

this system is good but not great the picture has no hd witch all wireless systems now have....also my main camera has to be reset every now and then or else the video will freeze ,not good

jvar2992

3

Kenneth

November 30, 2015

Advertising & specifications indicates a wireless range of 1000ft or 750ft or 400ft or 150ft. Seems more like 100ft wireless range. Installed 2 cameras one works off and on the other not at all. The cameras are located within 5 foot of each other looking different directions. The wired system works great, seems like Defender needs to get its act together on wireless. I have already had to tell a friend not to buy the Defender Wireless system.

Kenneth

2

Herb

November 30, 2015

Well I bought the wireless system, however I wish I purchased the wired type of security system. I still had to run electric power to the camera's so I just would have been better off running camera cable. I have four camera's, backyard, 2 on the side and one in front of my home. They are clear and the night vision is good also. My problem is, all my camera's are within 45 ft. of my receiver's and two work as they should but one has a more than normal delay and the last one has a lot more delay and go off quite often from not getting the signal to the receiver. The two that have the delay are just across the garage, at each corner, from the receiver's. If I had purchased the wired system I don't think I would be having this problem. Example of the delay. My wife entering in our home from outside the garage and she is all the way in our home and she still showing on the camera outside.
I'm not happy but I'm stuck with it. I had a wired system in a business and it was perfect. This one? Like I said, not happy. The neighbor is wanting to see it, but I'm embarrassed to show it with the camera delays.

Herb

3

Mister G

November 30, 2015

I purchased these cameras to expand my sentinel unit. The 800 cameras are much better than the 600 cameras I had with my old unit. Picture quality is very good.

See all reviews

Mister G

5