Overview LOCKED DOWN & IN CONTROL
Get the professional-quality video security system you need to protect what you value most without having to pay for installation. These cameras are built to last with heavy duty, anti-vandal mounting hardware and anodized aluminum casing. Perfect for monitoring your home or business! See Up to 150' In Complete Darkness
Cameras have 48 infrared LEDs that let you view any property from up to 150' away in complete darkness. 1 Step™ Remote Viewing on Your Smart Device
iew your video feeds live, receive instant email alerts and watch any previously recorded footage from anywhere in the world with an internet connection on your smartphone, tablet or computer. 2TB Hard Drive Stores Years of Footage
Quickly and easily play back years of high quality video footage stored on the included 2TB hard drive that only you have direct access to. Rest easy knowing your footage is safe and secure on your Defender PRO DVR.
65' Fire-Rated FT4 Cables Meet Code
To properly install a security system, you need the proper equipment. All Defender PRO Cameras come equipped with 65' of fire-rated FT4 cabling. Your in- wall wiring will meet regional building codes while you remain one step ahead of the inspector. Your System, Your Set Up
Customizing your Defender system is as easy as recording your favorite TV shows to a cable box. Options like Motion-Activated Email Alerts, Area Masking and Event Search are all easily accessible thanks to the menu's built-in coaching feature, which helps you set up and understand your system's settings. Whether navigating via remote control or USB mouse, your Pro system speaks your language.
800TVL Resolution
800TVL resolution and an IR cut filter enhances color and detail for smooth, finely detailed live feed or pre-recorded video. See More In Widescreen With 960H Technology
With 34% more surface visibility than standard security cameras, Defender PRO DVRs use 960H technology to let you see more. Whether you're monitoring a darkened parking lot or well-lit backyard, your DVR allows you to watch and record video in resolutions as high as 960 x 480. And since you're capturing video in real-time, you will always have access to a detailed record of all activity happening on your property. Multiple Viewing Options
Setting up your viewing options gives direct control over each area you wish to monitor. Custom name each individual channel so you can easily identify the location of activity. Use the Masking feature to block out a portion of the scene from an individual camera such as a cash register or safe while still seeing the activity around the masked area. Other viewing options include picture-in-picture, full screen, quad screen, 9 channel view, digital zoom and sequence switching. Each recorded area is complete with time and date stamp so you can search by event and easily find recorded footage from all channels. Heavy Duty, Weather Resistant Cameras
Any serious security setup needs serious hardware: the anodized aluminum casing gives PRO cameras full protection from the elements in addition to any cosmetic wear and tear (weather-resistant IP66 rating). The included heavy duty vandal-resistant mounting hardware allows you to securely affix your camera to almost any indoor or outdoor surface.
DISCLAIMER
IR illumination range up to 150ft under ideal conditions. Objects at or beyond this range may be partially or completely obscured, depending on the camera application.

DEFENDER® highly recommends the use of an Uninterruptible Power Supply (UPS) with surge protection for all products. Although the cameras are weather resistant, they are not weatherproof. Not for use in direct exposure to water, rain or snow.

This product contains small parts. Exercise care when unpacking and assembling the product around children.

DEFENDER® does not endorse any DEFENDER® products for illegal activities. DEFENDER® is not responsible or liable in any way for any damage, vandalism, theft or any other action that may occur while a DEFENDER® product is in use by the purchaser.

DEFENDER® highly recommends changing the default password during first time setup for customer protection.

We reserve the right to change models, configuration, or specifications without notice or liability. Product may not be exactly as shown.

This product and its included technologies may be protected by one or more international patent(s) or patent(s) pending.

Any record times mentioned are based off lowest record settings with one camera connected.

©2015 DEFENDER®. All rights reserved. DEFENDER®, the DEFENDER®, logo and other DEFENDER® marks may be registered. All other Trademarks are the property of their respective owners.
Specifications
PRO 4 Widescreen 800TVL Security Cameras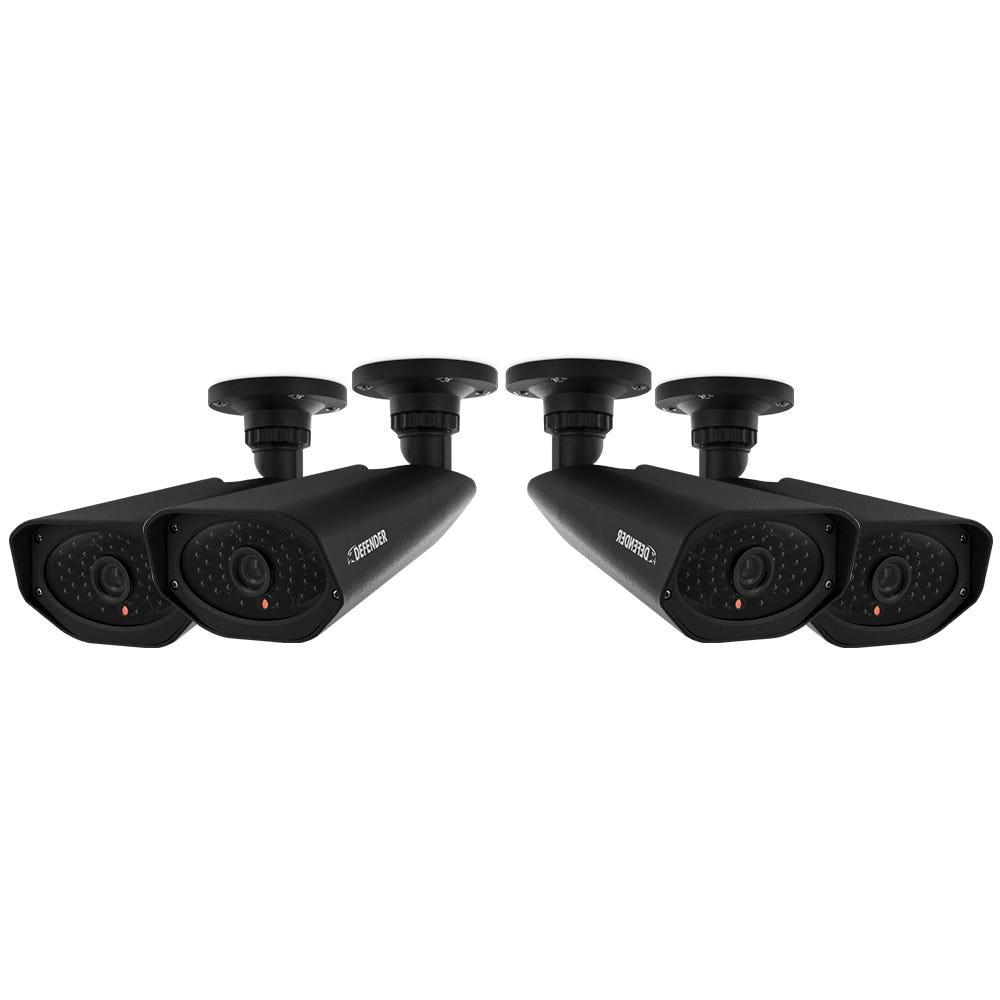 Image Sensor
HDVS
Resolution
800 TVL
IP Rating
IP66
Focal Length
4.6mm
Focus Type
Fixed
Optimal Focal Distance
60 ft.
Number of IR LEDs
48
IR LED Control
Automatic (CDS Sensor)
Min. Illumination
0 lux
IR Wave Length
850nm
TV System
NTSC
Viewing Angle
75 Degrees
Electronic Shutter (Sec)
1/60 ~ 1/100000 sec
AGC
Auto
ELC
Auto
Gamma Correction
>0.45
While Balance
Automatic
Housing Material
Aluminum
Housing Color
Black
Signal/Noise (S/N) Ratio
52dB
Camera Bracket
Yes, anti-vandal
Operating Temperature
-10° ~ 50°C / Degrees
Operating Humidity
<90%
Camera Power Input
DC12V/1A
Power Input
100-240V 60Hz
Dimensions
9.1 (L) X 4.1 (W) X 2.5 (H)
UPC
061783255018
What's Included
4 x Outdoor Security Camera
4 x 65ft Extension Cable
Power Adapter
Four-to-One Power Splitter
Mounting Hardware
Quick Start Guide
Customer Reviews
DollarKings

November 30, 2015

Just finished hooking it up. Toyughest part was running the lines through the ceiling. Otherwise it was awesomely easy and image looks great.

DollarKings

5

bartozz28

November 30, 2015

Added this to the 6 camera set up. Solid, heavy duty construction. Cameras look like they'll hold up well to the environment. Some difficulty with set up as none of the instructions mention that it's required to add the port# at the end of the IP address to gain access. Also, default user name and PW to gain access to the DVR menu was not immediately apparent causing additional hair pulling. Called customer support and immediately got through to Michel who had me set up in under 20min, including remote viewing through my phone. Thanks Michel!
Overall, very happy so far........just a little less hair. It'll grow back:)

bartozz28

5

Tran

November 30, 2015

I'm happy with the quality of the cameras. However, If Defender can update their mobile app, ClearVu, then i would be great. Everytimes I go into the app, it seems to loading a little slow and the images do not seem to be really clear. Beside that, everything else is OK.

Tran

3

jtskir222

November 30, 2015

This is my second system from defender.
great system.
easy to hook up and set up.
I had it all done in 30 minutes. including being able to view on my phone..

jtskir222

5

breh

November 30, 2015

Bought the sentinal wireless 4 ch system on11/9/15 at 10 am, received it on 11/10/15 at 7 am Works great .

breh

5

RogerAGrimes

November 30, 2015

I bought this product a month ago, and I love it, with one MAJOR caveat. The wireless receivers for the cameras (1 per every 2 cameras) can conflict with your existing Wifi. For example, my 100Mbps home Wifi drops to an useable 0.40Mbps whenever the wireless receivers are turned on. This happens no matter where I replace the receivers in my house, even downstairs inside of a concrete surrounded room. The only solution, per the vendor, is to move your existing Wifi from the 2.4Gz range to something else. This is rarely possible on home Wifi systems (although if you can force all equipment and clients to the new N wifi bands it's possibly workable). For example, my existing Comcast Wifi will not let me disable the 2.4GHz band. This is a better solution, if the Defender cameras let you manually pick Wifi channels (there are 15 of them), you could move your different Wifi receivers and routers to different channels and avoid the conflict. But you can't. In the current state, my $1200 purchase is worthless because I can't turn the camera receivers on. Very disappointing. And this is such a great product otherwise. Another solution would be if the cameras could just hook to your existing Wifi router and not need secondary receivers.

RogerAGrimes

3

Home Security

November 30, 2015

I purchased the cameras about a month ago. Installation was very easy, but the wireless range is very disappointing. I live in a one story house and the furthest cameras are only 65 ft. away from the receiver (three of the six cameras are this distance away). They are constantly losing signal and freezing. The cameras that are 10-40 ft away work as advertised. The night vision is excellent. If it weren't for the poor range I would have rated this with 5 stars.

Home Security

0

neil

November 30, 2015

Purchased this system 3 months ago works great. I have been very happy so far.

neil

4

BK41

November 30, 2015

I have 4 of the cameras mounted. The cameras are easy to pair and the floodlights (I have two mounted near floodlights) do not affect the image at all. The picture quality is good and the wireless range is also good. The email notification is nice so you can see who is coming and going. The cameras are well built and appear to be very durable. I would recommend this product.

BK41

5

jim427

November 30, 2015

This is the second system I've bought in the past few months. Installation is easy, but camera placement is crucial. While the advertised range is several hundred feet, in reality it is much less in a real life situation. Despite that, it is still a very good system. Tech support is great. Michel in particular does a great job helping to get everything up and running.

jim427

4

BK41

November 30, 2015

The setup of this system is as simple as can be. The video quality is good and the email notifications with the motion detect are great. I bought the system with 6 cameras and have had two of them going for a few days now. The hardest part of this system is figuring out where to put the cameras. I am waiting for dusk to see how the exterior lighting at my house affect the cameras. I have one mounted right above a set of flood lights and there is no light interference at all. I will probably end up getting another two cameras. I highly recommend this system.

BK41

5

House

November 30, 2015

good product, easy too install, night vision not as clear as I expected, wireless reception not smooth. pictures stutters.

House

4

LVParker

November 30, 2015

The wireless cameras and receivers were easy to match up. Reception range is ok. Foliage obscures the distance some. We have 3 of the cameras at a building approximately 350 feet away and reception is ok with 1 bar of signal. This includes 1 camera inside the building placed at the skylight. The IR works very well and projects a great view out to 60-70 feet. One camera has issues, but the company is working with us to correct the problem. Camera cords have plenty of length on them to allow good placement without excessive extension cords. I would have liked a manual for the monitor operations. Also would have liked a 6 picture view option for the monitor seeing the unit only comes with 6 cameras.

LVParker

5

tomtom

November 30, 2015

I got this after already owning a wired system from Defender. I love both systems. They both work great. As far as I can tell, the only negative is that you have to have a plug for each camera, but that is a minor thing compared to what you get. I would definitely recommend and order another.

tomtom

4

Anne

November 30, 2015

I purchased this item because we were having problems with a bad neighbor. The product works well and we were able to clearly view events; even at night. It was easy to setup and has very user friendly menus.

See all reviews

Anne

5