Regular Price: $199.99 USD
Special Price $99.99 USD
Overview The included 500 GB hard drive allows continuous monitoring and recording of over two years' worth of footage! Your DVR sends an alert when your memory space is full so that you can choose to overwrite old video or stop the unit from recording. The built-in USB port gives you the option of backing up and transferring your video footage with a USB flash drive or external USB hard drive. And if you need to expand your storage even further, you can choose to record only when motion is detected. This DVR uses H.264 compression which maximizes recording time, transfers data more efficiently over the internet and you'll use 50% less storage space than traditional compressions - MPEG4, MJPEG - while still benefitting from high-quality imagery. Setup in seconds
No more port-forwarding or waiting for software to network your system for you. Simply download the ClearVu® app, scan the QR code and begin monitoring remotely in seconds. Moniter up to 16 areas of your property
This system is ready for you to add up to 16 surveillance cameras allowing you to monitor every corner and doorway of your property. Ideal for businesses with a large staff and multiple storage areas or large residential and rural properties, a 16CH system allows you to have maximum monitoring locations both indoor and out. This DVR is also compatible PTZ camera.
DISCLAIMERS

Recording capacity may vary based on recording resolution and quality, lighting conditions and movement in the scene. Based on a 1TB hard drive, using lowest quality settings

Requires broadband router and broadband Internet connection–not included. Internet Explorer is required

Defender highly recommends the use of an Uninterruptible Power Supply (UPS) with surge protection for all products.

Although the cameras are water resistant they are not waterproof. Cameras are not intended for use in direct exposure to water, rain or snow

IR illumination range up to 15ft under ideal conditions. Objects at or beyond this range may be partially or completely obscured, depending on the camera application USB flash drive, CD/DVD writer, and external hard drive not included

iPhone is a registered trademark of Apple Inc. BlackBerry is a registered trademark of Research in Motion Limited, Internet Explorer is a registered trademark of Microsoft Corporation and Sharp is a registered trademark of Sharp Corporation

Any record times mentioned are based off lowest record settings with one camera connected
Specifications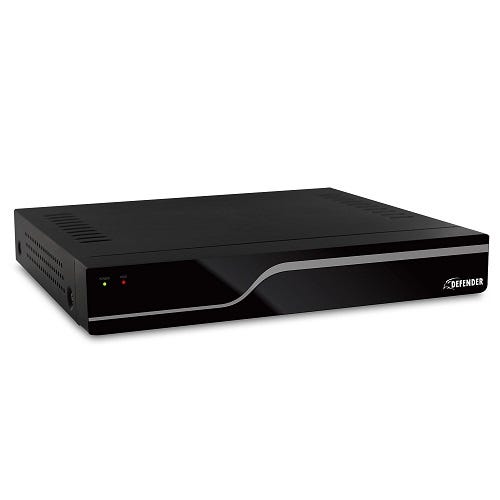 | | |
| --- | --- |
| Functionality | Pentaplex |
| Video Compression | H.264 |
| Audio Compression | G.711 |
| Video Input | 4/8 x BNC |
| Audio Input | 2 x RCA |
| Audio Output | 1 x RCA |
| USB Port | 2 |
| Recording Total Frame Rate | NTSC:[email protected]、[email protected]、120 [email protected] PAL:[email protected]、[email protected]、[email protected] |
| Recording Frame Rate Per Channel | NTSC: 1fps~30fps adjustable PAL: 1fps~25fps adjustable |
| Recording Resolution | NTSC : D1(704 X 480), HD1(704 X 240), CIF(352 X 240) / PAL: D1(704 X 576), HD1(704 X 288), CIF(352 X 288) |
| Recording Modes | Motion Record, Schedule, Always |
| Pre Recording | Max 10 seconds |
| Recording Media | HDD (Backup via USB) |
| Storage Capacity | Max 1TB HDD |
| HDD Type | SATA 3.5" |
| Video Format | NTSC/PAL |
| Video Loss Alarm | Auto Detect Alarm |
| Audio Bitrate | 8 kbps |
| Live Frame Rate | 30 FPS |
| Live Viewing | Full, Quad, PIP, ZOOM, SEQ |
| Picture-in-Picture | Yes |
| Network Protocol | TCP/IP, DDNS, DHCP, PPPoE,UDP |
| Network LAN IP | Static, Dynamic |
| Network Connection | 10/100 BaseT Ethernet (RJ-45) |
| Supported Operating Systems | Windows XP, Windows Vista, Windows 7 |
| Browsers | Internet Explorer, Safari |
| Back-up | USB Flash drive, USB disk & network |
| Play Search Mode | Time/Date, Event list |
| Play Speed | 2x, 4x, 8x, 16x |
| Pan/Tilt/Zoom | RS-485 Pelco D & P |
| OSD Language Display | Multi-Language |
| Time and Date Stamp Display | Yes |
| Password Protection | Yes, Menu Password, Clear HDD Password |
| Operating System | Linux |
| Processor | ARM 9 |
| Disk Full Warning | Yes |
| Automatic Overwrite Option | Yes |
| LED Indicators | Power, HDD |
| Housing | Aluminum |
| Housing Color | Black |
| Power Input | 12V DC 3A |
| Power Consumption | 10W~15W |
| Power Input | 100V 50/60HZ~240 50/60HZ |
| Operating Temperature | 32°F~104°F |
| Operating Humidity | 10%~90% |
| Dimensions | 8.75x11x2" |
| UPC | 871363020468 |
Customer Reviews
Treehal1

November 30, 2015

I have been using Defender products for years. Love the Easy setup and the simplicity to review videos.

Treehal1

4

HCELLC

November 30, 2015

Purchased a system which included the 21150 (8) channel DVR, (4) 21146 cameras, cables remote and power supplies. All ports on the DVR and cables are clearly marked. I had the system up and functional in a single room in about 15-20 minutes after opening the box. Remote access with a laptop required the assistance of customer support and took about another ½ hour. Very pleased with all aspects of both the hardware and customer support. This system meets our needs for basic surveillance on a 5 unit rental property.

HCELLC

5

Chuck L

November 30, 2015

The price was right for 8 cameras and a 2TB HDD. So glad I held off on buying one years ago. The widescreen cameras are crisp and bright. The cameras are also built like a tank. All metal top to bottom. I'm confident these cameras will last quite a long time.

Chuck L

5

Nitro

November 30, 2015

Awesome, beautifully engineered, worked right out of the box.... but no paper-manual, and the instruction cd wouldn't play, either in my computer or on my blu-ray player. A quick chat on Defender's homepage fixed that, though.... a link to all downloads was provided, and they're sending me a paper-manual free! Only parts I added were stainless-steel screws with black-painted heads for mounting my cameras, and a 'borrowed' ;) VGA-cable to hook the DVR up to my TV. Plenty of cable provided; I hooked up all four cameras in my 1455sf ranch townhome, and had cable to spare even at the most remote location. Yay! I love the remote/mouse controls, and the IR image at night is superb! Consider this a four-and-a-half star review. Thanks again for a really nice product!

Nitro

5

Cowjohnny

November 30, 2015

I bought this DVR about 3 weeks ago to replace a broken DVR for my security system. It arrived quickly and just as described. It was very easy to set up. I am very happy with my purchase.

Cowjohnny

5

MrMrs

November 30, 2015

We bought this a month ago for security cameras around our home and like it because it doesn't take up much room, easy to operate, clear pictures and it works very well. I recommend it.

MrMrs

4

AnGer

November 30, 2015

Got this to replace an older DVR that no longer recorded. So far there are no issues and the upgrades from the previous dvr are much nicer. The only thing that doesn't work is the CD that came with it for the installation instructions, etc.
It is very user friendly.

AnGer

4

Susie

November 30, 2015

I brought this camera system in February thru Groupon. The price was great and received it in a timely manner. I didn't get it installed until 8/5/14 and ran into a minor problem with one of the cables. After being frustrated about one camera cable I was able to reach a rep name Julie who resolved my frustration.

Susie

4

Jeff

November 30, 2015

I bought the 3 wireless cameras and then the dvr. I never thought the notification functions would work with the dvr because all 3 cameras went into 1 port. It worked perfectly!!! The wireless cameras work great an give me flexability. Gonna add 1 more wireless and 1 wired

Jeff

5

MYRIAM

November 30, 2015

I MUST SAY I AM EXTREMELY HAPPY WITH THIS PRODUCT, LOADED OF FEATURES I NEVER EXPECTED IT WOULD HAVE....I WOULD DEFINETLY RECOMMEND TO ANYONE. GREAT SUPPORT I MUST ADD I HAD TO CALL FOR SOME QUESTIONS AND THE TECHNICIAN SPECIALIST WAS EXCELLENT WITH HIS ASSISTANCE WHICH BY THE WAY NAME IS MICHAEL PLAMONDON....AGAIN EXCELLENT PRODUCT AND WILL DEFINETLY RATE @ *****FIVE STAR :)

MYRIAM

5