Regular Price: $239.99 USD
Special Price $60.99 USD
Overview
*Coupon codes not applicable on this item
ALL-IN-ONE VIDEO SECURITY PACKAGE
The Defender SN502-4CH is a complete DVR security system that has all the latest features, yet is very easy to use. It has been specifically designed for do-it-yourself applications. Setup is fast and hassle-free because everything you need is included and an interactive coaching menu helps you along the way. Industry-leading features like Smartphone access and H.264 compression help you maximize the system and achieve a high level of protection.
COACHING iMENU
Helpful information bubbles will pop up to assist you as you scroll through different settings. Learn what each setting means so that you can configure the system to suit your needs.
RECORD OVER 1 MONTH OF FOOTAGE
The 500GB hard drive is optimized for 24/7 surveillance and uses cutting edge H.264 compression to record over a month of video. Set to record in real time, your footage will stream flawlessly during playback.
CONNECT TO A TV OR MONITOR
VGA output and "spot" monitoring allow you to connect to up to two televisions and a computer monitor for viewing purposes. This gives you more options when viewing the activity captured by you cameras.
VIEW YOUR CAMERA FOOTAGE FROM ANYWHERE IN THE WORLD
Whether monitoring your business or home, view your footage live online, anytime and anywhere with PC or Mac. You can also view footage on almost any smartphone, including iPhone®, BlackBerry®, Android™, Windows Mobile®, or Symbian™, as well as on your iPad® and most major tablets.

EXTREMELY EASY TO SET UP AND USE
You'll be surprised by how easily a DEFENDER® DVR Security System operates. The menu provides prompts and coaching to assist you in customizing the settings for your recording needs. Use your choice of mouse or remote for navigation of the easy-to-read icon-based menu. It's so simple to use it will even begin recording as soon as it's plugged in.



---
Recording capacity may vary based on recording resolution and quality, lighting conditions and movement in the scene. Based on a 500GB hard drive, using lowest quality settings
Defender highly recommends the use of an Uninterruptible Power Supply (UPS) with surge protection for all products.
Requires broadband router and broadband Internet connection–not included. Internet Explorer is required
Although the cameras are water resistant they are not waterproof. Cameras are not intended for use in direct exposure to water, rain or snow
IR illumination range up to 15ft under ideal conditions. Objects at or beyond this range may be partially or completely obscured, depending on the camera application
USB flash drive, CD/DVD writer, and external hard drive not included
iPhone is a registered trademark of Apple Inc. BlackBerry is a registered trademark of Research in Motion Limited, Internet Explorer is a registered trademark of Microsoft Corporation and Sharp is a registered trademark of Sharp Corporation
Any record times mentioned are based off lowest record settings with one camera connected
Specifications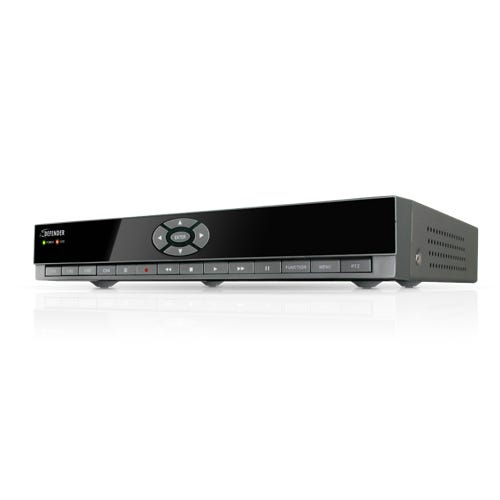 | | |
| --- | --- |
| Functionality | Triplex |
| Video Compression | H.264 |
| Video Input | 4 x BNC |
| Audio Input | 2 x RCA |
| Audio Output | 1 Stereo RCA |
| Resolution | NTSC : 704 X 480 / PAL: 704 X 576 |
| Recording Total Frame Rate | NTSC:[email protected]、[email protected]、120 [email protected], PAL:[email protected]、[email protected]、[email protected] |
| Recording Frame Rate Per Channel | NTSC: 1fps~30fps adjustable, PAL: 1fps~25fps adjustable |
| Recording Resolution | NTSC : D1(704 X 480), HD1(704 X 240), CIF(352 X 240) / PAL: D1(704 X 576), HD1(704 X 288), CIF(352 X 288) |
| Recording Modes | Record as Each, Playback in Quad and Full Screen |
| Video Format | NTSC/PAL |
| Video Loss Alarm | Auto Detect Alarm |
| Audio Bitrate | 8 kbps |
| Live Frame Rate | 30 FPS |
| Live Viewing | Full, Quad, PIP, ZOOM, SEQ |
| Picture-in-Picture | Yes |
| Network Protocol | TCP/IP, DDNS, DHCP, PPPoE,UDP |
| Network LAN IP | Static, Dynamic |
| Network Connection | 10/100 BaseT Ethernet (RJ-45) |
| Back-up | USB Flash drive, USB disk, USB CD-DVD/RW & network |
| Play Search Mode | Time/Date, Event list |
| Play Speed | 2x, 4x, 8x, 16x |
| Pan/Tilt/Zoom | Yes |
| OSD Language Display | Multi-Language |
| Time and Date Stamp Display | Yes |
| Password Protection | Yes, Menu Password, Clear HDD Password |
| Operating System | Linux |
| Processor | ARM 926EJ |
| Disk Full Warning | Yes |
| Automatic Overwrite Option | Yes |
| LED Indicators | Power, HDD |
| Housing | Iron |
| Housing Color | Black/Silver |
| Power Input | 12V DC 3A |
| Power Consumption | 10W~15W |
| Power Input | 100V 50/60HZ~240 50/60HZ |
| Operating Temperature | 41°F~104°F |
| Operating Humidity | 10%~90% |
| Dimensions | 315(W) × 52 (H) × 224 (D) |
| Number of Channels | 4 |
| UPC | 871363012562 |