Regular Price: $399.99 USD
Special Price $149.99 USD
Overview
Trust Defender to make thieves and vandals think twice about approaching your property. Our Ultra High Resolution all-weather cameras deliver clear, high-quality video with 600TVL and IR cut filter. 36IR LEDs allow for 100ft of automatic night vision. Anti-vandal mount ensures cameras cannot be tampered with and 65ft of cable allows for greater flexibility in mounting around your home or business. Don't give thieves a chance. Stop them with Defender!

Crisp and Detailed Video You Can Rely On
Your security system is only worthwhile if you can actually see the person stealing from you. Defender cameras are equipped with 600 TV lines of resolution. The resulting clear, crisp and accurate video feed will help put the criminal away.

When Everyone Else is Asleep, our Cameras Are Watching Closely
The things that go bump in the night are sometimes a thief making off with your big-screen TV. Defender cameras are equipped with night vision that automatically activates. Thirty-six infrared ClearVu® LEDs provide crisp and detailed night imagery as you monitor from up to 100 feet away, even in complete darkness. So thieves may think they're lurking in the dark but you can rest assured DEFENDER® will see them.

Rain or Snow Won't Stop Us
Criminals don't take the night off if it's raining. Neither do our cameras. They're weather resistant and ensure optimal picture quality no matter what Mother Nature decides to throw at you, be it rain, hail or snow. The professional-grade aluminum housing, complete with sunshade, will protect against rust, deterioration and glare. So no matter what's going on outside, DEFENDER® will be ready.

Secure Wiring Can't Be Tampered With
Thieves know dismantling a security system is a good way to get off scot free. But they'll be disappointed with Defender. Each camera's cable runs through the cable mount and then directly into the wall, leaving no part of the cable exposed. Your footage will be secure.

Lifetime Live Customer Support
Our customer support team can be reached by phone, email and live web chat. You'll always have access to an expert. Support is available in English, Spanish and French.

List of Contents:
4 Outdoor security cameras, 4 65ft extension cables, power adapter, four-to-one power splitter, mounting hardware, quick start guide, window warning stickers, 1 year manufacturer's direct warranty.
Specifications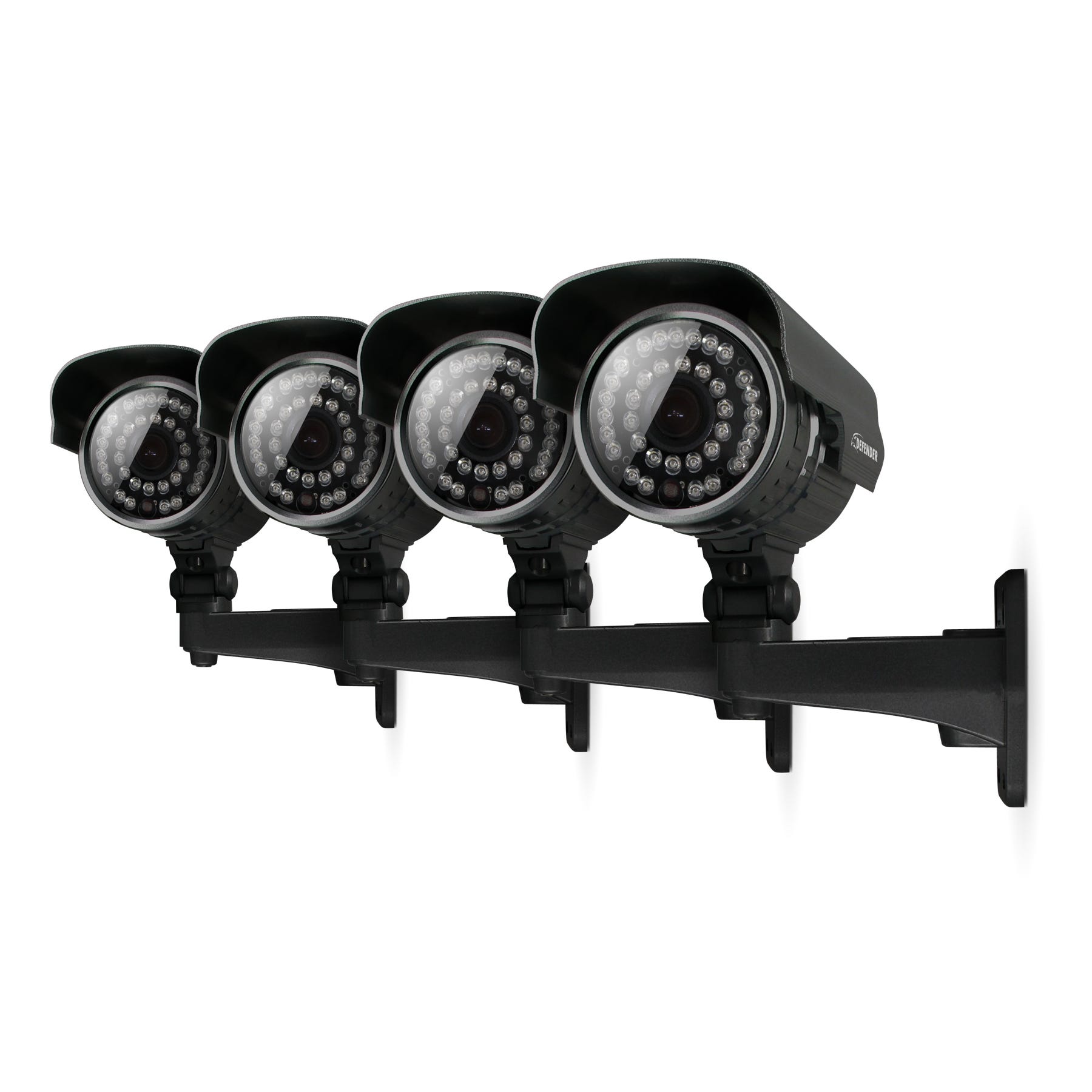 | | |
| --- | --- |
| Image Sensor | 1/3" CMOS |
| Resolution | 600 TVL |
| Outdoor Use | yes |
| IP Rating | IP65 |
| Focal Length | 5mm |
| Focus Type | Fixed |
| Optimal Focal Distance | 20 ft. |
| Night Vision | Yes |
| Number of IR LEDs | 36 |
| IR LED Control | Automatic (CDS Sensor) |
| Min. Illumination | 0 lux |
| IR Wave Length | 850nm |
| Video Output | BNC/DC |
| TV System | NTSC |
| Viewing Angle | 60 Degrees |
| Electronic Shutter (Sec) | 1/60 ~ 1/100000 sec |
| AGC | Automatic |
| ELC | Automatic |
| Gamma Correction | >0.45 |
| While Balance | Automatic |
| Sun Sheild | Yes |
| IR Cut Filter | yes |
| Housing | Anodized Aluminum |
| Housing Color | Black/Silver |
| Signal/Noise (S/N) Ratio | >48dB |
| Camera Bracket | Yes, anti-vandal |
| Operating Temperature | -10° ~ 60°C / Degrees |
| Operating Humidity | 98% |
| Camera Power Input | DC 12V 300mA |
| Power Input | 120V 60Hz |
| Dimensions | 6.75x3x5.5" |
| Number of TV Lines (TVL) | 600 TVL |
| Night Vision Distance | 100ft |
| UPC | 871363020161 |
Customer Reviews
Otea

November 30, 2015

The camera color quality is better than our High Def television. It is easy to install and maintenance free. Excellent cameras.

Otea

5

KC SC

November 30, 2015

Added these to my system and relocated some wireless cameras out to more remote locations of my property. Easy install great quality highly recommend.

KC SC

5

Rich

November 30, 2015

I bought these a month ago and look forward to adding to my existing cameras system.

Rich

4

willie

November 30, 2015

they work great, easy to connect , the price was very good

willie

0

popspat

November 30, 2015

bought this 2 months ago have 3 cameras up and running 1 camera died already for no apparent reason .will try to return it the angle on the cameras are not very wide wish i had known this up front oh well live and learn

popspat

3

Doug

November 30, 2015

Bought these Model #21006 cameras as part of an 8-Camera system #21025 from Samsclub.com, and am happy with the overall performance of the cameras and DVR Model #21012 interface. Everything was easy to setup and program. The camera resolution is good day or night.

Doug

5

JUSTESS

November 30, 2015

I BOUGHT THIS CAMERA SET WITH A DVR & IT'S BEEN INSTALLED LESS THAN A YEAR. I'VE HAD TO REPLACE (3) OF THE (4) ORIGINAL CAMERAS. WHEN THEY WORK, THE SYSTEM IS GREAT, BUT WHEN IT DOESN'T IT'S AGGRAVATING.

JUSTESS

4

delerium

November 30, 2015

I've had these cameras for about 1.5 yrs now.  The quality is OK, night vision range is accurate.  However the night vision on one of the cameras has gone out.  I have the cameras mounted externally underneath the soffits on my home, so they are not fully exposed to the elements.  I would have giving these cameras 4 stars, but with the failing night vision I'm taking some away.

delerium

4

Alex

November 30, 2015

I bought this set since April of 2014 and they look great all around day and night , the night vision is real clear , I don't have any complaint on them.

Alex

5

Grant

November 30, 2015

I have had some other cameras that kept going out on me. So I bought these because of the warranty. So far these cameras have been better quality than my last ones and have worked great for a week so far.

Grant

4

filbert

November 30, 2015

Easy to hang on walls but need alot of computer assistance.

filbert

3

blackram

November 30, 2015

I bought a system about a year ago with 6 cameras and needed to replace 2 and add 2 extras. System is working great and has paid for itself with 1 time of catching thieves steal a vehicle.

blackram

5

Ronny

November 30, 2015

I had this for about a month and it stopped recording. E-mailed tech support and they took very good care of me. They sent a new unit and it's been working fine since then. This is the second system I have bought from Defender and it won't be my last. Good company to deal with

Ronny

4

Debbie

November 30, 2015

This is our 3rd DVR. The hard drive on the previous ones kept crashing, Defender was always very accommodating. This time we bought directly thru Defender. While I have not yet been able to view away from the office, I know Defender will help me figure out how to do it. The only thing I would like to see is the manual sent with the product instead of having to download it off the internet. And it could be a little clearer on how to set up for mobile viewing. Thank YOU

Debbie

5

blakeb

November 30, 2015

We purchased this model as a replacement for a much more expensive security DVR and it exceeds expectations in every respect. We are very happy with the clarity, ease of use and reliability thus far.

See all reviews

blakeb

5