Regular Price: $279.99 USD
Special Price $70.99 USD
Overview
The natural choice for installers and contractors and those who demand ultimate peace of mind, Defender® PRO can protect you or your client's investment and keep your building safe and crime-free. This system includes a 1TB HDD to provide up to 4 years of recording and this system offers the hassle-free installation and functionality you expect from Defender. In addition to its good looks, PRO systems are ideal for protecting a wide range of outdoor applications and larger locations including building perimeters and parking lots. ClearVu Digital Wireless Technology
No more port-forwarding or waiting for software to network your system for you. Simply download the ClearVu® app, scan the QR code and begin monitoring remotely in seconds. 1TB Delivers four years of memory
The included 1 TB HDD allows for continuous monitoring and can store over four years' worth of recorded footage. Maximize available memory with motion activated recording and H.264 compression technology. DVR alerts will activate to notify user when HDD is full. Back up and transfer footage to USB flash drive or external hard drive via USB port. Multiple viewing options to suit your customized needs/h4>
Setting up your viewing options for up to 8 cameras gives you the option to customize each area you wish to monitor. Custom name each individual channel so you can easily identify the location of activity. Use the Masking feature to block out a portion of the scene from an individual camera such as a cash register or safe while still seeing the activity around the masked area. Select the Covert feature to protect an entire channel from public or user viewing so only authorized viewers can see the activity in that location. Other viewing options include picture-in-picture, full screen, quad screen, 9 channel view, digital zoom and sequence switching. Each recorded area is complete with time and date stamp so you can search by event and find recorded footage from each area you are monitoring.


---

DISCLAIMERS
Recording capacity may vary based on recording resolution and quality, lighting conditions and movement in the scene. Based on a 1TB hard drive, using lowest quality settings.
Defender highly recommends the use of an Uninterruptible Power Supply (UPS) with surge protection for all products.
Although the cameras are water resistant they are not waterproof. Cameras are not intended for use in direct exposure to water, rain or snow.
Requires broadband router and broadband Internet connection–not included. Internet Explorer is required.
IR illumination range up to 15ft under ideal conditions. Objects at or beyond this range may be partially or completely obscured, depending on the camera application USB flash drive, CD/DVD writer, and external hard drive not included
Any record times mentioned are based off lowest record settings with one camera connected
What's Included? Instruction Manual CD (21112, 21103) 10ft RJ-45 Ethernet Cable 21000 series & Blueline USB Mouse for DVR 21000 series IR Remote Controller with Batteries
Specifications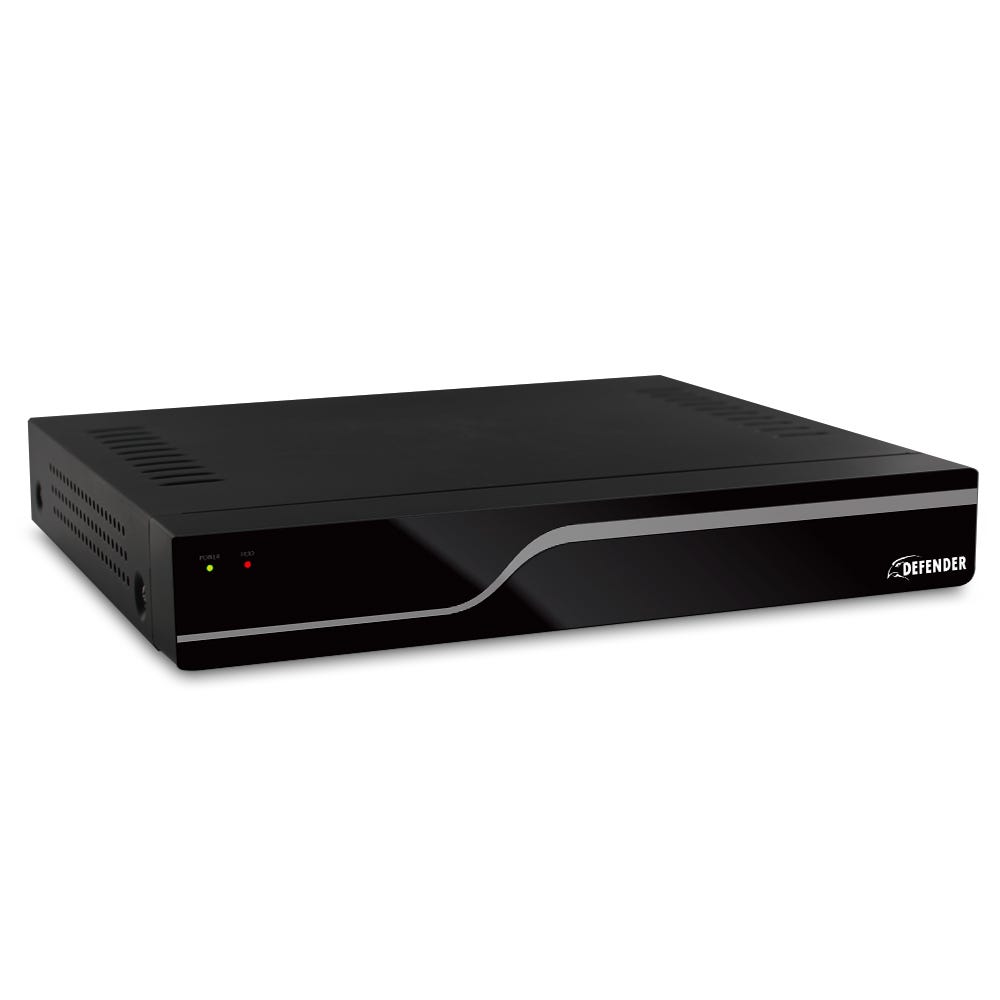 Functionality
Pentaplex
Video Compression
H.264
Audio Compression
G.711
Video Input
8 x BNC
Video Output
2 x BNC, VGA
Audio Input
1 x RCA
Audio Output
1 x RCA
USB Port
2
Resolution
800x600, 1024x768, 1280x1024
Recording Total Frame Rate
NTSC:[email protected]、[email protected]、120 [email protected] / PAL:[email protected]、[email protected]、[email protected]
Recording Frame Rate Per Channel
"NTSC: 1fps~30fps adjustable / PAL: 1fps~25fps adjustable       
Recording Resolution
NTSC : D1(704 X 480), HD1(704 X 240), CIF(352 X 240) / PAL:  D1(704 X 576), HD1(704 X 288), CIF(352 X 288)
Recording Modes
Motion Record,  Schedule, Always
Pre Recording
Max 10 seconds
Recording Media
HDD (Backup via USB)
Storage Capacity
1 TB Installed (Max 2TB)
HDD Type
SATA 3.5"
HDD Size
1 TB
Video Format
NTSC/PAL
Video Loss Alarm
Auto Detect Alarm
Audio Bitrate
8 kbps
Live Frame Rate
30 FPS
Live Viewing
Full, Quad, Octa, PIP, ZOOM, SEQ
Picture-in-Picture
Yes
Network Protocol
TCP/IP, DDNS, DHCP, PPPoE,UDP
Network LAN IP
Static, Dynamic
Network Connection
10/100 BaseT Ethernet (RJ-45)
Supported Operating Systems
Windows XP, Windows Vista, Windows 7OSX 10.5 or above
Browsers
Internet Explorer, Safari
Back-up
USB Flash drive, USB HDD (not NTFS formatted) & network
Play Search Mode
Time/Date, Event list
Play Speed
2x, 4x, 8x, 16x
Pan/Tilt/Zoom
RS-485 Pelco D & P
OSD Language Display
Multi-Language
Time and Date Stamp Display
Yes
Password Protection
Yes, Menu Password, Clear HDD Password
Operating System
Linux
Processor
ARM 9
Disk Full Warning
Yes
Automatic Overwrite Option
Yes
LED Indicators
Power, HDD
Housing
Aluminum
Housing Color
Black/Silver
Power Input
12V DC 2A
Power Consumption
10W~15W
Power Input
100V 50/60HZ~240 50/60HZ
Operating Temperature
32°F~104°F
Operating Humidity
10%~90%
Dimensions
9 ¾x 8 ½x1 ¾ inches
Number of Channels
8
UPC
871363024022
What's Included
8CH DVR with 1 TB HDD
2 x BNC to RCA Connectors
10ft RJ-45 Ethernet Cables
4ft Power Adapter (cUL certified)
6ft RCA video cable
Instruction Manual on a Software CD
USB Mouse
IR Remote Controller with batteries
Quick Start Guide
Customer Reviews
Andy

March 31, 2016

Much easier than older models to set up and use for networking

Andy

5

JENKINS

February 4, 2016

I bought this dvr to replace one that was several years old and had gone bad. I was able to connect all of my existing cameras into the new dvr and was up and going very quickly. Very happy with the ease of the process.

JENKINS

5

Happy guy

February 2, 2016

This is an impressive product for the price. Cameras have good resolution and the new ClearVu software was exactly what I was looking for.

Happy guy

5

Darrell D.

January 26, 2016

I encountered some difficulty in setting up my computer and my cell phone, however, after calling the technical support number and talking with Susan, the setup was successful with no problems. I would highly recommend your product and your technical support team

Darrell D.

5

Gm09

November 30, 2015

This DVR is a great Product. Easy to connect. I really like the HDMI connection. It looks real sharp on my TV. The extended recording time versus my old one is a plus. I called Defender for help setting up the netviewer on my home computer and Mihel did a great job of helping me install a new program to get it done.

Gm09

5

AMi6

November 30, 2015

I purchased this unit about 3 weeks ago and the function and picture/record quality is very good.  I have a macbook and I had to update my OS to use the playback software.  Best buy for the money a 1TB HD is included, can't beat this deal.

AMi6

5

Obsfest

November 30, 2015

Very happy with product features/functions.  I have two of the systems now and one of the hard drives failed on one my DVR's.  I contacted customer support and received  a replacement DVR under warranty.  Received the DVR quickly and was up and running again after just hooking up existing cables.  Very please with customer support and functions of this DVR system.  Would recommend this DVR PRO system with 8 cameras.

Obsfest

5

MIke5

November 30, 2015

I checked out other products this seems to be the best deal. I didn't give it 5 stars because this is a replacement DVR I had to buy. My first one stopped working after 1year 8months. Overall still pretty happy with it.

MIke5

4

tomcat20103

November 30, 2015

I have now 3 of these dvrs.2 are 500gb and the other is 1tb.I am pleased with all 3 units.

tomcat20103

4

Herb

November 30, 2015

Well I bought the wireless system, however I wish I purchased the wired type of security system. I still had to run electric power to the camera's so I just would have been better off running camera cable. I have four camera's, backyard, 2 on the side and one in front of my home. They are clear and the night vision is good also. My problem is, all my camera's are within 45 ft. of my receiver's and two work as they should but one has a more than normal delay and the last one has a lot more delay and go off quite often from not getting the signal to the receiver. The two that have the delay are just across the garage, at each corner, from the receiver's. If I had purchased the wired system I don't think I would be having this problem. Example of the delay. My wife entering in our home from outside the garage and she is all the way in our home and she still showing on the camera outside.
I'm not happy but I'm stuck with it. I had a wired system in a business and it was perfect. This one? Like I said, not happy. The neighbor is wanting to see it, but I'm embarrassed to show it with the camera delays.

Herb

3

Naenae

November 30, 2015

I was given these cameras as a Christmas gift. Good viewing. Range not so good. Had to run wire to connect to a source of eleu, closer to the camera. Further away the wiring from the camera, no signal at all. Also, one camera just refused to work at all. No signal from the camera at all. Overall, I like the cameras and would recommend.

Naenae

4

DaveP

November 30, 2015

Excellent wireless camera. Very clear and easy to install and set up

DaveP

5

Dooman

November 30, 2015

I currently own a garage door business and we install camera systems through another company that cost 10 times what the defender unit cost and we receive the same results with the defender for a fraction of the cost. This unit is awesome and Sarah in cust. service is great.

Dooman

5

Wick357

November 30, 2015

I purchased this system going on three months ago. I am not usually pleased with products I purchase for one reason or another. This Purchase is by far the best investment besides my retirement fund I made this year. Yes there are some shortcomings however the piece of mind vs. the shortcomings were well worth it. These were the issues I had

1. I had to hire someone to install it so that cost more money. If you have the correct tools and skills you will save yourself some money.  Just keep in mind YOU are the one in the attic. remember dress for the job and have safety glasses and a Dust mask your going to need it. Or just pay someone!

2. when it came to setting it up I was lost but the contractor who installed it programmed it and even programmed it to my cell phone.

3. I haven't mastered all the features yet. I really like that I will be able to set the cameras to motion if I want and have pictures sent to my email while at work if they are set off. 

4. Camera location and fields of view, make sure you overlap the camera angles if possible. I have a overhead car port which restricted me to where I could locate the cameras.

5. I only went with six cameras when I should have went with 8 initially. I will have to add two more soon.

Bottom Line Up Front!! How much is your valuables and Safety of your family worth to you!! and not necessarily in that order.    

Wick357

4

jmc36

November 30, 2015

go to the web site like the phone service prompts you to, and they really do get back to you quickly. I waited on the phone until I was just to frustrated and hung up, went to the defender site, left my info and a time to call, and Michel was calling me at the time I chose. within 20 mins I was up and running again. thanks again Michel.

See all reviews

jmc36

5