Specifications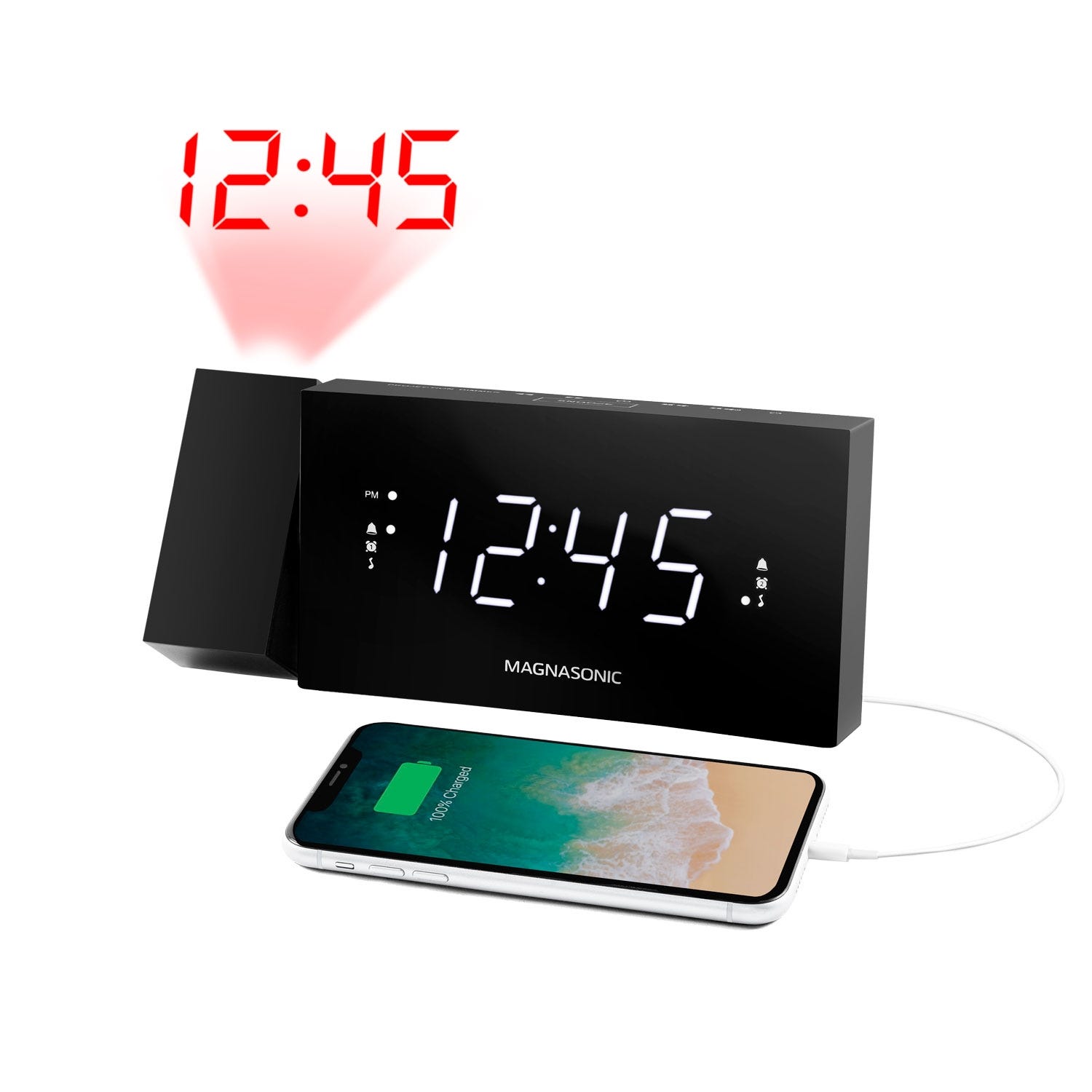 Display Size
1.2" LED
Dimensions
7.4 (L) x 3.2 (H) x 1.0 (W)"
Automatic Time Set
No
Sure Alarm
Yes
Wake Up
No
Battery Back-up for Time
Yes
USB Charging
Yes
PLL Digital Radio Tuner
FM only
Radio Station Pre-sets
10 Pre-sets
Dual Alarm
Yes
Calendar Display
Yes
Indoor Temperature Reading
No
Adjustable Brightness
HI, LO1, LO2, LO3, OFF
Sleep Timer
Yes
Daylight Savings
No
Time Zones
No
USB Charging Power
Single, 1.0A (5.0W)
Speaker Size
1.6"
Volume Indicator LED
Yes
Power Input
AC 100-240V, 50/60Hz
Audio Inputs
None
Frequency Range (AM)
AM - None
Frequency Range (FM)
FM - 87.5 – 108 MHz
Power
DC 5V 1.5A
Battery Backup
Yes
Projection Swivel Tilt
180 degrees
Number of Alarms
2 (week, weekday, weekend)
Alarm Options
Radio, Buzzer
Projection Flip
Yes
Projection Focus
No
Time/Date Restore
1 x 3V, CR2032 Lithium Battery (included)
Unit Weight
0.9 lbs
Unit Color
Black
Certifications
FCC, ICES, cUL/UL, NRcan
What's Included

Magnasonic CR20 Clock Radio
5ft AC Power Adapter
Lifetime Customer Support
1 Year Manufacturer's Warranty
Customer Reviews
Amazon Customer

November 10, 2021

I am so frustrated by this clock. I am half way smart and yet I struggled to set the time and all.I don't like that the volume has set volumes. I have not been able to figure out a way to set sleep volume to a lower volume than the options available.Finally, could be user error.but I am not enjoying this clock.

Amazon Customer

3

Ingrid

September 23, 2021

Overall great product, sound is little too much

Ingrid

5

Krysar B

September 10, 2021

Everything is great! Just one star down because the lowest volume for the radio is still too loud

Krysar B

4

Embeth A

August 9, 2021

For years, I didn't use an alarm clock. Why bother? There's a clock on my laptop next to my bed, and I have alarms on my phone. But as I'm trying to improve the quality of my sleep by limiting devices around my bed, all of a sudden I needed a clock.At first, I thought the ceiling projection would just be some fancy feature I didn't need, so what drew me most to this clock was just the big numbers on the front- I wanted something easy to read. And the display is certainly that- no matter how much my tired eyes are glued shut at 5am, I've never had a hard time reading this.But it's the ceiling projection that has been my favorite part of this clock. It means that I don't have to turn my head or roll all the way over to see the time, which means when I wake up just a little bit in the middle of the night, I don't have to move and wake myself up all the way. Just a quick peek and back to sleep. It helps so much!Both the normal display and the projection are bright enough that I have no problem seeing them with the light on, but with the lights off, they aren't so bright that they disrupt my sleep. Like, I'm not shielding my eyes or anything. Really, this is perfection. And I love being able to control the angle and direction of the projection; it's so customizable.I give this clock a solid 10/10

Embeth A

5

Pétit Z

May 24, 2021

I got this watch especially for the time projection. Everything worked as described in the ad for a little while and then some numbers stopped showing up on the main screen. Numbers like 5 or 8 are missing part of their "body" with can mislead big time. It happened when I thought it was 8:58 am and the watch was showing 8:18 am. Other than that it works great.

Pétit Z

3

Amazon Customer

May 14, 2021

peu de choix de volume

Amazon Customer

3

Rachel L

May 6, 2021

Ce qui m'a déçu le plus, aucun respect pour le français. Les instructions seulement en anglais..

Rachel L

3

green_earth

May 5, 2021

OK... this has been in use for months, in my son's room. It works fine - and you can see the clock face well in the dark or with the light on. With some light reading and experimentation, you can easily set the time and your alarms.In my opinion, that's where the functionality of this should end. I'm frustrated as I've tried many many times to work with this clock to get it to function with the 'projection' aspect. That, the projection, is a total bust. No workie. Nada. Worthless. The reason I've taken a while to review, is that almost every single time I turn that on - it's 'looks' different! So, I've assumed I've done something bad, needed to give it a stiff slap, or something like that. No - just does not work. I see bits and pieces clearly - full brightness - like I'm reading Klingon or some strange language. Other times, I see a portion of the time nice and perfect, but never, ever, the 'whole thing' to be usable.Outside of this, it's just odd. The way you set the time and such is unique, and not similar to the past decades of digital clocks with standard hour/minute/alarm/pm/am buttons. You'll need to read up to set everything.On the plus side, for the price you do get a lot particularly if you're fortunate enough to get one that projects as I had hoped for. It has varying degrees of brightness, multiple alarm options, etc. So, I'll give it 3 stars as it is a functional alarm clock for my son who also uses the USB charger from time to time.

green_earth

3

Darla

April 25, 2021

I've never had a digital clock quite like this one. It has large, easy to read white letters and has an excellent projection feature to show on an adjacent wall or ceiling! I personally project it onto the opposite wall so no matter which way I'm facing in the middle of the night, I can clearly see the time. I don't use the radio feature or the alarm, but it's there if you need it.

Darla

5

MAB

April 17, 2021

Love this clock. I thought the product was malfunctioning so had to deal with the company. They were great, responsive and patient. Turns out, the issue was that I entered the incorrect year when setting the clock. Pay attention to the year :).

MAB

5

HobbitLyfe

April 17, 2021

This is in my middle schooler's room. It was easy enough for her to figure out and set both the time and the alarm itself. The display is clear and easy to read, and since she has a loft bed, it had to be since it's set across the room from her bed. She adjusted the brightness so it didn't keep her up, but she could see it as needed. Since it's across the room, she doesn't usually use the snooze feature, but the rest is all great for her. It picks up her favorite radio station clearly so she doesn't have to be woken up by an annoying buzzer, which is a feature that seems harder and harder to find. The battery back up is great in case she 'accidentally' unplugs it, too. Overall, perfect for our needs.

HobbitLyfe

5

evangelyn

March 29, 2021

I like the slim design of the radio, alarm is loud (which what I prefer) but the sound quality of the FM radio is not that good. Well, my sole purpose for purchasing this was the alarm, so I guess can't complain much on the radio sound quality. Overall, not bad.

evangelyn

4

Hazel J

March 26, 2021

Florida, United States

This is the best clock I have ever purchased. I like the white. Radio is clear and the features are great. It's small too.

Hazel J

5

jennifer l

March 12, 2021

Nice compact design. Love it

jennifer l

5

Jessica D

March 8, 2021

This is perfect for me, exactly what I needed. I only take one star off because I can't get the time to project on the ceiling directly above me, but that's not a deal breaker. It's a good size, I love that I can adjust the brightness!! That's a HUGE bonus for me! I don't have to worry about becoming too "alert" from the brightness when I wake up in the middle of the night. It's a good buy. I'd purchase this again and recommend it to anyone who wants a new alarm clock.

See all reviews

Jessica D

4
Resources
Manual
FAQs
Does this clock have an AM radio?
No, the CR20 Alarm Clock Radio does not have AM radio, only FM.
Will the alarm go off even if the power goes out?
Yes! The CR20 features SureAlarm which ensures your alarm will sound for the time you set even if the power is out. This is powered by a battery located in the bottom of the clock.