Overview Introducing Alix™ Digital Audio Baby Monitor by Levana®. Listen to baby with the portable handheld monitor from another room or even outside! Stay connected with your baby and be alerted if you are out of range. Using ClearVu® digital technology, the baby unit broadcasts a secure signal that only you will be able to hear. These valuable features work in perfect harmony, giving you peace of mind in knowing that your child is safe, from up to 1000ft away.
Rechargeable Battery
Simply place the parent unit onto the charging base which uses an energy efficient power adapter, and enjoy over 8 hours of continuous audio.
Digital Wireless ClearVu® Technology
Feel free to take the monitor with you around the house and even outside!
Convenient Portable Monitoring
This compact system is easy to take with you, wherever you go. Whether you are at home, on vacation or visiting friends and relatives, you'll always know that your little one is safe.
1000 ft. Range
Levana's Digital Technology ensures that you will always hear clearly and that the signal remains strong up to 1000 feet away.
Out of Range Warning
An audible alert will let you know if your unit is too far from the baby's and connectivity has been lost.


Integrated Belt Clip
The integrated belt clip on the parent unit is both durable and functional and adapts to your monitoring needs. Carry it with you around the house or mount it on the wall while making dinner.
Specifications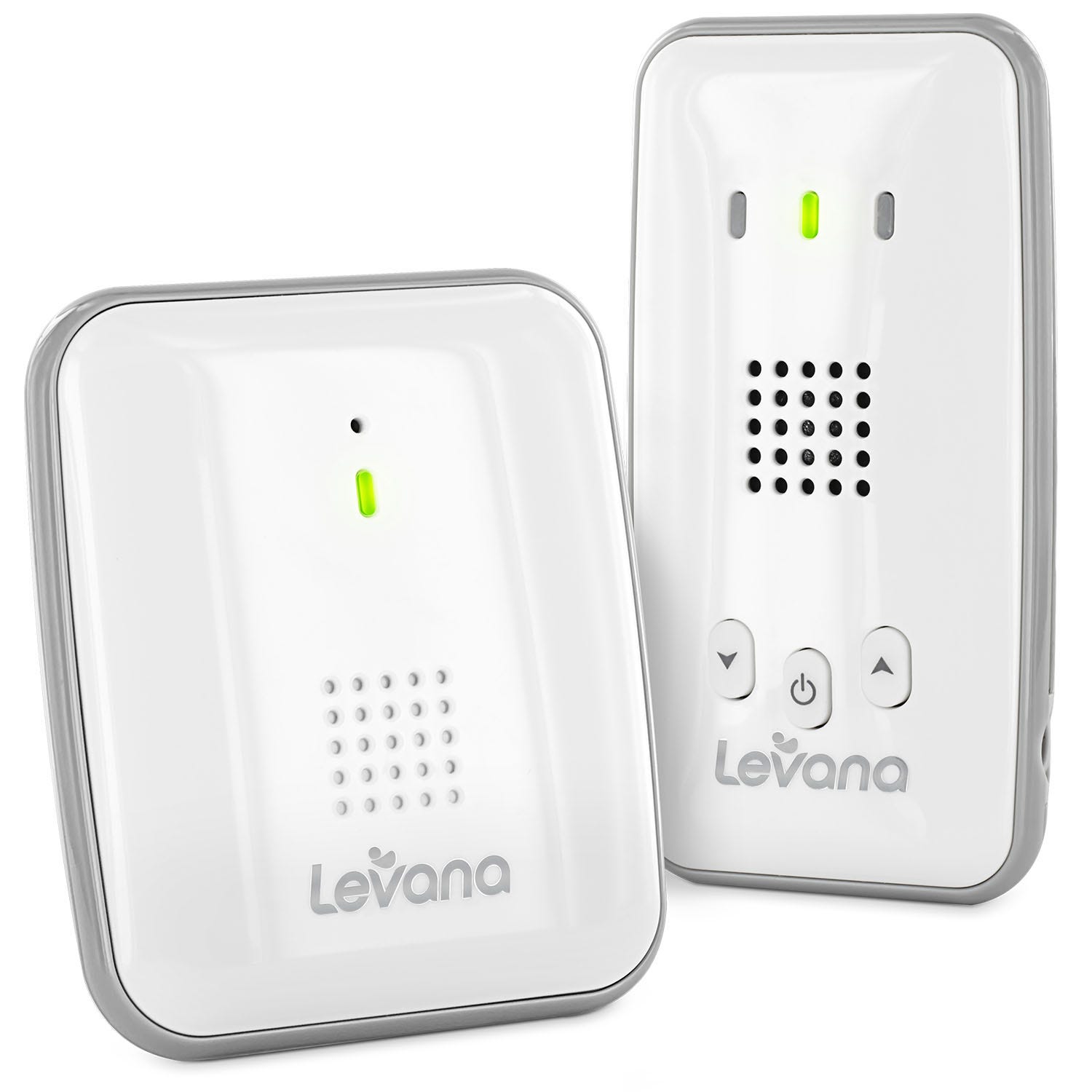 Frequency
Digital
Power Save Mode
Yes
Data rate
2.4 GHz
Max Transmission Range
1000 ft
Optimum Transmission Range
200 ft
Speaker
Yes
Microphone
Yes
Battery Type
NiMH
Battery Life
8 Hours
USB Charging
No
Housing
ABS Plastic
Power Adapter
5V ~ 600mA
Operating Temperature
32°F to 104°F (0°C to 40°C)
Dimensions
4.25" x 2.25" x 1.25"
Weight
0.15 lbs
UPC
061783257531
What's Included

Baby Audio Monitor
2 Power Adapters
Rechargeable Battery
Quick Start Guide
30 Days warranty
Lifetime Customer Support
DISCLAIMERS
Strangulation Hazard:Children can become entangled in cords. Power cords should be kept more than 3 feet away from the crib and baby's reach at all times. Baby monitors/cameras with power cords should never be hung on or near the crib. This product is not a toy.
Optimum range is 200 feet when signal is passing through walls or floors. Microwave ovens (when in use) may cause signal disruption at close range. Buildings with metal frames may also cause signal disruption. Maximum transmission range is 1000 feet.
Battery life of 8 hours based on full duration testing. Battery life may vary depending on usage.
This product contains small parts. Exercise care when unpacking and assembling the product.
This product cannot replace responsible adult supervision. Check your child's safety at regular intervals and make sure your monitor is always adequately charged.
We reserve the right to change models, configuration, or specifications without notice or liability. Product may not be exactly as shown.
©2014 LEVANA®. All rights reserved. LEVANA®, the LEVANA® logo, Alix™ and other LEVANA® marks may be registered. All other Trademarks are the property of their respective owners.