Regular Price: $159.99 USD
Special Price $129.97 USD
Specifications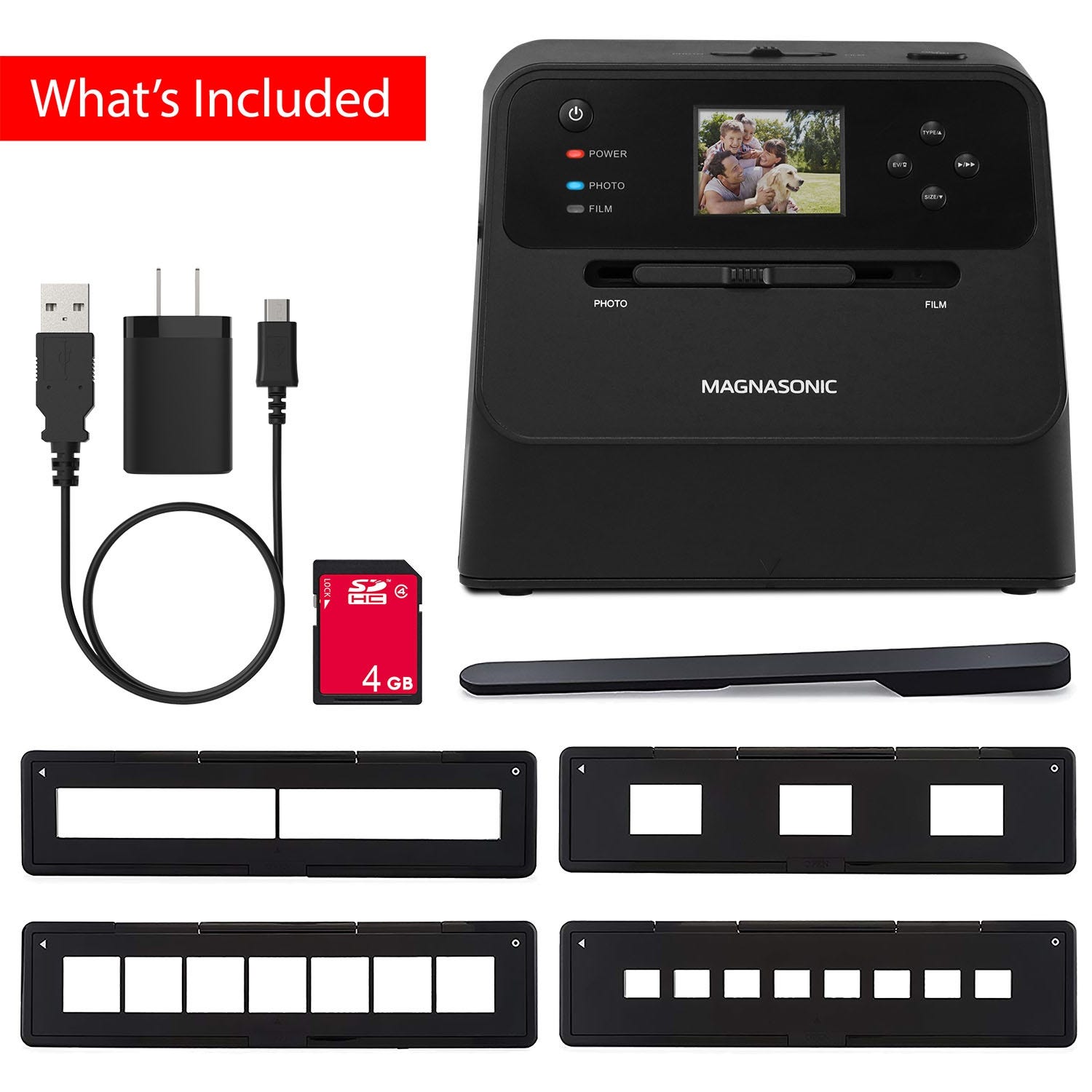 Display
2.4" Color LCD Display
Focus Range
Fixed Focus
Exposure Control
Automatic/Manual (-2.0EV ~ +2.0EV)
Recording Resolution
14 Megapixels
35mm film/135 slides: 4416x2944 pixels
110 film: 1984x1472 pixels
126 film: 3312x3312 pixels
4x6" photo: 3824x2512 pixels
3x5" photo: 3280x2208 pixels
Scan Quality
3200 dpi
Scan Method
Single Pass
Film Type
35mm
110
126 film
4x4"/4x6"/4.2x3.2"/3.5x5"/3.4x2.1" photos
135 slides
Light Source
LED Back Light (film) & light bar (photo)
File Format
JPEG
Image Playback
Single
TV Out Type
No TV out function available
Built-In Memory
No built-in memory – requires an SD card (included)
External Memory Card
Up to 32GB SD card
Scan Speed
3-5 seconds
Language
English
Dimensions
7.1 x 8.2 x 6.4 inches / 180.3 x 208.3 x 162.6 mm (HxWxD)
Weight
2.3lb
Power Supply
Input: AC 100-240V 50-60Hz 0.2A, Output: DC 5V 1A
Certifications
FCC, ICES, CE, ROHS
UPC
871363005137
What's Included

14MP Film and Photo Scanner
35mm Film Holder
135 Slide Holder
110 Film Holder
126 Film Holder
Photo Holder
5ft USB-to-Micro USB Cable
USB Power Adapter
Cleaning Brush
SD Card
Lifetime Customer Support
1 Year Manufacturer's Warranty
Customer Reviews
CT S

August 15, 2021

The photo scanner is quite fast and easy to use, but is extremely temperamental. It just turns itself off for some reason even when there is no pause in action. If it does that, you may have to unplug it and turn it back on a few times before it starts working again. There seems to be no rhyme or reason for this odd behavior. The picture quality and color balance are not bad, but there are times when it drives you nuts by just "refusing" to work. I recommend it with some reservation.

CT S

3

George I

June 5, 2021

Tried to digitize my Kodachrome slides but the resulting photos had no relationship with the originals as far as color is concerned.

George I

2

Captain

April 21, 2021

Easy to use and the instructions are easy to follow. Does a great job of photo copying. Haven't tried the slide procedure yet but I'm sure it will work great.

Captain

5

Amazon Customer

April 16, 2021

copied all the pictures I had in boxes from when I was born till my kids finished college , put on usb and use tv to look at the pictures.

Amazon Customer

5

Mark H

March 16, 2021

One of the best or most valuable gadgets I have bought in a long time. So easy to use and so quick to digitizer a complete photo album.

Mark H

5

Justin

February 3, 2021

Does very awesome job! Scanned old slides and very easy to use and clear nice digital image. You can adjust the brightness of your pictures which is a must on the old slides.

Justin

5

Martin G.

November 20, 2020

Quebec, Canada

Nice gadget. Work well and fast.

Martin G.

4

Amazon Customer

October 25, 2020

Thought it would be great for capturing photos in An album,quality is awful,feels very cheap.retirning it !

Amazon Customer

2

Ian K

October 14, 2020

This item is grossly overpriced for what you get. I ended up getting flatbed scanner instead. I would say that it was a complete waste of money but the negative holders were very useful.The resolution of the scanner was very low & it was temperamental with negative scanning, particularly colour.I would try to dissuade anyone from buying one.

Ian K

1

g l

September 24, 2020

Great easy to use no computer needed.

g l

5

Julie T

September 1, 2020

Excellant product

Julie T

5

Helmut

August 11, 2020

copying slides and prints

Helmut

1

J C

August 3, 2020

This digitizer works just fine for the 4x6 prints I have tested it with. I have not yet tested it with the 110 and 126 negatives, but I suspect it will work fine. The instructions for usage are clear and unambiguous. I have a mountain of prints to digitize so I am steeling myself for the long haul because I can only digitize one print at a time - takes about 10 seconds in aggregate. So multiply 10 seconds by 1000 prints and that is the task.

J C

5

Christy m

July 28, 2020

I have thousands of pictures to scan. This is a game-changer. I can scan 5 in the same time it takes to scan 1 with my printer/scanner. So worth the money. I may order a couple and have a scanning party.

Christy m

5

Linda P

May 6, 2020

I have many hundreds of slides passed down to me and was hoping this little machine would help make scanning a large quantity of slides easier. It really wasn't... It's not so much that the process to scan them was difficult, but more that it's tedious and the quality wasn't as good as I expected. I don't have a lot of experience with scanning slides, but having played around with this device for a few weekends has left me feeling that whatever the cost is for someone else to scan my slides will be worth it! I didn't scan any photographs, but if that's of interest to you, this will scan up to 4x6" photos. I feel as though a regular scanner would be a better investment if you're looking to scan a lot of photos and expect crisp resolution.

See all reviews

Linda P

3
Resources
Manual
FAQs
What kind of film can I scan in the FS60?

The Magnasonic FS60 film scanner can scan a number of different film formats including:
35mm film strips, 35mm slides, 110 film, 126 film and 4x4, 4x6, 4.2x3.2, 3.5x5, 3.4x2.1 photos. It can also scan in black and white, or in full color!


Can I scan undeveloped film in the FS60?

No, the FS60 cannot scan undeveloped film. It is important to never expose undeveloped film to light as it will overexpose and damage the film which cannot be recovered. Although most retailers don't offer the option of developing film, some specialty photography shops offer the service.


Will the FS60 fix scratches or fading?

The FS60 is able to make minor adjustments to color and exposure but cannot fill in scratches or fading that may happen over time.


Do I need a computer to use the FS60?

While a computer is not necessary, it is highly recommended. The FS60 can scan directly to an SD card inserted in the scanner.
To view the scanned images, insert the SD card into a TV or computer with an SD card slot.


What's the biggest SD card I can put in the FS60?

The FS60 will accept SD cards up to 32GB in size.


Does the scanner need to be plugged in?

When powering on the FS60, it must be connected to either a USB port, or USB power adapter to turn on.


Can I use the FS60 on an Apple computer?

Absolutely! FS60 is compatible with MacOS 10.5 and up!