Overview
Let the Memories Live Forever
Specifications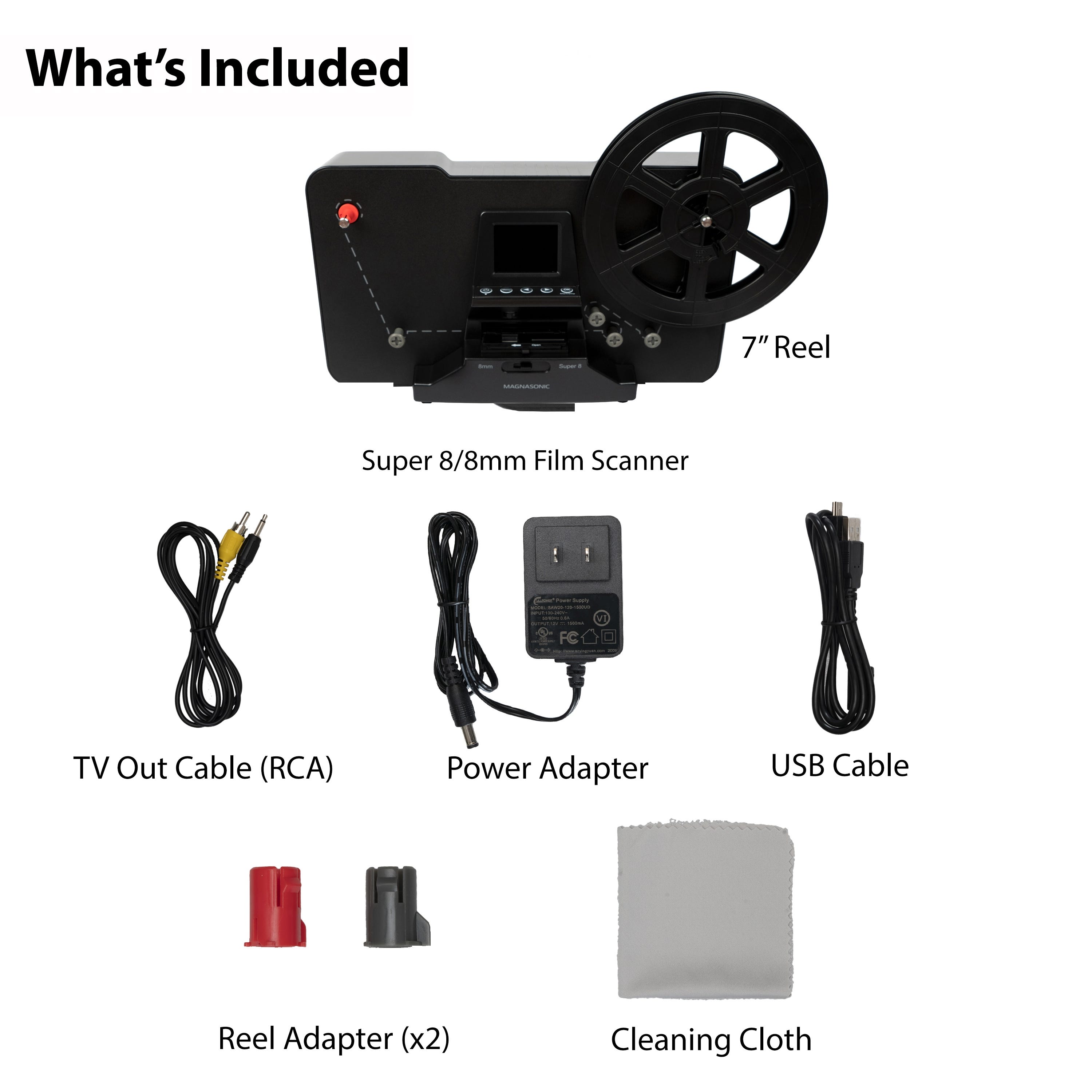 Display
2.31" Color LCD Display
Focus Range
Fixed Focus
Exposure Control
Automatic/Manual (-2.0 EV ~ + 2.0 EV)
Recording Resolution
3.5 Megapixels
Scan Quality
1080p (1440 x 1080)
Scan Method
Video Recording
Film Type
3", 5", and 7" Super 8/8mm reels (16mm - No)
Light Source
LED Back Light
File Format
MP4
Image Playback
20 frames per second
TV Out Type
NTSC
Built-In Memory
None
External Memory Card
SD memory card up to 32GB (Class 4 and above)
Scan Speed
2 frames per second
Language
English/French/German/Italian/Spanish/Japanese/Simplified Chinese/Traditional Chinese
Dimensions
12.6 (L) x 5.1 (W) x 7.5 (H) inches
Weight
4.4 lbs
Power Supply
Input: AC 100-240V 50-60Hz 0.6A, Output: DC 12V/1.5A
Certifications
FCC
UPC
061783270448
What's Included

FS81 Film Scanner
Film Reel
USB Cable
Power Adapter (5V/1A)
RCA Video Out TV Cable
Cleaning Cloth
Instruction Manual
Lifetime Customer Support
1 Year Manufacturer's Warranty
Customer Reviews
Ghislain R

December 28, 2022

Pour convertir nos films 8mm sur le téléviseur. Il faut faire des tests afin de maétriser cet appareil.

Ghislain R

4

chris s

December 16, 2022

Image colors not stable and appears over compressed giving a very grainy result. Not acceptable. Has to go to USA for return

chris s

1

Tom W

December 13, 2022

Georgia, United States

Successfully scanned all of my family's 1960's 8mm films in two days with the Magnasonic Super 8/8mm Film Scanner. Had thought we had lost that family history my Father had captured, but now it is preserved digitally for my nieces who never got to meet him.

Tom W

5

Douglas H

December 12, 2022

Yes it works, but you have to work it.Complaints-Most of my complaints have to do with the physical handling of the film. The design encourages jitter. It tends to get stuck on splices and worn sprocket holes, so you have to babysit.-The user manual is minimal. For example, it describes how to adjust Sharpness, but how does that affect grain, bitrate and compression? The support website doesn't add much either.Tips-Scan in reverse to work around worn sprocket holes.-Scan into a tall box/bucket rather than the take-up reel, as the take-up reel tension contributes to jitter.-Scan from a box (rather than a reel) for larger/heavier reels which have more drag and contribute to jitter.-Wind film by hand to save time.

Douglas H

3

Robert A

December 8, 2022

It works great. Very easy to use. Picture quality is great. I converted all my 8mm and super 8 movies to DVD. It takes some time to convert them, but it is worth it.

Robert A

5

annette k

November 20, 2022

This recoder is easy to use . I bought this in order to put 8mm film on usb to keep them protected and so I could watch anytime

annette k

5

Shauna

November 12, 2022

We tranfered all our 8mm tapes on to a scan disk and then we will also put it on a cd to give to family.

Shauna

4

jeff h

October 24, 2022

I am converting over 200+ old 8mm movies that my father took from 1960-1975. I was worried about this product because of some of the reviews on Amazon, but am over 100+ movies into digitizing, and have had virtually no problems. once or twice the film skipped the sprockets, but in nearly endless footage to date, that is a very acceptable rate. (and to be honest, some of it was probably user error on my part (failing to dust the sprocket every few reels, and assuring film is under the 2 white tabs). The output to digital is as good as the original, and for 50+ year old film, is absolutely amazing. Don't send your film out to a vendor if you have a lot to do, just buy one of these, you'll be pleasantly surprised. They do take a long time to digitize, so just be forewarned.

jeff h

4

Robin D

October 21, 2022

If cost is a factor this is a good compromise to more expensive professional scanning methods and will yield an acceptable digital reproduction. Cleanup can be accomplished with inexpensive software run on the digital result.

Robin D

4

Ed

October 17, 2022

I have completed about 75 8mm and Super 8 film conversions to digital with this film scanner and without any scanner problems. The only little issue was the light would pick up a lot of dust and dirt from the film so it needs to be cleaned frequently. Other than that, every film to digital conversion turned out better than expected.especially since most of the processed film was 60+ years old and stored in less than ideal conditions. I would highly recommend this unit to anyone wanting to convert old 8mm and Super 8 film to digital.

Ed

5

Alphonse D

October 6, 2022

Very good editor highly recommended easy to use once you get the hang of it.

Alphonse D

5

D. O

September 28, 2022

We purchase the wolverine before this one. It was harder to get the film loaded, but mostly we returned it because we could not get it to reliably record a whole reel before it would repeatedly jam up.The Magnasonic by comparison is easier to load, but more importantly it can make it thru multiple 7" reels w/o jamming up. We did have to fiddle with the way that the film feeds thru the device before we got it working reliably. And the clutch on the take up reel is VERY sensitive. It does not take much before it stops taking the slack.... you better be there if that happens as the film will become a pile on the floor. It seems from all of the reviews, all of these technologies are quite touchy.Still in our case there was no comparison The Mangnasonic worked, and the Wolverine did not.

D. O

5

Amazon Customer

September 13, 2022

I am very pleased with the ease of digitizing old home movies. This has worked very well and the quality of the images has been terrific. Very pleased.

Amazon Customer

5

Bono

September 6, 2022

Pas trop top mais y a mieux
Translation: Does the job but hey!!!! Not too great but there are better

Bono

1

F. O

August 19, 2022

I love this product. Just follow the simple instructions and you will have no problem. Easy to use. Allowed to be preserve family memories from was far back as the 1950's

See all reviews

F. O

5
Resources
Manual
FAQs
Does the FS81 record sound?

The Magnasonic FS81 8mm/Super 8mm film scanner records only the video from the reel, audio will not be recorded.


Can I watch my 8mm/Super8 movies on FS81?
While you cannot watch the movies before you scan them, you will be able to watch your movies through the scanner screen or on a computer once you've scanned them. While scanning, the FS81 will feed one frame at a time over the scanning surface which will have a stop and go effect. Each image is combined into a video once you end the scanning session.
What kind of film can I scan in the FS81?

The Magnasonic FS81 film scanner can scan both 8mm and Super 8mm film reels in 3" 5" and 7" sizes.


What's the biggest SD card I can put in the FS81?

The FS81 will accept SD cards up to 32GB in size.


Do I need to install anything on my computer?

No! Simply connect the scanner to your computer using the included USB cable to view your scanned footage just like a USB thumb drive!
*does not scan directly to the computer*