Specifications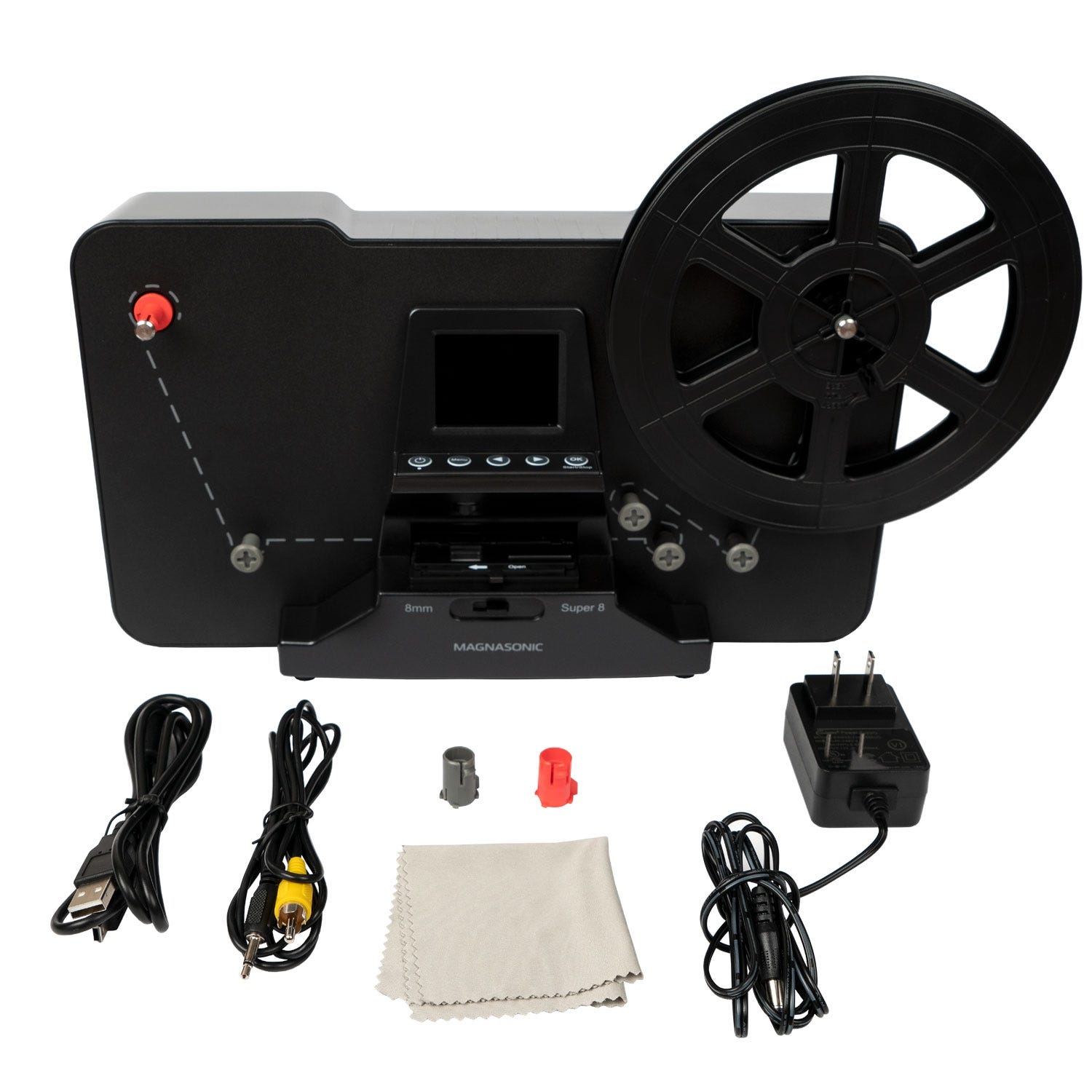 | | |
| --- | --- |
| Display | 2.31" Color LCD Display |
| Focus Range | Fixed |
| Exposure Control | Automatic/Manual (-2.0 EV ~ + 2.0 EV) |
| Recording Resolution | 1440 x 1080 |
| Scan Quality | 3.5 Megapixels |
| Scan Method | Video Recording |
| Film Type | 3", 5", and 7" Super 8/8mm reels |
| Light Source | LED Back Light |
| File Format | MP4 |
| Image Playback | 20 frames per second |
| TV Out Type | NTSC/PAL |
| Built-In Memory | None |
| External Memory Card | SD memory card up to 32GB (Class 6 and above) |
| Scan Speed | 2 frames per second |
| Language | English/French/German/Italian/Spanish/Japanese/Simplified Chinese/Traditional Chinese |
| Dimensions | 12.6 (L) x 5.1 (W) x 7.5 (H) inches |
| Weight | 4.4 lbs |
| Power Supply | DC 12V |
| Certifications | FCC |
| UPC | 061783270448 |
Resources
Manual
FAQs
Does the FS81 record sound?

The Magnasonic FS81 8mm/Super 8mm film scanner records only the video from the reel, audio will not be recorded.


What kind of film can I scan in the FS81?

The Magnasonic FS81 film scanner can scan both 8mm and Super 8mm film reels in 3" 5" and 7" sizes.


What's the biggest SD card I can put in the FS81?

The FS81 will accept SD cards up to 32GB in size.


Do I need to install anything on my computer?

No! Simply connect the scanner to your computer using the included USB cable to view your scanned footage just like a USB thumb drive!
*does not scan directly to the computer*


Can I watch my 8mm/Super8 movies on FS81?
While you cannot watch the movies before you scan them, you will be able to watch your movies through the scanner screen or on a computer once you've scanned them. While scanning, the FS81 will feed one frame at a time over the scanning surface which will have a stop and go effect. Each image is combined into a video once you end the scanning session.