Overview

The Fluance AVBP2 Bipolar Surround Sound Speakers offer an energetic and enticing performance with superior components that enhance the cinephile experience. From every high speed locomotive to the ferocious jet plane flight, these bipolar speakers will reinforce the movie theater experience you dream about.

Bipolar Surround Sound Design
The unique configuration of the bipolar speakers creates a 3D soundstage. This is achieved by having two complete full-range speaker systems on opposing sides of the cabinet. The results are widespread, enveloping surround sound throughout your room. The AVBP2 are designed for placement beside or behind the listeners for an extremely convincing 5.1/6.1/7.1 surround ambiance.

Thrilling Highs
The enveloping sound design of the AVBP2s will have your heart pumping and your head rotating. The neodymium tweeters of the Classic Series bipolar speakers increase the enjoyment from your favorite cinematic blockbusters. You will feel every spine-tingling scream and rapid stampede from the AVBP2 bipolar speakers.

Richness in the Middle
Experience the high definition sound effects Hollywood intended you to hear with the AVBP2 Bipolar Surround Sound Speakers. The dual four-inch midrange drivers enhance cinema quality home theater by replicating the soundstage, tones and notes you crave from your favorite films and concerts.

Made for You
The AVBP2s are made with a trapezoidal configuration, the perfect shape to increase home theater sound. Made with engineered MDF wood cabinetry for reduced resonance, the AVBP2 bipolar speakers provide superb, rich sound performances at every volume level. The black ash wood finish match perfectly with the Classic Series, and is your ticket to an engaging, thrilling in-house movie theater experience.
Specifications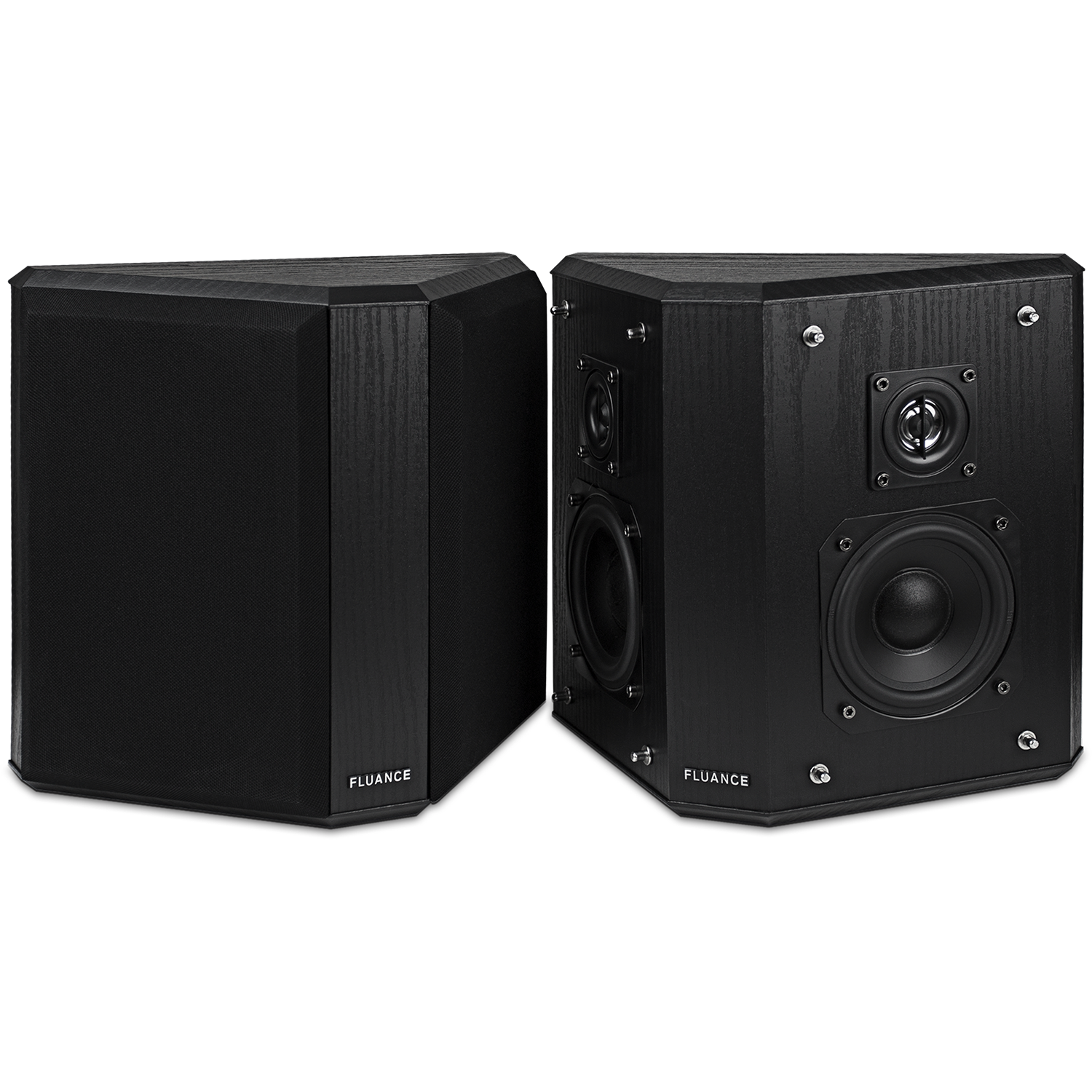 | | |
| --- | --- |
| Speaker Configuration | 2 Way - 4 Driver Bipolar Surround Speakers |
| Tweeter | Dual 1 inch Neodymium Balanced Dome Ferrofluid Cooled |
| Woofer | Dual 4 inch Polymer Treated with Butyl Rubber Surrounds |
| Power Handling | 20 - 100 Watts |
| Frequency Response | 130Hz - 20KHz |
| Internal Lead Wire | -test |
| Sensitivity | 88dB @ 2.83V / 1m |
| Crossover Frequency | 4000 Hz Phase Coherent - PCB Mounted Circuitry |
| Impedance | 8 Ohms |
| Enclosure | Acoustic Suspension Design |
| Dimensions | 10.2 X 11.0 X 5.5 inches |
| Speaker Weight | 6.8 pounds/speaker |
| Series | CLASSIC |
| Speaker Type | Bipolar |
| Certifications | CE Certified, RoHS |
| DOLBY ATMOS | Ideal for use as surround sound speakers in a Dolby Atmos™ Surround Sound System-test |
| Frequency Response Graph | Click to Expand |
| Fluance Speaker Size Comparison Chart | -test |
| UPC | 871363002341 |
Customer Reviews
Tom T

October 12, 2017

The speakers are great! They made a big difference from my old speakers. - Verified Store

Tom T

5

Graeme G

October 11, 2017

Excellent, cheap addition to my home theater. - Verified Store

Graeme G

5

Amazon Customer

September 16, 2017

Rather small, but decent speakers . - Verified Store

Amazon Customer

4

ReyS

September 7, 2017

Excellent for back speakers. - Verified Store

ReyS

5

fear

September 3, 2017

Sounds great as surround speakers. - Verified Store

fear

5

Brad C

August 24, 2017

Great buy - Verified Store

Brad C

5

R H

August 17, 2017

Great speakers for the money. They sound great - Verified Store

R H

4

Marco Alvarado

August 6, 2017

These are phenomenal, best audio purchase to date .

Marco Alvarado

5

Sutil

July 17, 2017

Awesome! Simply amazing quality! I'm an audiophile with a setup that has a lot of very, very expensive speakers and subs... I bought a pair of these because I was waiting on a "higher end" pair to become available... so they were "temporary" but even though they were extremely inexpensive... 120 for a pair? I read reviews and specs and was expectig some level of quality. But no review, soundclip or demo could have prepared me for the amazing soubd wuality these bipolar speakers produce!
You really have to have a good setup to hear these shine... although you can also use them as your primary speakers if you are after a more simple kind of usage... but with a good sub you can set these puppies to match the rest of your speakers perfrctly... and the combo of these with my sub in really makes it seem like the bass is coming from these speakers!!! The highs are crisp! The mids are subtle but they are there... but I like the flat response with good high quality highs... it complements the big speakers and explosion debris soubd clean and crisp... so yeah, I ended up ordering another pair and these are the cheapest speakers in my setup, but definitely they stand very well next to all the others speakers and I can tell you I've never used bipolar speakers... I don't know why that design is not more popular because it really makes a great ambient sound and also more people hear it... i used to have the speakers pointing towards inside the couch and people sitting on the chairs outside the couch could hear but not really as high wuality if you were i side the couch area, but with these they get ti hear the surround channels with the clarity and punch we all do!

Sutil

5

Andrea D

July 13, 2017

Fluance AVBP2 Home Theater Bipolar Surround Sound Satellite Speakers - These speakers are little bigger then I thought, but they really fill the room with SOUND! You can see in the photo how they compare with a sheet of paper - Verified Store

Andrea D

4

Timothy N

July 6, 2017

Just received mine yesterday (I ordered mine from Amazon.com) I immediately hooked them up to My Yamaha RX-V373 5.1ch AVR and put in Indiana Jones Kingdom of the Crystal Skulls Blu-Ray Disc. Definitely worth their asking price for the level of sound reproduction these things put out!!! My Poor-Man's Home Theatre setup consists of the following - POLK AUDIO 75T (Front Speakers), POLK AUDIO CSX250c (Center Channel Speaker), KLIPSCH R-12SW (Powered Subwoofer) and now the FLUANCES for the Surround Speakers.I'll be playing music from my NEXUS 6 and watching more Blu-Rays anytime/everytime I get a chance to so that these speakers can start to 'open' up. After 3+years for my other speakers they sound alot better than when they did when they were brand new. So far though I'm pleased with these Fluances, they look good and have good weight to them for there size. - Verified Store

Timothy N

5

Adair

July 3, 2017

Awesome surround speakers. I have them set up as my rears for surround system and it literally makes me turn my head. The episode of Breaking Bad when the fly was in the lab...these speakers made it sound like the fly was buzzing all around the room. Great projection and sound quality. - Verified Store

Adair

5

LYNN B

June 28, 2017

They sound great! I am very happy with them! - Verified Store

LYNN B

5

RCNorm

June 26, 2017

I love these speakers because they boosted my home theater to the next level! They are great speakers for Surround Sound; so good that I plan on buying another pair for my surround back channels (my initial pair was for the surround left & right)! They REALLY do bring out the surround sounds and you simply have to hear it to know the difference! And at $119 they're a steal! So what are you waiting for?? Buy 'em today! - Verified Store

RCNorm

5

Marcus F

June 21, 2017

An unbelievable amount of detail for satellite speakers. Well worth the price for the quality of sound. - Verified Store

See all reviews

Marcus F

5
Resources
Manual
FAQs
Do I need a receiver/amplifier for these speakers?
All Fluance passive speakers (unpowered) require a receiver or amplifier to provide them power and a connection to your home theater or media setup.

For more information on how to match your speakers and amplifier, please see our video:
Where should I put Bipolar Speakers?
Bipolar speakers are best used as surround speakers. Sometimes placed at the rear of a 5 speaker setup, they are most at home in a 7 speakers setup placed at the sides of the listening area.

They're designed to output sound is multiple directions so wherever you are in the room, you get the same experience.

For more information, see our video: How to install and position your Fluance bipolar speakers.