Overview

Offering a brilliant, dynamic and exciting performance, the AVFR is a flawlessly made three-way speaker system. With superb sound radiation and rich timbre, this system is perfect for music and home theater applications. Even at high volume levels, the acoustic image remains free from cabinet vibrations and driver resonance. Plus, in a home audio system, the AVFR can easily be used with active subwoofers, and in Dolby surround and DTS systems, the AVFR is suitable for operation as front and surround speakers.

High and Mighty
Reach new heights with vivid acoustic performances that will awaken your ears to the high notes reproduced by the AVFR home theater system. The premium titanium soft dome tweeters perform vibrantly and with sonic accuracy. Expressive and energetic, the AVFR high frequency drivers deliver impactful sounds and effects with lifelike reproduction.

Smooth Midrange and Deep Lows
This Classic Series surround sound system will stimulate your core with rich, warm tones from the midrange and low frequencies. The AVFR's midrange drivers enhance the vocal ranges with true exuberance so you do not miss a single note. The front's linear woofer allows for optimal low frequency response. The results are rich sound and genuine acoustic imagery that will elevate your home theater standards.

Built for You
Excellently matched for your audiophile lifestyle, the AVFR packs enormous sound in an efficient design. The combination of high-quality components and a classic black ash finish result in speakers that look great and sound even better. Engineered MDF wood construction reduces cabinet resonance and distortion for impeccable sound. The AVFR Floorstandign Loudspeakers offer a pure listening experience that will harmonize perfectly with any living area.
Specifications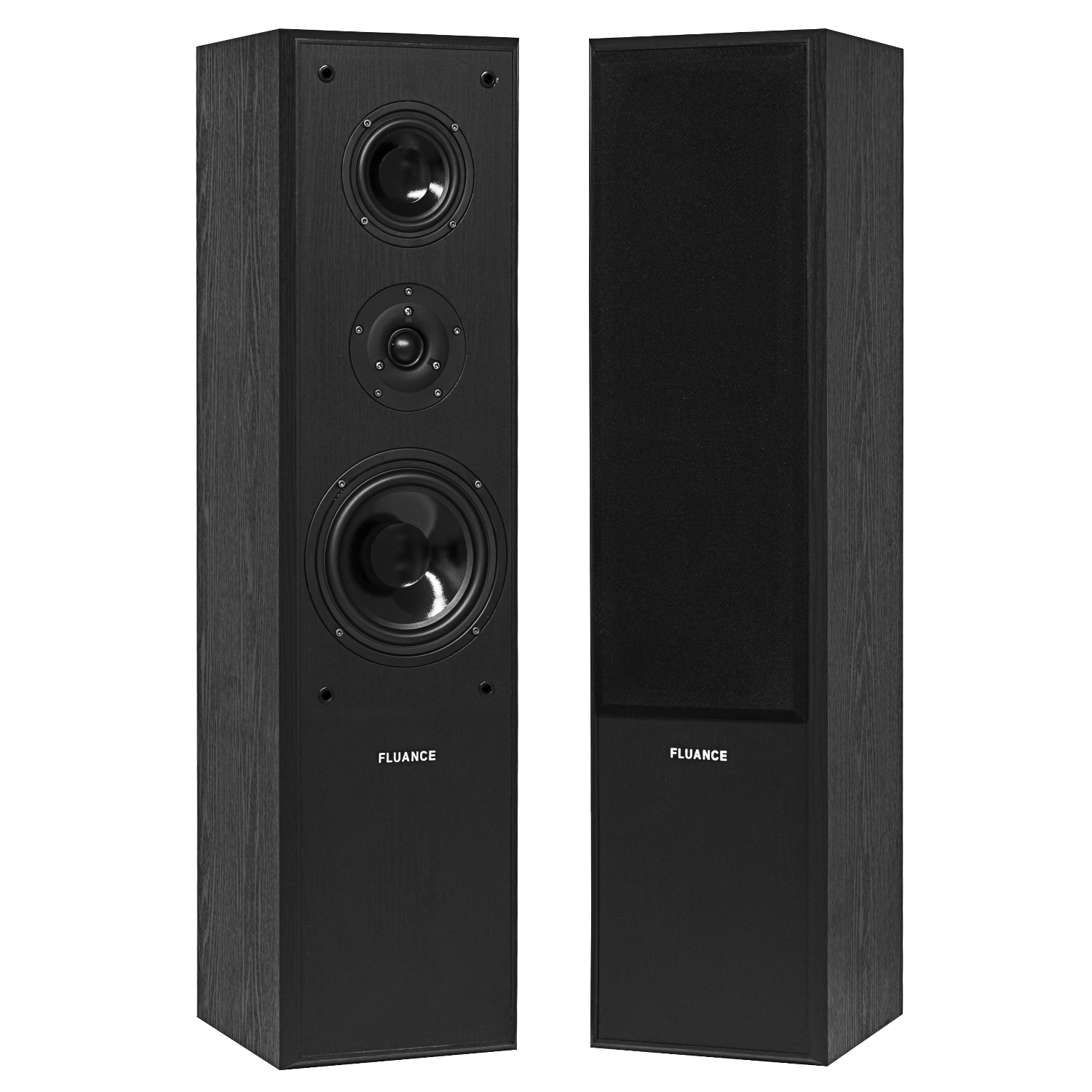 Speaker Configuration
3 Way - 3 Driver Floorstanding Main Speakers
Tweeter
1 inch Soft Dome Ferrofluid Cooled
Midrange
4 inch Poly-coated Driver with Butyl Rubber Surround
Woofer
6.5 inch Poly-coated Driver with Butyl Rubber Surrounds
Power Handling
20 - 120 Watts RMS
Frequency Response
50Hz - 20KHz
Sensitivity
91dB @ 2.83V / 1m
Crossover Frequency
1300/8000 Hz PCB Mounted Circuitry
Impedance
8 Ohms
Enclosure
Bass Reflex Tower Design
Dimensions
33.0 x 8.3 x 9.8 inch
Speaker Weight
27.3 pounds/speaker
Series
CLASSIC
Certifications
CE Certified
Subwoofer Output
No
Frequency Response Graph

Click to Expand

Fluance Speaker Size Comparison Chart

UPC
871363002365
What's Included
Two Floorstanding Main Speakers
Eight 1 Inch Isolation Floor Spikes for use on Hardwood or Carpeted Areas
Instruction Manual
Full Lifetime Parts and Labor Manufacturer's Direct Warranty
Lifetime Customer Support
Customer Reviews
Randy Richardson

December 10, 2016

Could not be more pleased, how did you do it for that price!

Randy Richardson

5

Jerry Kinder

November 7, 2016

This is my first purchase of Fluance products. I was looking at the Polk T50 and the Pioneer 52 floorstanding speakers before I pulled the trigger on these. I'm using an Onkyo tx-8020 high current 50wpc receiver with Sewell 12 guage pure copper wire tipped with their Silverlight plugs. When I first fired them up, frankly I was not impressed. The highs seemed shrill, midrange was inaccurate, and bass was barely evident. This was with the receiver running flat. Remembering the burnin period, I didn't do any critical listening for the first ten hours(the advised breakin period by Fluance). At that time, the bass was there, accurate and tight, but mids and high frequency were still not very accurate. I figured for $159 a pair, that's what you get. I planned to use them as spares after that and started looking at other speaker models. Then, something happened...
At about 35-40 hours the entire speaker smoothed out nicely! Suddenly every genre of music I could throw at the little guys was spot on..very musically accurate and not fatiguing listening to! Since then, they've gotten better it seems with every listen! I am now VERY satisfied, and would rate these speakers with anything I've heard up to the 3-400 apiece range. At their price, you can't go wrong. They do love high volume, which the Onkyo has no trouble providing in my 15 x 15 room. Just remember, the 10 hour breakin is not sufficient to let these speakers settle in, IMO. 35 to 50 hours in, a night and day difference. Thanks Fluance for a very nice speaker at a great price!

Jerry Kinder

5

mjorg

March 4, 2016

The base is amazing. I quit using a sub woofer. They don't need it. Extremely clear. You and hear many things you'be been missing. Every nuance of sound is there. You'll hear what their saying in music and videos. they're amazing for the money. When my big speakers go, I'm going to buy their top line. Wouldn't consider anything else after owning these.

mjorg

5

Win M.

January 30, 2016

Great pair of speakers for the price, using strictly for music. Mostly vinyl and CD's. Huge clarity improvement after 15 hour break in period. Tight bass and exceptional sound. Powering them through a Mitsubishi DA-30 amp & NAD 1020 preamp.
Budget price, $162 a pair door to door, impressive sound & lifetime warranty, what's not to like?

Win M.

5

bryan g

November 20, 2015

This is my second purchase here. The first time I bought a set of Fluance towers I thought, How good can they be for that money. I was blown away!!! They were just perfect teamed up with my M&K subwoofer. Very clean sound at an amazing price. I recomend this site to anyone I can.. I love them.

bryan g

5

George Becza

November 20, 2015

These were purchased for a fairly small living room. They are powered by a 25 wpc class T amp. The inputs range from TV, Pandora, Ipod and CD player. Obviously the input device has a lot to do with the sound quality.
1st: The Bass... Amazing! I am a Bass Player and have had some pretty high end audio equipment in the past. While listening to an acoustic song... The artist is tapping his foot. It sounded like someone was in the room doing it! The Bass from these speakers is really amazing and NOT FOR THE PRICE. Compare them side by side with anything in its class and I cant believe that the AVFR will not come out on top.
Mids and highs: Out of the box they were predictably a little harsh in the mid/vocal range. As they break in they are improving. Highs are limited by the input signal with the best coming form the CD input source. I could only imagine how good these speakers would sound with a high quality amp and input signal..
You will not be disappointed this purchase! I would say if they were 2X more expensive you would still be VERY satisfied!

George Becza

5

Brian H

November 20, 2015

These speakers provide a warm sound. Seems like they love power and are linear from top to bottom. I'm using these in a 4.2 system as my mains. They are powered by a Yamaha rec. with a crossover at 100hz on up. These can be run as a "Large" but I love the more intense dual sub action. I added a Morel 1 1/8 soft dome to the rear with a 3K crossover creating a high freq Bi-Polar setup with netted a more 3D sound. Both tweeters are aligned correctly with matched sensitivity. I love these speakers a bunch and I am much pleased, they can take any DTS HD Master Audio or TrueHD I throw at them.

Brian H

5

Brian H

November 20, 2015

These speakers provide a warm sound. Seems like they love power and are linear from top to bottom. I'm using these in a 4.2 system as my mains. They are powered by a Yamaha rec. with a crossover at 100hz on up. These can be run as a "Large" but I love the more intense dual sub action. I added a Morel 1 1/8 soft dome to the rear with a 3K crossover creating a high freq Bi-Polar setup with netted a more 3D sound. Both tweeters are aligned correctly with matched sensitivity. I love these speakers a bunch and I am much pleased, they can take any DTS HD Master Audio or TrueHD I throw at them.

Brian H

5

Neils D

November 20, 2015

The speakers are well priced, but where they fall short is in their sensitivity. The play well lower in volume than most any other speaker. When I play them off the same amp, an Adcom, with my Boston Acoustics or Infinity speakers, you can hardly hear the Fluances. They handle power well, but play too low. The drivers and the cabinet seem of good quality and they look expensive but where is the sound?

Neils D

5

Richard Corbett

November 20, 2015

Running DENON 2313 CI.
Hopefully ALL will assimilate into a super home surround.

Richard Corbett

5

Nitin

November 20, 2015

Not having the means to purchase expensive equipment, I continually ran across the mention of Fluance products as an alternative to more well-known - and more expensive - speakers. I went with the AVFRs knowing that they'd continually received good reviews and would, at the least, still be a decent upgrade from the shelf system speakers I'd been using.

They are far more than a decent upgrade. They have reignited my passion for listening to music. Even in my small apartment, I can hear great stereo separation and details I'd been missing for years. Thank you Fluance for a great and affordable product.

Nitin

5

Yoshino

November 20, 2015

I'm sure you could marginally improve the sound by spending five to ten times the cost of these beautifully built tower speakers, but I don't see why any rational buyer would spend the huge extra cost for such a tiny return.

I bought these as the foundation for a 6.1 home theater system, adding a center channel speaker, three rear surrounds, and a 10' amplified subwoofer, also by Fluance. Driven by a Yamaha AV receiver, the system fills our modest 1400 square foot home with pure and powerful sound that we can enjoy for hours at a time without suffering from listening fatigue. For our home, the subwoofer may not even have been needed except to shake things up (literally) in movies like Jurassic Park.

For the whole 6.1 system (not including receiver), we paid right around a grand. I'm not going to call it a steal, but it was the best deal I've found in a good many years. Oh, and the people at Fluance were great (you can find a contact telephone number at the Fluance.com web site). They referred me to this site when I found they weren't set up to handle my particular credit card. The cost ordering through Amazon was just about the same as it would have been had I ordered directly from the Fluance web site.

Yoshino

5

shane r

November 20, 2015

I was so surprised of the quality of these speakers. For the price they sell for I thought I might be buying junk. I took a chance and now I plan on getting the rest for my home theater. The sound is really clear and they look great. A well kept secret. how come nobody knows about these?

shane r

5

Rama P.

November 20, 2015

I purchased these speakers to replace the mid-surround speakers in my quasi high-end system of 7.1 speakers.
I use the Audyssey technology in my Denon sound processor to calibrate and address the acoustical problems in the sound reproduction of all the speakers within my specific home theater room configuration.
After multiple cycles of tweaking, I found the sound reproduction from these Fluance speakers to be of such high quality that I decided to switch them around to become my main front speakers.


Rama P.

5

Rama P.

November 20, 2015

I purchased these speakers to replace the mid-surround speakers in my quasi high-end system of 7.1 speakers.
I use the Audyssey technology in my Denon sound processor to calibrate and address the acoustical problems in the sound reproduction of all the speakers within my specific home theater room configuration.
After multiple cycles of tweaking, I found the sound reproduction from these Fluance speakers to be of such high quality that I decided to switch them around to become my main front speakers.


See all reviews

Rama P.

5