Overview

The Fluance® AVHTB Surround Sound Home Theater 5.0 Channel Speaker System offers a dynamic and enticing performance with superior components that exceed audiophile expectations. From every victorious stadium cheer to the silkiest serenades, the floorstanding fronts, surrounds and center channel deliver stunning sound for all to experience.

These Speakers are a Way of Life
The soundtrack of your life is ambitious. So is the Fluance Classic Series home theater system. When the AVHTB is used in Dolby surround and DTS systems you can truly experience what home cinema is supposed to be. Each speaker around your room provides superior performance at every volume level with outstanding precision and clarity, allowing you to soak up all the dramatic impact your favorite music and movies can deliver.

High and Mighty
Reach new heights with vivid acoustic performances that will awaken your ears to the high notes reproduced by the AVHTB home theater system. The premium titanium soft dome tweeters perform vibrantly and with sonic accuracy. Expressive and energetic, the AVHTB high frequency drivers deliver impactful sounds and effects with lifelike reproduction.

Smooth Midrange and Deep Lows
This Classic Series surround sound system will stimulate your core with rich, warm tones from the midrange and low frequencies. The AVHTB's midrange drivers enhance the vocal ranges with true exuberance so you do not miss a single note. The front's linear woofer allows for optimal low frequency response. The results are rich sound and genuine acoustic imagery that will elevate your home theater standards.

Built for You
Excellently matched for your audiophile lifestyle, the AVHTB packs enormous sound in an efficient design. The combination of high-quality components and a classic black ash finish result in speakers that look great and sound even better. Engineered MDF wood construction reduces cabinet resonance and distortion for impeccable sound. The AVHTB Home Theater speaker system offers a pure listening experience that will harmonize perfectly with any living area.
Specifications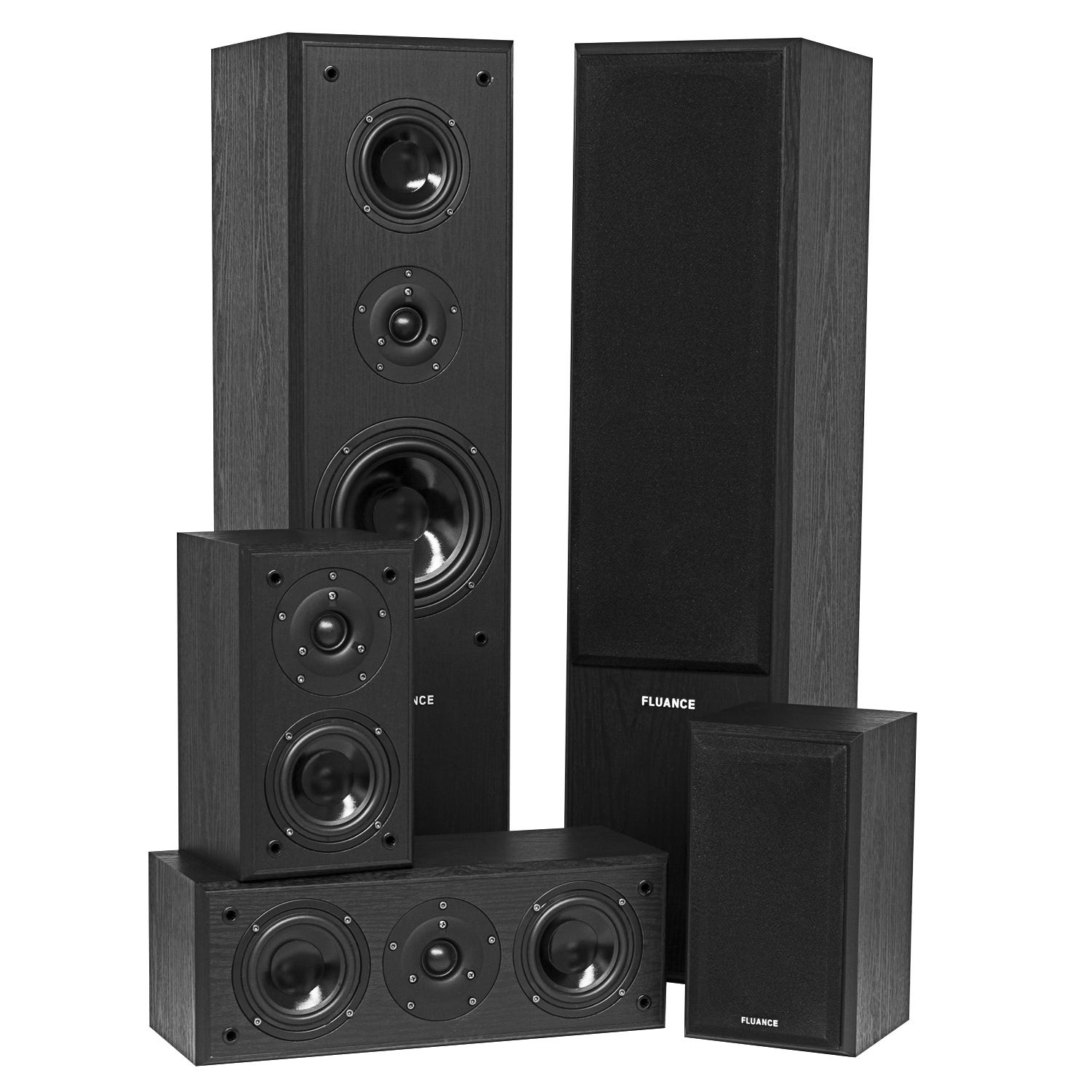 Floorstanding Speaker Specifications
▼
Speaker Configuration
3 Way - 3 Driver Floorstanding Main Speakers
Tweeter
1 inch Soft Dome Ferrofluid Cooled
Midrange
4 inch Poly-coated Driver with Butyl Rubber Surround
Woofer
6.5 inch Poly-coated Driver with Butyl Rubber Surrounds
Power Handling
20 - 120 Watts
Frequency Response
50Hz - 20KHz
Sensitivity
91dB @ 2.83V / 1m
Crossover Frequency
1300/8000 Hz PCB Mounted Circuitry
Impedance
8 Ohms
Enclosure
Bass Reflex Tower Design
Dimensions
33.0 x 8.3 x 9.8 inch
Speaker Weight
28.4 pounds/speaker
Frequency Response Graph

Click to Expand

Center Channel Specifications
▼
Speaker Configuration
2 Way - 3 Driver Center Channel
Tweeter
3/4 inch Titanium Soft Dome Ferrofluid Cooled For Longer Life
Woofer
Dual 4.0 inch Poly-coated Drivers
Power Handling
10 - 100 Watts
Frequency Response
120 - 20K Hz
Sensitivity
86±2dB
Crossover Frequency
4000 Hz Phase Coherent - PCB Mounted Circuitr
Impedance
8 Ohms
Enclosure
Acoustic Suspension Design
Dimensions
6.0 X 16.2 X 6.6 inches
Speaker Weight
9.0 pounds
Frequency Response Graph

Click to Expand

Surround Speakers Specifications
▼
Speaker Configuration
2 Way - 2 Driver Surround Speaker (Wall Mountable)
Tweeter
1 inch soft Dome Ferrofluid Cooled for longer life
Woofer
4 inch Poly-coated Driver with Butyl Rubber
Power Handling
30 - 100 Watts
Frequency Response
120Hz - 20KHz
Sensitivity
87dB
Crossover Frequency
7000 Hz PCB Mounted Circuitry
Enclosure
Acoustic Suspension Design
Dimensions
9.7 x 5.9 x 6.2 inch
Speaker Weight
5.25 pounds
Frequency Response Graph

Click to Expand

Series
CLASSIC
Certifications
CE Certified
Subwoofer Included
No
Fluance Speaker Size Comparison Chart

UPC
871363002310
What's Included
One Center Channel Speaker
Eight 1 Inch Isolation Floor Spikes for use on Hardwood or Carpeted Areas
Two Rear Surround Sound Speakers with Integrated Wall Mounting Brackets (keyhole slots)
Instruction Manual
Full Lifetime Parts and Labor Manufacturer's Direct Warranty
Lifetime Customer Support
Customer Reviews
Owen, M

December 23, 2018

Alberta, Canada

I had been reading about these speakers for over a year before getting them as I have a receiver that I never had speakers to hook up to. I also had to work within my budget that lasted a few years having kids and all. For the price and the sound I very much enjoy them.

Owen, M

4

C,S

October 29, 2018

Ontario, Canada

Great and versatile, the sound is very warm and enough highs for clarity. Works great for all music genre ( pls try Winterplay's Billy Jean / Daft Punk's Get Lucky) Definitely need a sub to round out the sound as the lows struggle at volume. Also need a good to better receiver / amp to power the drivers as it is power hungry. Overall a great buy at the entry level. Hoping to grow into the higher series models somewhere down the line.

C,S

5

Matthew

October 4, 2018

Alberta, Canada

Just received my Fluance Classic Series Surround Sound Home Theater 5.0 Channel Speaker System (AVHTB) ... And I got, to be perfectly honest, these are some of the best speakers I have heard especially at the price offered. They are not lying when they say experiencing audio in its truest form... Nice and loud... Vey clear... Good highs... Really nice lows... These speakers handle very well... I will definetly be making future purchases... Thanks guys.

Matthew

5

terry greenwood

October 9, 2017

great sound they really enhance my tv watching. I'm hearing sounds i wasn't even able to hear with just the tv's speakers.I ordered directly from Fluance Canada and I not only got free shipping I got a $32 discount.

terry greenwood

5

Amazon Customer

July 18, 2017

i do like these speakers...but...i did have to tighten the inputs on the inside of the two towers...and considering what i paid for this set...that was a great disappointment to me. - Verified Store

Amazon Customer

4

Amazon Customer

May 12, 2017

Fast shipping sound is amazing from such a budget priced set well made of course made in canada the only thing is if you want more bass you will need a sub which I already had very good deal for the money well worth it - Verified Store

Amazon Customer

5

Hound

April 25, 2017

The AVHTB is a good sound system but a very poor build quality. So, for that reason I am giving two stars. I was excited to open the box and to plug and play. Once I started to play music, I noticed from one of the towers, 2/3 drivers wasn't working. So, I had to open the back to find out what's the problem. The positive wire wasn't soldered properly and I found debris in between the red plastic and the brass insert. Once I fixed that, all drivers were working just fine. Fluance has to really ramp up their quality check on their products. Will my next sound system be a Fluance? probably not. - Verified Store

Hound

2

Aarona C

April 4, 2017

Really happy with these. Sound is very clear. - Verified Store

Aarona C

5

Marla B

March 10, 2017

Bought this for my Boyfriend who needed a new system and he was blown away by them. He is a sound guy and said they were the Best! - Verified Store

Marla B

5

Bob

February 16, 2017

Excellent speakers. - Verified Store

Bob

5

Joseph M

January 2, 2017

Don't assume that these are low quality! Same price as some tiny surround systems, provides a full spectrum of sound. I am blown away with the sound quality and the build quality. These would not be appropriate for a club or professional installation, but these are absolutely perfect for my tv room. They provide enough volume to injure your ears. The the tower speakers are 3-way, so they sound very nice and I haven't noticed any distortion or muddiness listening to hi-def music. I fiddling with my equalizer, I found them to sound amazing! Everybody's amplifier will sound different, but they sound great as-is. I have an 18ftx15ft room and the sound is dispersed very well, it does have an extra sweet spot though. I will be looking to purchase from Fluance again! Made in Canada! The best buy in the AV industry! - Verified Store

Joseph M

5

Travis S

January 1, 2017

Sound as good as much more expensive speakers. - Verified Store

Travis S

5

Starr W

December 14, 2016

Awesome sound from speakers I thought were to small, the towers I had before were nearly twice as tall, and twice wide. The sound of these speakers are amazing and the center channel speaker was twice as loud as my other, which was bigger.They are well worth the price and you will not be disappointed, and no I'm not getting paid to say this. - Verified Store

Starr W

5

Kevazon

December 8, 2016

Not sure about handful of horrible reviews I have seen. Love mine, bought a second set and 2 sets of bipolars as well.... - Verified Store

Kevazon

5

Douglas P

November 29, 2016

One of the rear speakers is dead. Switched it out with other back speaker and still does not work. Burned the large box and can't ship it back. Buying 2 new rear speakers for speaker box. Pissed off in East Texas - Verified Store

See all reviews

Douglas P

1