Overview Ayden™ (AY-den)
Meaning: Enduring
Your baby will grow up before you know it: rest assured knowing they are safe with the Ayden Digital Video Baby Monitor. This device has been designed with parent-friendly controls and features in mind, including 48 hour battery life in power saving PEEP mode, temperature monitoring, 15ft night vision, and 750ft ClearVu® digital signal. Babies love the Talk to Baby™ two-way intercom, invisible night vision LEDs and 3 relaxing lullabies. With Ayden, you'll never miss a moment. 48 Hour Battery
It's important that your baby monitor lasts as long as you do. With Ayden's energy saving mode, experience 48 hours of peace of mind and be alerted when your baby makes a peep! See More with 3.5"
Ayden's 3.5" screen lets you see your baby with crisp clarity. The compact design, table-top kick stand, and intuitive icon based touch panel ensure a convenient monitoring experience. Private Digital Signal
Feel confident knowing Ayden uses a private and interference-free signal, delivering your video display up to 750ft away, for your eyes only. Temperature Monitoring
Your baby's safety is your number one priority. With a thermometer built into the camera, Ayden monitors your nursery's temperature so you know your little on is always comfortable. Talk to Baby™or Parent Two-way Communication
Soothe baby from anywhere in your home with a microphone built-in to both the camera and parent unit. Also helpful for communicating with your partner, you'll never need to yell for assistance again. Invisible LED Night Vision
With the use of invisible infrared LEDs, this monitor provides a clear image of your little one up to 15ft away all through the night. Smart LED Indicator Ring
Not only hear but see when your little one needs you most. The sound activated LED ring is located on the front of the parent unit and displays varying colors based on the volume of the noises in the room. Lullabies
Featuring three soothing lullabies, bedtime will be a breeze. Remotely activated from the parent unit, experience the convenience that comes with never having to disturb your baby while they're sleeping. Nightlight
Remotely controlled from the parent unit, the camera features a nightlight to comfort your little one when it's lights out.
Specifications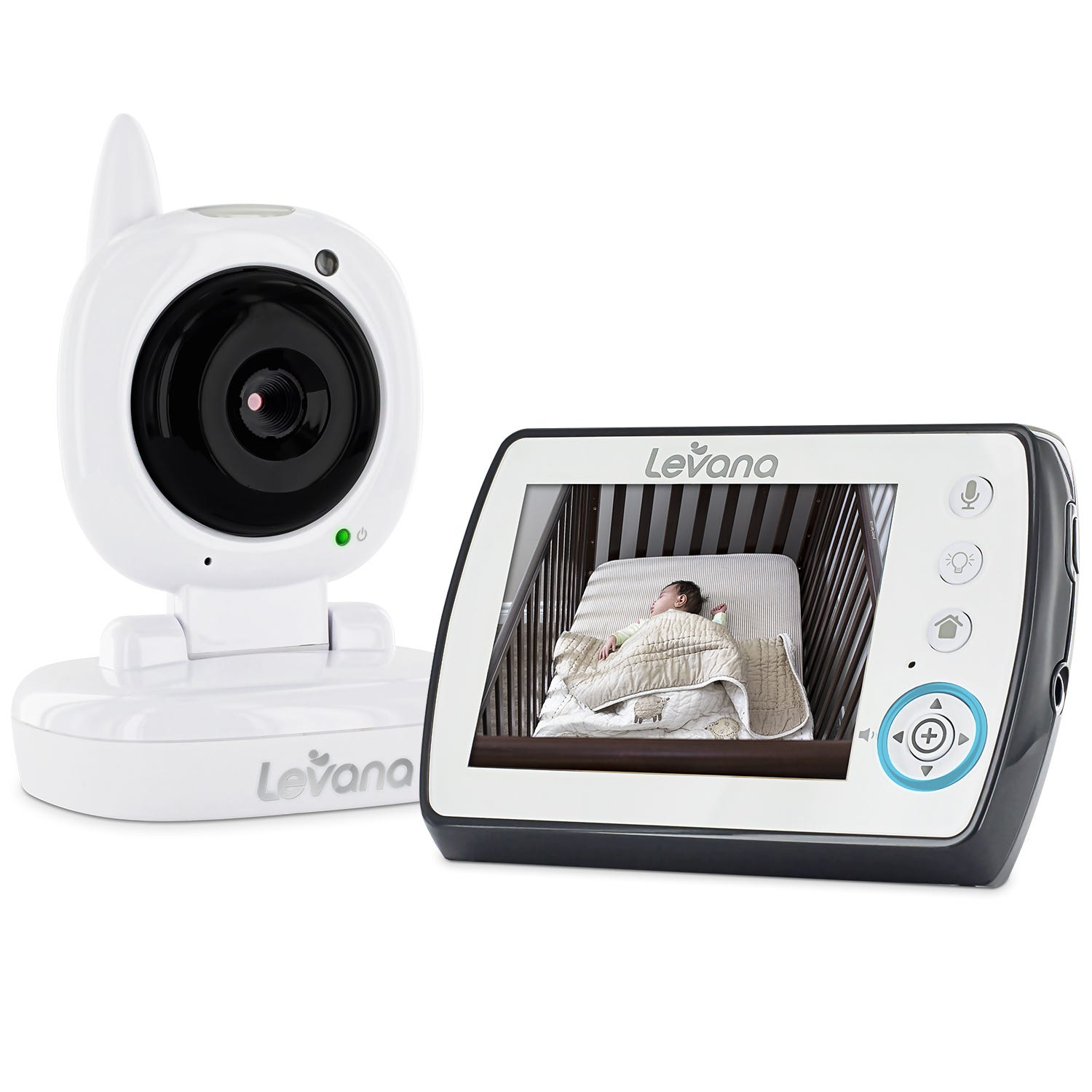 Monitor Specifications

MONITOR

Monitor Type
TFT LCD
Screen Size
3.5' Screen
Resolution
320x240
LCD Brightness
Adjustable: 0,1,2,3,4
Frequency
2.4GHz
Private Signal
Yes
Transmission Power
+19 dBm
Technology
Digital FHSS
No. of hop/sec
300
No. of hopping channels
19
Channel Bandwidth
3.375 MHz
Data rate
3 Mbps
Max Transmission Range
750ft
Optimum Transmission Range
200ft
Power Save Mode
Yes
Expandable
Up to 4 Cameras
Number of Cameras
1
Zoom
2x
Quad Screen
No
Auto-Scanning/Sequence Mode
Yes, 8 seconds/camera
Microphone
Yes
Talk to Baby™
Yes
Lullabies
Yes
Battery Type
Li-Ion
Battery Capacity
1700 mAH
Battery Connection
Charging Connection
Battery Life
8 hours
Battery Life
Up to 48 hours
Battery Low - Visual Warning
Yes
Battery Low - Audible Warning
Yes
USB Charging
No
Volume Indicator LED
Yes
Key Lock
Yes
Housing
ABS Plastic
Power Adapter
6V 800mA DC
Operating Temperature
32 to 122 Degrees F
Dimensions
4 ½ " x 1" x 3 ¼"
Weight
.35 lbs
Camera Specifications

CAMERA

Image Sensor
CMOS
Resolution
640 x 480
Frame rate
25 FPS
Viewing Angle
73 degrees
Focal Length
4.95mm
Focus Type
2G2P
Optimal Focal Distance
2-10ft
Number of IR LEDs
4
Night Vision
Yes
Night Vision Distance
15ft
Battery Operable
Yes (4 x AAA, not included)
Speaker
Yes
Wall Mountable
Yes
Power Input
100~240VAC
UPC
061783257104
What's Included

Night Vision Camera
Video Baby Monitor
Rechargeable Battery
2 Power Adapters
Quick Start Guide
1 Year Warranty
Lifetime customer support
DISCLAIMERS
Strangulation Hazard:Children can become entangled in cords. Power cords should be kept more than 3 feet away from the crib and baby's reach at all times. Baby monitors/cameras with power cords should never be hung on or near the crib. This product is not a toy.
The Peep Mode feature for this monitor only works on the primary camera (Camera 1). When additional cameras are paired with the monitor, the Peep Mode will only activate when sound is heard on the primary camera (Camera 1). The Peep mode will deactivate itself when in sequential/sequence on any monitors that support sequential/sequence mode.
Battery life of 48 hours based on 10 audio activations while in power save (PEEP) mode. Battery lasts an average of 8 hours with continuous audio/video usage.
Night vision range up to 15ft under ideal conditions. Objects at or beyond this range may be partially or completely obscured, depending on the camera application.
Optimum range is 200 feet when signal is passing through walls or floors. Microwave ovens (when in use) may cause signal disruption at close range. Buildings with metal frames may also cause signal disruption. Maximum transmission range is 750 feet.
This product contains small parts. Exercise care when unpacking and assembling the product.
This product cannot replace responsible adult supervision. Check your child's safety at regular intervals and make sure your monitor is always adequately charged.
We reserve the right to change models, configuration, or specifications without notice or liability. Product may not be exactly as shown.
©2014 LEVANA®. All rights reserved. LEVANA®, the LEVANA® logo, Ayden™ and other LEVANA® marks may be registered. All other Trademarks are the property of their respective owners.