Overview
Introducing the Carot One Ernestolo Class-T Integrated Amplifier - a sound enhancing compact system with an anodised aluminium orange finish and blue glowing top mounted tube. Once powered this desktop amplifier will produce warmth and resonance while delivering exceptional clarity. Set this unit up with your computer, iPod, stereo system or other audio application in a near-field listening environment and grant your audiophile attention and obsession to the Carot One Ernestolo.

The mini-size Class-T stereo amplifier Ernestolo provides up to 2x 15W of output with a bundled AC power supply unit. Thanks to Tripath's proprietary Class-T digital power processing technology combined with special techniques in circuit design and component selection, Ernestolo achieves the sound quality of high-end Hi Fi at an affordable price.
Features:
Applied proprietary T-amp technology for audiophile quality sound
Compact Design for ease of portability and setup
2x15 W output
AC adapter for continuous power supply
Separated amplifier & AC adapter design to minimize mutual interference providing flexibility to apply other power sources, e.g. lead-acid battery
Standard audio and speaker sockets compatible with most audiophile quality cables
"Pop" sound suppression during on/off
Built-in over-current protection
Built-in over-temperature protection
Audiophile-graded parts and components
Air-core inductor used instead of magnetic-core for better sound
Stylish & specially-plated aluminum casing for style and shielding
Specifications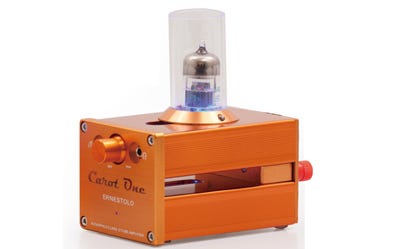 UPC
8005100050001
What's Included
ERNESTOLO amplifier
Tube
AC power adapter/supply
3.5mm stereo male to male aux cable
2.1mm power bifurcation cable
User's manual
1 year full warranty.