Regular Price: $199.99 USD
Special Price $29.99 USD
Overview Defender Wireless HD DVR
Have your needs changed? Revitalize your Defender security system with this wireless HD 1080p 1TB DVR.
Compatible with Defender HD wireless cameras only (WHDCB1).
Plays Well with Others
Featuring ClearVu™ Smart Signal, an adaptive technology used to minimize signal interference. Defender scans your wireless environment using FHSS (Frequency Hopping Spread Spectrum) technology to identify and avoid channels that are already occupied, providing you with a reliable, uninterrupted viewing experience without disrupting your Wi-Fi network. Anywhere. Anytime.
With the free Defender app you'll know what's happening even when you're not around. Receive notifications and view live or recorded footage right from your phone. Set up is quick and effortless with just three steps.
1. DOWNLOAD THE APP
2. CREATE AN ACCOUNT
3. SCAN PROVIDED QR CODE
Available at the App Store and Google Play. Only Record When You Need to
Flexible recording options allow you to monitor continuously, enable motion detection or tailor a schedule to fit your lifestyle. With 1TB of DVR storage, record up to 1044 hours before backing up your footage. Security Made Simple
Feeling safe shouldn't only be for the tech savvy. Defender's HD Wireless systems were designed for simplicity, from color coded assembly to a three-step set-up and everything available at your fingertips. Everyone deserves peace of mind. Your Eyes Only
Defender uses a secure 128-bit bank level encryption to ensure your footage is for your eyes only. View on the Big Screen
Easily view footage on your TV with the included HDMI cable.
Specifications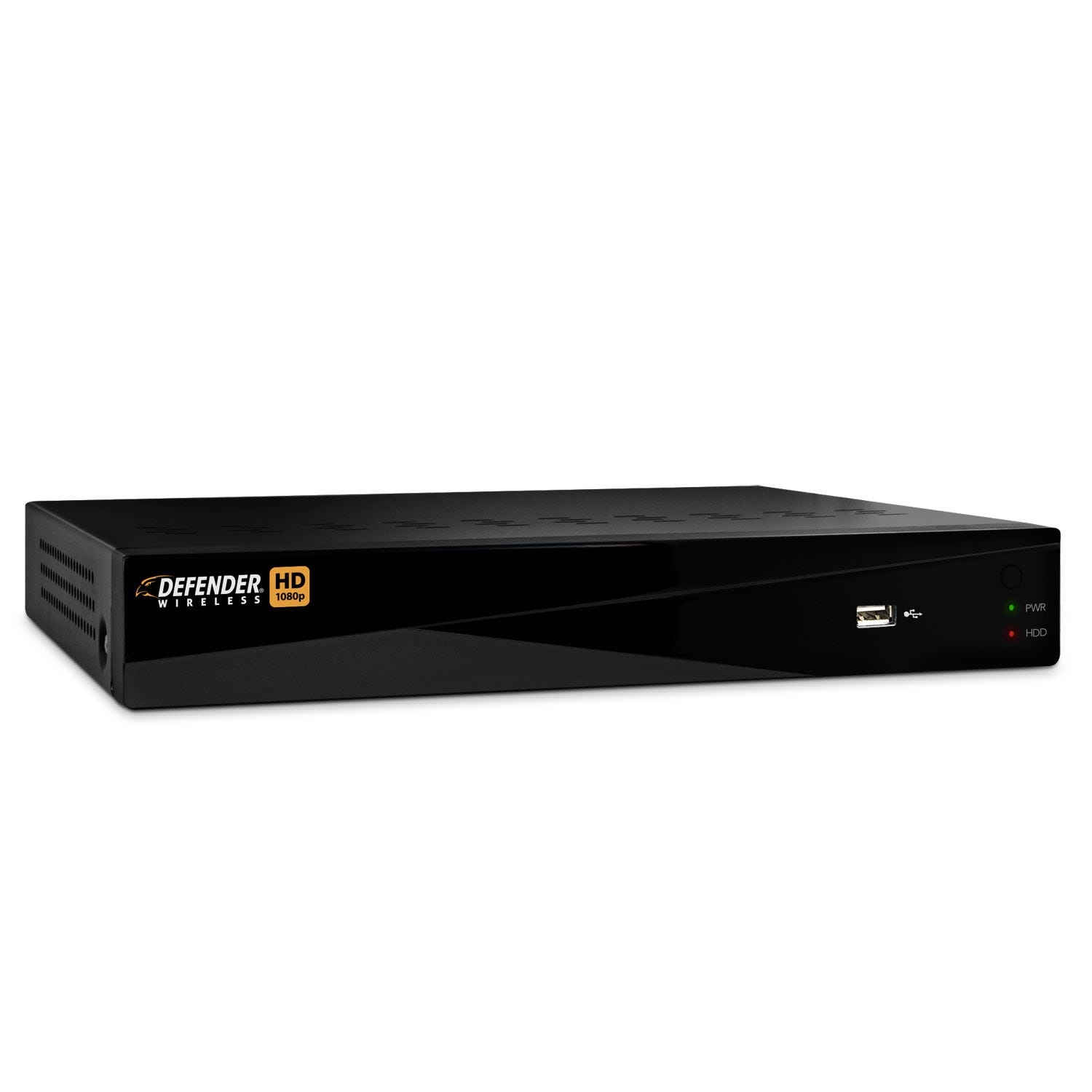 DVR SPECIFICATIONS
▼
Model Number
WHD1T4
Compatible Cameras
WHDCB1
Number of Channels
4
Storage Capacity
Max 1TB HDD
Video Compression
H.264
Video Format
NTSC/PAL
Operating System
Linux(embedded)
Video Output
VGA, HDMI
Display Resolution
1080P/720P/960H
Display Feature
Single/ Quad/S.E.Q.
Record Speed
1080P :15fps(each ch) – Cameras 10FPS | 720P:30fps(each ch) | 960H:30fps(each ch)
Recording Modes
Continuous/Manual/Motion detect
Synchronous Playback
4CH
Network Type
Lan, DHCP, and DDNS
HDD Interface
1SATA HDD, up to 8TB
Multiplex Operation
Live display, record, playback, backup and network
USB Port
2 x USB (for wireless receiver and mouse/backup/upgrade)
Sensor & Alarm I/O
NO
PTZ Control
NO
Remote Viewing with Mobile
Support Mobile Phones based on iPhone and Android operation system
VGA/HDMI
1024*768,1280*1024,1440*900,1920*1080
Power Supply
DC 12V/2A
Operating Humidity
-30°C to +55°C / -22°F to +131°F Less than 95%RH
Operating Temperature
10%~90%
Dimensions
250.5 X 217 X 47mm 9.86in x 8.54in x 1.85 in
UPC
061783267004
What's Included
1 x DVR
1 x 1TB HDD
1 x HDMI Cable (1meter/3.2ft)
1 x DVR Power Supply (1meter/3.2ft)
1 x Ethernet Cable (1meter/3.2ft)
1 x USB Mouse
1 x IR Remote Control with Batteries
1 x Quick Start Guide