Overview

Get more hookup flexibility for your digital components with this versatile, high quality Digital Optical Selector Switch. This 3-Way Digital Optical Selector Switch lets you connect up to three different optical digital components to a component with only one optical digital input. The selector allows you to switch from one component to another just by turning the selector dial - no more disconnecting and connecting cables or moving equipment around. You can play any of the three components you connect and enjoy the output through your home theater system.

Four Optical Digital Jacks
The output jack connects to the main unit to which you would like to expand the number of optical jacks (normally a digital audio/video receiver or amplifier). The three input jacks connect to the source devices and allow you to output digital audio to your main unit. Switch easily between sources instead of disconnecting and reconnecting cables when needing to change inputs. The compact design will fit in tight areas between components.


Works With the Following Digital Audio Components
Home/portable digital audio components with optical connection, MP3/CD/DVD player including Blu-ray/HD DVD, video game consoles (PS3, XBOX360, etc.), computer sound card, cable/satellite receiver to your home theater system with a digital optical input.

Operation:
To hear your connected sources through your home theater system, turn on your home theater system and the audio source you want to hear. Then, press in the lock release button on the selector's dial and rotate the dial to the indicator corresponding with the source you want (1,2, or 3). A green indicator shows which of the three units is selected (only one can be selected at a time). Release the button to lock the selector in place. The sound from the selected source comes through your home entertainment system's speakers.


Applications:
3 Toslink optical inputs and 1 Toslink output
(bi-directional: can go in reverse direction)
Allows you to connect up to three audio/video sources to one input
Jacks are compativle with fiber optic cables with Toslink connectors
at each end
Provides interference and distortion free signal transmission
(0 db signal loss)
PCM,Dolby Digital and DTS signals can be passed through this unit.
Specifications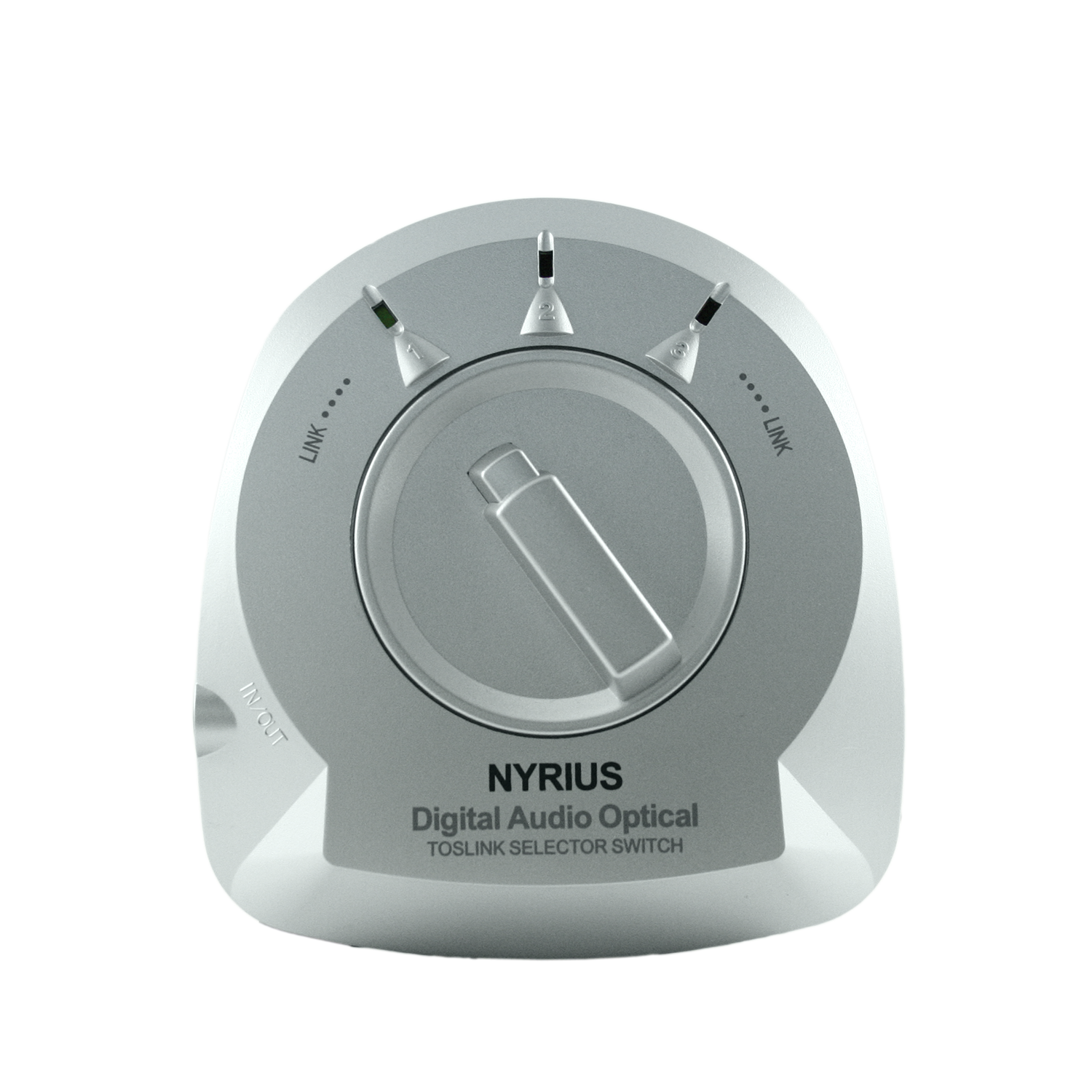 | | |
| --- | --- |
| TOSLINK OPTICAL INPUTS | 3 |
| TOSLINK OUTPUT | 1 |
| BI-DIRECTIONAL? | Yes |
| SIGNAL LOSS | 0 db |
| Dimensions | 5.1 |
| Weight | 0.45 lbs |
| UPC | 871363003324 |
| What's Included | Digital Audio Optical Toslink 3-Way Selector Switch 1 year manufacturer's direct warranty. |