Overview Phoenix Digital Wireless Camera
Using an additional camera is a simple and effective way to increase security presence in your home or business! Mount the camera indoors or outdoors - it is compact enough that it can be concealed easily and has weather resistant aluminum housing to resist deterioration and rusting. This plug and play system allows you to setup your camera in a matter of seconds meaning no messy wiring is involved.

*Unit Requires the use of power adapters DIGITAL WIRELESS TECHNOLOGY
Superior digital wireless functionality ensures that signals passing between the camera and handheld screen remain clear up to 450ft away. The IR cut filter provides you with advanced color accuracy. LONG RANGE NIGHT VISION
Feel protected 24 hours a day. Each camera is equipped with night vision that lets you see up to 40ft away in total darkness! EXPANDABLE UP TO 4 CAMERAS
This system supports a total of 4 cameras to monitor multiple areas on your property. INDOOR/OUTDOOR WIRELESS CAMERAS
Built for indoor or outdoor use, the cameras' durable aluminum housing resists rusting, deterioration and can weather any season! ADVANCED MOTION DETECTION
Sensors within the camera can detect and capture movement. Once movement is detected, the camera will send a signal to the system and prompt recording. This allows you to conserve your system SD memory space by recording only when movement is detected.
DISCLAIMER
Night vision range up to 40ft under ideal conditions. Objects at or beyond this range may be partially or completely obscured, depending on the camera application.
Microwave ovens and other wireless devices (when in use) may cause signal disruption at close range. Buildings with metal frames may also cause signal disruption. Optimum Wireless Range is 150ft line of sight. Maximum Wireless Range is 450ft line of sight.
Defender® highly recommends the use of an uninterruptible Power Supply (UPS) with surge protection for all products.
This product contains small parts. Exercise care when unpacking and assembling the product around children.
Although the cameras are water resistant they are not waterproof. Cameras are not intended for use in direct exposure to water, rain or snow.
DEFENDER® does not endorse any DEFENDER® products for illegal activities. DEFENDER® is not responsible or liable in any way for any damage, vandalism, theft or any other action that may occur while a DEFENDER® product is in use by the purchaser.
We reserve the right to change models, configuration, or specifications without notice or liability. Product may not be exactly as shown.
This product and its included technologies may be protected by one or more international patent(s) or patent(s) pending.
Any record times mentioned are based off lowest record settings with one camera connected.
The PhoenixM2 monitor or camera is not compatible with the PX301-010, PX301-011, PX301-012, PX301-013.
Please note SD card for separate receiver must be formated in FAT32 in order to work with this model.
©2016 DEFENDER®. All rights reserved. DEFENDER®, the DEFENDER® logo and other DEFENDER® marks may be registered. All other Trademarks are the property of their respective owners.
Specifications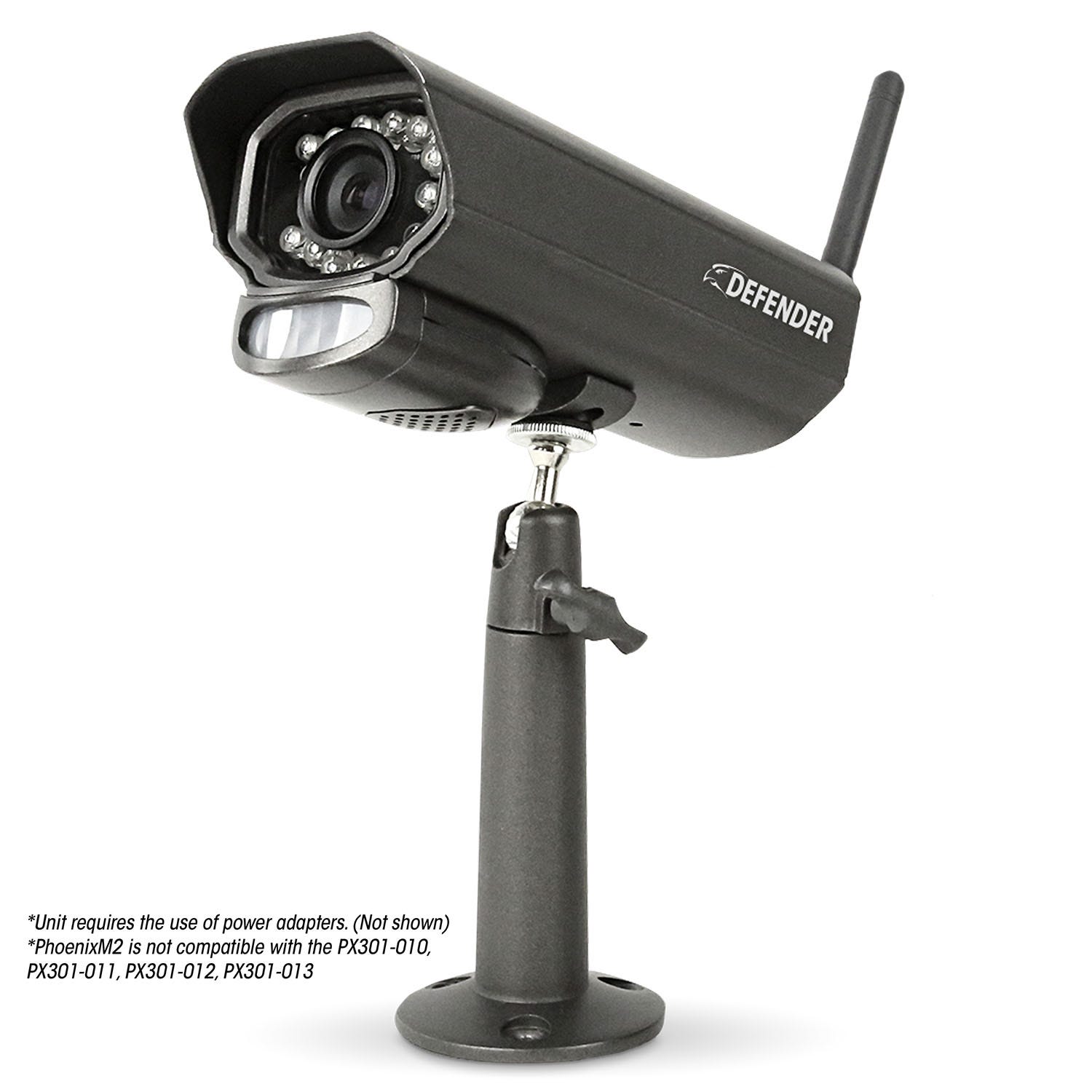 Compatibility
PHOENIXM2, PHOENIXM22C
Image Sensor
1/4" Color CMOS Image Sensor
IP Rating
IP54
Transmission Range
450ft (Line of Sight)
Optimum Transmission Range
150ft (Line of Sight)
Wireless Frequency
2400Mhz~2483.5Mhz
Resolution
640 x 480
Night Vision
Yes
Number of IR LEDs
16 LEDs
IR LED colour
Auto
IR Cut Filter
yes
Min. Illumination
0 Lux (when IR LEDs on)
Battery Operable
NO
Viewing Angle
64° (Field Of View)
Focus Type
Fixed Focus
Microphone
YES
Speaker
YES
Motion Detection
YES
Wall Mountable
YES
Housing
Aluminum & ABS
Housing Color
Grey
Camera Bracket
YES
Operating Temperature
14°F ~ 104°F (-10°C ~ 40°C)
Operating Humidity
0% ~ 85%
Camera Use
Indoor/Outdoor
Power Adapter Length
8ft
Power Adapter Barrel Size
0.14"
Power Cable Connector
8ft
Camera Power Input
9V DC 600mA
Power Input
100-240V ~ 50/60Hz
Dimensions
5.5"x2.2"x2.2"
Unit Weight
0.63lbs
UPC
061783262528
What's Included
1 x Digital Wireless Camera with 7ft Power Cord
1 x 8ft Camera Power Adapter
1 x Antenna
1 x Camera Mounting Bracket
Mounting Hardware
Lifetime Customer Support
1 Year Warranty