 Fi20 High Performance Portable Wireless 360 Degree Speaker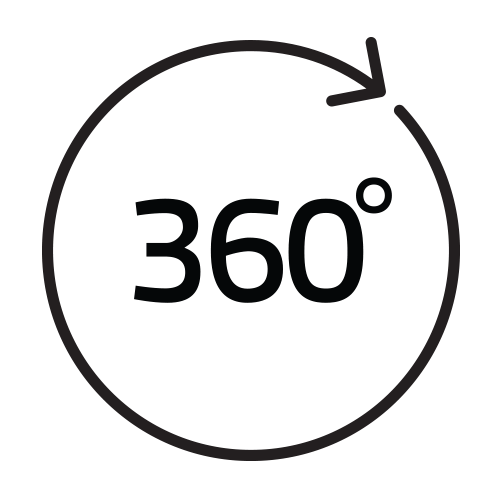 IMMERSIVE 360 SOUND
Experience rich and detailed music radiating evenly throughout the entire room with its acoustic dispersion design delivering a true high performance omni-directional sound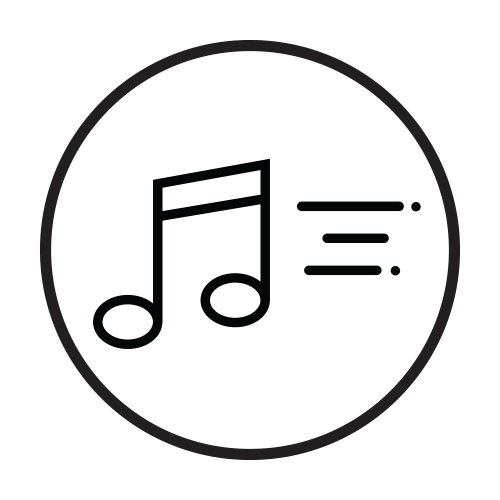 STUNNING SOUND TO GO
Take this portable battery powered Bluetooth speaker anywhere without sacrificing high quality audio or being constrained by power cords with up to 24 hours of musical bliss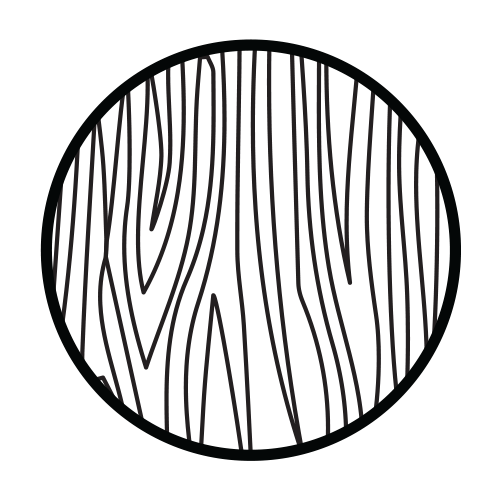 SOPHISTICATED WOOD DESIGN
Hand crafted and acoustically tuned to deliver a warm and natural sound in a beautiful wood-finished form factor blending seamlessly into your refined lifestyle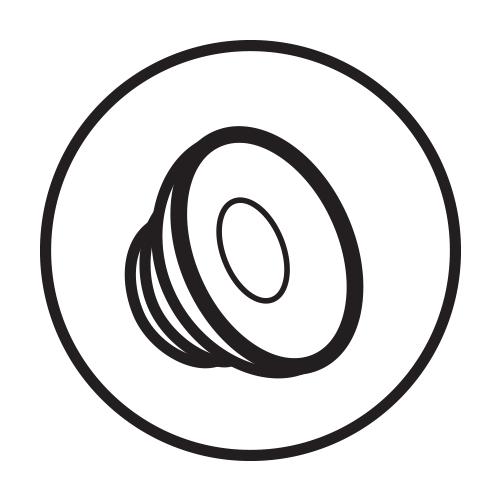 PREMIUM COMPONENTS
Utilizing a powerful up-firing driver in conjunction with the meticulously engineered dispersion lens ensuring every spot is the sweet spot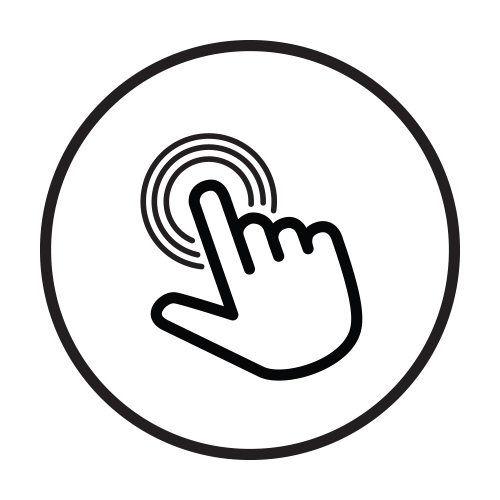 TOTALLY FEATURE PACKED
Everything you need to conveniently enjoy your music anywhere including a carrying handle, LED accent light, speaker phone, 3.5mm aux input, and touch control buttons
Overview
Experience Ultimate Musical Freedom
Specifications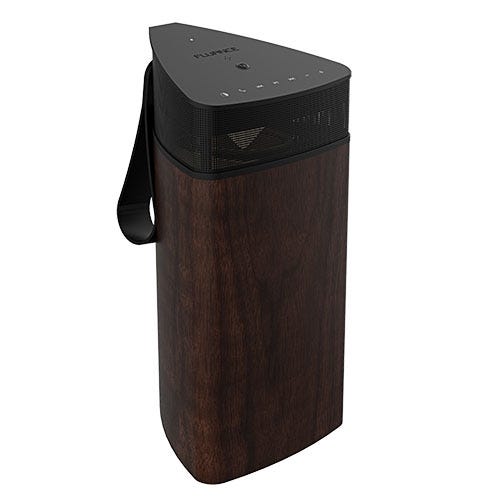 Speaker Configuration
Omnidirectional Up-firing Bluetooth Music System
Bluetooth
Yes, 4.0 with aptX
Input
3.5 mm Aux-In Jack, Bluetooth
Woofer
3" Linen Fiber Driver with HD Foam Surround
Amplifier Power
Class D, 15 Watts Continuous Average Output
Frequency Response
70 Hz – 20,000 Hz (DSP Virtual Sound)
Internal Lead Wire
20-Gauge Internal Lead Wire
Power
Input: 100-240V, 1.5A; Output: 15V, 1.8A
Battery Life (Playback)
24 hours (at moderate volume)
Battery Type
Lithium-ion (11V, 2200mAh)
Lamp LED Color Temperature
Yes (Warm White, 3000K)
Enclosure
Tuned Port Bass Reflex Cabinet
Dimensions
12 x 6 x 5.5 inches / 30.5 x 15.2 x 14.0 cm (HxWxD)
Speaker Weight
3 lbs
Battery Charge Time
3.5 hours
Battery Level Indicator
Yes
Green: 100% - 40%
Yellow: 39% - 15%
Red: 14% - 0%
Speaker Phone
Yes
Carrying Handle
Yes; Synthetic Leather
Waterproof
No
Speaker Type
Portable, Battery Powered
Headphone Jack
No
Certifications
ICES, FCC Certified
Operating Temperature
-20%C2%B0 to 60%C2%B0 C (-4%C2%B0 to 140%C2%B0 F)
WiFi Casting
Pairs via Bluetooth with Google Home, Amazon Echo and AppleTV (Fi20 is not a WiFi speaker)
Frequency Response Graph

Click to Expand

UPC
871363024848
What's Included

Fi20 Line Out

Click to Expand



Fi20 360 Degree Speaker
100-240V Power Adapter
User Manual
Fluance Catalog
Lifetime Customer Support
Full 2-Year Parts and Labor Manufacturer's Direct Warranty
1-Year Battery Warranty
Press

Joe N Tell's Initial Impressions of the Fi20
Follow along as Joe Mariano unboxes and reviews the Fi20 Bluetooth Speaker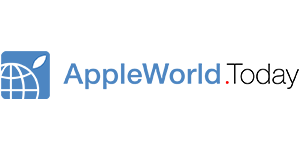 AppleWorld.Today Rates the Fi20
"The speaker's looks match its pristine sound"

Read Full Review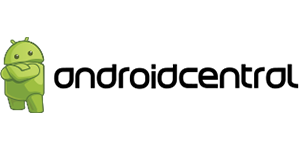 Android Central Reviews the Fi20
"Perfect for summer nights on the deck... well-balanced sound"

Read Full Review
Customer Reviews
Jim S

September 23, 2020

Alberta, Canada

Looks and sounds great

Jim S

5

KArl A

August 27, 2020

Saskatchewan, Canada

the unit definitely needs to be broke in but after it is, the sound is pretty good. not as loud as i like to play my music but Im hard of hearing anyways ...lolol all in all very pleased with my purchase

KArl A

4

James P

August 25, 2020

Ontario, Canada

4.5 - This speaker is lightweight yet powerful and is full value for the money. It connected to our bluetooth record player and our phones easily. The charge also holds well. The volume is a little sensitive and takes some getting used to.

James P

4

Barry S.

August 25, 2020

British Columbia, Canada

The visual design is different and takes up less space on the counter or table than most. The battery life is very good. The sound is nice and warm, not tinny and goes very loud for a speaker this size.

Barry S.

4

Darryl B

August 25, 2020

Ontario, Canada

My 13 year old son bought this with his birthday money and has been using it constantly since. I purchased an older model of Bluetooth speaker the Fi30 a few years back and it is still in use as the kitchen radio. Battery life is great and the sound is comparable to Bose but at a fraction of the price.

Darryl B

5

Max C

August 2, 2020

California, United States

Good design and materials. Easy to move & consistent sound quality.

Max C

5

Alex A

July 31, 2020

California, United States

I was so happy with my Fluance turntable that I checked out their other products. I'd always wanted a portable speaker, and while this one is really more of a bluetooth home speaker, because of it's size, I use it pretty much every day. I love this speaker so much I wanted another, so I bought one for my son.

Alex A

4

Richard Marshall

July 29, 2020

South Carolina, United States

Really enjoying this portable bluetooth speaker. It looks and sounds great. Battery life appears to be really good. Have used it a lot and haven't recharged yet.

Richard Marshall

5

Joe J.

July 20, 2020

Texas, United States

Would like control buttons to work easier.
Wish it had more volume

Joe J.

4

Clifton

July 11, 2020

Alberta, Canada

Just received the Fi20 a few days go , it sounds and looks awesome.

Clifton

5

Larry Z

July 7, 2020

Connecticut, United States

Plays high notes clearly but the bass sounds muddy and hollow, I like the controls on top and the 360* dispersion. Perhaps the bass will improve after a break in period.

Larry Z

4

André Asselin

June 16, 2020

Quebec, Canada

Belle enceinte très beau son et une batterie qui dure très satisfait de mon achat

André Asselin

5

Hiram R

May 20, 2020

Delaware, United States

awesome sound, great looks

Hiram R

5

Ben B

April 30, 2020

Oregon, United States

I bought the Fi20 on sale and couldn't be happier with it. A big big improvement over my old one, and in my mind on par with the similar Bose speakers. I followed the break in instructions and have noticed the sound become fuller. Would recommend follow the break-in.

Ben B

5

Thomas D

March 26, 2020

British Columbia, Canada

After the breakin period the speaker delivers excellent sound so good that I compared it to my sorrow so sound in the house. Up to normal listening levels switching back and forth you had to work at which system was producing the sound. At higher levels obviously the surround won out.
I've used it out on the patio with great sound that I can move with me around the yard. I've now had 3. family members buy it as well. Love it

See all reviews

Thomas D

5
Resources
Manual
FAQs
What's a 360-degree speaker?

Unlike a standard directional speaker, using a 360-degree speaker sends the sound out in all directions. This means your favorite songs sound the same from anywhere in the room!


Is the Fluance Fi20 waterproof?

To provide our listeners with the best sonic experience, our speakers are built using Audio-Grade MDF wood. This material is not waterproof and use of the product in the outdoors should be limited to dry, sheltered locations.


Can the battery be replaced?

We know how important it is to take your music wherever you go. In addition to the 24-hour battery life, we offer a one-year warranty on the battery and have additional batteries available for purchase. The battery can be easily replaced by removing the battery cover found on the bottom of the speaker.


Can I use virtual assistants with Fi20?

While you can add the Fi20 to a series of speakers connected to a Google Home or Amazon Echo as an output device using Bluetooth, it does not support voice commands.


Does the Fluance Fi20 output in Stereo?

The Fi20 is a single driver design. This means that the output will be in mono. Through our design process, the Fi20 will merge a stereo signal into a mono signal, allowing you to enjoy the full range of your favorite recordings.


If a call comes in through my phone while connected to Bluetooth, will it interrupt the music?

If you receive a call on a smartphone connected to FI20, the ringer will play through the speaker. Press the speakerphone icon to answer the call. This will allow you to speak through the Fi20 and use it as a speakerphone!


Can I remove the carrying handle?

While the handle can be removed with an Allen wrench, we do not recommend it. The screw holding the handle in place is secured with an adhesive. Once this adhesive is broken, the screw may loosen over time increasing the risk of dropping the product.