Overview

Bring your music to life with the Fluance Fi30 High Performance Bluetooth Wood Speaker System. The Fi30 combines Fluance sound quality and wireless Bluetooth connectivity together into one elegant audio system. By utilizing only premium components such as powerfully dimensioned, high-performance drivers and a wood enclosure, the Fi30 provides a pure listening experience that will harmonize perfectly with any modern living area. With superb sound radiation and rich timbre, this system is ideal for any audiophile and can handle even the highest volume levels with outstanding clarity. Enhance your listening with serious performance that represents a new standard in sonic accuracy and superior craftsmanship.

Solid Wood Cabinet Design
Fluance is dedicated to premium sound. That commitment is apparent in the Fi30 and its high quality wooden cabinet design. It undergoes the same caliber of cabinet manufacturing as all Fluance home theater speakers. Unlike plastic speaker enclosures, the Fi30 is manufactured with engineered MDF wood to suppress resonance for accurate response and increased warmth. Two finely tuned bass ports control low frequency and improve efficiency. This solid wood cabinet provides an overall superior acoustic experience.

Home Theater Quality Audio Components
The Fi30 offers high fidelity sound that you would expect from a Fluance home theater speaker system, by utilizing years of audio knowledge and incorporating those elements into this Bluetooth speaker system. Serious Performance™ is an understatement. The Fi30 exceeds audiophile expectations.

Superior Audiophile Sound Quality
Who said you have to compromise sound quality with a Bluetooth speaker? Powered by aptX premium audio technology and Bluetooth with EDR (enhanced data rate), the Fi30 delivers crystal clear, high fidelity sound from your device up to 33 feet away. This premium system produces unprecedented audio reproduction with clean, undistorted bass, a warm midrange, and transparent natural highs at any volume level. The Fi30 is designed to deliver the fullest frequency range of your favorite MP3 / AAC tunes without any interference, unlike other Bluetooth devices that over-compress audio and can lose connection. So soak up your favorite performances as if the musicians were performing in front of you.

Attractive Selection of Styles & Finishes
The Fi30 is currently available in three high gloss finishes. Piano Black, Glacier White and Bamboo. Designed to harmonize perfectly in any modern living area.

Keeping Things Simple
The Fluance Fi30 is as smart as it is beautiful. Using auto pairing technology the Fi30 automatically connects your device as soon as it is within range. A USB port allows for quick and easy charging of your device and the 3.5mm auxiliary input allows for direct connection to the Fi30. Beauty, brawn and brains, who could ask for more?

The Freedom of Wireless Connectivity
Freely listen to music through your Fi30 without docking your smartphone or tablet. Setup is extremely simple; wirelessly pair your audio device with the Fi30, and you're set. No software or app required. Whether you're listening to music with family at a barbeque or hosting a formal dinner, the Fi30 makes it easy to stream your favorite songs without any interruptions.

Compatible with iPhone, iPad, iPod, Samsung, Android, Blackberry, PC, Laptops, Google Chromecast Audio or any of the other 900 million Bluetooth audio devices.
Specifications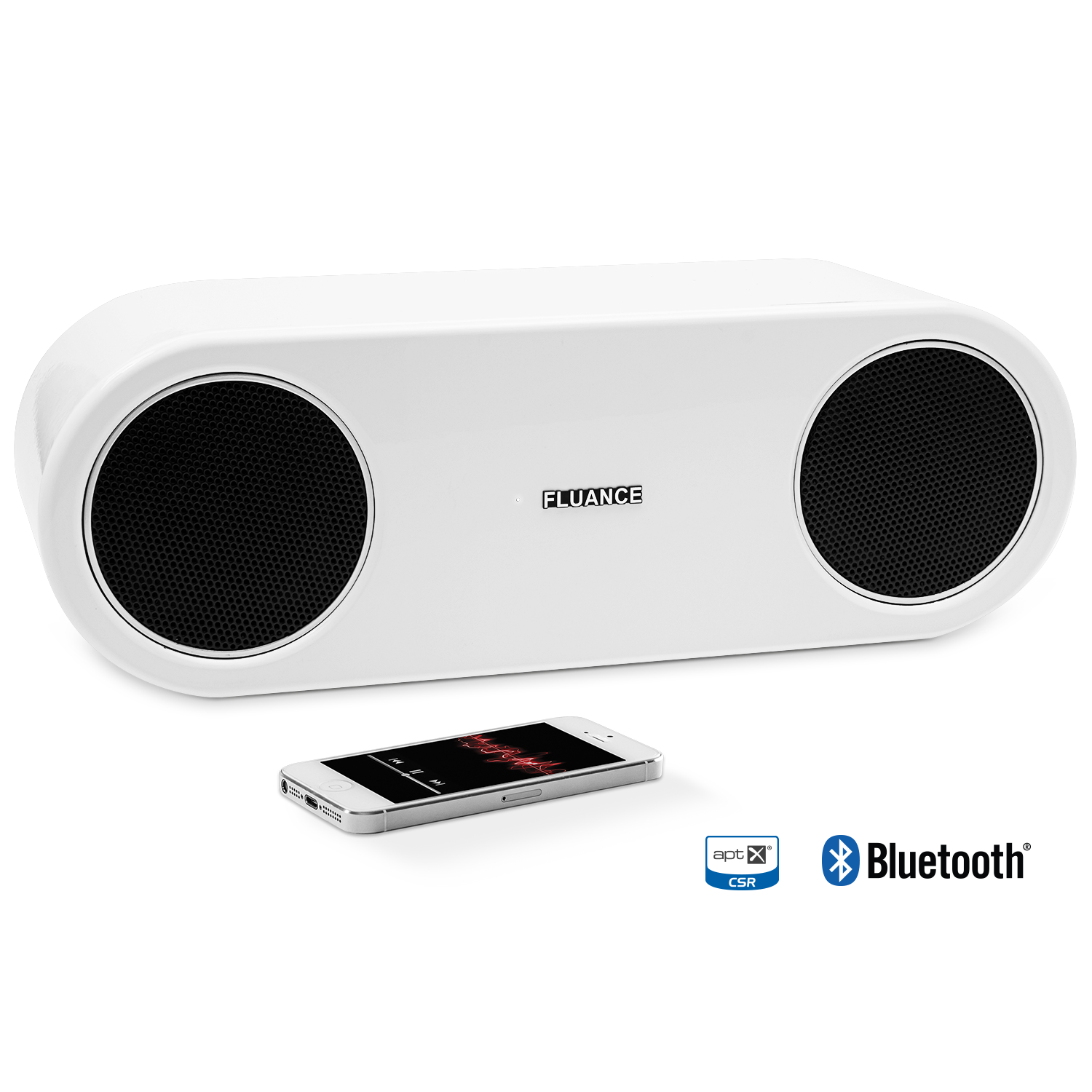 | | |
| --- | --- |
| Speaker Configuration | Full Range 2 Driver Bluetooth Music System with Integrated Amplifier |
| Bluetooth | Yes; aptX codec |
| Input | 3.5mm Auxiliary Audio Input, 2.1 A USB Charging Input |
| Woofer | Dual 3inch Woven Glass Fiber Composite Drivers with Butyl Rubber Surrounds |
| Power Handling | 6 Watts Continuous Average Output (x 2 channels) |
| Frequency Response | 65Hz - 20KHz |
| Internal Lead Wire | 18 gauge internal lead wire to reduce signal degradation |
| Enclosure | Tuned Rear Port Bass Reflex Design |
| Dimensions | 16.5 x 5.5 x 5.5 in |
| Speaker Weight | 8.3 lbs |
| Frequency Response Graph | Click to Expand |
Customer Reviews
Thomas Chamberlin

November 20, 2015

Placed an order for the Fi30 on Friday March 21st in the late afternoon. Received email confirmation of order, email with Tracking #, and received the shipment on Wednesday March 26th. Like other reviews, the way the product is packed (dbl boxed) is an excellent choice that would be omitted by most other companies. Great shipping!! I plugged in the Fi30 and in seconds had my phone paired and was listening to music. I am no audiophile but the sound was excellent. The break-in (10 hrs) is over, and this box can reproduce music at a high volume with excellent sound!! My only complaint (minor at that) is the fit/finnish, the face and the box have an uneven edge where the two meet. But not noticeable from 2 feet. Well worth the money

Thomas Chamberlin

5

james brown

November 20, 2015

Just bought this device. Like it for its simplicity and sound. Wish I could shut if off from my phone--switch is on back of device and its a bit of a drag. However, for the price, excellent value and I would not hesitate to buy again, especially at the sale price of 120 dollars! 4.5 stars

james brown

5

Thomas Brand

November 20, 2015

I've had a Fi30 for a couple of months now. I have no complaints whatever, and in fact, I'm here to buy another one for a present for a friend. It's a GREAT Bluetooth speaker, works absolutely perfectly with my Mac and Windows laptops' AptX.It's tied to the wall socket, that's ok for my usage. The sound is amazing for a small speaker. I've got other BT speakers, I never use them now other than if I need portability. This is not a beach speaker, but it's a dandy workstation or living room setup.

Thomas Brand

5

ps 1317

November 20, 2015

I've been meaning to stop by to leave a review after having these speakers for nearly 3 months. My Fi30 is GOOD (in the category of music that I listen to) and I have truly enjoy them. It is more than enough to fill up my medium size room and then some. If it were a little bit more giving in the "bass" department, I would like it even more !!!

ps 1317

5

Jason L

November 20, 2015

I own a pair of Fluance floor speakers and was in the market for a wireless speaker for my house. Since I am extremely happy with my floor speakers I decided to purchase the Fi30 and I couldn't be more thrilled. While this speaker isn't as portable as some of the options I was looking at, it is far superior in every other aspect. It is extremely stylish and its made of wood which not only is sharp to look at but adds to the amazing sound quality. The bass is deep and overall a rich sound quality with no distortion. I am was impressed to find the power cord is hard wired and not some flimsy addition. It is very easy to switch between Bluetooth devices and I have had no issues as it is quick to recognize every single device I have paired it with It has a usb port to charge your tab or phone and this has already come in handy many times. As stated I thought I wanted a more portable device but after hearing this and receiving compliments from every single person that has come into my home I couldn't be happier and I am so glad I didn't go with a smaller option. This speaker blows every other option in its price range away. I don't think there are many that can compete that are even double its price. Once again Fluance delivers and I highly recommend this product to anyone looking to add crisp clear music to any room in their home.

Jason L

5

Ross Johansson

November 20, 2015

I got a great deal on the Glacier White Fi30 at a price of $99 on special. Definitely a no brainer at that price point. Nice and clear with no distortion but left me wanting for a bit more power and bass (medium-large space). Price currently showing as $199 reduced to $149... I would not consider the Fi30 a great value at $199 and am hesitant to get a second one for my daughter at $149. I believe the sweet spot for outstanding value on this is the $129 range, with $99 - $119 representing an incredible deal. Having said all that they definitely blow away most of the portable competition and I have ordered a pair of the SX6 bookshelf speakers based on the build and sound quality of the Fi30. I am anticipating the SX6es with a decent amp will give me the kick I am looking for.

Ross Johansson

5

sylvain fortin

November 20, 2015

I am very satisfied no bad comment I give 5 out of 5 best quality on the market price thank you fluence

sylvain fortin

5

Tyler Woodruff

November 20, 2015

Awesome Speakers!

Tyler Woodruff

5