Overview
HIGH PERFORMANCE CORK MAT
Hear your music exactly as the musician intended. Made with A grade cork, the Fluance Cork Turntable Mat is the final touch for your record player to achieve a pure analog audio experience.
IMPROVES SOUND & PERFORMANCE
By allowing the vinyl record to remain isolated from unwanted platter micro-vibrations and noise, this cork mat enhances audio detail and improves mid and low bass performance for high fidelity playback. Especially recommended for metal platters.
LESSENS STATIC ELECTRICITY
The 0.12" (3mm) thick mat reduces static due to the insulating properties of cork material (requires turntable to be grounded).
ELEVATED VINYL EXPERIENCE
This cork mat is the perfect upgrade from a standard felt mat that has a limited ability to dampen, and prevent static and dust build-up on your records (requires turntable to be grounded).
COMPATIBLE WITH ALL TURNTABLES
Not only is this compatible with all Fluance turntables, you can also easily place this 3mm mat on all standard 12" turntable platters. The mat will conform to your turntable's spindle.
PERFECT CONTACT WITH RECESSED CENTER
Included in its design is a 0.5mm record label recess in the center allowing your vinyl records to lay perfectly flat and make full contact with the mat's surface.
Specifications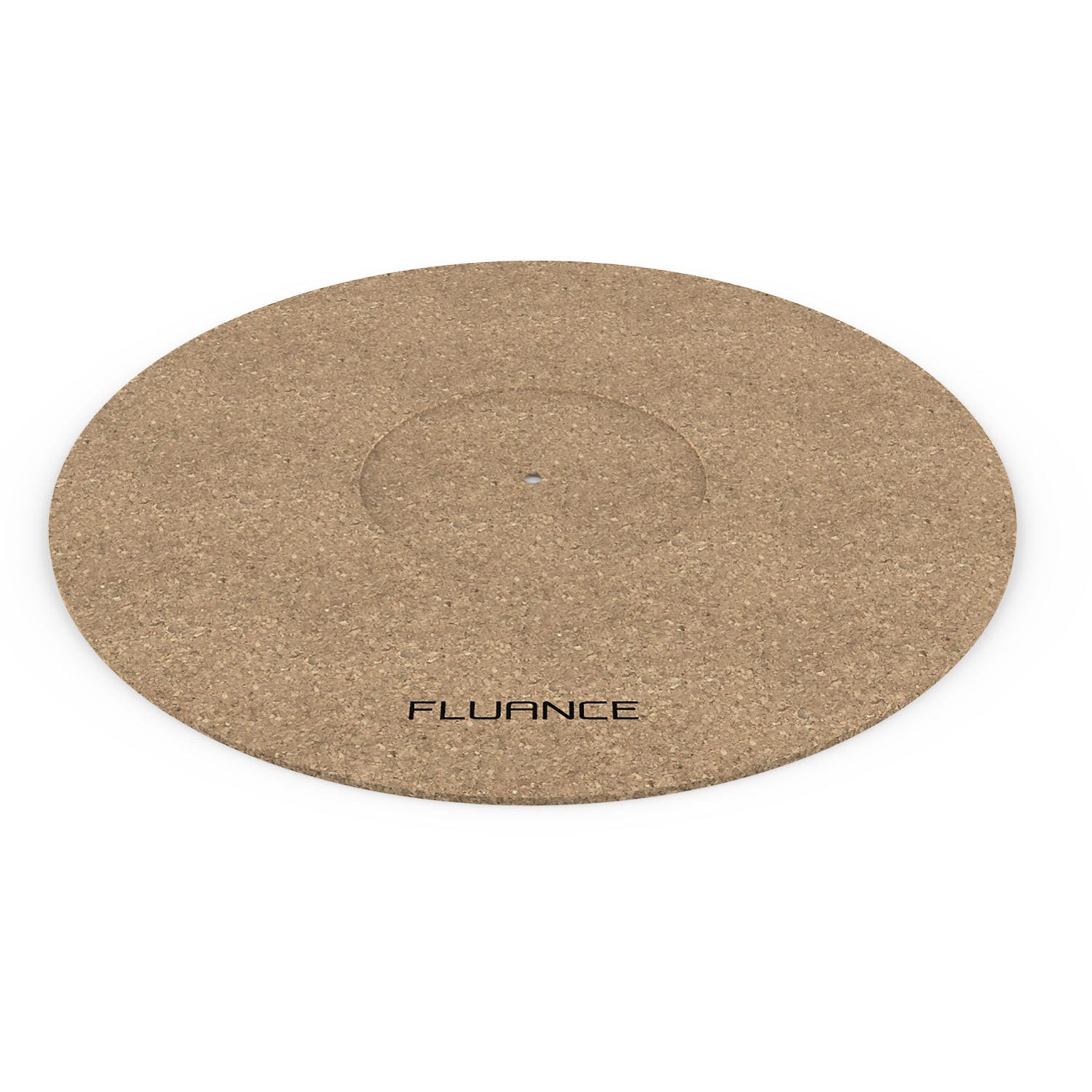 Material
Cork
Turntable Mat Thickness
0.12" (3mm)
Label Recess Depth
0.02" (0.5mm)
Outer Diameter
11.75" (29.85cm)
Spindle Hole Diameter
0.28" (7mm)
Unit Weight
0.1 lbs (45.5g)
Compatible With
RT80, RT81, RT82, RT83, RT84, RT85
UPC
061783268148
What's Included
1 Cork Turntable Mat
Lifetime Customer Support
1 Year Manufacturer's Warranty
Customer Reviews
Matt L

March 10, 2023

Ohio, United States

Gets my platter up to the correct height. However seems a little warped with a high spot. Hopefully it will level out with use.

Matt L

4

Chris

December 14, 2022

Good quality for the money.

Chris

5

Mark C

December 2, 2022

I like this thing more than I expected: it has a nice density and stability to carry the record as it spins. While it doesn't do much to reduce static, in fact, nothing can if it has no electrical charge, it has just the right thickness to bring the record up to a good spot for a light touch from the tone arm (I set at 1.5g or 2g) and it even looks sorta cool. Worthwhile.

Mark C

5

Irving D

September 28, 2022

Si bien el ir complementando a las tornamesas, pastilla o cartucho, agujas, pesa(est ltima muycuestionada) pero al menos en mi tornamesa si es notorio una especie de calmar algunos graves y poner en su lugar algunos retumbes que en mi equipo si se perciben, y ahora el plato de corcho suma para mejorar el sonido, est no es la excepcion, ayudo al sonido definitivamente lo volver­a a comprar sin dudarlo, buen pretexto para escuchar otra docena de ocasiones mis vinilos.!!!!Bueno que debo comentar que como esta por un pela­n mas grueso que el anterior tapete de fieltro con la pesa tiene un micro roce vs. el capelo o cubierta si la quiero cerrar, pero an as­ me gusta la mejora en sonido que proporciona.

Irving D

5

JAL

August 4, 2022

It is everything it claims to be. I received it quickly, undamaged, and was able to install it easily. I bought it to raise the LP as my upgraded glass platter is a little lower than the original on my turntable. This works perfectly, so it does everything I want from it. As for sound quality. You'll have to check that out with your own ears as that is subjective.

JAL

4

Dan C

July 9, 2022

Very Happy with my new Cork Platter Mat!!!!

Dan C

5

Ross C

July 8, 2022

I wasn't expecting miracles with the static, though it doesn't necessarily seem better or worse then the stock rubber mat that came with my RT81. I assume the static problem is humidity related, given that I live in a dry climate.Main issue I have with this product is the cork dust that gets everywhere. The texture was really rough and seems to be constantly shedding cork, requiring my to thoroughly clean my records after every use.Going back to the stock rubber mat for now. Never got to give it a solid sound quality comparison, as the dust was too much of a hassle to make this product worthwhile.

Ross C

3

Mike N

June 18, 2022

Affordable & can't speak for the sound quality in general since I had none except static due to low humidity but so far this definitely seems to be helping with that

Mike N

5

Alexandre D

June 10, 2022

Améliore le son

Alexandre D

5

Caleb Z

April 15, 2022

Kentucky, United States

It's somehow worse than the foam pad that came with it. Buy something better off Amazon for less.

Caleb Z

1

Brandyn S

March 29, 2022

older turntable, new cartridge and this cork mat, sounds like its brand new!

Brandyn S

5

mark a

March 28, 2022

I can already tell the difference in sound quality!

mark a

5

Dwayne S

March 23, 2022

Works as stated and looks great.

Dwayne S

5

Carol W

March 18, 2022

Perfect.

Carol W

5

Carl P

March 10, 2022

Quebec, Canada

Pretty & profound.

See all reviews

Carl P

4
Articles from our experts