Overview
The Fluance ES1 Higher Fidelity Floorstanding Pillar Loudspeakers are a revolution in design and performance that have been tailored to your audio needs. The ES1 is designed to accommodate the broader range of today's high-definition digital sources. From the highest symphonic crescendos to the smoothest jazz, you will experience elite home audio like never before.
High and Bright
Every breathtaking acoustic performance will awaken your ears to the brilliant high-frequency sounds reproduced by the ES1 Floorstanding Pillar Loudspeakers. The vibrant tweeter plays clear and precise notes at even the highest volume levels. Controlled, smooth and never too aggressive, your ES1's will deliver the sounds and effects you have been missing.

Dynamic, Sonic Midrange
The velvety, lustrous tones of your favorite singer will make you melt. The four 5" drivers with woven glass fiber composite cones reproduce the sounds that are most easily recognized by the human ear, an essential for basking in the warmth of faithful reproductions from these high-performing speakers. The drivers are as light as they are strong, boasting a quicker response and reduced distortion. Hear every nuance of every note on every track with the ES1 Floorstanding Pillar Loudspeakers.

Elegance in Home Audio
The elite lifestyle design features strengthened aluminum cabinet construction with an audio-grade MDF wood front baffle and a glossy-piano black finish. With speakers that look as good as they sound, this relationship was built to last.

The perfect complement to an audiophile's lifestyle, you'll be enjoying serious performance in your home for years to come.
Specifications
Higher Fidelity Two-way Floorstanding Pillar Speaker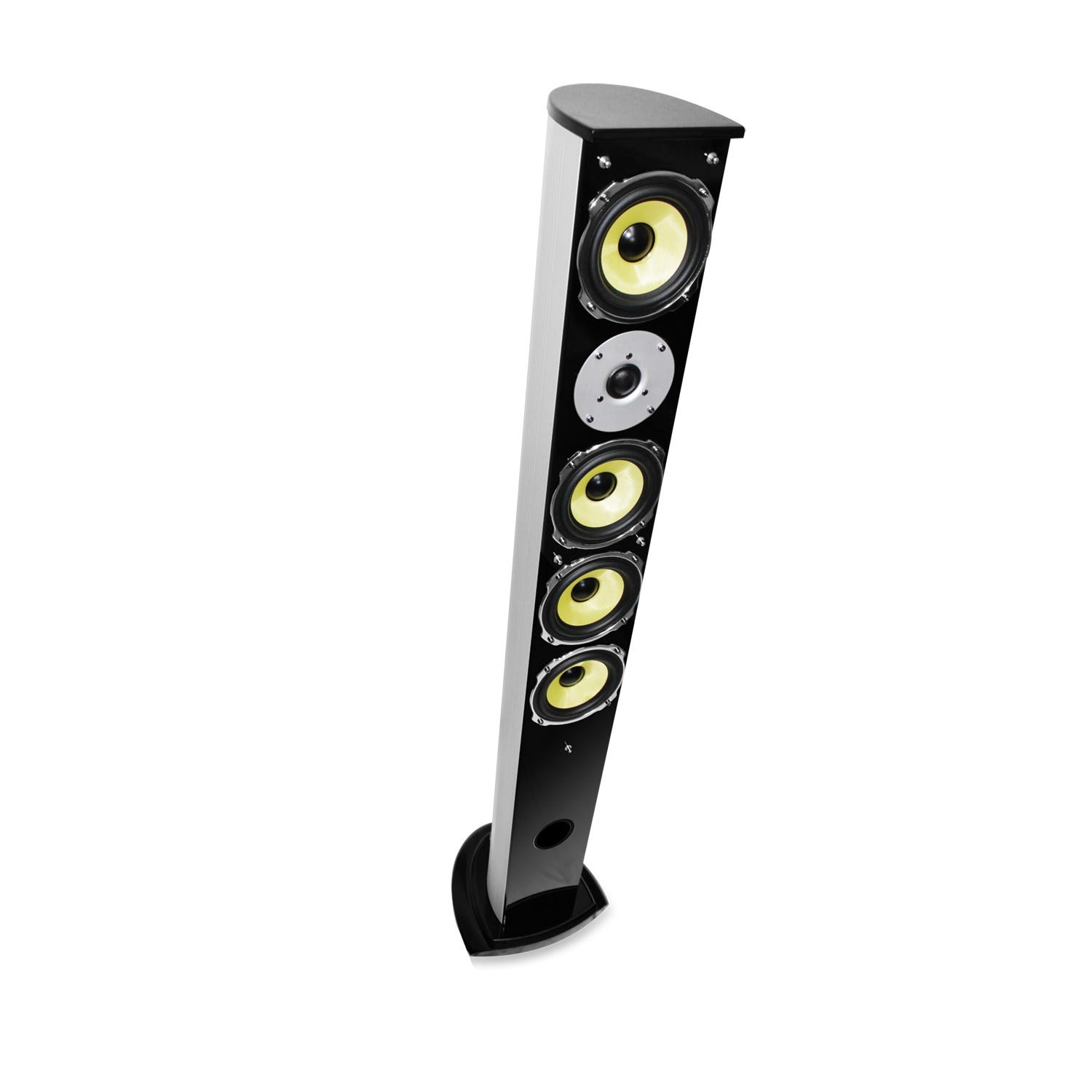 Customer Reviews
Gabe S

November 20, 2015

Update: This is the second pair of ES1s that I have purchased. I love them that much! These speakers are still a hell of a bargain at (shipping, etc.) $500. After a three-week period of breaking them in, now they have a beautiful rich sound to match my first pair that are about two years old. I'm running them with the Onkyo TX-NR807 and couldn't be happier. On another note, THE WAIT TIME WAS APPALLING! It took a full six months to receive my speakers. My advise is to order what you want, forget about them, and then be pleasantly surprised when they suddenly arrive. Hopefully Fluance will figure out their supply chain soon:)

Gabe S

5

Bradley Bratten

November 20, 2015

These were my first set of Fluance speakers that I purchased after reading a review on CNet. After getting them home and hooking them up I was blown away by the sound quality and sleek modern design that fit perfectly with my new LED/LCD display. Quickly after getting my first pair I followed them with a second pair of tower speakers and then a center channel and two satellite speakers. I'm currently pushing a full 3D 7.1 surround sound compliment that is absolutely amazing to listen to and feel. And I DO MEAN FEEL. The clarity of these speakers is truly amazing considering how little I paid for the whole array. The difference in how I watch movies at home now is night and day compared to how I used to enjoy shows before. The best way I can describe it is the change you make the first time you watch a BluRay video after having watched regular DVDs for years. You just can't believe it could be so good, so clear and perfect. And you absolutely cannot imagine ever going back to the way it was before. I also play a LOT of next gen video games and it has made such a difference in how I enjoy them. Being able to hear all the little sound effects that would normally be lost on lesser speaker set ups just makes me smile and thank you guys for creating the BADASS speakers that I am so happy to be the owner of. I am a FLUANCE customer for life, as well as most of my friends and family now. Cheers and thank you for making a tech head one of the happiest guys in the world!

Bradley Bratten

5

Luc C

November 20, 2015

These speakers sound phenomenal when paired with a sub. Excellent value!!! Very happy customer!!! I had to share.



Luc C

5

Gabriel

November 20, 2015

These are one of the best pair of speakers I've ever heard for under $1K. I found them purely by accident while researching quality budget speakers and found mention of the company on CNET.com under their top 10 budget speaker systems. Hesitant at first considering the vast shipping distance, I went for it and am very happy with the product. Solid construction paired with great minimalist design works perfectly for my medium sized apartment. Highly recommended over any overpriced brand name.

Gabriel

5

John Shea

November 20, 2015

One of the best values out there in home theater components. Very natural sounding when paired with a sub, excellent build quality and drop-dead gorgeous to boot. Buy these with confidence..of course you could find a better sounding speaker, but believe me when I say you will have to spend three times as much to do so. Very confident these will will provide years of enjoyment.

John Shea

5

Chris H

November 20, 2015

I wanted buy these speakers. The wait time is crazy. I called anyway and the person didn't have anything to say. They were almost rude by their lack of intrest in my call. So I didn't make my order and will buy fromanother

Chris H

5

Sangdon L

November 20, 2015

I read a review of another speaker (AVHTB) from CNET but I was not sure of this speaker. However, I purchased this one in 2008 and since then I am really happy with the sound and quality. I'm thinking about buying a subwoofer.

Sangdon L

5

Fred B

November 20, 2015

I bought these nearly five years ago and they still sound great! They are in a large room that is using an excellent older tuner w/o 5.1. I did not want to go the sub-woofer route and these handle the bass very well w/o any subs. One of my concerns before I ordered them was the possible appearance w/o actual wood veneer. Not to worry, they are very attractive and still look new. Polk had a comparable speaker design at over twice the price and these sounded better to me at that time. The quality is very apparent and the sound is amazing. I was impressed with the quick response and protective packing they used for shipping. Not like anything I had seen before from an on-line supplier.

Fred B

0

sylvain fortin

November 20, 2015

I am very satisfied no bad comment I give 5 out of 5 I adore my colones his extraordinary I counsel everyone fluence exelente quality.

sylvain fortin

5

Gisela

November 20, 2015

I bought these pair of Fluance ES-1 front speakers not knowing what to expect as far as sound quality. (Never heard of Fluance before). I just like the contemporary design of these speakers to compliment the interior of my apartment. Very expensive looking speakers. The design is comparable to Mirage and Bang&Olofsen except for the price.

However, after setting it up with my Harman Kardon receiver and Boston acoustics subwoofer, I realized that not only I am getting a great deal for this contemporary front speakers but a great sounding speakers too. I am very satisfied with its performance and I will definitely buy from Fluance again. I highly recommend these speakers to everyone especially if you are on a budget.

Gisela

5

Richard

November 20, 2015

I am extremely happy with my purchase. These speakers look great with my entertainment center and TV, and the glossy piano finish really makes them look classy. My wife was worried that they would look out of place, but now that they're set up she is convinced that they make the living room look nicer.

Although I've heard quite a few good things about the ES1 speakers, I was still surprised by the amount of bass that comes through them. The highs are even better - each note is crisp and defined, and the sound fills my entire house. Now matter how loud I turned up the receiver, I couldn't detect any distortion. I will definitely recommend these speakers to my friends!

Richard

5

Mike

November 20, 2015

For the price, these speakers are an amazing deal!

I ordered the Es1's along with the Fluance center channel and I could not be happier with the quality of sound that these speakers produce. I used to have all Polk audio and the fluance's destroyed the Polks in price, sound and looks.

At this price there is nothing to lose!

Mike

5

Matthew

November 20, 2015

Fantastic speakers. incredible sound. Good customer service and they arrived promptly. I would recommend bi-wiring them.

Matthew

5

Matthew

November 20, 2015

An outstanding product. If you are going to purchase these speakers you will not be disappointed. The quality of sounds is absolutely incredible and aesthetically you will be amazed. I would recommend this product to everyone.

Matthew

5

Damon Y

November 20, 2015

I ordered some Fluance speakers as an upgrade to my existing home theater system. I had some existing thinner gauge already but wanted good quality wire and decided to give the Fluance 12-gauge wire a try. It's heavy and feels solid, and because of the twisted braid it's very flexible. Feels like liquid metal inside a rubber sleeve. Instead of having a color coding like red for positive, it simply has printed text on only one side so you can choose a positive wire and avoid colored wire running around the room. You only see the pretty copper color and it looks good to me. I used two wire lengths for each front tower speakers, using a bi-amp feature on my receiver. Those two wires plus the one for the center channel speaker used up about 43' of a 50' purchase. When I add two Fluance surrounds in the back that will require almost 100' of wire. Bottom line: the wire looks good, is flexible and sturdy, and the sound quality from the speakers is superb! I'm very pleased with the purchase.

See all reviews

Damon Y

5
Resources
FAQs
Do I need a receiver/amplifier for these speakers?
All Fluance passive speakers (unpowered) require a receiver or amplifier to provide them power and a connection to your home theater or media setup.

For more information on how to match your speakers and amplifier, please see our video: