Regular Price: $99.99 USD
Special Price $79.97 USD
Overview
Karaoke Machine Portable Speaker System
Electrohome brings you a stylish karaoke system you can enjoy for hours.Sing along while reading on-screen lyrics with this all-in- one karaoke machine. This system plays CD/CD+G, has a USB port to play MP3 and MP3+G karaoke music and a 3.5mm aux input to stream online karaoke from your smartphone or tablet. Combined with high performance stereo speakers anyone can sing like a pro! A durable handle makes taking this machine to the party easy and superior good looks with modern detailing will make you want to leave it out after the show.
Sing Along to On-screen Lyrics
Read and follow the karaoke lyrics on the 3.5" video screen or connect to a TV for a larger view using the included RCA cables.
Adjustable Digital Key
Control Control the tune the prerecorded music plays in to match the vocal range you are most comfortable singing. With this feature you don't have to strain your voice so you'll always sound great.
The Karaoke Singer's Secret Weapon
Just how does that other singer get that rich, full tone in the performance? The secret is the Digital Echo Control feature which lends a vibration through the mic making your singing sound confident and more professional.
Auto Voice Control Can Help You Learn That Tune
When you're in the car you sound just like your favorite artist but then, when you are in front of a crowd you forget the next line! Never find yourself there again with Auto Voice Control (AVC) Singing Coach. This feature will sense that your singing has tapered off and the prerecorded vocal back up will fill in the blanks! This will prompt you to remember the next line just like the song in the car did.
Sing a Duet with your BFF
Once the karaoke party warms up there is no stopping the need for more microphones. With a second microphone input, singing in groups of two or more adds to the fun (additional mic sold separately).
Karaoke Disc with Various Hit Songs Included
Even if this is your first karaoke machine, you will already have a catalogue of popular songs to choose from. The included multiplex disc contains two versions of each karaoke song – one version with recorded vocals to help you learn the words and one without. This system is all you really need to throw a great karaoke party.
Specifications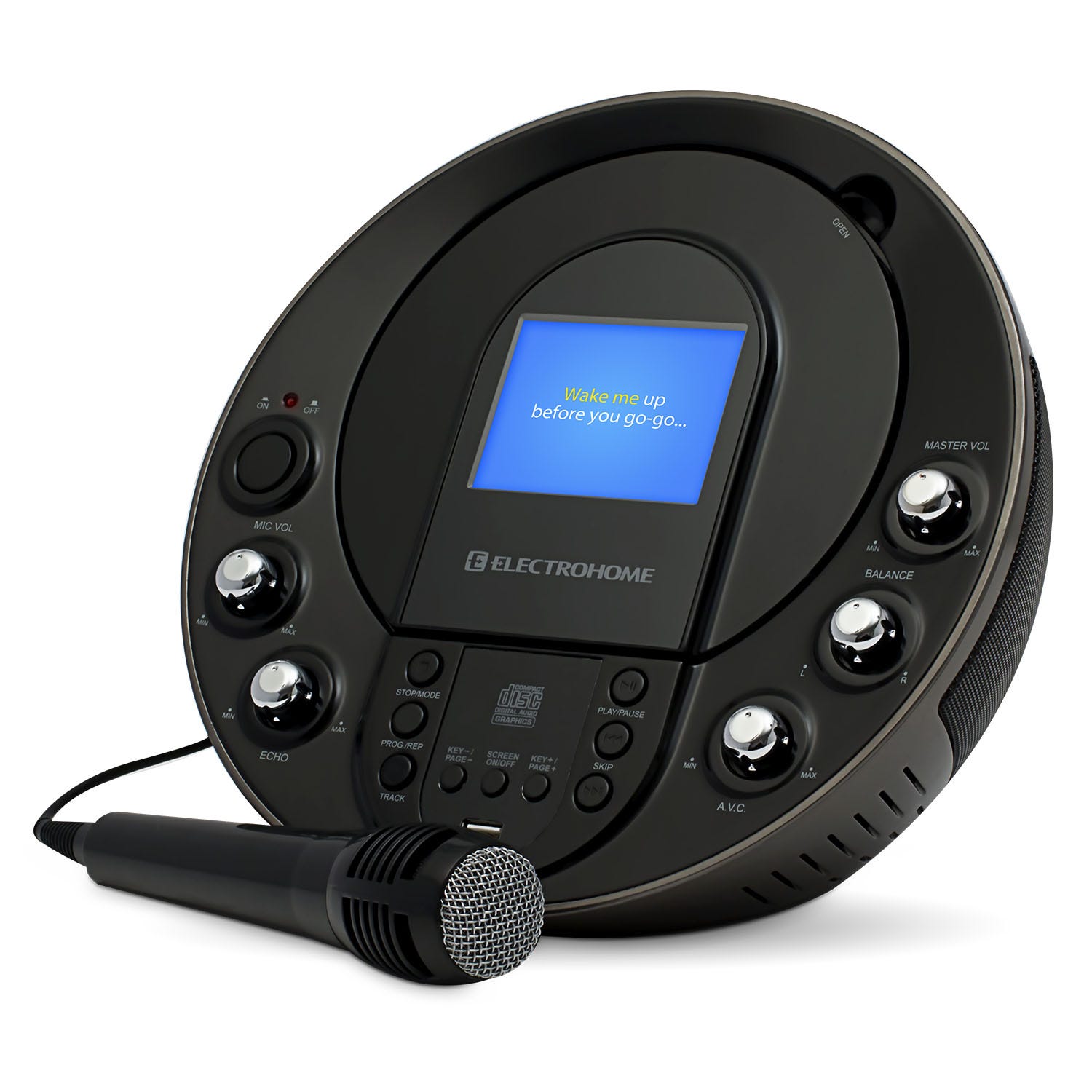 | | |
| --- | --- |
| Unit Color | Black |
| Master Volume | Yes |
| Echo Control | Yes |
| Balance Control | Yes |
| Auto Voice Control | Yes |
| CD Control | Yes |
| Microphone Volume Control | Yes |
| Repeat | Yes |
| Inputs | 2 x 6.3mm microphone, 1 x 3.5mm AUX |
| Program Tracks | Yes |
| Power Source | AC 100-240V, 50/60hz 0.3A |
| Demo Disc | 30 songs – CD+G |
| Length of cable (mic) | 10 ft |
| Speaker Size | 1 x 3W 8Ohm |
| RCA Cable | L/R Audio output, video out |
| Power Consumption | 12W |
| Dimensions | 13.25"x11.25"x13.25" |
| Unit Weight | 4.89lbs |
| Certifications | FCC Certified, ETL/CETL |
| UPC | 871363017260 |
| What's Included | Karaoke Player Speaker System Dynamic Microphone (10ft Cord) CD+G Multiplex Karaoke Disc with Music from Various Artists RCA Audio/Video Composite Connection Cables 100-240V AC/DC Power Adapter Instruction Manual 1 Year Warranty Lifetime Customer Support |
Customer Reviews
Cathy Wilcox

April 18, 2016

Even though it is only April, I ordered this for my grandson's Christmas present. Being retired, and on a fixed income, I have to start very early and buy a little at a time throughout the year. The product is still in the box, but I expect it to be a real hit in my grandson't home.

Cathy Wilcox

5

Karen McNally Sullivan

January 13, 2016

I ordered this product over the Christmas holidays. It was supposed to come with a bonus microphone but was missing when I opened the box. I called customer support right away and spoke with the nicest customer service rep who immediately processed an order for the missing microphone which was shipped out the next day and received by me with no issues. I love the product. It sounds great, is easy to use and am hoping my nieces love it when they visit next. I have no problems with them learning how to use it because it's very operator friendly (which I love). Also want to mention the price. Got it on sale for 69.97 and that was the BEST of all. LOL Thank you for the great service and product!

Karen McNally Sullivan

5

madden2012

August 19, 2015

I like the product. The price is reasonable. Does what it says. Can be used as a pa system for monitoring voice. Does not get very loud, but RCA cables are provided to plug into home stereo auxiliary jack.
<i>Verified purchase from Electrohome trusted store</i>.

madden2012

5

Erin King

August 19, 2015

I bought this for my boyfriends 25th birthday. Everyone had a blast with it. The CD+G it came with skipped and i was worried the machine was faulty. But we bought some CD+G's and they worked perfectly. The one that came with it is just crap. Also it hooks up to our tv and we accessed Youtube with our playstation and we had free karaoke from Youtube. Pretty happy about that :)
<i>Verified purchase from Electrohome trusted store</i>.

Erin King

5

Collette

August 19, 2015

After doing quite a bit of research, I found this to be perfect for what I wanted. I bought this for my girls (ages 8 & 9) for Christmas and they love it. It's very easy to use and the price was good. I'm also pleased with the small, portable size because it doesn't take up a lot of space and stores easily. I would recommend this machine.
<i>Verified purchase from Electrohome trusted store</i>.

Collette

5

Lisa Araujo

August 19, 2015

This is a great Kareoke machine for kids, i.e. 4 - 10 yrs. old. Can be used alone or pluged into a TV. Like that it is easily portable so it can be moved easily from the living room when you want the kids to put on a show for the family or to the kids' room for times when quiet in the rest of the house is preferable. Although it has two inputs for two microphones, it only comes with one in the package so you will need to buy an extra microphone for duets.
<i>Verified purchase from Electrohome trusted store</i>.

Lisa Araujo

5

ShaysMama23

August 19, 2015

I bought this karaoke machine for my daughter's 9th birthday. We had previously owned a different brand karaoke machine that broke after only being used a few times. So I went on the hunt for a replacement... After reading all the reviews I decided this was the perfect one for my daughter. The thing I like the most is the size of this machine, after previously owning a larger, bulkier one, I was very happy this one was small and saved (much needed) space in her room. Another plus for me was the screen the words appear on. While small, it works perfect for when my daughter wants to play with it but I don't have time to plug it into the TV. The sound quality is great and has provided us with hours of entertainment.
<i>Verified purchase from Electrohome trusted store</i>.

ShaysMama23

5

loves2read

August 19, 2015

I bought this karaoke player for my granddaughter's 9th birthday, along with a second microphone (love the fact that it has an outlet for a second mic so she can sing duets with her friends.) She played with it all day - it was a complete hit! I also included some extra karaoke CD's. I was surprised at how many are available, including Taylor Swift's albums. I'd recommend this to anyone who loves to sing along.
<i>Verified purchase from Electrohome trusted store</i>.

loves2read

5

Bob Tobias "Robert Tobias"#1 HALL OF FAMETOP 10 REVIEWER

August 19, 2015

When I say Best of Breed I'm referring to the sub $100 standalone units. Compared to those this has great sound and plenty of it. (You can turn the volume up loud.) The problem is, the price was hovering around $100 and now it's 50% more.
Maybe it's supply and demand. Even at $150 it's not a bad value and it's a better value at the lower, more typical price.
If you have regular CDs, this unit will play them just fine. You won't see any lyrics but there is an adjustment to turn down any vocals to make it more of a karaoke experience. If you have special karaoke disks, they are in a very different format from either regular CDs or CDs where you've written MP3 files from your computer, you will see the lyrics along with hearing the music. And, more than just seeing the lyrics, you are prompted for the phrase you're supposed to be singing at any given moment.
Now, let's talk about other pluses and minuses...
The pluses:
- Great sound. I've already said that and it bears repeating.
=- Good quality sound. Ditto. This is due, in part to the included microphone.
- A second input jack for a second microphone. I've had real good luck with the Behringer ULTRAVOICE XM1800S Dynamic Cardioid Vocal Microphones, 3-Pack. I know this is buying three and you'll want spares, especially if you are letting kids use this.
- Doesn't look like a toy. That makes it easier for us grownups to use it. (And trust me, you will.)
The minuses:
- It is difficult to select tracks. The buttons are small and it's tough moving through tracks one at a time.
=- AC only. It would be nice to have an option for battery power.
As an aside, we have a "real" karaoke machine hooked up in our family room and find ourselves using this more.
<i>Verified purchase from Electrohome trusted store</i>.

Bob Tobias "Robert Tobias"#1 HALL OF FAMETOP 10 REVIEWER

5

Tiffany T.

August 19, 2015

Bought this for my 6 year old for her birthday!! She loves it. It is the perfect size for her. the screen is a little hard to heard for more than one person but for two kids they think it's great!!
<i>Verified purchase from Electrohome trusted store</i>.

Tiffany T.

5

Scott "The Maestro"

August 19, 2015

I had looked through many karaoke machines before finally deciding on this one for my daughter's birthday. She absolutely loves it. Although, truth be told, I now cannot stand any song from 'Frozen', having heard them about 9,000,000 times each.
The device itself is solid and well built, and the microphone is of decent quality for the price. I do voice over work, and while it's definitely not a professional mic by any stretch, it's not exactly a kids mic either. The screen on the device is a bit on the small side, so if you have any budding singers who wear glasses, you'd be better off hooking it up to the TV, which is very easy to do.
The sound is good, with no perceptible lag between lyrics and notes. It has played every CD and CD+G I've thrown at it, so compatibility seems pretty good.
One minor quibble is the echo....wow...is it an echo. I wound up turning it all the way down to get most songs to sound normal. Depending on the recording and what and where you're singing (probably the living room if you're like me and my family), your mileage on the echo may vary, but I found that it needed to be at minimum, basically.
Otherwise, this is a great little machine for the price that does exactly what it advertises to do. I would recommend it.
<i>Verified purchase from Electrohome trusted store</i>.

Scott "The Maestro"

5

C. Trzupek

August 19, 2015

The Karaoke machine was a gift to our 9 yr old daughter, for Christmas. She has been singing with it every day since then! She loves to use the echo effect, which is adjustable. She already had a microphone, but the machine came with one, so now she can sing with a friend. The hookup to the tv was easy, which is how she uses it, but the built in screen is a great feature that is nice to have. The sound comes through nicely, with adjustments forb each microphone. The karaoke discs she received help with background vocals, but the machine has a nice feature that fades them out if needed. The only negative I would give the machine is a lack of a holder for the microphone. The machine is small and compact, so there really isn't room, but it would be nice to have a place to put a microphone so it isn't so messy laying around the machine.
<i>Verified purchase from Electrohome trusted store</i>.

C. Trzupek

5

Gael Linn

August 19, 2015

We really like this compact size karaoke machine. We bought it for our grandchildren to use, but mainly for our three year old granddaughter who is in a group music class. The teacher has many movement activities during the one-hour class and in one of the lessons the teacher sings into the microphone and asks each child what his or her name is. All of the children (except our granddaughter) sing back, 'my name is _______'. We are hoping our granddaughter will get comfortable with the mic when she sees her older sibling and cousins playing, talking and singing into the mic.
We also hooked the karaoke up to a TV and it works fine. The price makes this machine affordable and is nice for the whole family to use, including the adults.
<i>Verified purchase from Electrohome trusted store</i>.

Gael Linn

5

rach704

August 19, 2015

Bought this for my 9yr old for her birthday. She loves it. Seems like a quality item with quality sound.
<i>Verified purchase from Electrohome trusted store</i>.

rach704

5

Vertigo

August 19, 2015

The portable Karaoke machine lived up to the reviews on Amazon. As a stand alone machine it works great in versatility as well as sound quality given its light plastic case. However where it excels is when hooked up to a TV and Stereo. The electronics are quite good and the video with lyrics is sharp. Features are great and include a usb port, key (pitch) control, echo, and is very intuitive in layout. When ordered I would get an additional set of CD's such as the 12 Disk CDG KJ Tools set. The demo cd with the machine doesn't provide much of anything. Definitely recommend this machine.
<i>Verified purchase from Electrohome trusted store</i>.

See all reviews

Vertigo

5