Overview
This is the Droid you're looking for.
Over the years, the magic of Star Wars™ has always lived on screen and in our imaginations. Thanks to our advancements in technology, we've made it possible to bring a new part of Star Wars: The Force Awakens™ into your home.

Meet BB-8™ - the app-enabled Droid™ that's as authentic as it is advanced. BB-8 has something unlike any other robot - an adaptive personality that changes as you play. Based on your interactions, BB-8 will show a range of expressions and even perk up when you give voice commands. Set it to patrol and watch your Droid explore autonomously, make up your own adventure and guide BB-8 yourself, or create and view holographic recordings.

It's now possible to explore the galaxy with your own trusty Astromech Droid by your side. BB-8 is more than a toy - it's your companion.
At a Glance:
Authentic Movement // Guide your BB-8 with a smartphone or tablet
Listens & Responds // BB-8 recognizes and reacts to your voice
Holographic Communication // Record and view virtual holographic videos with BB-8
Autonomous Behavior // BB-8 has a mind of its own - explore the Star Wars™ galaxy together
Adaptive Personality // Your BB-8's unique attitude and actions evolve as you interact
Compatibility
iOS:
iPad 3 or newer
iPhone 4S or newer
iPod touch 5th gen or newer
At least iOS 8
Android:
Android devices, while having OS 4.4.2 or higher, must have all of the following hardware in order to operate with BB-8. Without this hardware, the Sphero BB-8 app will not show up for download in the Google Play store.
Bluetooth
Bluetooth LE
Front Camera
Rear facing camera if want to use the Holographic messaging feature
Microphone
Distinct Multi-touch Landscape Touchscreen
Hardware sensors including gyroscope and accelerometer
WiFi capabilities
Windows:
Compatible with Windows 10 1511 or higher. The following hardware is required in order to operate BB-8.
1GB RAM
Bluetooth 4.0
Camera
Touch screen
Specifications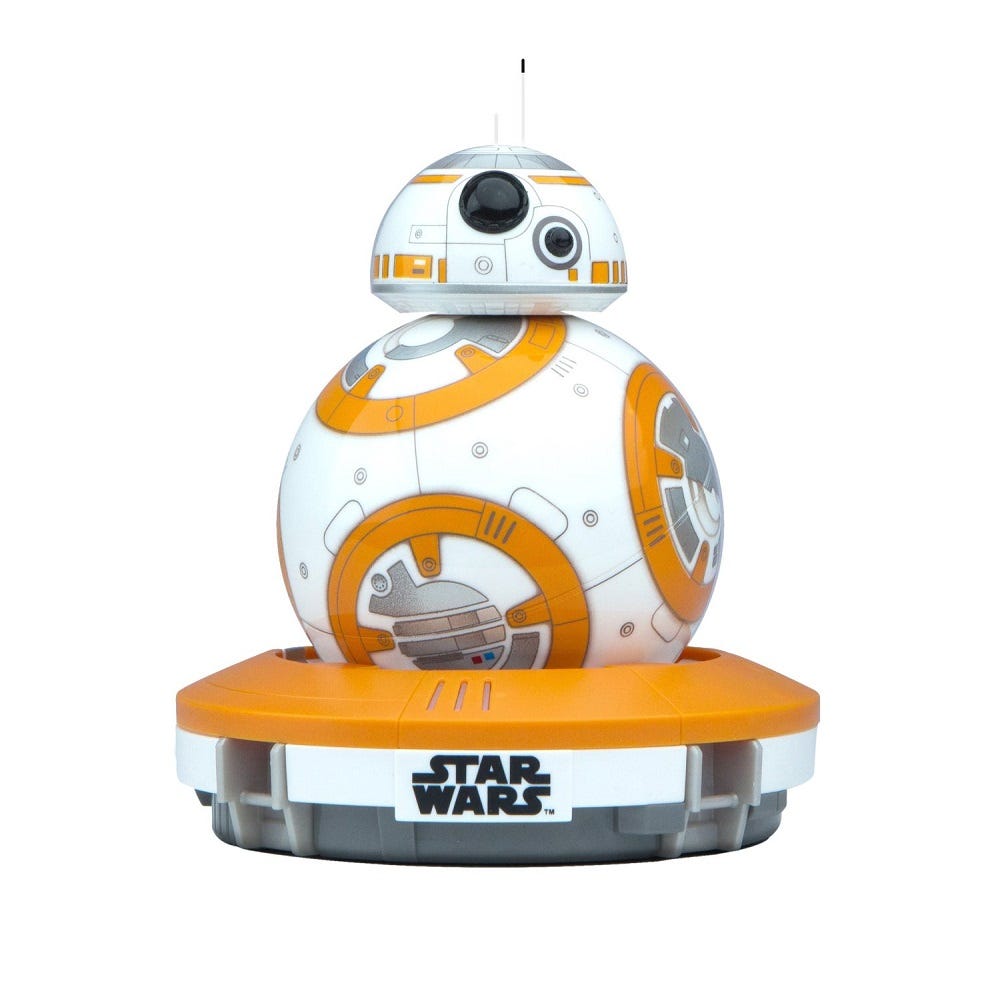 UPC
851897003694
What's Included
BB-8 app-enabled droid
Induction charging base
Micro USB cable
Quick start guide
Legal guide