Regular Price: $199.99 USD
Special Price $50.99 USD
Overview Ensure your eyes and ears aware at all times with this handy 2.4" wireless video monitoring system by Defender. The camera's 8 infrared LEDs show you what is happening up to 12ft away in complete darkness. The rechargeable lithium ion battery will perform up to 72 hours in power save mode so you can enjoy full-time, secure monitoring. ClearVu® digital wireless technology provides a clear and secure signal from up to 750ft away. The two-way intercom can be used to communicate with family members, staff and visitors from anywhere on your property. Mount the sleek camera on a wall or sit on a desk and adjust 240° horizontally and 65° vertically for a perfect view. With extra features such as an LED volume indicator, adjustable brightness, and expandability up to 4 cameras, you can be sure your property is in good hands. Invisible LED Night Vision
The camera's 8 invisible infrared LEDs show you what is happening up to 12ft away in complete darkness. "Invisible" LED night vision lights do not cast that distracting red glow. You can monitor your room discretely in the dark without drawing attention to your camera.
DISCLAIMER
Battery life of 72 hours based on 10 audio activations while in power save mode. Battery lasts an average of 6 hours with continuous audio/video usage.
Night vision range up to 12ft under ideal conditions. Objects at or beyond this range may be partially or completely obscured, depending on the camera application.
Optimum range is 150 feet when signal is passing through walls or floors. Microwave ovens (when in use) may cause signal disruption at close range. Buildings with metal frames may also cause signal disruption. Maximum transmission range is 750ft.
This product is intended for indoor applications only.
DEFENDER® does not endorse any DEFENDER® products for illegal activities. DEFENDER® is not responsible or liable in any way for any damage, vandalism, theft or any other action that may occur while a DEFENDER® product is in use by the purchaser.
We reserve the right to change models, configuration, or specifications without notice or liability. Product may not be exactly as shown.
©2013 DEFENDER®. All rights reserved. DEFENDER®, the DEFENDER® logo and other DEFENDER® marks may be registered. All other Trademarks are the property of their respective owners.
Specifications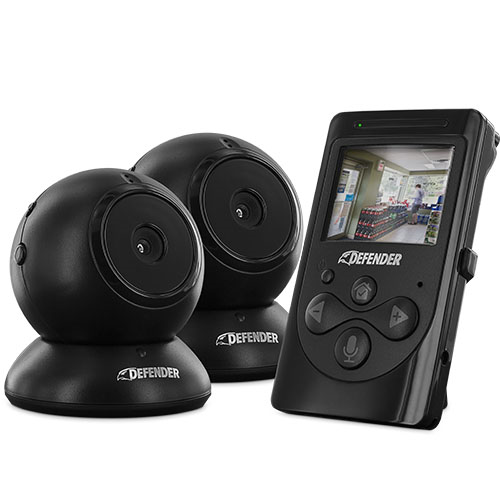 Image Sensor
CMOS
Transmission Range
750ft
Internet Connection
No
Optimum Transmission Range
150ft
Wireless Frequency
2.4 GHz
Resolution
640 x 480
Night Vision
Yes
Number of IR LEDs
8
Battery Operable
No
Microphone
Yes
Housing
ABS Plastic
Wall Mountable
Yes
Operating Temperature
0 to 50 Degree Celsius
Power Input
100~240VAC
Dimensions
3"x3"x3.5"
Unit Weight
.25lbs
Screen Size
2.4"
Wireless Frequency
2.4 Ghz
Monitor Type
TFT LCD
Resolution
320x240
Speaker
Yes
Adjustable Brightness
Adjustable: 0,1,2,3,4
Power Adapter Input
100~240VAC
Dimensions
2.8"x.8"x4.3"
Weight
.25
UPC
061783256169
What's Included
2 Night Vision Cameras
Video Monitor
Rechargeable Battery
3 Power Adapters
Quick Start Guide
1 Year Warranty
Lifetime Customer Support