Regular Price: $464.99 USD
Special Price $279.99 USD
Overview Defender® PHOENIX™ Pro Wireless Security System can be used to monitor video in any indoor or outdoor space at any time. This wireless plug and play system allows for easy set up in a matter of. The wireless, weather resistant camera included with this system has one wide-angled array infrared LED that allow you to see up to 100ft away in the dark. Ideal for monitoring entrances, backyards, valuables and employees, this PHOENIX™ Pro system can be used in any situation you need. Digital Wireless Technology
Digital Wireless Technology makes set-up hassle free. This advanced system automatically connects when turned on – no wiring required. Superior digital functionality ensures that the signals remain strong as you monitor your business or home wirelessly, up to 750ft away. Long Range Night Vision
See it all in pristine detail, day or night: 520 TVL cameras with 100ft night vision leaves nothing to the imagination. The indoor/outdoor camera provides you with a clear, secure picture, even when you monitor after-hours or in a dark location. The camera comes equipped with advanced night vision and 1 wide-angle array infrared (IR) LED that let you see clearly in the dark, up to 100ft away! This high quality array IR LED provides clear and even night vision that is able to cover the camera's full field of vision. The LED activates automatically when it gets dark, and deactivates during the day to save energy (CDS sensor). With this system, you can rest assured, knowing that you will have 24 hour protection. True Do-It-Yourself Security
Defender®'s wireless Phoenix™ Pro system gives you all the peace of mind of a professionally installed system with the satisfaction that comes from knowing you did it all yourself. Don't leave the safety of your property to chance – trust Defender® to help you protect what you value most.
DISCLAIMERS

Night vision range up to 75ft under ideal conditions. Objects at or beyond this range may be partially or completely obscured, depending on the camera application.

Optimum range is 150 feet when signal is passing through walls or floors. Microwave ovens (when in use) may cause signal disruption at close range. Buildings with metal frames may also cause signal disruption. Maximum transmission range is 450ft.

This product contains small parts. Exercise care when unpacking and assembling the product.

DEFENDER® does not endorse any DEFENDER® products for illegal activities. DEFENDER® is not responsible or liable in any way for any damage, vandalism, theft or any other action that may occur while a DEFENDER® product is in use by the purchaser.

We reserve the right to change models, configuration, or specifications without notice or liability. Product may not be exactly as shown.

©2014 DEFENDER®. All rights reserved. DEFENDER®, the DEFENDER® logo and other DEFENDER® marks may be registered. All other Trademarks are the property of their respective owners.
What's Included? Wireless Camera Receiver
Specifications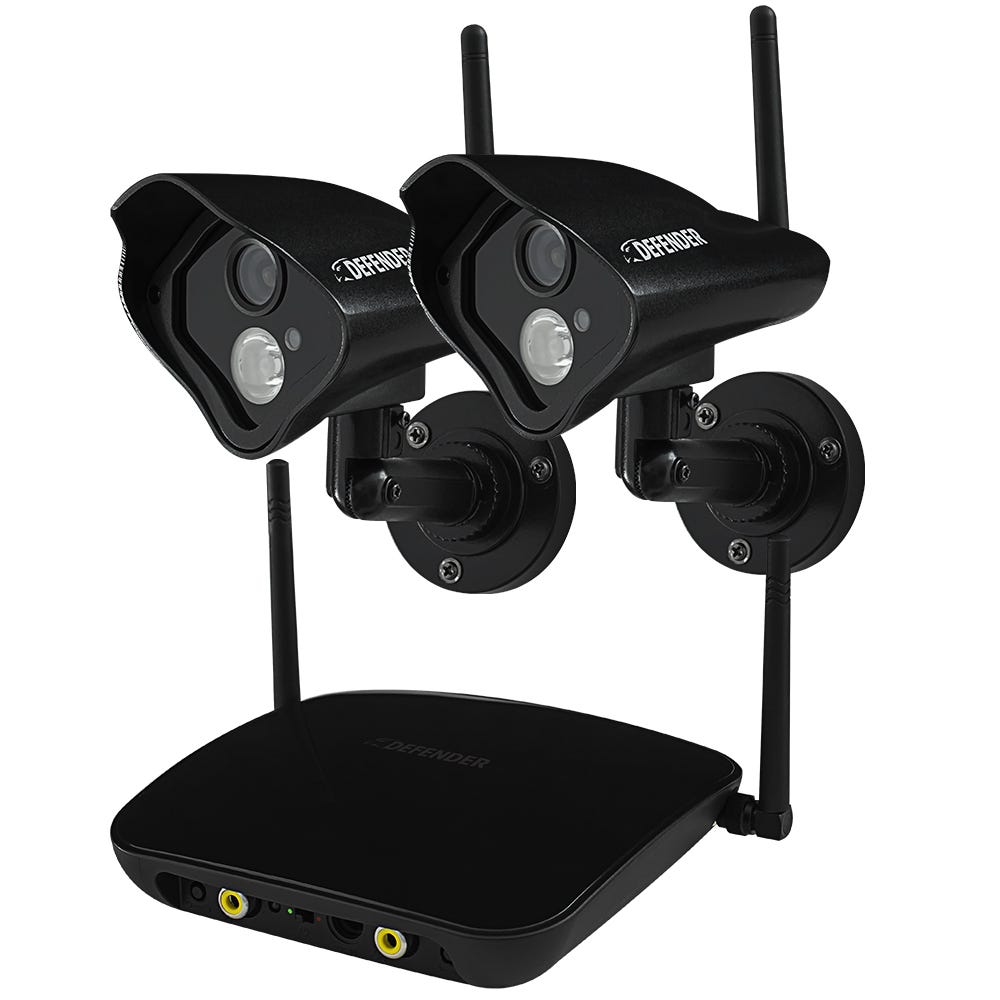 Image Sensor
CMOS
Resolution
640 x 480
Night Vision
Yes
Number of IR LEDs
1
IR LED colour
Black
Viewing Angle
Degree 48 (Horizontal)
Focal Length
3.6mm
Optimal Focal Distance
35ft
Transmission Range
750ft
Optimum Transmission Range
200ft
Microphone
No
Speaker
No
IP Rating
IP65
Keys
Pair Button
Housing
Anodized Aluminium
Wall Mountable
Yes
Camera Power Input
DC6V 800mA
Power Input
100-240V ~ 50/60Hz 0.15A
Operating Temperature
-10º C ~ 50ºC
Operating Humidity
Less than 90% RH
Dimensions
6.18" (L) x  5.75" (W)
Resolution Wireless Receiver
640 x 480, 352 x 240
LCD Display Wireless Receiver
No
Frame rate Wireless Receiver
25FPS
Audio Out Wireless Receiver
No
Microphonewirelessreceiver
No
Speaker Wireless Receiver
No
Frequency Wireless Receiver
2.4GHz
Technology Wireless Receiver
Digital FHSS
No. of hop/sec Wireless Receiver
1,000
No. of Hopping Channels Wireless Receiver
32
Channel Bandwith Wireless Receiver
2 MHz
Data Rate Wireless Receiver
4 Mbps
Transmission Power Wireless Receiver
+19 dBm
Transmission Range Wireless Receiver
450ft
Optimum Transmission Range Wireless Receiver
150ft
Out of Range Alert Wireless Receiver
Yes
Real Time Clock Wireless Receiver
No
LEDs Wireless Receiver
Power Link x 2
Keys Wireless Receiver
2 x Pair Button
Housing Material Wireless Receiver
ABS Plastic
Power Input Wireless Receiver
DC6V  800mA
Power Adapter Input Wireless Receiver
100-240V ~ 50/60Hz 0.15A
Operating Temperature Wireless Receiver
0°C~50°C
Operating Humidity Wireless Receiver
Less than 90% RH
Dimensions Wireless Receiver
4.80"(L) x 1.10" (W)
Weight Wireless Receiver
0.14 Kgs
UPC
061783252925
What's Included
2 PHOENIX™ Wireless Cameras
3 Power Adapters
2 Video Cables with BNC Adapters
Mounting Hardware
IR Remote Controller with Batteries
4 Window Warning Stickers
Instruction Manual & Software CD
Quick Start Guide
1 Year Warranty
Lifetime Customer Support
Customer Reviews
Kevin Stenhouse - [email protected]

February 9, 2016

System is exactly as advertised, and works perfect. Only issue I had upon setting the system up, was the video cable provided had the wrong end on it, in order for me to feed the video from the receiver into my monitor, so I had to go and purchase a different cable

Kevin Stenhouse - [email protected]

5

Bea

February 6, 2016

happy with purchase and price

Bea

5

Herb

November 30, 2015

Well I bought the wireless system, however I wish I purchased the wired type of security system. I still had to run electric power to the camera's so I just would have been better off running camera cable. I have four camera's, backyard, 2 on the side and one in front of my home. They are clear and the night vision is good also. My problem is, all my camera's are within 45 ft. of my receiver's and two work as they should but one has a more than normal delay and the last one has a lot more delay and go off quite often from not getting the signal to the receiver. The two that have the delay are just across the garage, at each corner, from the receiver's. If I had purchased the wired system I don't think I would be having this problem. Example of the delay. My wife entering in our home from outside the garage and she is all the way in our home and she still showing on the camera outside.
I'm not happy but I'm stuck with it. I had a wired system in a business and it was perfect. This one? Like I said, not happy. The neighbor is wanting to see it, but I'm embarrassed to show it with the camera delays.

Herb

3

Carolyn

November 30, 2015

I added cameras to my system with on problem,very easy to configure.

Carolyn

4

jessbff

November 30, 2015

We bought these to add to the DVR camera set that we bought

jessbff

5

jvar2992

November 30, 2015

this system is good but not great the picture has no hd witch all wireless systems now have....also my main camera has to be reset every now and then or else the video will freeze ,not good

jvar2992

3

Kenneth

November 30, 2015

Advertising & specifications indicates a wireless range of 1000ft or 750ft or 400ft or 150ft. Seems more like 100ft wireless range. Installed 2 cameras one works off and on the other not at all. The cameras are located within 5 foot of each other looking different directions. The wired system works great, seems like Defender needs to get its act together on wireless. I have already had to tell a friend not to buy the Defender Wireless system.

Kenneth

2

Naenae

November 30, 2015

I was given these cameras as a Christmas gift. Good viewing. Range not so good. Had to run wire to connect to a source of eleu, closer to the camera. Further away the wiring from the camera, no signal at all. Also, one camera just refused to work at all. No signal from the camera at all. Overall, I like the cameras and would recommend.

Naenae

4

DaveP

November 30, 2015

Excellent wireless camera. Very clear and easy to install and set up

DaveP

5

Dooman

November 30, 2015

I currently own a garage door business and we install camera systems through another company that cost 10 times what the defender unit cost and we receive the same results with the defender for a fraction of the cost. This unit is awesome and Sarah in cust. service is great.

Dooman

5

Roger

November 30, 2015

CWD is very good at taking care of problems . I have had great service from them & my system is working great. I also may purchase more cameras to boost my system.
Thank You for all f your help.

Roger

5

Sad Sack

November 30, 2015

I purchased the 21145 Camera because when a recent theft occured in my neighborhood, the camera that I had at the time did not pick up the individuals that were responsible.
The 21145 gives me the extended range I needed earlier. But now I'm ready.

Sad Sack

4

Steven

November 30, 2015

The cameras are great. They are easy to install they have fast shipping and the night vision works great

Steven

5

Installer

November 30, 2015

I added this camera thinking it would cover a single room but with only 60 degree coverage I'll need another camera. Overall nice durable camera and easy to install.

Installer

4

miholo

November 30, 2015

Its great to be able to view whats going on at home right from your phone!!!!!! Set up was really easy, and the picture quality is really good. Definately worth the $$$$$$.

See all reviews

miholo

4