Overview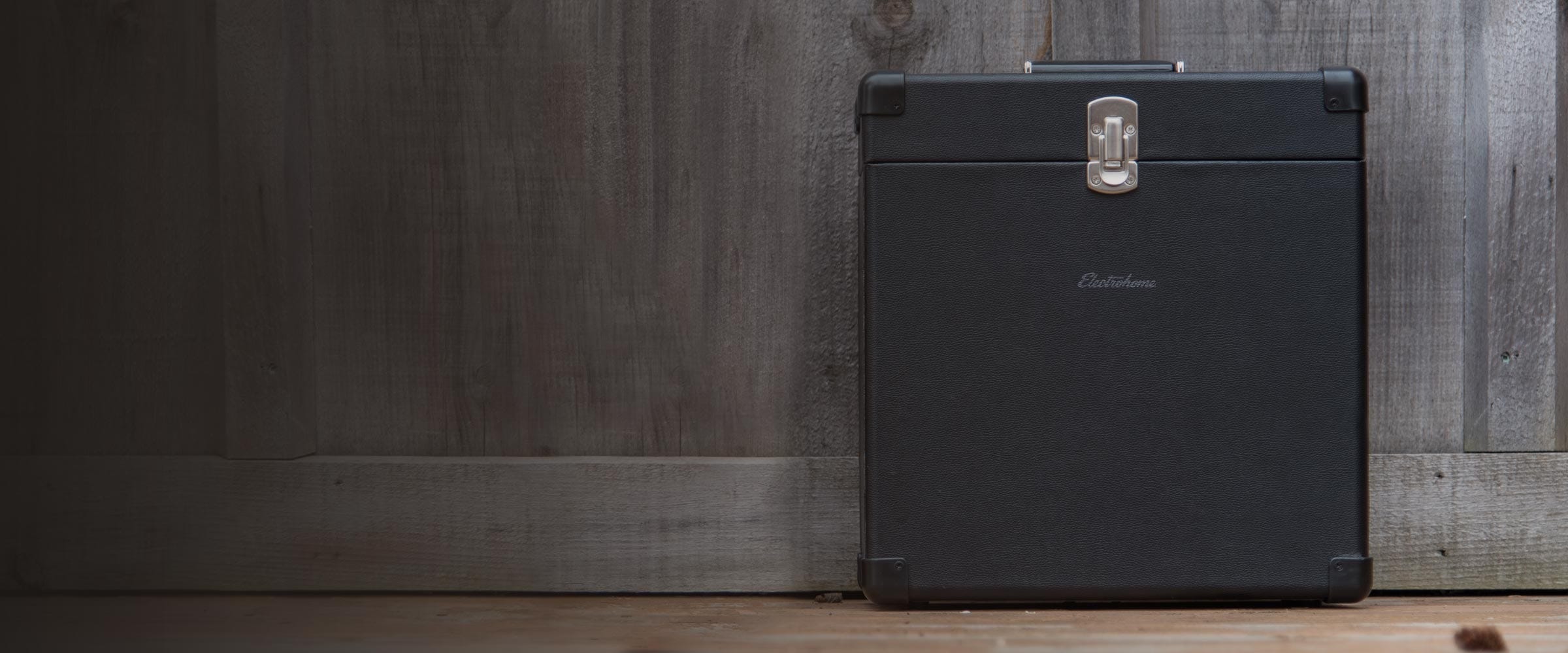 Vinyl Record Carrying Case
Don't say goodbye to your favorite songs every time you leave the house. With an Electrohome Vinyl Record Carrying Case, you can conveniently transport up to 30 records (all sizes) with you anywhere you go. Whether you are planning to provide the music for a party, woo a date over some romantic music or just enjoy a great soundtrack wherever you happen to be, a carrying case for your vinyl is the first step.
Vintage Retro Style
The Electrohome Vinyl Record Carrying Case is more than just a practical possession: It's also stylish. Carrying your LPs becomes effortlessly chic thanks to a simple and sleek design that calls on the style of the 1960s. Whether the vinyl case is placed next to an original, mid-century record player or a contemporary stereo, it will pair beautifully. The case boasts a black vinyl finish with metallic hardware to give it an elegant look.
Removable Lid Provides Unbeatable Accessibility
It will be easier than ever to find that perfect album thanks to the removable lid of the Electrohome Vinyl Record Carrying Case. Set it down next to your record player, pop off the lid and browse through the neatly organized albums. When you set off for your next destination, simply put the top back on to protect your albums along the way.
Durable Case Designed to Last
Protect your precious records from dust, humidity, and physical damage with a heavy duty case built to last. The body itself is made of tough MDF-grade wood (measures 13.75" x 6.75" x 15.5"). Even better, there are reinforced corner guards to protect your valuable albums from damage as corners are often the first part of a carrying case to wear.
Strengthened Carrying Handle
This handle holds strong even when the case is full of up to 30 albums. Have some peace of mind knowing you don't have to worry about travelling with your favorite records.
Specifications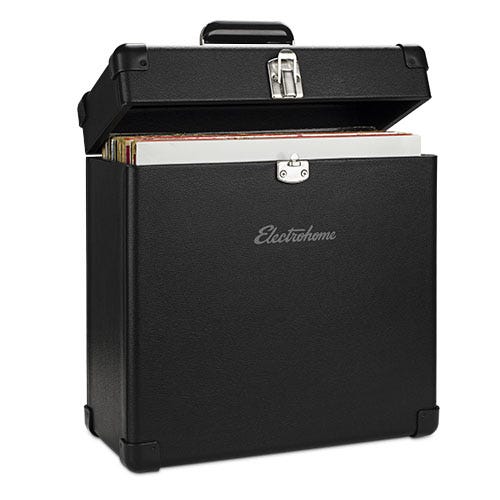 Dimensions (External)
13.75" x 6.75" x 15.5"
Dimensions (Internal)
12.625" x 5.75" x 13.25" (includes lid space)
Carrying Capacity
30 Records
Load
29.5 KG
UPC
061783261842
What's Included
1 Vinyl record carrying case
1 year manufacturer's direct warranty.
Customer Reviews
Rebecca V

July 21, 2018

great for storage looks great! - Verified Store

Rebecca V

5

Chloe

May 15, 2018

The hinge on this bad boy is half pin barrel..in other words it comes off .....eaisly.. and I mean sometimes it's appealing sometimes not...but while carrying it's clasped tight....so other then that it's a great product - Verified Store

Chloe

4

Emily A

January 28, 2018

My records fit inside very well and it is the perfect way to store them safely and transport them. When latched there is no worry of the lid coming off so it is easy to carry - you just have to be careful of the lid when the case is open. It looks great sitting in my room and is small enough that it doesn't take up too much space. - Verified Store

Emily A

4

lelena

January 28, 2018

Quality container. Matches the travel record player perfectly. - Verified Store

lelena

5

lucky 1

January 21, 2018

Good choice - Verified Store

lucky 1

5

Client d

April 24, 2017

BON PRODUIT MAIS DES VIS VISSAIT DANS LE VIDE - Verified Store

Client d

4

Sergei

March 3, 2017

poorly made case! - Verified Store

Sergei

1