Regular Price: $399.99 USD
Special Price $149.99 USD
Overview Trust DEFENDER® to make thieves and vandals think twice about approaching your property. This sleek dome camera provides a high quality, discrete security solution for your home or business. 800TVL deliver clear, ultra hi-res video for maximum indoor and outdoor surveillance visibility. 24IR LEDs allow for 75 feet of automatic night vision, while the weather-resistant aluminum casing ensures your cameras can withstand harsh elements. Versatile enough to monitor both indoor and outdoor locations, pair DEFENDER® dome cameras with our outdoor bullet cameras for a higher quality theft deterrent and added peace of mind. You'll always know exactly what's happening on your property – inside and out. 110Ft of Night Vision At Zero Lux
Experience high-resolution, low-light performance in zero illumination from up to 110ft from the camera's position. The PRO camera automatically activates infrared illumination with 38IR LEDs allowing for clear identification of objects in complete darkness. Weather-tight Outdoor Use Rating
Ruggedly designed for outdoor operation, the anodized aluminum PRO cameras have an IP65 rating. An Ingress Protection rating of 65 means the camera is constructed to be completely protected from dust and typical adverse rain conditions. A sleek sunshade also protects the camera from additional glare that can affect the quality of the image.
DISCLAIMERS

IR illumination range up to 110ft under ideal conditions. Objects at or beyond this range may be partially or completely obscured, depending on the camera application.
Defender highly recommends the use of an Uninterruptible Power Supply (UPS) with surge protection for all products.
Although the cameras are weather resistant, they are not weatherproof. Not for use in direct exposure to water, rain or snow.
DEFENDER® does not endorse any DEFENDER® products for illegal activities. DEFENDER® is not responsible or liable in any way for any damage, vandalism, theft or any other action that may occur while a DEFENDER® product is in use by the purchaser.
We reserve the right to change models, configuration, or specifications without notice or liability. Product may not be exactly as shown.
©2013 DEFENDER®. All rights reserved. DEFENDER®, the DEFENDER®, logo and other DEFENDER® marks may be registered. All other Trademarks are the property of their respective owners.
Specifications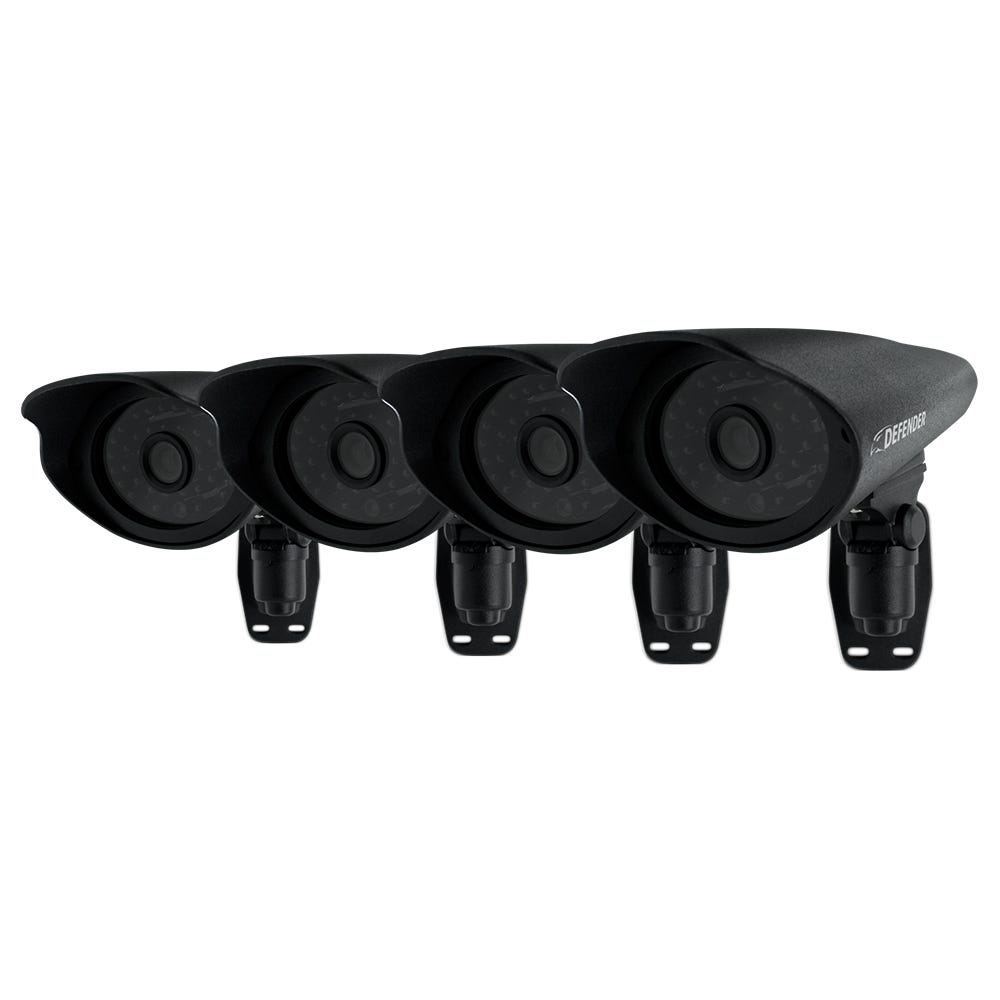 Image Sensor
1/3" CMOS
Resolution
600 TVL
Outdoor Use
yes
IP Rating
IP65
Focal Length
5mm
Focus Type
Fixed
Optimal Focal Distance
20 ft.
Night Vision
Yes
Number of IR LEDs
38
IR LED Control
Automatic (CDS Sensor)
Min. Illumination
0 lux
IR Wave Length
850nm
Video Output
BNC/DC
TV System
NTSC
Viewing Angle
60 Degrees
Electronic Shutter (Sec)
1/60 ~ 1/100000 sec
AGC
Automatic
ELC
Automatic
Gamma Correction
>0.45
While Balance
Automatic
Sun Sheild
Yes
IR Cut Filter
yes
Housing
Anodized Aluminum
Housing Color
Black/Silver
Signal/Noise (S/N) Ratio
>48dB
Camera Bracket
Yes, anti-vandal
Operating Temperature
-10° ~ 50°C / Degrees
Operating Humidity
98%
Camera Power Input
DC 12V 300mA
Power Input
120V 60Hz
Dimensions
9.1" X 4.1" X 2.5"
Number of TV Lines (TVL)
600 TVL
Night Vision Distance
110ft
UPC
871363020352
What's Included
4 x Ultra Hi- Res Outdoor Surveillance Camera
4 x 65 ft In-Wall Fire-Rated Cables
1 x Power Adapter
1 x Four-to-One Power Splitter
Mounting Hardware
Quick Start Guide
Customer Reviews
Saleforkids

November 30, 2015

Bought these to use in a temporary retail set up. Easy to set up and use

Saleforkids

4

Dina

November 30, 2015

These cameras, along with the DVR, are easy to install and use. When you need to search for a recorded event, it is not only simple, you can customize the playback to include the cameras you want as well as slow down or speed up the playback. The quality of the video is good. I have had this system for my business with 4 cameras for over 2 years now and just recently added the 4 new cameras. I am happy with it and highly recommend it.

Dina

5

gmyster61

November 30, 2015

I Installed these cameras myself at the age of 53 and they work great.The Strangest thing is one of these cameras has drawn the attention of a spider and her web. A clear dome covering might help don't no,maybe.The system is otherwise a great system both day and night ,stormy weather and all.I would recommend this around their home and property .

gmyster61

4

TommieLV

November 30, 2015

Just days after I set up my system I caught a mail thief stealing mail right off my front porch. I contacted the US postal inspectors and they took photos of my video and a copy of my video to track the guy down.

TommieLV

3

KC SC

November 30, 2015

Added these to my system and relocated some wireless cameras out to more remote locations of my property. Easy install great quality highly recommend.

KC SC

5

blackram

November 30, 2015

I bought a system about a year ago with 6 cameras and needed to replace 2 and add 2 extras. System is working great and has paid for itself with 1 time of catching thieves steal a vehicle.

blackram

5

filbert

November 30, 2015

Easy to hang on walls but need alot of computer assistance.

filbert

3

Grant

November 30, 2015

I have had some other cameras that kept going out on me. So I bought these because of the warranty. So far these cameras have been better quality than my last ones and have worked great for a week so far.

Grant

4

Alex

November 30, 2015

I bought this set since April of 2014 and they look great all around day and night , the night vision is real clear , I don't have any complaint on them.

Alex

5

Otea

November 30, 2015

The camera color quality is better than our High Def television. It is easy to install and maintenance free. Excellent cameras.

Otea

5

Bobby13

November 30, 2015

This Camera is easy to Adjust and install ( for single camera 21061

Bobby13

5

Techdog

November 30, 2015

All metal construction.  Cannot mount from top down, must mount on wall.  Field of view seem to be a little narrow.  Picture quality is crisp and clear.  

Techdog

4

Tommy

November 30, 2015

Installed the cameras a few days ago and they are amazing. Picture quality is great and the price is right!

Tommy

5

Jwchristley

November 30, 2015

I bought this camera to great better night vison. Works great, filling more secure.

Jwchristley

5

Malibu Rider

November 30, 2015

I bought a 8 channel DVR system w/(4) cameras through Home Depot. Very easy to install cameras, run the wires, and view on a TV or Monitor. Programming my router and laptop for online viewing was kind of a challenge. Tablet and Smartphone were much easier. I feel the whole system is worth the price I paid and the effort needed to get it working bug free.

See all reviews

Malibu Rider

5