Overview 110ft of night vision at zero lux
Experience high-resolution, low-light performance in zero illumination from up to 110ft from the cameras position. The PRO camera automatically activates infrared illumination with 38IR LEDs allowing for clear identification of objects in complete darkness. Setup in seconds
No more port-forwarding or waiting for software to network your system for you. Simply download the ClearVu® app, scan the QR code and begin monitoring remotely in seconds. Checking in with Defender has never been easier. Our ClearVu® app keeps you connected to the things you value most, whether you're around the corner or around the world, in real-time. 1TB Delivers four years of memory
The included 1 TB HDD allows for continuous monitoring and can store over four years' worth of recorded footage. Maximize available memory with motion activated recording and H.264 compression technology. DVR alerts will activate to notify user when HDD is full. Back up and transfer footage to USB flash drive or external hard drive via USB port. Multiple viewing options to suit your customized needs
Setting up your viewing options for up to 8 cameras gives you the option to customize each area you wish to monitor. Custom name each individual channel so you can easily identify the location of activity. Use the Masking feature to block out a portion of the scene from an individual camera such as a cash register or safe while still seeing the activity around the masked area. Select the Covert feature to protect an entire channel from public or user viewing so only authorized viewers can see the activity in that location. Other viewing options include picture-in-picture, full screen, quad screen, 9 channel view, digital zoom and sequence switching. Each recorded area is complete with time and date stamp so you can search by event and find recorded footage from each area you are monitoring.
DISCLAIMERS

Using lowest quality settings at 1 FPS
IR illumination range up to 110ft under ideal conditions. Objects at or beyond this range may be partially or completely obscured, depending on the camera application Defender highly recommends the use of an Uninterruptible Power Supply (UPS) with surge protection for all products.
Although the cameras are weather resistant, they are not weatherproof. Not for use in direct exposure to water, rain or snow Requires broadband router and broadband internet connection—not included. Internet browser is required.
Must set up user profile in menu before using.
DEFENDER® does not endorse any DEFENDER® products for illegal activities.
DEFENDER® is not responsible or liable in any way for any damage, vandalism, theft or any other action that may occur while a DEFENDER® product is in use by the purchaser.
We reserve the right to change models, configuration, or specifications without notice or liability. Product may not be exactly as shown.
©2013 DEFENDER®. All rights reserved. DEFENDER®, the DEFENDER®, logo and other DEFENDER® marks may be registered. All other Trademarks are the property of their respective owners.
Specifications
16CH PRO Security DVR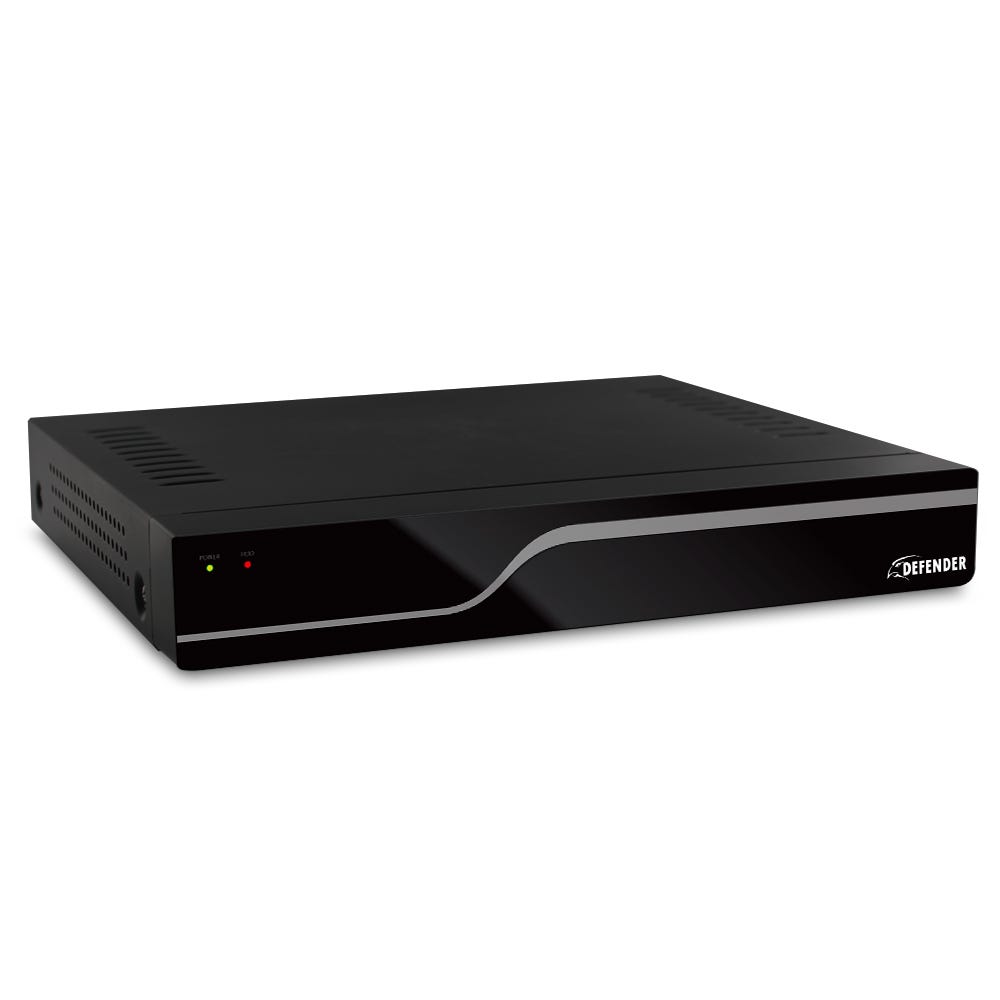 | | |
| --- | --- |
| Functionality | Pentaplex |
| Video Compression | H.264 |
| Audio Compression | G.711 |
| Video Input | 16 x BNC |
| Audio Input | 2 x RCA |
| Audio Output | 1 x RCA |
| USB Port | 2 |
| Resolution | 800x600, 1024x768, 1280x1024 |
| Recording Total Frame Rate | NTSC?480 [email protected][email protected] |
| Recording Frame Rate Per Channel | NTSC: 1fps~30fps adjustable        PAL: 1fps~25fps adjustable |
| Recording Resolution | NTSC :  CIF(352 X 240) PAL:  CIF(352 X 288) |
| Recording Modes | Motion Record,  Schedule, Always |
| Pre Recording | Max 10 seconds |
| Recording Media | HDD (Backup via USB) |
| HDD Type | SATA 3.5" |
| HDD Size | 2 TB |
| Video Format | NTSC/PAL |
| Video Loss Alarm | Auto Detect Alarm |
| Audio Bitrate | 8 kbps |
| Live Frame Rate | 30 FPS |
| Live Viewing | Full, Quad-view, 9CH, 16CH, SEQ |
| Picture-in-Picture | Yes |
| Network Protocol | TCP/IP, DDNS, DHCP, PPPoE,UDP |
| Network LAN IP | Static, Dynamic |
| Network Connection | 10/100 BaseT Ethernet (RJ-45) |
| Supported Operating Systems | Windows XP, Windows Vista, Windows 7OSX 10.5 or above |
| Browsers | Internet Explorer, Safari |
| Back-up | USB Flash drive, USB HDD & network |
| Play Search Mode | Time/Date, Event list |
| Play Speed | 2x, 4x, 8x, 16x |
| Pan/Tilt/Zoom | RS-485 Pelco D & P |
| OSD Language Display | Multi-Language |
| Time and Date Stamp Display | Yes |
| Password Protection | Yes, Menu Password, Clear HDD Password |
| Operating System | Linux |
| Processor | ARM 9 |
| Disk Full Warning | Yes |
| Automatic Overwrite Option | Yes |
| LED Indicators | Power, HDD |
| Housing Material | Aluminum |
| Housing Color | Black |
| Power Input | 12V DC 2A |
| Power Consumption | 10W~15W |
| Power Input | 100V 50/60HZ~240 50/60HZ |
| Operating Temperature | 32°F~104°F |
| Operating Humidity | 10%~90% |
| Dimensions | 11 ¾x 8 ½x 2 inches |
| Number of Channels | 16 |
| UPC | 871363024060 |
PRO 4 Widescreen 800TVL Security Cameras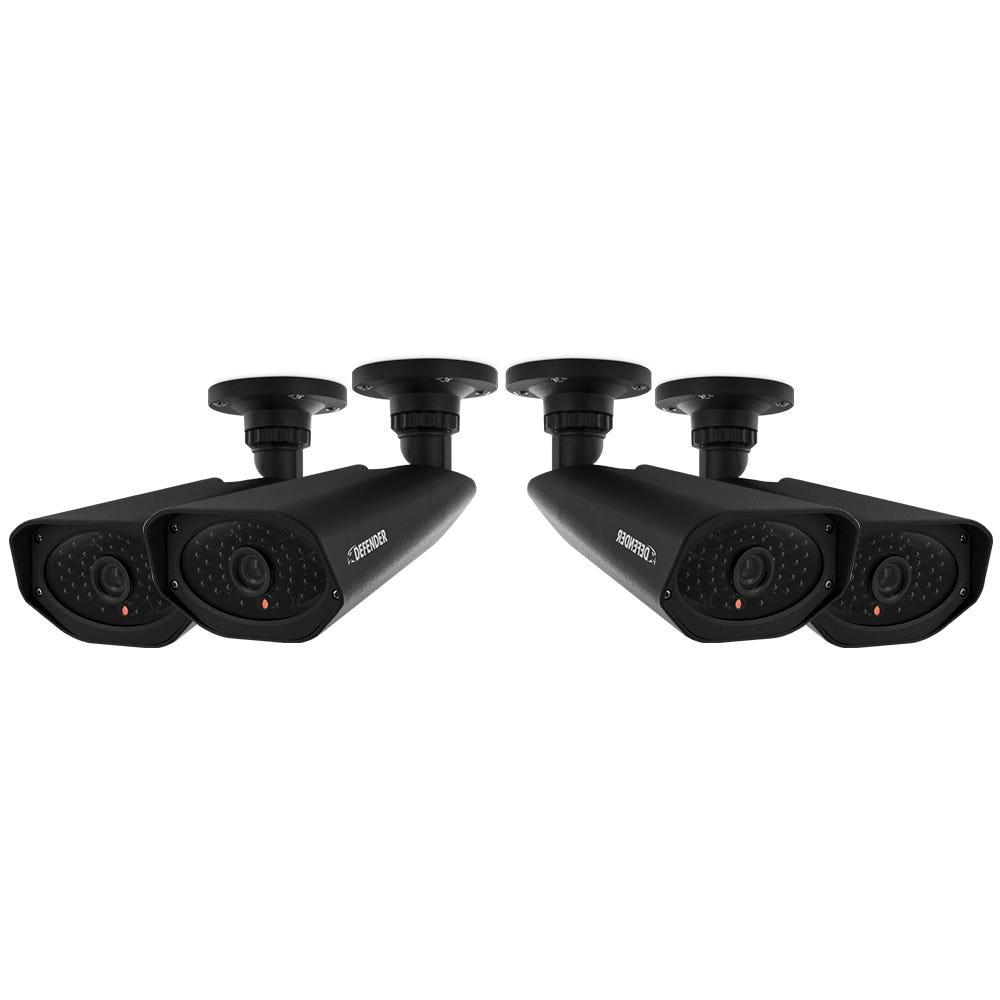 Image Sensor
HDVS
Resolution
800 TVL
IP Rating
IP66
Focal Length
4.6mm
Focus Type
Fixed
Optimal Focal Distance
60 ft.
Number of IR LEDs
48
IR LED Control
Automatic (CDS Sensor)
Min. Illumination
0 lux
IR Wave Length
850nm
TV System
NTSC
Viewing Angle
75 Degrees
Electronic Shutter (Sec)
1/60 ~ 1/100000 sec
AGC
Auto
ELC
Auto
Gamma Correction
>0.45
While Balance
Automatic
Housing Material
Aluminum
Housing Color
Black
Signal/Noise (S/N) Ratio
52dB
Camera Bracket
Yes, anti-vandal
Operating Temperature
-10° ~ 50°C / Degrees
Operating Humidity
<90%
Camera Power Input
DC12V/1A
Power Input
100-240V 60Hz
Dimensions
9.1 (L) X 4.1 (W) X 2.5 (H)
UPC
061783255018
What's Included
4 x Outdoor Security Camera
4 x 65ft Extension Cable
Power Adapter
Four-to-One Power Splitter
Mounting Hardware
Quick Start Guide
Customer Reviews
Bea

February 6, 2016

wired unit quality is even better then wireless

Bea

5

pratik

February 5, 2016

great product beside the clearity is just ok easy to install and really good customer service. called them with bunch of question and the resolved it in no time

pratik

4

nnnnnnnn

November 30, 2015

I bought this system a few weeks ago works good comes with everything you need and is easy to use and has allot of nice features wish the cameras view was bigger but overall great value

nnnnnnnn

5

Buddy99

November 30, 2015

bought it a few weeks ago an have read the instruction, seams easy to set up if you know anything about computers

Buddy99

4

MAYBERRY1234

November 30, 2015

I PURCHASE THIS SYSTEM FOR MY RETAIL BUSINESS AND IT WORKS GREAT.......I WOULD RECOMMEND IT TO ANYONE CONCERNED WITH THEFT OR SOMEONE WHO NEEDS TO KEEP AN EYE ON MULTIPLE AREAS AROUND A BUILDING OR HOME.

MAYBERRY1234

5

TomandMargie

November 30, 2015

Bought the system about 3 weeks ago...Great system, with the exception of the Camera Extension Cable. After running the cables all through the attic, I had 2 cameras that I had to extend for better coverage beyond the 65' cable provided. I have never had a wire that I had to replace the original wire and move it...an extension wire should be that ...extend from the end of the wire to the equipment..

TomandMargie

4

Buyer

November 30, 2015

I brought this item few days ago - had few issues on network settings, to getting a customer service is hard but they are so good and so knowledgeable.

Buyer

4

SBOffshore

November 30, 2015

I can't believe the value for the money.  The quality of the video is very good.  The fact that I can see every camera view on my phone is astonishing.  This is the best bang for the buck that I have invested in my business this year!

SBOffshore

0

Mary

November 30, 2015

16 CHANNEL H.264 DVR SECURITY SYSTEM
This is the product I bought could not find it on list
The product is a good product. One camera lost half vision
On camera.
I sent it back and waiting for return. I found the company
Very cooperative.  And would buy again.

Mary

5

pop13

November 30, 2015

After the initial long, drawn out cable install, I managed to hook up the cameras fairly easily. Once I got ready and turned the system on it seemed quite easy to use (getting used to using only a mouse is annoying). I quickly got the basics set up then went on to the remote computer in my office. I was able to make the simple chnages and then gained access to the cameras. I do not see it recording though. I will have to contact support for that, but I am pleased at how easy it is to use. I just hope that the Network Port Forwarding will be just as easy.

pop13

4

suptrd87

November 30, 2015

Good system for in door environments as well as outside. The cameras are small but seem to work well. I do wish there was a way to focus them or zoom, but I can't seem to locate it. Cheap, but effective.

suptrd87

0

Chris

November 30, 2015

This security camera system already solved 2 incidents in my neighborhood. One, when a neighbor's expensive dog went missing and another neighbor pointed out that the dog went inside our property. When the dog owner came to look in our property and found no dog, I also showed them our DVR recorded photage that the dog went straight to the highway (just to clear any doubts and suspicions that we were hiding the dog) and they were grateful that I let them view the video that indeed the dog never went inside our property. Another incident was when a neighbor came to me for help because some things were missing in her backyard. Our camera was able to capture the activity from outside our fence and the issue was quickly resolved by the authorities.

I originally only needed the 8- channel system but decided to purchase the 16-channel system for future additional usage. My wife helped me installed the camera as the long wires are really tricky to deal with. So much time was devoted by just untangling the wires alone. The installation did not come easy as well because the cameras were wobbly when drilled on our vinyl sidings. The screws that came with the package were useless when used in vinyl so I ended up buying the right one for the job.

Overall, I am happy with my purchase because the unit serves the purpose. It can monitor almost every in and out activities within our property and outside. It can capture every movement although fine details (plate#, facial features) became blurry at relatively "short" distances.

One thing I may wish the manufacturer will upgrade though is that, they should have a back up device which is easy and small enough to be tucked secretly somewhere safe. A device that can still store recorded activities if in case the main DVR gets stolen by burglars along with your precious properties. With this present unit, you will be left with nothing to show as evidence once the DVR is gone.

Chris

4

TaylorBros

November 30, 2015

I thought we had lost the words Customer Service from our language , But Sarah proved that they still exist. She was very helpful and patient in answering my pre-sales questions and delivered everything as promised. I will be a repeat customer. The Cameras are better than expected

TaylorBros

4

gevans1966

November 30, 2015

I just bought my system a week ago. Everything is high quality and arrived when promised. System is not yet fully operational but expect everything to be fine.

gevans1966

4

Tim1

November 30, 2015

I have been a Defender Security Camera System owner for several years and just a few days ago, I upgraded to the Defender Pro Sentinel Security Camera System. I am amazed at how easy it was to install and set up. Just like the older system, Defender provides easy to follow instructions. My Defender Pro Sentinel System provides me and my family with the comfort of being secure. The 800 TVL cameras provide a clear and crisp image and night vision is absolutely incredible! The Defender Tech Support is wonderful also! I had to contact them this morning to help me get set up with the ClearVu mobile app. All I can say is, "Michel, you sir are the man!" He helped me understand everything about the new App and taught me a few things about the Defender Pro Sentinel System. I highly recommend this system to anyone that wants the best!

See all reviews

Tim1

5