Overview The natural choice for installers and contractors and those who demand ultimate peace of mind, Defender® PRO can protect you or your client's investment and keep your building safe and crime-free. The patented sleek, modern appearance of Defender PRO cameras is complemented by its durable, vandal-resistant design while the system offers the hassle-free installation and functionality you expect from Defender. In addition to its good looks, PRO systems are ideal for protecting a wide range of outdoor applications and larger locations including building perimeters and parking lots. 110ft of Night Vision at Zero Lux
Experience high-resolution, low-light performance in zero illumination from up to 110ft from the camera's position. The PRO camera automatically activates infrared illumination with 38IR LEDs allowing for clear identification of objects in complete darkness. Ultra Hi-Res, Color Enhanced Imagery
600 TV lines of resolution bring you crisp, ultra hi-res video. In addition, when the lighting conditions are unfavorable our Advanced IR filter will automatically activate. The enhanced image processing filter purifies reds, greens, yellows and blacks, that may have otherwise appeared washed out or faded leaving you with superior color-accurate video footage important for identification purposes. Multiple Viewing Options to Suit Your Customized Needs
You will always feel in control when it comes to protecting your investment. Up to 7 secure user profiles may be created for your staff or loved ones enabling live viewing anytime, from anywhere via internet, smartphone, and tablet with the Defender PRO DVR. Review previously recorded footage from any computer with an internet connection as well. Email alerts with photo, can also be sent immediately or at your convenience when unexpected motion is detected by this system. You will always be able to see what you otherwise may have missed whether you are around the block or around the world. Heavy Duty, Weather Resistant Cameras
Ruggedly designed for outdoor operation, the anodized aluminum PRO cameras have an IP65 rating. An Ingress Protection rating of 65 means the camera is constructed to be completely protected from dust and typical adverse rain conditions. A sleek sunshade also protects the camera from additional glare that can affect the quality of the image.
*Please check your local building code requirements and insurance policy.
DISCLAIMERS

Using lowest quality settings at 1 FPS
IR illumination range up to 110ft under ideal conditions. Objects at or beyond this range may be partially or completely obscured, depending on the camera application.
Defender highly recommends the use of an Uninterruptible Power Supply (UPS) with surge protection for all products.
Only models from serial number 150401013 forward will have the color coding located on the back of the DVR.
Although the cameras are weather resistant, they are not weatherproof. Not for use in direct exposure to water, rain or snow.
Requires broadband router and broadband internet connection—not included. Internet browser is required.
Must set up user profile in menu before using.
DEFENDER® does not endorse any DEFENDER® products for illegal activities. DEFENDER® is not responsible or liable in any way for any damage, vandalism, theft or any other action that may occur while a DEFENDER® product is in use by the purchaser.
We reserve the right to change models, configuration, or specifications without notice or liability. Product may not be exactly as shown.
©2014 DEFENDER®. All rights reserved. DEFENDER®, the DEFENDER®, logo and other DEFENDER® marks may be registered. All other Trademarks are the property of their respective owners.
Specifications
PRO 600TVL Outdoor Security Cameras - 4 Pack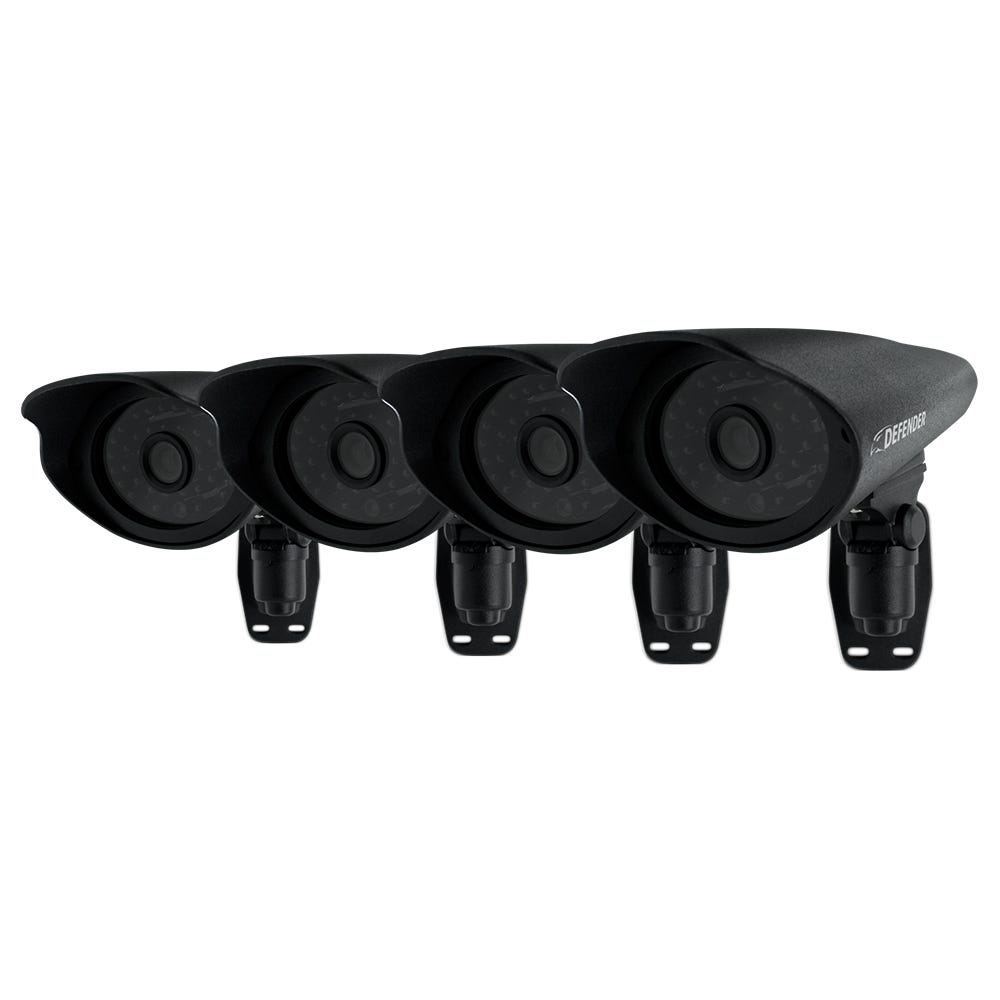 Image Sensor
1/3" CMOS
Resolution
600 TVL
IP Rating
IP65
Focal Length
5mm
Focus Type
Fixed
Optimal Focal Distance
20 ft.
Number of IR LEDs
38
IR LED Control
Automatic (CDS Sensor)
Min. Illumination
0 lux
IR Wave Length
850nm
TV System
NTSC
Viewing Angle
60 Degrees
Electronic Shutter (Sec)
1/60 ~ 1/100000 sec
AGC
Automatic
ELC
Automatic
Gamma Correction
>0.45
While Balance
Automatic
Sun Sheild
Yes
Housing Material
Anodized Aluminum
Housing Color
Black/Silver
Signal/Noise (S/N) Ratio
>48dB
Camera Bracket
Yes, anti-vandal
Operating Temperature
-10° ~ 50°C / Degrees
Operating Humidity
98%
Camera Power Input
DC 12V 300mA
Power Input
120V 60Hz
Dimensions
9.1" X 4.1" X 2.5"
UPC
871363020352
What's Included
4 x Ultra Hi- Res Outdoor Surveillance Camera
4 x 65 ft In-Wall Fire-Rated Cables
1 x Power Adapter
1 x Four-to-One Power Splitter
Mounting Hardware
Quick Start Guide
Customer Reviews
Gm09

November 30, 2015

This DVR is a great Product. Easy to connect. I really like the HDMI connection. It looks real sharp on my TV. The extended recording time versus my old one is a plus. I called Defender for help setting up the netviewer on my home computer and Mihel did a great job of helping me install a new program to get it done.

Gm09

5

nette220

November 30, 2015

I did my research on different unit in the industry and I love the support of this company any questions and set up support was there for me ! I'm just a regular home owner with a drill and screw driver.

nette220

4

Alan

November 30, 2015

Hello,
this is a follow-up of a communication i had with Defender client support, after they kindly replaced a defective camera.
i must say that i received excellent support from Defender / CWD Customer support. They stand behind their products and they were responsive to my problem. I will definitely consider doing future business with them.

Thanks again.

Alan R.

Alan

5

AMi6

November 30, 2015

I purchased this unit about 3 weeks ago and the function and picture/record quality is very good.  I have a macbook and I had to update my OS to use the playback software.  Best buy for the money a 1TB HD is included, can't beat this deal.

AMi6

5

Obsfest

November 30, 2015

Very happy with product features/functions.  I have two of the systems now and one of the hard drives failed on one my DVR's.  I contacted customer support and received  a replacement DVR under warranty.  Received the DVR quickly and was up and running again after just hooking up existing cables.  Very please with customer support and functions of this DVR system.  Would recommend this DVR PRO system with 8 cameras.

Obsfest

5

MIke5

November 30, 2015

I checked out other products this seems to be the best deal. I didn't give it 5 stars because this is a replacement DVR I had to buy. My first one stopped working after 1year 8months. Overall still pretty happy with it.

MIke5

4

tomcat20103

November 30, 2015

I have now 3 of these dvrs.2 are 500gb and the other is 1tb.I am pleased with all 3 units.

tomcat20103

4

Herb

November 30, 2015

Well I bought the wireless system, however I wish I purchased the wired type of security system. I still had to run electric power to the camera's so I just would have been better off running camera cable. I have four camera's, backyard, 2 on the side and one in front of my home. They are clear and the night vision is good also. My problem is, all my camera's are within 45 ft. of my receiver's and two work as they should but one has a more than normal delay and the last one has a lot more delay and go off quite often from not getting the signal to the receiver. The two that have the delay are just across the garage, at each corner, from the receiver's. If I had purchased the wired system I don't think I would be having this problem. Example of the delay. My wife entering in our home from outside the garage and she is all the way in our home and she still showing on the camera outside.
I'm not happy but I'm stuck with it. I had a wired system in a business and it was perfect. This one? Like I said, not happy. The neighbor is wanting to see it, but I'm embarrassed to show it with the camera delays.

Herb

3

Naenae

November 30, 2015

I was given these cameras as a Christmas gift. Good viewing. Range not so good. Had to run wire to connect to a source of eleu, closer to the camera. Further away the wiring from the camera, no signal at all. Also, one camera just refused to work at all. No signal from the camera at all. Overall, I like the cameras and would recommend.

Naenae

4

DaveP

November 30, 2015

Excellent wireless camera. Very clear and easy to install and set up

DaveP

5

Kenneth

November 30, 2015

Advertising & specifications indicates a wireless range of 1000ft or 750ft or 400ft or 150ft. Seems more like 100ft wireless range. Installed 2 cameras one works off and on the other not at all. The cameras are located within 5 foot of each other looking different directions. The wired system works great, seems like Defender needs to get its act together on wireless. I have already had to tell a friend not to buy the Defender Wireless system.

Kenneth

2

Dooman

November 30, 2015

I currently own a garage door business and we install camera systems through another company that cost 10 times what the defender unit cost and we receive the same results with the defender for a fraction of the cost. This unit is awesome and Sarah in cust. service is great.

Dooman

5

Bergie

November 30, 2015

Have had this for about 6 months and finally decided to start installing. All went well and still running cables for a permanent install now that I know where I want my 8 cameras. Have 3 mounted now and the rest shortly. Was able to hook up and view on a local monitor but was having a bit of a problem with external monitoring. I called the customer service and was able to speak with a tech. and within a short time, I was viewing from everything I could view from. My problems were all resolved and just what I have wanted to secure my residence. Seem to be a great product and sure works for me. If there is a drawback, running cables and concealing them would be it.

Bergie

4

jmc36

November 30, 2015

go to the web site like the phone service prompts you to, and they really do get back to you quickly. I waited on the phone until I was just to frustrated and hung up, went to the defender site, left my info and a time to call, and Michel was calling me at the time I chose. within 20 mins I was up and running again. thanks again Michel.

jmc36

5

CameraGuy

November 30, 2015

Cameras seem very good and operational in -27 C weather and easy to set up.

See all reviews

CameraGuy

5