Regular Price: $199.99 USD
Special Price $99.99 USD
Overview
Get the professional-quality video security system you need to protect what you value most without having to pay for expensive installation. A SVAT PRO security system provides the all the equipment you need to cut out the middle man and set up your system, your way. The weather-resistant cameras are built to last with heavy duty mounting hardware and anodized midnight black aluminum casing. Widescreen viewing means youll be able to see more of your property in finer detail than traditional DIY systems afford. The included 2TB hard drive, HDMI output and intuitive menu work together to take all the hassle out of installation, setup and storage. And with 1 Step Remote Viewing, youll be able to play back recorded footage or check on your property in real-time on any device with an Internet connection. Perfect for any business or home application, youll experience peace of mind you never thought possible while knowing you did it all yourself with SVAT PRO.

2TB HARD DRIVE STORES YEARS OF FOOTAGE
Quickly and easily play back years of high quality video footage stored on the included 2TB hard drive that only you have direct access to. Rest easy knowing your footage is safe and secure on your SVAT PRO DVR.

SEE MORE IN WIDESCREEN WITH 960H TECHNOLOGY
With 34% more surface visibility than standard security cameras, SVAT PRO DVRs use 960H technology to let you see more. Whether youre monitoring a darkened parking lot or well-lit backyard, your DVR allows you to watch and record video in resolutions as high as 960 x 480. And since yore capturing video in real-time, you will always have access to a detailed record of all activity happening on your property.

MULTIPLE VIEWING OPTIONS
Setting up your viewing options gives direct control over each area you wish to monitor. Custom name each individual channel so you can easily identify the location of activity. Use the Masking feature to block out a portion of the scene from an individual camera such as a cash register or safe while still seeing the activity around the masked area. Other viewing options include picture-in-picture, full screen, quad screen, 9 channel view, digital zoom and sequence switching. Each recorded area is complete with time and date stamp so you can search by event and easily find recorded footage from all channels.

1 STEP REMOTE VIEWING ON YOUR SMART DEVICE
Easily check-in on your business or home on the go thanks to our 1 Step Remote Viewing software. Simply input your DVRs IP address (easily found in the menu) into the connection program on your computer, click Sync to Router, and 1 Step will auto-network your DVR in seconds. Free to download and free to use on both PC and Mac, take advantage of the convenience of mobile viewing on your smart device without any of the complications.

YOUR SYSTEM, YOUR SETUP
Customizing your SVAT system is as easy as recording your favorite TV shows to a cable box. Options like Motion-Activated Email Alerts, Area Masking and Event Search are all easily accessible thanks to the menus built-in coaching feature, which helps you set up and understand your systems settings. Whether navigating via remote control or USB mouse, your Pro system speaks your language.


DISLAIMER
Using lowest quality settings at 1 FPS SVAT highly recommends the use of an Uninterruptible Power Supply (UPS) with surge protection for all products. Although the cameras are weather resistant, they are not weatherproof. Not for use in direct exposure to water, rain or snow.
Requires broadband router and broadband internet connection—not included. Internet browser is required. Must set up user profile in menu before using.
SVAT® does not endorse any SVAT® products for illegal activities. SVAT® is not responsible or liable in any way for any damage, vandalism, theft or any other action that may occur while a SVAT® product is in use by the purchaser.
We reserve the right to change models, configuration, or specifications without notice or liability. Product may not be exactly as shown.
©2013 SVAT®. All rights reserved. SVAT®, the SVAT®, logo and other SVAT® marks may be registered. All other Trademarks are the property of their respective owners.
Specifications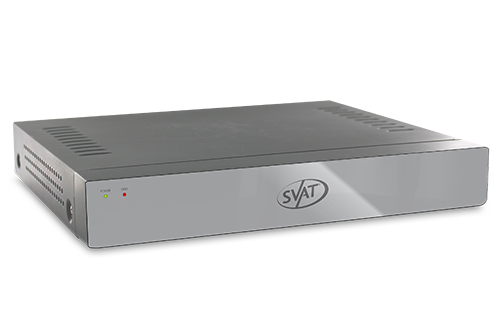 Functionality
Pentaplex
Video Compression
H.264
Audio Compression
G.711
Video Input
4
Video Output
1CH BNC, 1CH VGA, 1CH HDMI
Audio Input
2 x RCA
Audio Output
1 x RCA
USB Port
2
Resolution
800x600, 1024x768, 1280x1024, 1440x900, 1920x1080
Recording Total Frame Rate
NTSC:120 [email protected]/960H, PAL:[email protected]/960H
Recording Frame Rate Per Channel
NTSC: 1fps~30fps adjustable, PAL: 1fps~25fps adjustable
Recording Resolution
PAL: D1 mode: 360×288(CIF), 720x288(HD1), 720x576(D1) 960H mode: 480×288(WCIF), 960×288(WHD1), 960×576(WD1)

NTSC: D1 mode: 360×240(CIF), 720x240(HD1), 720x480(D1) 960H mode 480×240(WCIF), 960×240(WHD1), 960×480(WD1)
Recording Modes
Motion Record, Schedule, Always
Pre Recording
Max 10 seconds
Recording Media
HDD (Backup via USB)
Storage Capacity
Max 2TB
HDD Type
SATA 3.5"
HDD Size
2 TB
Video Format
NTSC/PAL
Video Loss Alarm
Auto Detect Alarm
Audio Bitrate
8 kbps
Live Frame Rate
30 FPS
Live Viewing
Full, Quad-view, 4CH, 9CH, 16CH, SEQ
Picture-in-Picture
Yes
Network Protocol
TCP/IP, DDNS, DHCP, PPPoE, UDP
Network LAN IP
Static, Dynamic
Network Connection
10/100 BaseT Ethernet (RJ-45)
Supported Operating Systems
Windows XP, Windows Vista, Windows 7, OSX 10.5 or above
Browsers
Internet Explorer, Safari
Back-up
USB Flash drive, USB HDD & network
Play Search Mode
Time/Date, Event list
Play Speed
2x, 4x, 8x, 16x
Pan/Tilt/Zoom
RS-485 Pelco D & P
OSD Language Display
Multi-Language
Time and Date Stamp Display
Yes
Password Protection
Yes, Menu Password, Clear HDD Password
Operating System
Linux
Processor
ARM 9
Disk Full Warning
Yes
Automatic Overwrite Option
Yes
LED Indicators
Power, HDD
Housing
Aluminum
Housing Color
Black
Power Input
12V DC 2A
Power Consumption
10W~15W
Power Input
100V 50/60HZ~240 50/60HZ
Operating Temperature
32°F~104°F
Operating Humidity
10%~90%
Dimensions
9.6 x 8.1 x 2 in
Number of Channels
4
UPC
061783255063