Overview LOCKED DOWN & IN CONTROL
Get the professional-quality video security system you need to protect what you value most without having to pay for expensive installation. A Defender PRO security system provides the all the equipment you need to cut out the middle man and set up your system, your way. The weather-resistant cameras are built to last with heavy duty mounting hardware and anodized aluminum casing. Widescreen viewing with 800TVL resolution to have a night vision length between 75' (for Dome Cameras) and up to 150' (for Bullet Cameras) which means you'll be able see more of your property in finer detail than traditional DIY systems afford. The included 2TB hard drive, FT4 fire-rated cabling, HDMI output and intuitive menu work together to take all the hassle out of installation, setup and storage. And with 1 Step™ Remote Viewing, you'll be able to play back recorded footage or check on your property in real-time on any device with an Internet connection. Perfect for any business or home application, you'll experience peace of mind you never thought possible while knowing you did it all yourself with Defender PRO. See Up to 150' In Complete Darkness
Every Defender PRO Camera is outfitted with 48 infrared LEDs (Bullet Cameras) or 24 infrared LEDs (Dome Cameras) that will let you view any property from up to 150' away in complete darkness – equal to the distance of half a football field! All Defender cameras' impressive night vision capabilities are tested in perfect darkness at 0 lux, which means range may even be extended in ambient or low-light conditions. 1 Step™ Remote Viewing on Your Smart Device
Easily check-in on your business or home on the go thanks to our 1 Step™ Remote Viewing software. Simply input your DVR's IP address (easily found in the menu) into the connection program on your computer, click "Sync to Router", and 1 Step will auto-network your DVR in seconds. Free to download and free to use on both PC and Mac, take advantage of the convenience of mobile viewing on your smart device without any of the complications. 2TB Hard Drive Stores Years of Footage
Quickly and easily play back years of high quality video footage stored on the included 2TB hard drive that only you have direct access to. Rest easy knowing your footage is safe and secure on your Defender PRO DVR.

65' Fire-Rated FT4 Cables Meet Code
To properly install a security system, you need the proper equipment. All Defender PRO Cameras come equipped with 65' of fire-rated FT4 cabling. Your in- wall wiring will meet regional building codes while you remain one step ahead of the inspector.
Your System, Your Set Up
Customizing your Defender system is as easy as recording your favorite TV shows to a cable box. Options like Motion-Activated Email Alerts, Area Masking and Event Search are all easily accessible thanks to the menu's built-in coaching feature, which helps you set up and understand your system's settings. Whether navigating via remote control or USB mouse, your Pro system speaks your language.
800TVL Resolution
Defender gets you the crisp, clear picture you need so you know exactly what's going on at your business or home. PRO systems feature 800TV lines of resolution meaning you'll have smooth, finely detailed live or pre-recorded video available whenever you want it, via HDMI/VGA output or wirelessly on your Internet-enabled computer or smart device. See More In Widescreen With 960H Technology
With 34% more surface visibility than standard security cameras, Defender PRO DVRs use 960H technology to let you see more. Whether you're monitoring a darkened parking lot or well-lit backyard, your DVR allows you to watch and record video in resolutions as high as 960 x 480. And since you're capturing video in real-time, you will always have access to a detailed record of all activity happening on your property. Multiple Viewing Options
Setting up your viewing options gives direct control over each area you wish to monitor. Custom name each individual channel so you can easily identify the location of activity. Use the Masking feature to block out a portion of the scene from an individual camera such as a cash register or safe while still seeing the activity around the masked area. Other viewing options include picture-in-picture, full screen, quad screen, 9 channel view, digital zoom and sequence switching. Each recorded area is complete with time and date stamp so you can search by event and easily find recorded footage from all channels. Heavy Duty, Weather Resistant Cameras
Any serious security setup needs serious hardware: the anodized aluminum casing gives PRO cameras full protection from the elements in addition to any cosmetic wear and tear (weather-resistant IP66 rating). The included heavy duty vandal-resistant mounting hardware allows you to securely affix your camera to almost any indoor or outdoor surface.
DISCLAIMERS
Using lowest quality settings at 1 FPS
IR illumination range up to 150ft under ideal conditions. Objects at or beyond this range may be partially or completely obscured, depending on the camera application Defender highly recommends the use of an Uninterruptible Power Supply (UPS) with surge protection for all products. Although the cameras are weather resistant, they are not weatherproof. Not for use in direct exposure to water, rain or snow.
Requires broadband router and broadband internet connection—not included. Internet browser is required. Must set up user profile in menu before using.
DEFENDER® does not endorse any DEFENDER® products for illegal activities. DEFENDER® is not responsible or liable in any way for any damage, vandalism, theft or any other action that may occur while a DEFENDER® product is in use by the purchaser.
We reserve the right to change models, configuration, or specifications without notice or liability. Product may not be exactly as shown.
©2014 DEFENDER®. All rights reserved. DEFENDER®, the DEFENDER®, logo and other DEFENDER® marks may be registered. All other Trademarks are the property of their respective owners.
Specifications
PRO 4 Widescreen 800TVL Security Cameras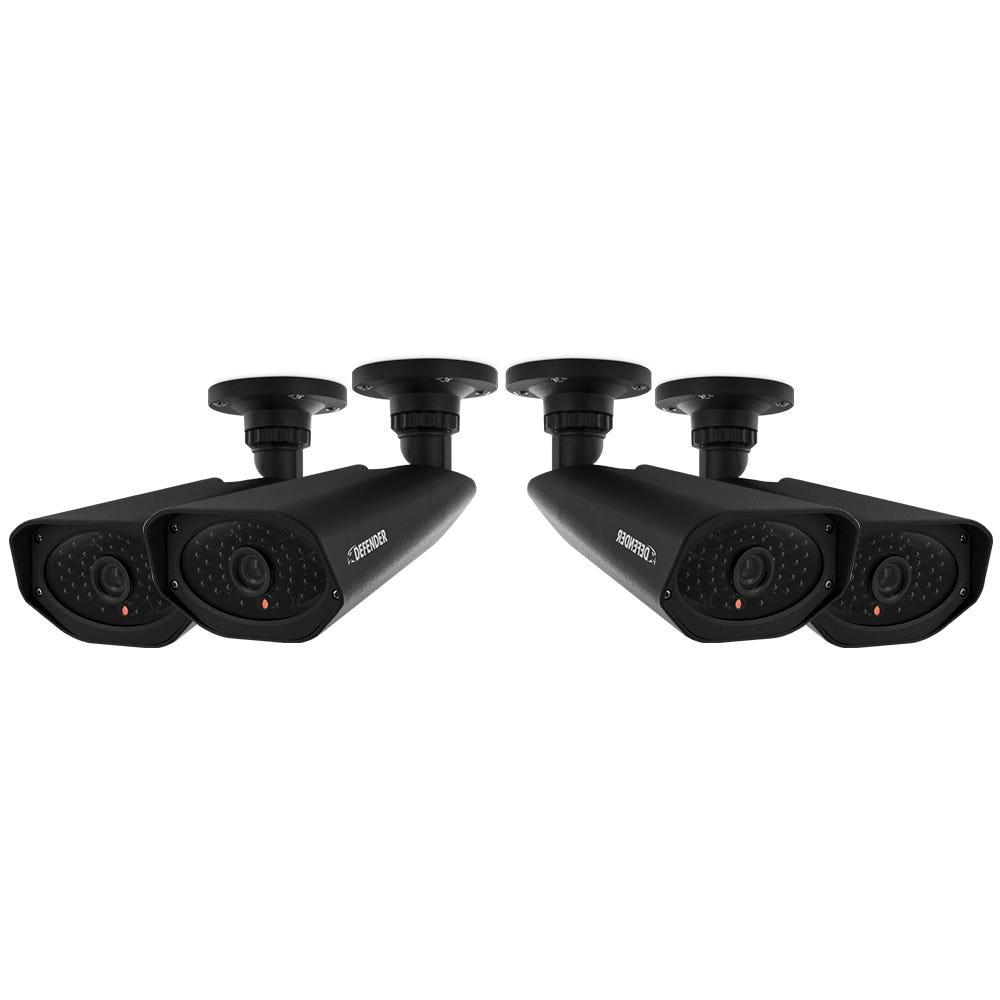 Image Sensor
HDVS
Resolution
800 TVL
IP Rating
IP66
Focal Length
4.6mm
Focus Type
Fixed
Optimal Focal Distance
60 ft.
Number of IR LEDs
48
IR LED Control
Automatic (CDS Sensor)
Min. Illumination
0 lux
IR Wave Length
850nm
TV System
NTSC
Viewing Angle
75 Degrees
Electronic Shutter (Sec)
1/60 ~ 1/100000 sec
AGC
Auto
ELC
Auto
Gamma Correction
>0.45
While Balance
Automatic
Housing Material
Aluminum
Housing Color
Black
Signal/Noise (S/N) Ratio
52dB
Camera Bracket
Yes, anti-vandal
Operating Temperature
-10° ~ 50°C / Degrees
Operating Humidity
<90%
Camera Power Input
DC12V/1A
Power Input
100-240V 60Hz
Dimensions
9.1 (L) X 4.1 (W) X 2.5 (H)
UPC
061783255018
What's Included
4 x Outdoor Security Camera
4 x 65ft Extension Cable
Power Adapter
Four-to-One Power Splitter
Mounting Hardware
Quick Start Guide
Two Ultra High Resolution Indoor/Outdoor Dome Security Cameras - 2 Pack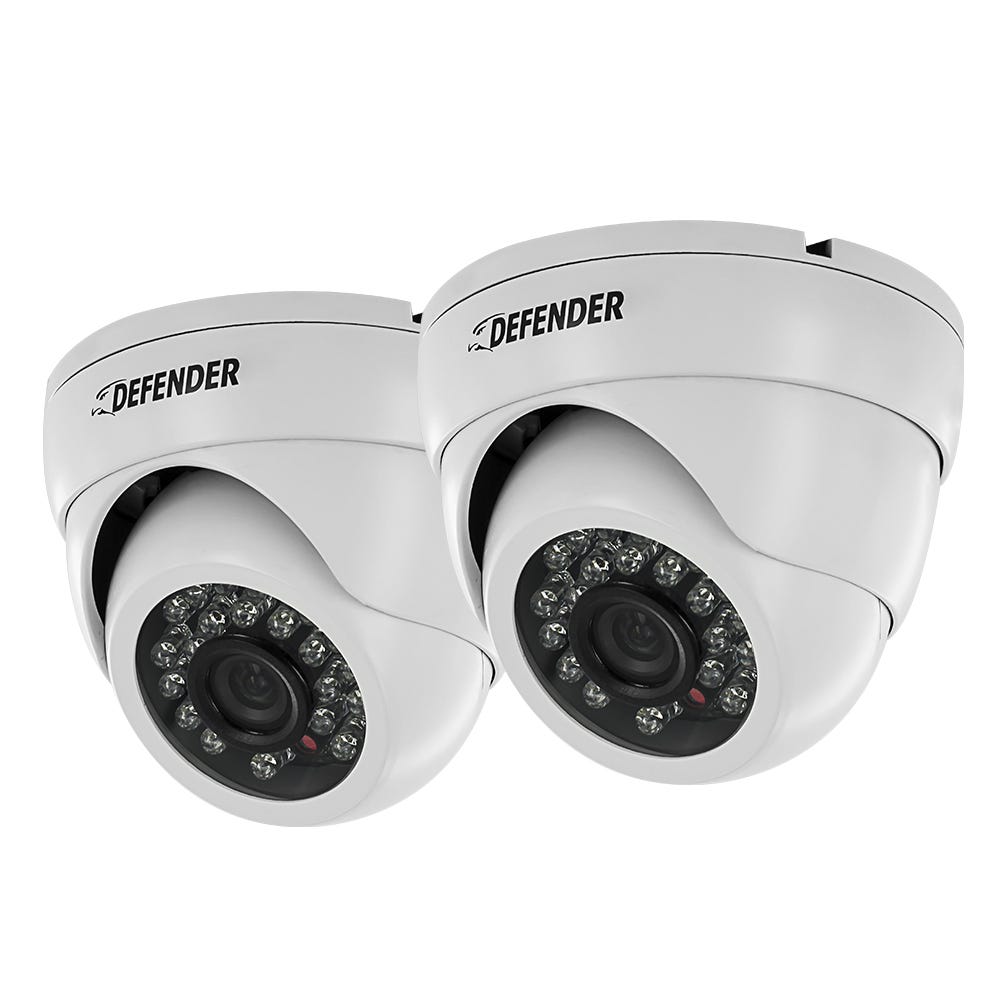 Image Sensor
1/3" CMOS
Resolution
800 TVL
IP Rating
IP66
Focal Length
5mm
Focus Type
Fixed
Optimal Focal Distance
50 ft.
Number of IR LEDs
24
IR LED Control
Automatic (CMOS Sensor)
Min. Illumination
0 lux
IR Wave Length
850nm
TV System
NTSC.PAL
Viewing Angle
60 Degrees
Electronic Shutter (Sec)
1/60 ~ 1/100000 sec
AGC
Auto
ELC
Auto
Gamma Correction
0.45
While Balance
Automatic
Housing Material
Aluminum
Housing Color
White
Signal/Noise (S/N) Ratio
52dB
Camera Bracket
Yes, anti-vandal
Operating Temperature
-10° ~ 50°C / Degrees
Operating Humidity
90%
Camera Power Input
DC12V 400mA
Power Input
DC12V 500mA
Dimensions
3.66" (D) x 2.52" (H)
UPC
061783258415
What's Included
2 x Dome Security Camera
2 x 65ft Cable
2 x Power Adapter
Mounting Hardware
Quick Start Guide
PRO Sentinel 16CH H.264 2TB Security DVR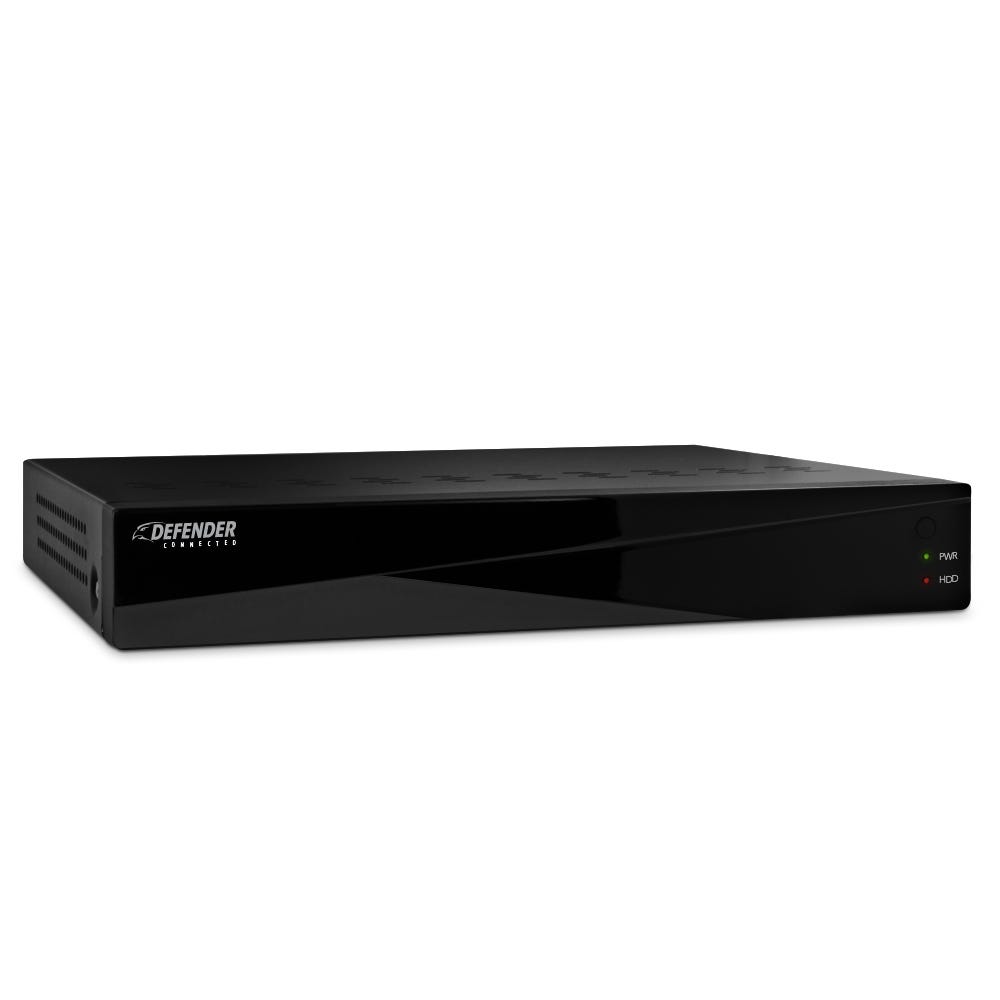 Functionality
Pentaplex
Video Compression
H.264
Audio Compression
G.711
Video Input
16 x BNC
Audio Input
4 x RCA
Audio Output
1 x RCA
USB Port
2
Resolution
800x600, 1024x768, 1280x1024, 1440x900, 1920x1080
Recording Total Frame Rate
NTSC:400 [email protected]/960H, 144 [email protected]/WD1, PAL:480 [email protected]/960H, 160 [email protected]/WD1
Recording Frame Rate Per Channel
NTSC: 1fps~30fps adjustable, PAL: 1fps~25fps adjustable
Recording Resolution
PAL :D1 mode 360×288(CIF),720x288(HD1),720x576(D1) 960H mode 480×288(WCIF),960×288(WHD1),960×576(WD1) NTSC:D1 mode 360×240(CIF),720x240(HD1),720x480(D1) 960H mode 480×240(WCIF),960×240(WHD1),960×480(WD1)
Recording Modes
Motion Record, Schedule, Always
Pre Recording
Max 10 seconds
Recording Media
HDD (Backup via USB)
HDD Type
Internal
HDD Size
2 TB
Video Format
NTSC/PAL
Video Loss Alarm
Auto Detect Alarm
Audio Bitrate
8 kbps
Live Frame Rate
30 FPS
Live Viewing
Full, Quad, PIP, ZOOM, SEQ
Picture-in-Picture
Yes
Network Protocol
TCP/IP, DDNS, DHCP, PPPoE,UDP
Network LAN IP
Static, Dynamic
Network Connection
10/100 BaseT Ethernet (RJ-45)
Supported Operating Systems
Windows XP, Windows Vista, Windows 7, OSX 10.5 or above
Browsers
Internet Explorer, Safari
Back-up
USB Flash drive, USB disk & network
Play Search Mode
Time/Date, Event list
Play Speed
2x, 4x, 8x, 16x
Pan/Tilt/Zoom
S-485 Pelco D & P
OSD Language Display
Multi-Language
Time and Date Stamp Display
Yes
Password Protection
Yes, Menu Password, Clear HDD Password
Operating System
Linux
Processor
ARM 9
Disk Full Warning
Yes
Automatic Overwrite Option
Yes
LED Indicators
Power, HDD
Housing Material
Aluminum
Housing Color
Black
Power Input
12V DC 2A
Power Consumption
10W~15W
Power Input
100V 50/60HZ~240 50/60HZ
Operating Temperature
32°F~104°F
Operating Humidity
10%~90%
Dimensions
9.87x8.54x1.85"
Number of Channels
16
UPC
061783255117
What's Included
16CH DVR with 2TB HDD
1 Power Adapter
2 BNC to RCA Connectors
RJ-45 Ethernet Cable
HDMI video cable
Instruction Manual & Software CD
USB Mouse
IR Remote Controller with batteries
Quick Start Guide
1 Year Warranty
Lifetime Customer Support
Customer Reviews
HappyInStKitts

November 30, 2015

I considered wireless cameras but I was not impressed with the quality of a competitors product. I live in a bungalow so for me this wired system worked out perfectly. The device is in the attic and all the cameras come out the soffit or ceiling. . All set up in less than a day. The night vision is definitely good enough to cover my driveway the full sixty feet.

HappyInStKitts

5

Duanec

November 30, 2015

Bought this package back in Feb. and it is now July and I am just now installing, due to bad weather and working too much overtime, anyway, have 4 cameras up and running, 6 more yet to install, installation was easy except for running the wires thru the attic. Cameras are very clear and have even better night vision than I expected, so I do highly recommend this system. The most difficult part was getting the cameras on line for internet and cell phone viewing, instructions for the port forwarding have a lot to be desired, after several weeks of trying to get them on line myself I gave up and sent their tech support an email and they called me back just a few hours later. It didn't take their tech no time to get the system on line and on my phone. Many, many thanks to Michel (their tech guy) for all the help getting my networking up and running...Networking is something that I don't think the average person will be able to do on their own so plan on contacting their tech support for help. The cameras seem to be of very high quality, very sturdy and well made. Getting the cameras set up and plugged in to the DVR and able to view on a separate monitor was simple plug and play, as I said the main problem is with networking, so call tech support for help. The lack of a written manual made setup even more difficult. The only reason I gave this 4 stars for ease of use instead of 5 stars was because of the difficulty of setting up the networking. The ease of use for operating the DVR and cameras itself is 5 stars..

Duanec

5

Reznicek

November 30, 2015

We purchased this about a month ago and we are very happy with it. Needs a built in modem. I don't have it setup next to my computer so I can not set up on internet.

Reznicek

4

ChelfLumber

November 30, 2015

We purchased this as our old system was out of date. When looking for a similar system, I contacted customer service and they directed me towards this item. It offered everything our company needed. Cameras for indoor and outdoor use, scheduled/unscheduled recording, and ease of use. It allows us to schedule when to activate night vision, and when regular recording can be standard. The computer is large enough to incorporate a ton of footage, which our previous one did not. Being in a retail lumber and hardware business, we see a lot of traffic indoors and out. This allows an ease of mind, giving the owners all an extra eye for things that could have been overlooked. Great price! Great Quality! (Both in picture and hardware)

ChelfLumber

5

kjakcson

November 30, 2015

There is nothing like piece of mind when setting up this easy DIY systems. I can now see deliveries on my doorstep and can see when some one parks in my driveway. I love the fact that I can view my house when I am out of town.

kjakcson

5

jimcan8888

November 30, 2015

I bought one system for my home and I love it! I ordered 4 more systems for my businesses. I completely recommend it. It was so easy to view on my phone. The clear vu ap is amazing!

jimcan8888

5

icu2

November 30, 2015

This is our 5th purchase. The most reliable and easy to use that I've seen in a long time.

icu2

4

RDP1

November 30, 2015

I had trouble getting the DVR to show cameras on my IPHONE.Talked to Michel and he was a great help.With his help I can now monitor my home when im not there.
Thanks R Parker

RDP1

4

Mav1

November 30, 2015

Bought this for our church and we are happy with it. Price is great for the stuff you get.

Mav1

4

sheptonca

November 30, 2015

I bought my cameras about 3 weeks ago not and not only would I buy them again I have recommended them to my friend. This is the third set I have purchased and sent the other two manufacturers product back. The night vision is excellent also. The only drawback I have found is they cant be watched on the internet due to the fact I am on Satellite Internet package. From what I understand this is a issue with all cameras and not just defenders.

sheptonca

5

nnnnnnnn

November 30, 2015

I bought this system a few weeks ago works good comes with everything you need and is easy to use and has allot of nice features wish the cameras view was bigger but overall great value

nnnnnnnn

5

vigilant1

November 30, 2015

We were having some really bad vandalism issues with some of our neighbors. With 16 cameras the system gives excellent panoramic view of the entire 3 lot property. When the system went up everything stopped immediately, which in a way was dissapointing in that we have excellent coverage with a good clear picture and we wanted to press charges! So much for vengence, but now we have peace of mind!!

vigilant1

4

Buddy99

November 30, 2015

bought it a few weeks ago an have read the instruction, seams easy to set up if you know anything about computers

Buddy99

4

MAYBERRY1234

November 30, 2015

I PURCHASE THIS SYSTEM FOR MY RETAIL BUSINESS AND IT WORKS GREAT.......I WOULD RECOMMEND IT TO ANYONE CONCERNED WITH THEFT OR SOMEONE WHO NEEDS TO KEEP AN EYE ON MULTIPLE AREAS AROUND A BUILDING OR HOME.

MAYBERRY1234

5

Buyer

November 30, 2015

I brought this item few days ago - had few issues on network settings, to getting a customer service is hard but they are so good and so knowledgeable.

See all reviews

Buyer

4