Overview Streamline your security presence with Defender® Wireless. Cutting-edge ClearVu™ digital wireless technology sends your cameras' video feeds to a receiver without having to run a cable all the way to your DVR storage device or monitor. With 750ft range, you no longer have to worry about running out of cabling during setup. Simply connect the cameras to a power supply and begin monitoring any indoor or outdoor space within minutes! Invisible LED Night Vision
LED allows each camera to see up to 100ft in the dark so you'll know exactly what's happening, day and night. LEDs automatically activate as soon as low-light levels are detected. 1TB Delivers Months Of Memory
The included 1TB HDD allows for continuous monitoring and can store over two years' worth of recorded footage. Maximize available memory with motion activated recording and H.264 compression technology. DVR alerts will activate to notify user when HDD is full. Back up and transfer footage to USB flash drive or external hard drive via USB port. True Do-It-Yourself Security
Defender®'s wireless Phoenix™ Pro system gives you all the peace of mind of a professionally installed system with the satisfaction that comes from knowing you did it all yourself. Don't leave the safety of your property to chance – trust Defender® to help you protect what you value most. View HD Video Live on Android/iPhone
Our free ClearVu® app keeps you connected in real-time to the things you value most, whether you're around the corner or around the world. Watch live footage in real-time, play back stored footage, record video and snap photos directly from your smartphone. Download ClearVu® app for free on the iTunes App Store and Google Play.





DISCLAIMER
Night vision range up to 100ft under ideal conditions. Objects at or beyond this range may be partially or completely obscured, depending on the camera application.
Using lowest quality settings at 1 FPS.
Optimum transmission range is 200 feet when signal is passing through walls or floors. Microwave ovens (when in use) as well as other wireless devices may cause signal disruption at close range. Buildings with metal frames may also cause signal disruption. Maximum transmission range is 750ft.
This product contains small parts. Exercise care when unpacking and assembling the product around children.
DEFENDER® does not endorse any DEFENDER® products for illegal activities. DEFENDER® is not responsible or liable in any way for any damage, vandalism, theft or any other action that may occur while a DEFENDER® product is in use by the purchaser.
We reserve the right to change models, configuration, or specifications without notice or liability. Product may not be exactly as shown.
Internet connection is required to monitor the system from a computer And may incur in extra charges from your service provider.
DEFENDER® is not responsible for charges incurred from monitoring the system remotely from a mobile device or a computer.
This product and its included technologies may be protected by one or more international patent/s or patent/s pending.
©2015 DEFENDER®. All rights reserved. DEFENDER®, the DEFENDER® logo and other DEFENDER® marks may be registered. All other Trademarks are the property of their respective owners.
Specifications
PHOENIX™ PRO Wireless Security Camera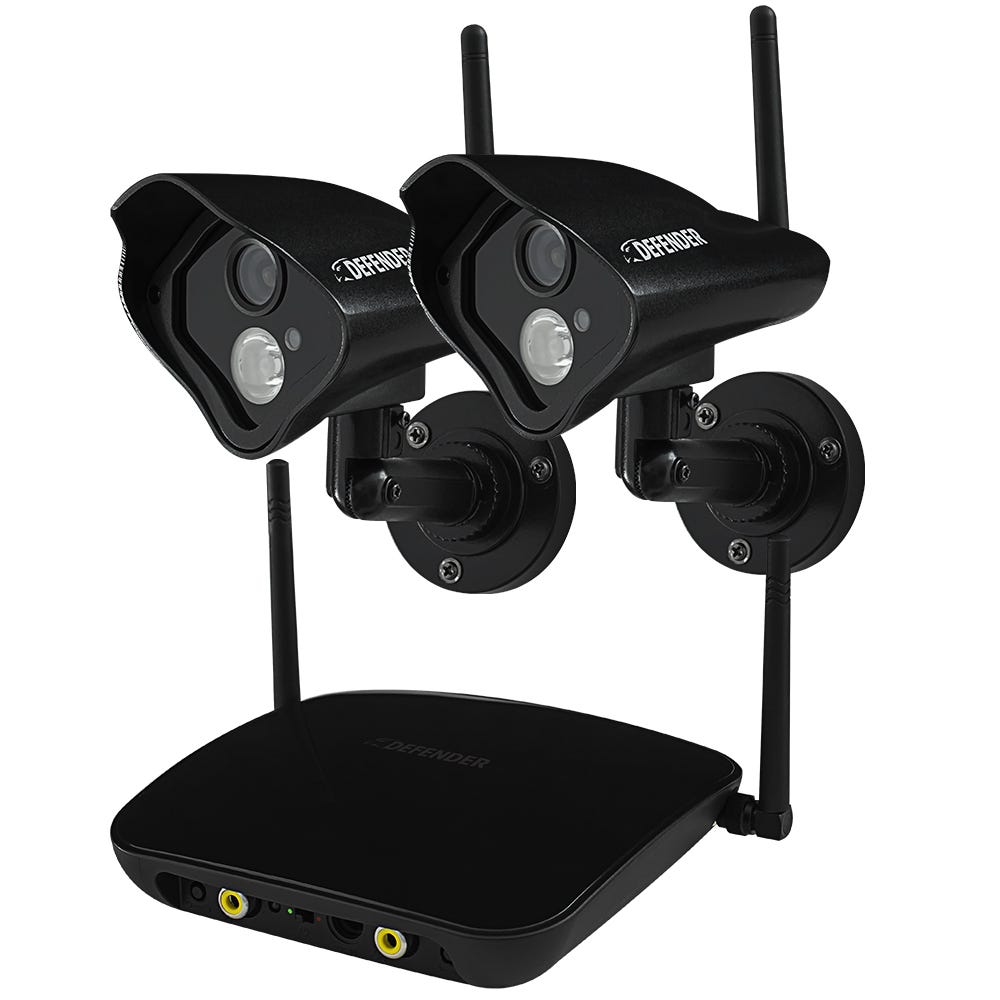 Image Sensor
CMOS
Resolution
640 x 480
Number of IR LEDs
1
IR LED colour
Black
Viewing Angle
Degree 48 (Horizontal)
Focal Length
3.6mm
Optimal Focal Distance
35ft
Transmission Range
750ft
Optimum Transmission Range
200ft
IP Rating
IP65
Keys
Pair Button
Housing Material
Anodized Aluminium
Wall Mountable
Yes
Camera Power Input
DC6V 800mA
Power Input
100-240V ~ 50/60Hz 0.15A
Operating Temperature
-10º C ~ 50ºC
Operating Humidity
Less than 90% RH
Dimensions
6.18" (L) x  5.75" (W)
Resolution Wireless Receiver
640 x 480, 352 x 240
Frame rate Wireless Receiver
25FPS
Frequency Wireless Receiver
2.4GHz
Technology Wireless Receiver
Digital FHSS
No. of hop/sec Wireless Receiver
1,000
No. of Hopping Channels Wireless Receiver
32
Channel Bandwith Wireless Receiver
2 MHz
Data Rate Wireless Receiver
4 Mbps
Transmission Power Wireless Receiver
+19 dBm
Transmission Range Wireless Receiver
450ft
Optimum Transmission Range Wireless Receiver
150ft
Out of Range Alert Wireless Receiver
Yes
LEDs Wireless Receiver
Power Link x 2
Keys Wireless Receiver
2 x Pair Button
Housing Material Wireless Receiver
ABS Plastic
Power Input Wireless Receiver
DC6V  800mA
Power Adapter Input Wireless Receiver
100-240V ~ 50/60Hz 0.15A
Operating Temperature Wireless Receiver
0°C~50°C
Operating Humidity Wireless Receiver
Less than 90% RH
Dimensions Wireless Receiver
4.80"(L) x 1.10" (W)
Weight Wireless Receiver
0.14 Kgs
UPC
061783252925
What's Included
2 PHOENIX™ Wireless Cameras
3 Power Adapters
2 Video Cables with BNC Adapters
Mounting Hardware
IR Remote Controller with Batteries
4 Window Warning Stickers
Instruction Manual & Software CD
Quick Start Guide
1 Year Warranty
Lifetime Customer Support