Overview Expand Your System
This camera is compatible with Shiloh™, Mylo™, Willow™, Amara™ and Aria™ video baby monitors only. These systems are expandable up to 4 cameras.
Whisper Quiet Pan/Tilt/Zoom Camera
See every detail with our silent camera that allows you to pan 300⁰ and tilt 110⁰. When you find what you're looking for, zoom in with 2x magnification and keep a close eye on baby. When your little one grows and becomes more curious, you move with them. We let you check in on the whole room, without making a sound.
Private Digital Signal
We know how important it is that your signal remains strong and unique to your handheld monitor. Encrypted digital proprietary signal and channel hopping ensure that your connection remains private and without interception. With 500ft transmission range under ideal conditions, you can check in from anywhere in your house or yard.
Invisible LED Night Vision
Invisible infrared LEDs provide a clear image of your child in the dark up to 12ft away. Your baby will sleep more soundly without the distracting red LED lights found on traditional baby video cameras. Rest assured knowing you can see your baby clearly, even when it's lights out. Non-intrusive on screen indicators mean there won't be any bright lights and your room will stay dark at night.
Talk to Baby Two-Way Communication
There is nothing more comforting to your baby than the sound of your voice. Our Talk to Baby feature lets you talk, listen and soothe from afar. Parents love this feature for communicating to each other and babies love this feature because they know Mom and Dad are near.
Temperature Sensor with Customizable Alerts
We know that it's important to you that baby's sleeping safe and comfortably. Check the temperature in your nursery from anywhere in your home and receive audible or on screen alerts for anything outside of the temperature range you set.
Lullabies, Nature Sounds & White Noise
Do sounds put your little one to sleep? Featuring three classic lullabies, soothing white noise and dynamic nature sounds that play through our PTZ cameras. Experience multi-tone variety with the convenience of remotely activating and changing lullabies or adjusting volume through your parent unit. Lullabies have retained their charm over the years and are proven to relax your baby. Set customizable timers that turn the music off automatically so you can rest too.
Specifications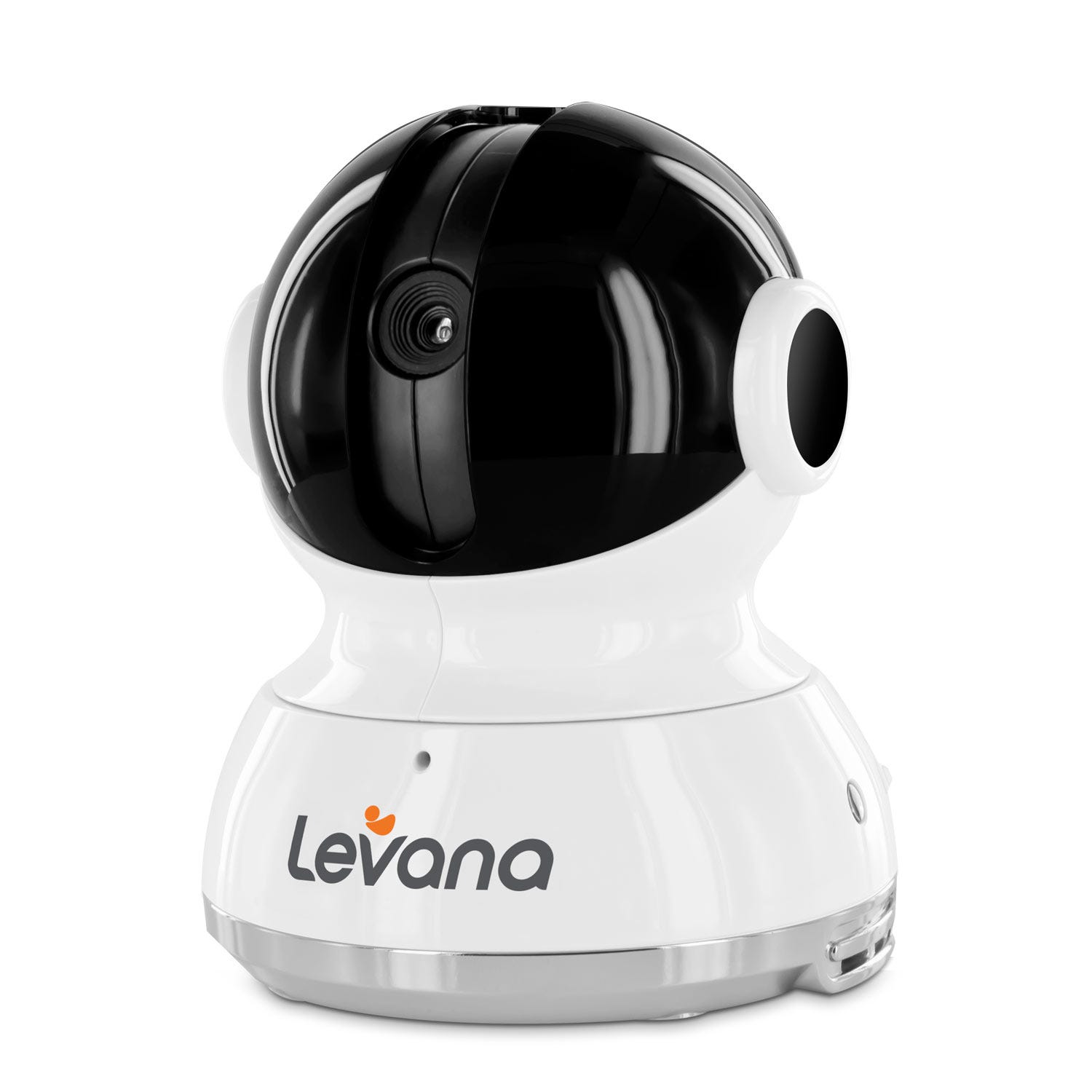 Image Sensor
CMOS
Resolution
640 x 480
Viewing Angle
50 Degrees
Focal Length
3.0 mm
Optimal Focal Distance
2-10 ft.
PTZ Control
Yes
Frequency
2.4GHz
Private Signal
Yes
Night Vision
Yes
Night Vision Distance
12ft
Technology
Digital FHSS
Max Transmission Range
500 ft.
Optimum Transmission Range
150 ft.
Number of IR LEDs
8
IR Wave Length
940nm
Battery Operable
No
Microphone
Yes
Speaker
Yes
Housing Material
ABS Plastic
Wall Mountable
Yes
Power Adapter
3.5mm, 6VDC, 800mA
Power Input
100~240VAC
Operating Temperature
0 to 45 Degree Celsius ~ 32 to 113 Degrees Fahrenheit
Dimensions
3.5"x 4"x 4.5"
Weight
0.55 lbs
UPC
061783263754
What's Included

1 x Pan/Tilt/Zoom Night Vision Camera
1 x Power Adapter
1 Year Warranty
Quick Start Guide
Lifetime Customer Support
DISCLAIMERS
Strangulation Hazard: Children can become entangled in cords. Power cords should be kept at least 3ft away from the crib and baby's reach at all times. Failure to do so could be fatal. Baby monitors/cameras with power cords should never be hung on or near the crib.
This product is not a toy.
Product intended for indoor use only.
This product contains small parts. Exercise care when unpacking and assembling the product. Failure to do so can result in choking or death.
This product does not replace responsible adult supervision. Check on your child at regular intervals and make sure your monitor is always adequately charged. Failure to do so can be fatal.
This is not a medical product. If there is a problem with the child/baby, please call 911 immediately.
Levana highly recommends the use of an Uninterruptible Power Supply (UPS) with surge protection when plugging in the camera and monitor.
We reserve the right to change models, configuration, or specifications without notice or liability. Product may not be exactly as shown.
Optimum range is 150ft when signal is passing through walls or floors. Microwave ovens (when in use) may cause signal disruption at close range. Buildings with metal frames may also cause signal disruption. Maximum transmission range is 500ft.
Night vision range up to 12ft under ideal conditions. Objects at or beyond this range may be partially or completely obscured, depending on the camera application.
Battery life of 12 hours based on Power Save mode. Battery lasts an average of 8 hours with continuous audio/video usage.
©2016 LEVANA®. All rights reserved. LEVANA®, the LEVANA® logo, Shiloh™, Willow™ Amara™ Aria™ and other LEVANA® marks may be registered. All other Trademarks are the property of their respective