Overview Sophia (So-FEE-ah)
Meaning: Wisdom
Get more done knowing your baby is safe and sound with the Sophia monitor at your side. This baby video monitor has been designed with parent-friendly controls and features in mind, including 48 hour battery life in power saving PEEP mode, temperature monitoring, 15ft night vision, and 500ft ClearVu® digital signal. Babies love the Talk to Baby two-way communication, invisible night vision LEDs and soothing night light. Stay in tune with your baby from the next room and beyond thanks to the insight of your Sophia baby video monitor.
Specifications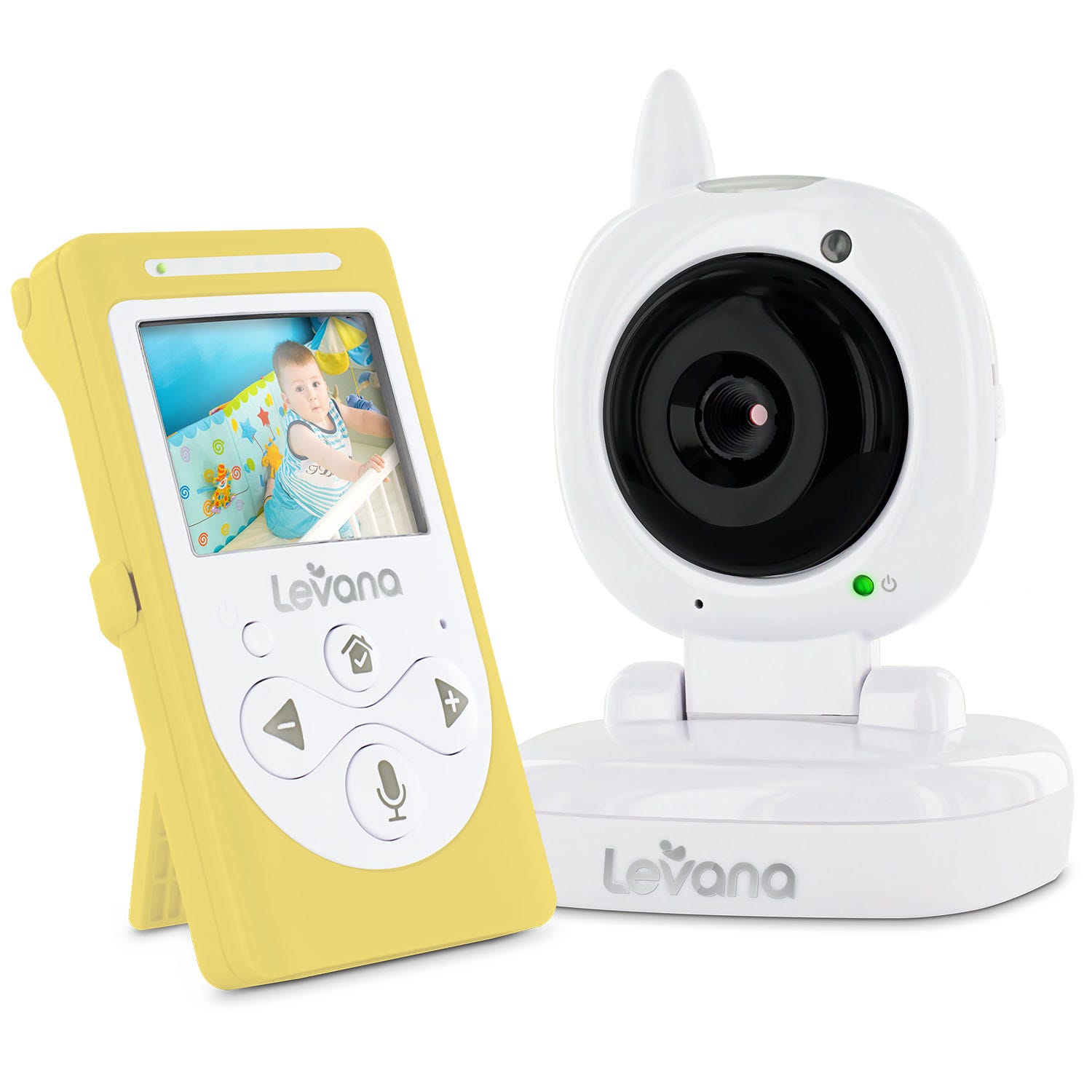 Monitor Specifications

MONITOR

Monitor Type
TFT LCD
Screen Size
2.4" Screen
Resolution
320x240
LCD Brightness
Adjustable: 0,1,2,3,4
Frequency
2.4GHz
Private Signal
Yes
Transmission Power
+19 dBm
Technology
Digital FHSS
No. of hop/sec
300
No. of hopping channels
19
Channel Bandwidth
3.375 MHz
Data rate
3 Mbps
Max Transmission Range
500ft
Optimum Transmission Range
150ft
Expandable
Up to 4 Cameras
Quad Screen
No
Auto-Scanning/Sequence Mode
Yes
Microphone
Yes
Talk to Baby™
Yes
Lullabies
No
Battery Life
2 hrs constant
Battery Life
Up to 48 hours
Battery Low - Visual Warning
No
Battery Low - Audible Warning
No
USB Charging
No
Housing
ABS Plastic
Operating Temperature
32 to 122 Degrees F
Dimensions
5"x.2.8"x4.3"
Weight
.25lbs
Camera Specifications

CAMERA

Image Sensor
CMOS
Resolution
640x480
Viewing Angle
73 degrees
Focal Length
4.95mm
Focus Type
2G2P
Optimal Focal Distance
2-10ft
Number of IR LEDs
4
Night Vision
Yes
Night Vision Distance
15ft
Nightlight
Yes
Battery Operable
Yes (4 x AAA, not included)
Speaker
Yes
Wall Mountable
Yes
Power Adapter
6V 800mA DC
Power Input
100~240VAC
UPC
061783257098
What's Included

Night Vision Camera
Video Baby Monitor
Rechargeable Battery
Power Adapters
Quick Start Guide
1 Year Warranty
Lifetime Customer Support
DISCLAIMERS
Strangulation Hazard: Children can become entangled in cords. Power cords should be kept more than 3 feet away from the crib and baby's reach at all times. Baby monitors/cameras with power cords should never be hung on or near the crib. This product is not a toy.
Battery life of 48 hours based on 10 audio activations while in power save (PEEP) mode. Battery lasts an average of 6 hours with continuous audio/video usage.
The Peep Mode feature for this monitor only works on the primary camera (Camera 1). When additional cameras are paired with the monitor, the Peep Mode will only activate when sound is heard on the primary camera (Camera 1). The Peep mode will deactivate itself when in sequential/sequence on any monitors that support sequential/sequence mode.
Night vision range up to 15ft under ideal conditions. Objects at or beyond this range may be partially or completely obscured, depending on the camera application.
Optimum range is 150 feet when signal is passing through walls or floors. Microwave ovens (when in use) may cause signal disruption at close range. Buildings with metal frames may also cause signal disruption. Maximum transmission range is 500 feet.
This product contains small parts. Exercise care when unpacking and assembling the product.
This product does not replace responsible adult supervision. Check your child's safety at regular intervals and make sure your monitor is always adequately charged.
We reserve the right to change models, configuration, or specifications without notice or liability. Product may not be exactly as shown.
This product cannot replace responsible adult supervision. Check your child's safety at regular intervals and make sure your monitor is always adequately charged.
©2014 LEVANA®. All rights reserved. LEVANA®, the LEVANA® logo, Sophia™ and other LEVANA® marks may be registered. All other Trademarks are the property of their respective owners.