Overview

Sit back and feel the true power and emotion of your favorite cinematic masterpieces and concert performances with the SXHTBFR High Definition Two-way Floorstanding Main Speakers. As a member of the SX series, the SXHTBFR floorstanding speakers fit nicely into any home décor and provides detailed, room-filling sound.

The SXHTBFR's premium components – the high frequency tweeters, dynamic midrange and powerful subwoofer – come together in an internally braced, precision crafted enclosure to suppress distortion and provide an accurate response. The tuned bass reflex cabinet work with the SXHTBFR's fronts to produce a brilliant low frequency performance, while the pure silk dome tweeters projection smooth and clear high frequencies. The superior craftsmanship and modern design of the SXHTBFR exemplifies Fluance's dedication to bringing you serious performance.

Premium Features
Vertically and horizontally internally braced cabinet with reinforced front baffle
Ferro-fluid cooled tweeter for longer life
Butyl rubber surrounds for increased durability and performance
Tuned bass port for controlled low frequency response and improved efficiency
Bi-amp/bi-wire 5-way gold plated binding post terminals for optimum conductivity
Banana plug and speaker wire compatible connectors on all speakers
Low diffraction flush fit removable front grilles for spacious imaging
Magnetically shielded to avoid interference with other video products
Isolation platforms with integrated floor spikes to separate speakers from the floor - for use on hardwood or carpeted areas
Premium crossovers feature Butterworth design for audio equalization
18 gauge internal lead wire to reduce signal degradation
Specifications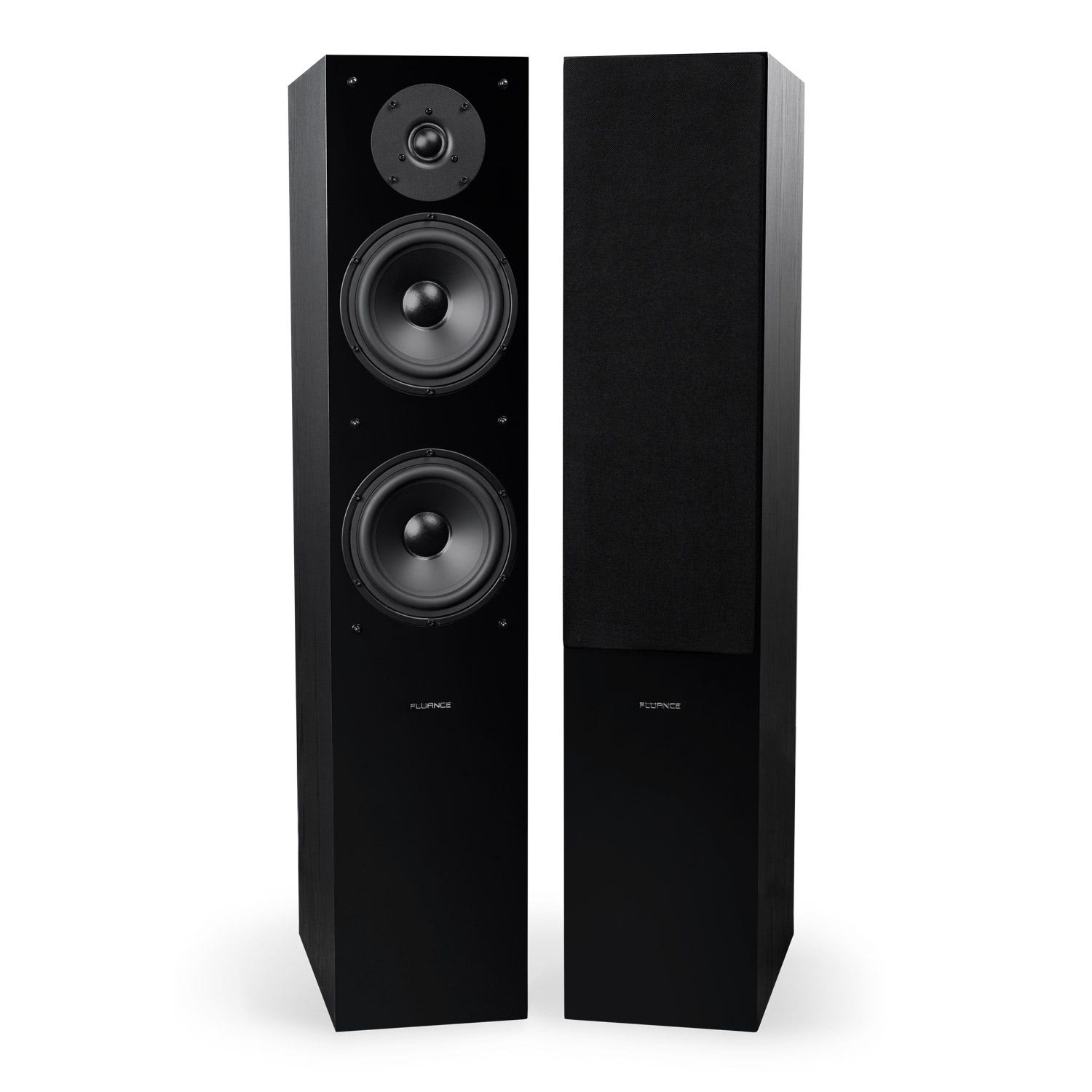 Speaker Configuration
2 Way - 3 Driver Floorstanding Main Speakers
Tweeter
1 inch Silk Dome Ferrofluid Cooled
Woofer
Dual 6.5 inch Poly-coated Drivers with Butyl Rubber Surrounds
Power Handling
50 - 160 Watts
Frequency Response
49 - 20 KHz
Sensitivity
89dB @ 2.83V / 1m
Crossover Frequency
3500 Hz PCB Phase Coherent - Mounted Circuitry
Impedance
8 Ohms
Enclosure
Bass Reflex Design Internally Braced
Dimensions
38.8 x 7.8 x 13.0 inch
Speaker Weight
33.45 pounds/speaker
Series
ELITE
Certifications
CE Certified, RoHS
DOLBY ATMOS
Ideal for use as front speakers in a Dolby Atmos™ Surround Sound System
Frequency Response Graph

Click to Expand

Fluance Speaker Size Comparison Chart

UPC
871363024633
What's Included
Two Floorstanding Main Speakers
Eight 1 Inch Isolation Floor Spikes for use on Hardwood or Carpeted Areas
Instruction Manual
Full Lifetime Parts and Labor Manufacturer's Direct Warranty
Lifetime Customer Support
Press
SoundStageXperience.com Review of the Fluance SXHTB+ 5 Speaker Surround Sound Home Theater System
"Once you resign yourself to dealing with music in Dolby ProLogic II Music mode -- and I know a lot of folks who do just that regardless of the sound source -- there's not a whole lot these puppies can't do. Movies and television (especially pro football or baseball broadcasts in 5.1 sound) were handled flawlessly. For $374.99 American money. $374.99. I've spent that much on a pipe . . . or two. The Fluance SXHTB+ system is one of the great audio bargains of this or any other millennium."
Read the Full Review

AUDIOHOLICS.com Review of the Fluance SXHTB+ 5 Speaker Surround Sound Home Theater System
"we honestly can't see how you can possibly find a better deal."
Read the Full Review
CNET.com Review of the Fluance SXHTB+ 5 Speaker Surround Sound Home Theater System
"You can't beat Fluance's rock-bottom pricing, solid construction, and sound quality, which rivals that of more expensive speakers"
Read the Full Review
Customer Reviews
bill

April 20, 2017

Little if any bass response. Absolutely need sub-woofers.

bill

4

C. Redstone

January 8, 2017

Hard not to provide a favourable review for these solid floor standing loudspeakers. Recently paired with Fluance's SX6 Bookshelf speakers in a 2.1 (A/B speaker) set up with a NAD C 368 powering it all. Superlatives aside, these speakers can handle anything thrown at them. Name your genre or acoustic taste; gaming, music, internet surfing, movies, youtube, etc. Whatever the source, the Classic Elite provides a clean and accurate presentation.

Without making any serious dent into the bank account, the Classic Elite and SX6 have provided me an "end game" audiophile solution at an "entry" market price point.

Congratulations Fluance!!! I can't stop talking with friends and family about the value your Canadian Company provides. Keep it up!

C. Redstone

5

CRAIG

November 23, 2016

Wow if your looking for any floor standing Speaker do yourself a favour and get any they offer as you will pay Way More to compete with these

CRAIG

5

John Willcox

May 21, 2016

Perfect. Packing to Operation.

John Willcox

5

JOHN

May 12, 2016

BOUGHT A 5,1 SONY RECEIVER BUT TRYING COMBINATION OF DIFFERENT BOOK SPEAKERS, AND WOOFER. RESEARCHED FLOOR SPEAKERS BUT PRICES FOR ONE DROVE ME CRAZY. ANYWAY, FOUND THESE PUPPIES, AND MY SYSTEM ROCKS.

JOHN

5

YJ4x4

March 21, 2016

I've had these speakers for about 3 years now, and last night I was in the mood for some YES. I loaded up YES Live at Montruex DVD and turned the volume up louder than I ever have before. Outstanding! No Bass bump with the woofers bottoming out, and crisp but not tinny highs. These speakers are in my den and I swear they sounded as good as my Polk LS-90 speakers that are in my living room, and at less than half the cost of ONE Polk speaker!

YJ4x4

5

howard chang

November 20, 2015

They sound as good as they look. And these are some of the best looking speakers out there, especially at this price. I power these with a denon 2.1 amp (old but very sweet class B amp), and I swear they sound much better than my pair of JBL speakers (I love the JBL, it's just I'd never thought these Fluance are that good, again at this price).

They are perfect for jazz and classic music. Forget about Polk Audio or Klipsche if you are looking to spend around $500. Get these, you will not regret.

howard chang

5

Jeremy Allen

November 20, 2015

I purchased the SXHTBFR-BK floor standing speakers along with AV HTB speaker system.
These are connected to my Onkyo TX-NR646 and UN55HU8550FXZA 4k tv.
I have to say my man cave has never sounded so sweet.
Fluance knows quality and i am very pleased.
These speakers sound amazing and i have no regrets.
I cannot say enough good things about these speakers. I have had for a few months and love them.
Fluance equals top quality in sound.



Jeremy Allen

5

Dan

November 20, 2015

Great speakers,great package,great communication! I bought the SXHTBFR and couldn't be happier.These just get better the more I play them.If you are thinking about these go ahead and pull the trigger,these speakers rock.I have them paired with JBL speakers costing three times as much,and I think the Flaunce sounds as good if not better.I will buy another pair for my bedroom!Two thumbs up!!!

Dan

5

Trevor Waldron

November 20, 2015

Amazing speakers for the price. Have these as the front left and right speakers, making every movie truly wonderful. Friends have complimented on how nice they look. They easily compare to much more expensive wooden floor standing speakers.

Trevor Waldron

5
Articles from our experts