Regular Price: $209.99 USD
Special Price $52.99 USD
Overview Trust DEFENDER® to make thieves and vandals think twice about approaching your property. This sleek dome camera provides a high quality, discrete security solution for your home or business. 800TVL deliver clear, ultra hi-res video for maximum indoor and outdoor surveillance visibility. 24IR LEDs allow for 75 feet of automatic night vision, while the weather-resistant aluminum casing ensures your cameras can withstand harsh elements. Versatile enough to monitor both indoor and outdoor locations, pair DEFENDER® dome cameras with our outdoor bullet cameras for a higher quality theft deterrent and added peace of mind. You'll always know exactly what's happening on your property – inside and out. 75FT Automatic Night Vision
DEFENDER® dome cameras are equipped with night vision that automatically activates. Twenty-four infrared LEDs provide crisp and detailed night imagery as you monitor from up to 65 feet away, even in complete darkness. Thieves may think they're lurking in the dark – but rest assured knowing DEFENDER® will see them. Rain or Snow Won't Stop Us
Criminals don't take the night off if it's raining. Neither do our cameras. They're weather resistant and ensure optimal picture quality no matter what Mother Nature decides to throw at you, be it rain, hail or snow. The professional-grade aluminum housing will protect against rust, deterioration and glare. So no matter what's going on outside, DEFENDER® will be ready.

DISCLAIMERS
IR illumination range up to 65ft under ideal conditions. Objects at or beyond this range may be partially or completely obscured, depending on the camera application Defender highly recommends the use of an Uninterruptible Power Supply (UPS) with surge protection for all products. Although the cameras are weather resistant, they are not weatherproof. Not for use in direct exposure to water, rain or snow.
DEFENDER® does not endorse any DEFENDER® products for illegal activities. DEFENDER® is not responsible or liable in any way for any damage, vandalism, theft or any other action that may occur while a DEFENDER® product is in use by the purchaser.
We reserve the right to change models, configuration, or specifications without notice or liability. Product may not be exactly as shown.

©2013 DEFENDER®. All rights reserved. DEFENDER®, the DEFENDER®, logo and other DEFENDER® marks may be registered. All other Trademarks are the property of their respective owners.
What's Included? Screws and Plugs
Specifications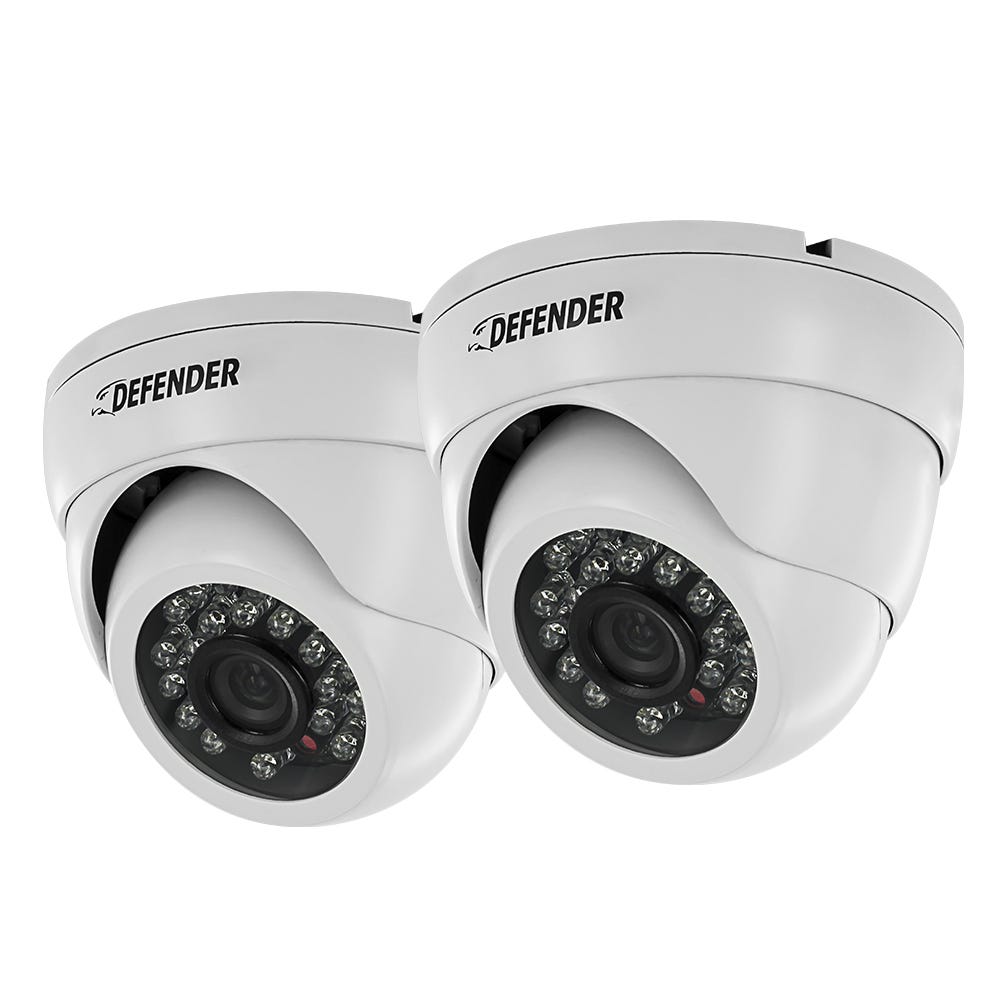 Image Sensor
1/3" CMOS
Resolution
800 TVL
Outdoor Use
yes
IP Rating
IP66
Focal Length
5mm
Focus Type
Fixed
Optimal Focal Distance
50 ft.
Night Vision
Yes
Number of IR LEDs
24
IR LED Control
Automatic (CMOS Sensor)
Min. Illumination
0 lux
IR Wave Length
850nm
Video Output
BNC/DC
TV System
NTSC.PAL
Viewing Angle
60 Degrees
Electronic Shutter (Sec)
1/60 ~ 1/100000 sec
AGC
Auto
ELC
Auto
Gamma Correction
0.45
While Balance
Automatic
Sun Sheild
No
IR Cut Filter
yes
Housing
Aluminum
Housing Color
White
Signal/Noise (S/N) Ratio
52dB
Camera Bracket
Yes, anti-vandal
Operating Temperature
-10° ~ 50°C / Degrees
Operating Humidity
90%
Camera Power Input
DC12V 400mA
Power Input
DC12V 500mA
Dimensions
3.66" (D) x 2.52" (H)
Number of TV Lines (TVL)
800 TVL
Night Vision Distance
75ft
UPC
061783258415
What's Included
2 x Dome Security Camera
2 x 65ft Cable
2 x Power Adapter
Mounting Hardware
Quick Start Guide
Customer Reviews
Jasmin

November 30, 2015

I bought these cameras to augment the Defender system I already have in place. They have the flexibility I wanted for my front and back doors. Easy to adjust viewing and worked perfectly with existing system.

Jasmin

5

Bambee

November 30, 2015

Had this for a week now, happy with the quality, it's small and well hidden, very easy to install.

Bambee

5

forensick

November 30, 2015

The system arrived flawlessly. Instructions were simple and easy to understand. Clarity of images is excellent. Programming takes some time but the downloaded manual is great.

forensick

5

keencamp

November 30, 2015

just got it set up today. hassle free set up for online remote viewing.

keencamp

4

Dees

November 30, 2015

The night vision is great, the daytime color is great, and the cameras are easy to handle.

Dees

3

dieselman069

November 30, 2015

Purchased this product about a month ago. We had a professional security company install ours, they we impressed with the quality and ease of operation plus no monthly fees. This product does what it states it does, and it does it well. After viewing other security systems i know i made the right choice for my family and piece of mind.

dieselman069

5

brian99

November 30, 2015

recently purchased 4 white camers to go with the color change on house. The cameras work great. I highly recommend defender for cameras.

brian99

5

Katie6771

November 30, 2015

I bought this four pack to go inside and connect to what I already have working outside. They were easy to install and work great.

Katie6771

5

Double T

November 30, 2015

Great picture day or night. Easy to install. Easy to adjust.

Double T

5

Walt

November 30, 2015

This is my first Defender product purchase, I'm glad that I have made the right choice. This new ultra high resolution security camera's with my new Defender 2TB DVR is the perfect combo for clear HD recording.

Walt

3

Keith s

November 30, 2015

I have had these cameras for about 6 months. I love them however, out of the 4 cameras, 3 of them have had to be sent back for repair because the cameras get stuck in Black & White resolution and wont reset back to color.

Keith s

5

Carmar

November 30, 2015

I bought this system in order to catch a thief and vandal - boy was I happy - within 48 hours he was caught red handed - the infra red system worked like a charm and the clear view is perfect for my situation. I had a few small camera issues and the customer service and replacement parts were taken care of immediately and I am very happy with both the product and the service afterwards.. I would recommend in a heart beat - in fact I need to add to my 8 channel system shortly and will be buying additional cameras as needed.

Carmar

5

docrod

November 30, 2015

These were easy to install and position. The picture, clarity and color is better than the original cameras I bought with the system. I have had issues with a couple of the cameras at dusk becoming foggy and unable to see images, but I am hoping that customer service can help me through this or replace a bad camera if that is the case.

docrod

5

Wheels

November 30, 2015

I bought these to use instead of the large grey/silver cameras. They are small compact and use the same wire connections as the other cameras I had. Great gear!!

Wheels

5

tom77583

November 30, 2015

I originally purchased wireless cameras but found that the range was not sufficient when used on our brick house. I purchased these and found the picture to be much improved but installation was easier than I expected. I will be purchasing two more in the near future so that I have the full 8 camera capability of my dvr in use.

See all reviews

tom77583

5