Regular Price: $109.99 USD
Special Price $29.99 USD
Overview
Thieves. Their goal in life is to take what's yours - and they'll break into your business or home to do it. Trust SVAT® to make them think twice about your property. Statistics show buildings under surveillance intimidate burglars - often they won't even bother and move on. But if they do manage to make it in, SVAT® will help stop them from getting away with it. Our cameras deliver high-quality video that can assist in putting them away. Don't give thieves a chance. Stop them with SVAT®!

Crisp and detailed video you can rely on
Your security system is only worthwhile if you can actually see the person stealing from you. SVAT® cameras are equipped with 600 TV lines of resolution. The resulting clear, crisp and accurate video feed will help put the criminal away.

When everyone else is asleep, our cameras are watching closely
The things that go bump in the night are sometimes a thief making off with your big-screen TV. SVAT® cameras are equipped with night vision that automatically activates. Twenty-four infrared ClearVu® LEDs provide crisp and detailed night imagery as you monitor from up to 75 feet away, even in complete darkness. So thieves may think they're lurking in the dark but you can rest assured SVAT® will see them.

Rain or Snow won't stop us
Criminals don't take the night off if it's raining. Neither do our cameras. They're weather resistant and ensure optimal picture quality no matter what Mother Nature decides to throw at you, be it rain, hail or snow. The professional-grade aluminum housing, complete with sunshade, will protect against rust, deterioration and glare. So no matter what's going on outside, SVAT® will be ready.

Secure wiring can't be tampered with
Thieves know dismantling a security system is a good way to get off scot free. But they'll be disappointed with SVAT®. Each camera's cable runs through the cable mount and then directly into the wall, leaving no part of the cable exposed. Your footage will be secure.

Lifetime Live Customer Support
Our customer support team can be reached by phone or by email and live web chat. You'll always have access to an expert. Support is available in English, Spanish and French.
Cameras
Image Sensor
1/3" CMOS
Resolution
600 TVL
Outdoor Use
Yes
IP Rating
IP65
Focal Length
5mm
Focus Type
Fixed
Optimal Focal Distance
20 ft.
Night Vision
Yes
Number of IR LEDs and Range
36
Night Vision Range
100ft
IR LED Control
Automatic (CDS Sensor)
Min. Illumination
0 lux
IR Wavelength
850nm
Video Output
BNC/DC
TV System
NTSC
Viewing Angle
60 Degrees
Electronic Shutter
1/60 ~ 1/100000 sec
AGC
Automatic
ELC
Automatic
Gamma Correction
>0.45
White Balance
Automatic
Sun Shield
Yes
IR Cut Filter
Yes
Housing Material
Anodized Aluminum
Housing Color
Black/Silver
Signal/Noise Ratio
>48dB
Camera Bracket
Yes, anti-vandal
Operating Temperature
-10° ~ 60°C / Degrees
Operating Humidity
98%
Camera Power Input
DC 12V 300mA
Power Adapter Input
120V 60Hz
Dimensions
6.75x3x5.5"
Weight
.9 lbs
Specifications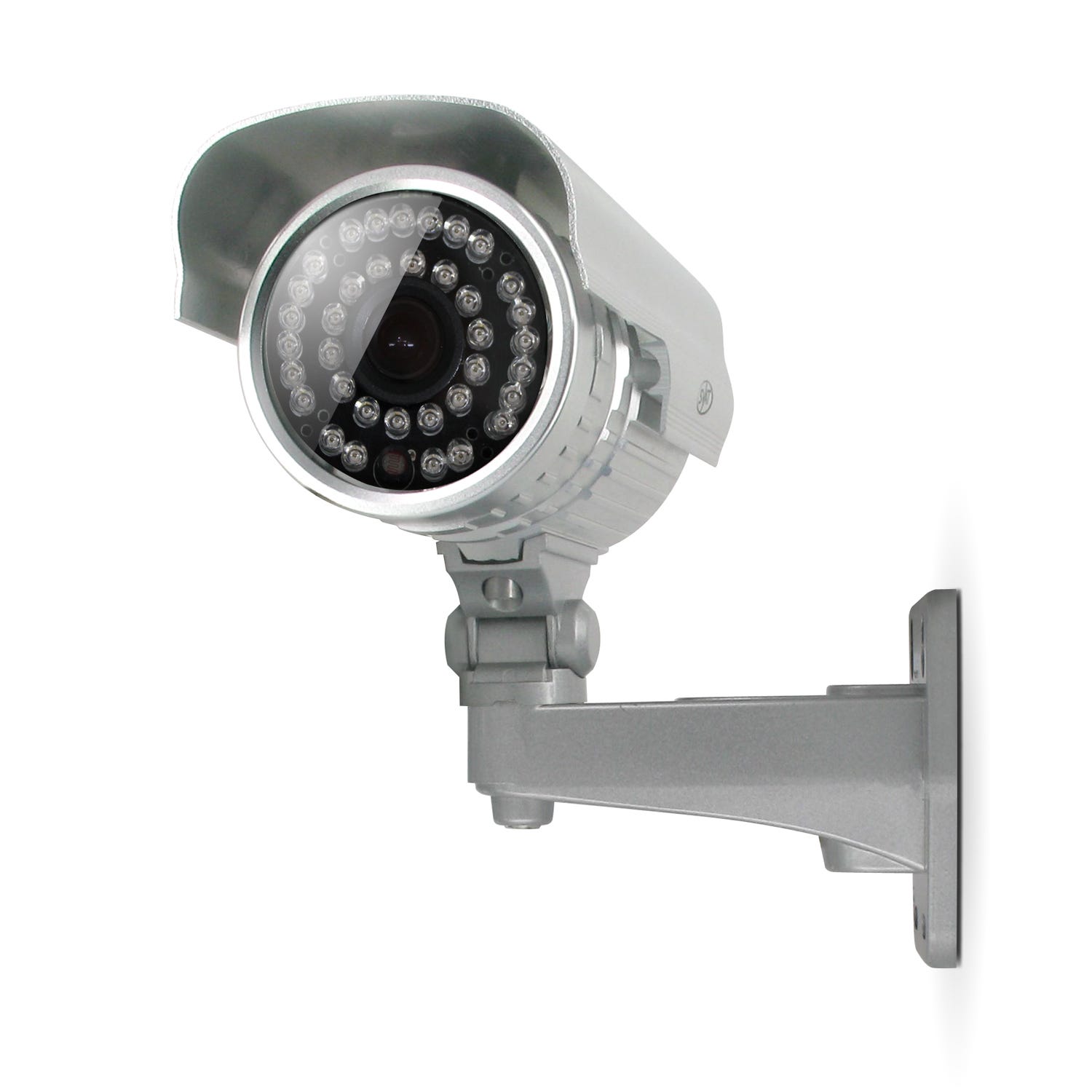 Customer Reviews
DollarKings

November 30, 2015

Just finished hooking it up. Toyughest part was running the lines through the ceiling. Otherwise it was awesomely easy and image looks great.

DollarKings

5

Tran

November 30, 2015

I'm happy with the quality of the cameras. However, If Defender can update their mobile app, ClearVu, then i would be great. Everytimes I go into the app, it seems to loading a little slow and the images do not seem to be really clear. Beside that, everything else is OK.

Tran

3

bartozz28

November 30, 2015

Added this to the 6 camera set up. Solid, heavy duty construction. Cameras look like they'll hold up well to the environment. Some difficulty with set up as none of the instructions mention that it's required to add the port# at the end of the IP address to gain access. Also, default user name and PW to gain access to the DVR menu was not immediately apparent causing additional hair pulling. Called customer support and immediately got through to Michel who had me set up in under 20min, including remote viewing through my phone. Thanks Michel!
Overall, very happy so far........just a little less hair. It'll grow back:)

bartozz28

5

jtskir222

November 30, 2015

This is my second system from defender.
great system.
easy to hook up and set up.
I had it all done in 30 minutes. including being able to view on my phone..

jtskir222

5

breh

November 30, 2015

Bought the sentinal wireless 4 ch system on11/9/15 at 10 am, received it on 11/10/15 at 7 am Works great .

breh

5

RogerAGrimes

November 30, 2015

I bought this product a month ago, and I love it, with one MAJOR caveat. The wireless receivers for the cameras (1 per every 2 cameras) can conflict with your existing Wifi. For example, my 100Mbps home Wifi drops to an useable 0.40Mbps whenever the wireless receivers are turned on. This happens no matter where I replace the receivers in my house, even downstairs inside of a concrete surrounded room. The only solution, per the vendor, is to move your existing Wifi from the 2.4Gz range to something else. This is rarely possible on home Wifi systems (although if you can force all equipment and clients to the new N wifi bands it's possibly workable). For example, my existing Comcast Wifi will not let me disable the 2.4GHz band. This is a better solution, if the Defender cameras let you manually pick Wifi channels (there are 15 of them), you could move your different Wifi receivers and routers to different channels and avoid the conflict. But you can't. In the current state, my $1200 purchase is worthless because I can't turn the camera receivers on. Very disappointing. And this is such a great product otherwise. Another solution would be if the cameras could just hook to your existing Wifi router and not need secondary receivers.

RogerAGrimes

3

Home Security

November 30, 2015

I purchased the cameras about a month ago. Installation was very easy, but the wireless range is very disappointing. I live in a one story house and the furthest cameras are only 65 ft. away from the receiver (three of the six cameras are this distance away). They are constantly losing signal and freezing. The cameras that are 10-40 ft away work as advertised. The night vision is excellent. If it weren't for the poor range I would have rated this with 5 stars.

Home Security

0

neil

November 30, 2015

Purchased this system 3 months ago works great. I have been very happy so far.

neil

4

jim427

November 30, 2015

This is the second system I've bought in the past few months. Installation is easy, but camera placement is crucial. While the advertised range is several hundred feet, in reality it is much less in a real life situation. Despite that, it is still a very good system. Tech support is great. Michel in particular does a great job helping to get everything up and running.

jim427

4

BK41

November 30, 2015

I have 4 of the cameras mounted. The cameras are easy to pair and the floodlights (I have two mounted near floodlights) do not affect the image at all. The picture quality is good and the wireless range is also good. The email notification is nice so you can see who is coming and going. The cameras are well built and appear to be very durable. I would recommend this product.

BK41

5

BK41

November 30, 2015

The setup of this system is as simple as can be. The video quality is good and the email notifications with the motion detect are great. I bought the system with 6 cameras and have had two of them going for a few days now. The hardest part of this system is figuring out where to put the cameras. I am waiting for dusk to see how the exterior lighting at my house affect the cameras. I have one mounted right above a set of flood lights and there is no light interference at all. I will probably end up getting another two cameras. I highly recommend this system.

BK41

5

House

November 30, 2015

good product, easy too install, night vision not as clear as I expected, wireless reception not smooth. pictures stutters.

House

4

LVParker

November 30, 2015

The wireless cameras and receivers were easy to match up. Reception range is ok. Foliage obscures the distance some. We have 3 of the cameras at a building approximately 350 feet away and reception is ok with 1 bar of signal. This includes 1 camera inside the building placed at the skylight. The IR works very well and projects a great view out to 60-70 feet. One camera has issues, but the company is working with us to correct the problem. Camera cords have plenty of length on them to allow good placement without excessive extension cords. I would have liked a manual for the monitor operations. Also would have liked a 6 picture view option for the monitor seeing the unit only comes with 6 cameras.

LVParker

5

tomtom

November 30, 2015

I got this after already owning a wired system from Defender. I love both systems. They both work great. As far as I can tell, the only negative is that you have to have a plug for each camera, but that is a minor thing compared to what you get. I would definitely recommend and order another.

tomtom

4

Curt

November 30, 2015

Easy system to install. Cameras connected as soon as button was pushed. Great picture day and night.

See all reviews

Curt

4