Regular Price: $99.99 USD
Special Price $49.96 USD
Overview

Archer™ Turntable Stereo System
Backed by over 100 years of manufacturing high-quality audio products, Electrohome is pleased to introduce the Archer Turntable Stereo System: a fully automatic turntable with built-in speakers housed in a 60s-style suitcase that blends vintage charm with twenty-first century convenience. As phonographic technology evolved into the Swinging 60s, so too did the ability for people to bring their music out into the world for the first time. Now you too can enjoy that feeling of independence and effortlessly bring the unique warmth of a vinyl LP with you anywhere there's a power outlet – visiting with friends, or relaxing on your back porch – without sacrificing the audio quality of your favorite music.

Good Vibrations
Hear every warm crackle and subtle nuance of your favorite vinyl records anytime, anywhere with the Archer turntable stereo system's two built-in, full-range stereo speakers. The rich, high-fidelity analog audio of your vinyl collection delivers a fuller and crisper listening experience than digitally compressed CDs or MP3s are capable of. The belt-driven turntable plays 7, 10 and 12" records at three speeds of 331/3, 45 and 78 revolutions /minute.

Let It Be
Housed in an all-wood suitcase that's as strong as it is tasteful, the Archer brings a charming retro chic to any surrounding. From a dorm room to backyard family barbeque, its vintage design is inspired by the first wave of 1960's portable turntables and comes with a convenient carrying handle, while its acoustic cabinet enhances the audio performance.

Time of The Season
Enjoying the classic style of a retro 60s turntable doesn't mean you have to miss out on 21st century convenience; play songs from your smartphones, tablets, or USB flash drive using the system's AUX and USB input. For private listening, simply connect your headphones and drift away into the world of vinyl without disturbing a soul.
Specifications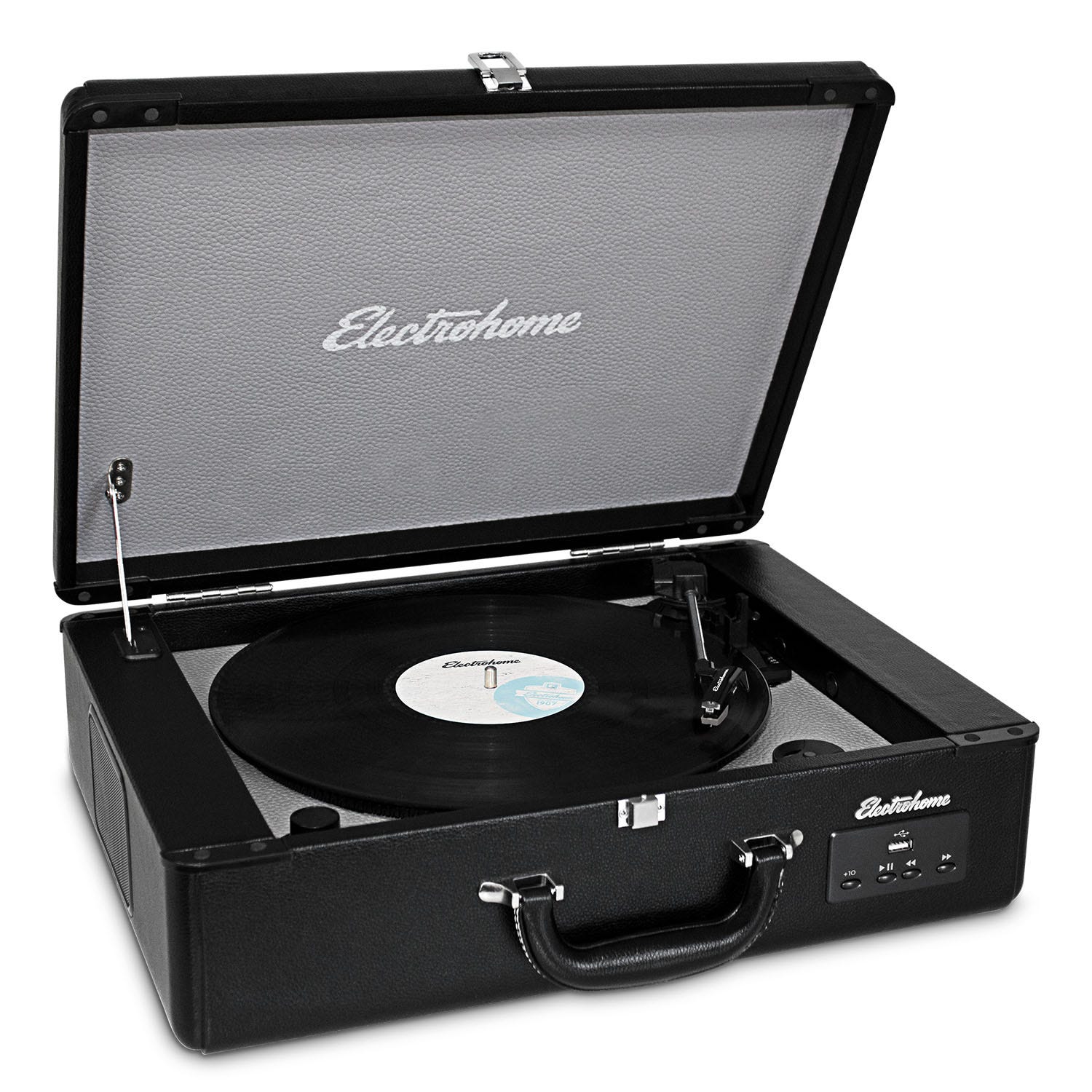 Unit Color
Black
Finish
Black Textured PVC
Construction Material
MDF Cabinet (medium density fiberboard)
Record Speeds
33, 45, 78
Platter
Plastic
Record Auto Return Arm Adjustment
NA
Frequency Range (FM)
NA
Frequency Range (AM)
NA
USB Recording
No
Speaker Size
2 x 3" 5W 8Ohm
Power EPS
External
Power Consumption
19 Watts
Dimensions
18.5"x13.38"x5.9"
Unit Weight
13.82 lbs
Certifications
ICES, FCC Certified, ETL/CETL
UPC
871363022233
What's Included
Archer Suitcase Turntable
45 Record Adapter
AC Adapter
Instruction Manual
1 Year Warranty
Lifetime Customer Support
Customer Reviews
Dani

September 10, 2017

I got this turntable for Christmas last year from my mom and I have played records on it non stop since I got it. It is a fabulous little turntable, easy to transport, the sound quality is great, and I'm absolutely in love with it. I'm into retro things so this is absolutely perfect for me. If you're looking to buy a turntable this is the one for you; it's amazing and I'm sure you'll love it just as much as I do.

Dani

5

Matt crawford

October 3, 2016

The turn table sounds great. Warm and vibrant. I had a small problem with the power unit but thanks to Treasure at customer service that problem was taken care of.

Matt crawford

5

Donna

July 20, 2016

Met all of my expectations right out of the box. If you are nostalgic like I am then you should like what you hear from the old records. Easy to operate and take from room to room. Can't beat the price. I would buy another!

Donna

5

Donna

July 20, 2016

Met my expectations right out of the box. If you are nostalgic like me then you will like what you hear from your old records. Can't beat the price. I would buy another.

Donna

5

Matt

May 4, 2016

This product is bring amazing memories to life. To hear music I love on Vinyl, it simply blows me away! Thanks for such a great vintage looking product

Matt

5

Beth Stokes

April 29, 2016

This was a gift for 14 yr old granddaughter. Who recently displayed an interest in vinyls to our suprise. She loves this player, we gave her some old 45 of 60s music . She lives the sound and is looking forward to purchasing vinyls in the future to play. She loves the suitcase carry feature, so she can take it to sleepovers.

Beth Stokes

5

Shaun Ericson

April 20, 2016

Great record player, awesome customer service by Donna, and overall would recommend this record player to anyone.

Shaun Ericson

5

Larry L.

April 18, 2016

I just got my Archer and I absolutely love it. It's lightweight and very easy to break down and store away. My 33's sound great on this bad boy. I'd recommend anyone looking for some modern day tech to purchase this and take it for a spin.

Larry L.

5

Brandon Peak

April 14, 2016

Nice buy for personal use in moderate size area. Sounds great, looks nice, appears to be pretty sturdy. Makes a great gift for older children. Brought back memories!

Brandon Peak

5

Hayden Arms

March 18, 2016

A great way to start a new hobby, mine had a few problems, with the needle. But if you want to start with something small, this is perfect

Hayden Arms

5

Karen McNally Sullivan

January 13, 2016

Great purchase I made over the Christmas holidays...sounds great and love the feature of playing from a usb stick or mp3 player. It's a little big (which I was surprised) but that's ok. I must say the service I received was awesome! When the parcel arrived it had only one microphone inside. When I called customer support I spoke to a nice gal who had one shipped out right away for me. Thank you!

Karen McNally Sullivan

5

Karen McNally Sullivan

January 13, 2016

I bought this online from the Electrohome website over the Christmas holidays. I love the sound and have had no issues with it so far. I like the option of being able to play music from my mp3 player or a flash drive. I wanted it to play some old Christmas LP's we used to play when I was a child and they remind me of my Dad who passed away. Had a great walk down memory lane, thank you!

Karen McNally Sullivan

5

Bill Lynch

January 1, 2016

The only reason most folks would buy including myself would be to record your vinyl onto c/ds or other devices so you could listen to them...duh...yet I wasted my money ant time for a device that 1/2 works. Your website and Amazon makes it appear via MP3, etc that the USB works the way it is supposed to, mainly in and out. No, not this one and the port says only USB, and most boxes come with no mail. Now what do I do Electrohome?

Bill Lynch

5

Michael Wynne

December 30, 2015

Very pleased - exceeded my expectations. Thanks Electrohome!!!

Michael Wynne

5

Carol Freed

April 8, 2015

This is the third inexpensive record player I've bought in recent years, and so far it is my favourite. I wouldn't compare it to older models, but it works great for the cost. The sound quality is good, and the case seems sturdy. The USB and Aux input work fantastically, and I haven't had a problem with skipping or anything when playing records. There's a lever that allows the tone arm to be lowered slowly onto the record, and it works fantastically. If you're looking for an inexpensive record player, this is a great one.
<i>Verified purchase from Electrohome trusted store</i>.

See all reviews

Carol Freed

5