Regular Price: $9,999.99 USD
Special Price $200.99 USD
Overview
ALL-IN-ONE VIDEO SECURITY PACKAGE
There's nothing more important than the safety and security of your business and property. Its comforting to know that day and night, at home or away, that the things you own are safe and the people you care about are protected. Feel this sense of comfort and security with Defender's SENTINEL3. See your business or home from multiple angles or monitor several different areas all at once. This versatile system is the perfect security solution for convenience stores, large properties and warehouses. You can do it all with this system record for over 2 years, display footage on an ultra slim 8.5" LCD monitor, and access the system online so you can view your property at any time, from any Internet enabled PC in the world! The eight included cameras are equipped with automatically activating night vision that allows you to see your property and belongings, even in total darkness! Let the SENTINEL3 give you the peace of mind that comes with the convenience of viewing your property day or night from any location!

FAST AND EASY SETUP
This system is extremely user-friendly and you can have it up and running in a matter of minutes because everything is truly plug and play. Auto-start recording ensures that the SENTINEL3 will automatically begin recording as soon as you plug it in to a power outlet.

RECORD UP TO 750 DAYS OF CONTINUOUS VIDEO
The SENTINEL3 can capture up to 750 continuous days of video and once the hard drive has become full you can choose to overwrite your old video or have the unit stop recording. This smart DVR will also alert you when the hard drive has become full with video footage.

8.5 INCH COLOR LCD MONITOR
The 8.5" color LCD monitor is a slim and compact way to see what's happening on your property. With several customizable viewing options, you can decide which area of your property you want to see and when you want to see it. View one camera at a time, quad view with four cameras, or even view all eight together, all on one screen! The included remote control makes it easy to change camera views and display options.

VIEW ONLINE WITH NO SERVICE FEES
Do you think about the safety of your business or home while you are away? The online monitoring capabilities of this system will help put your mind at ease. You can keep an eye on your business when you're away or monitor your summer home during off seasons with the SENTINEL3. Just connect the DVR to your Internet connected router and set it up with the included software. To view your DVR, just sign in with your user name and password, and you will have full access and control. You can view your live cameras, watch recorded video footage, and more, all through your web browser. (Requires a router, Windows operating system, Internet Explorer browser, and broadband Internet connection for online viewing)

RECORD OVER 2 YEARS OF VIDEO FOOTAGE
The 320GB hard drive can hold over 2 years of continuous video and is optimized for 24/7 surveillance. We only use hard drives that are specifically designed for high capacity writing, which ensures long product life and accurate video data storage. Your DVR will alert you when your memory space is full so that you can overwrite your old video, stop the unit from recording, or backup and transfer your video footage.
Specifications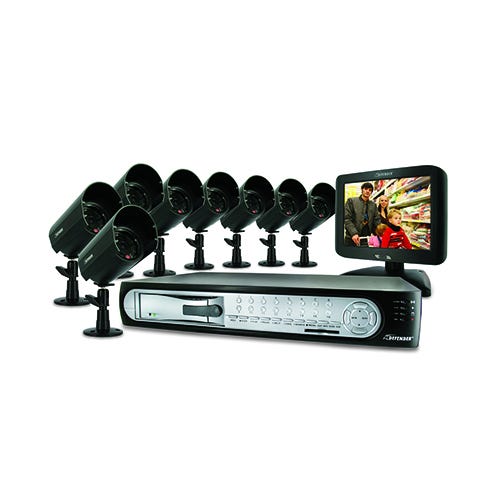 Internet Connection
No
Resolution
NTSC: 704 x 480 / PAL: 704 x 576
Compression
MPEG-4
Viewing Modes
Single, Quad, 9-Split
Recording Mode
Manual/ Alarm/ Motion Detection/ Continuous
Operating Temperature
41°F ~ 104°F
Operating Humidity
<80%
Dimensions
16.94 x 11.63 x 2.63
Weight
8.75 lbs
UPC
871363006592
What's Included
16 CH DVR w/ 320 GB HDD
Power Adapter for DVR
10 ft. RCA to RCA (male) A/V Wire
2x 3.5mm (male) to RCA (female) A/V Wire
Software CD
10ft RJ-45 Ethernet Cable
8x 60 ft. 4 PIN DIN to RCA (male) Video/Power Wires
10 RCA to BNC Connectors
Quick Start Guide
Instruction Manual