Overview Willow™ (WILL-oh)
Meaning: Graceful
Introducing Willow with Pan/Tilt/Zoom, Levana's 5" touch screen monitor. Willow will quickly become part of the family with 12 hour battery life, temperature sensors, feeding timers, lullabies and an easy to use icon based menu. When your baby is peacefully sleeping, we believe you should be able to do more while worrying less. 5" Touch Screen
There's lots to love about Willow's luminous touch screen. Incredible image quality and a front facing speaker lets you feel as close as possible without waking baby up. The sturdy and resilient steel monitor stand allows you to view from any angle and reposition easily. 12 Hour Battery Life
Having a large screen no longer means compromising battery life. Willow offers you up to 12 hours of battery life in Power Save Mode. We know how important it is to know your baby is sleeping peacefully. You can shut off the screen until baby makes a peep and triggers the screen to turn on. Experience a full re-charge in 3.5 hours with rapid charging technology. 50/50 Split Screen View
View two of your little ones side by side with perfect split screen view. We've also included a camera wedge, so you can get the angle just right. Expandable System with Split or Quad Screen View
You can add up to 4 cameras to Willow and see all your children at once. Mix and match with fixed or Pan/Tilt/Zoom cameras for your most realistic viewing experience.

This system is compatible with 32206 and 32205 cameras. Ultra-Thin Monitor
The sleek profile of this monitor features completely redesigned 15mm monitor housing with front facing speaker. Willow fits comfortably in the palm of your hand. Talk to Baby or Parent Two-Way Communication
There is nothing more comforting to your baby than the sound of your voice. Our Talk to Baby feature lets you talk, listen and soothe from afar. Parents love this feature for communicating to each other and babies love this feature because they know Mom and Dad are near. Private Digital Signal
Encrypted digital proprietary signal and channel hopping ensure that your connection remains private. Willow features 500ft transmission range, so you can check in from anywhere in your house or yard. Whisper Quiet Pan/Tilt/Zoom Camera
See every detail with our silent camera that allows you to pan 300⁰ and tilt 110⁰. When you find what you're looking for, zoom in with 2x magnification and keep a close eye on baby. Willow lets you check in on the whole room, without making a sound. Invisible LED Night Vision
Invisible infrared LEDs provide a clear image of your child in the dark up to 12ft away. Rest assured knowing you can see your baby clearly, even when it's lights out. Easily Operated Icon Based Menu
Our intuitive touch screen responds to your quickest and most feather-light commands. Navigate effortlessly through the menu, select one of Willow's many features and customize it specifically for your baby. We've included on screen instructions, help and FAQ's right in the menu system to help you out or teach a first time user. Convenient USB Charging
This monitor is conveniently charged by a micro USB port, so it's easy for you to charge from your laptop or any USB outlets you already have! Temperature Sensor with Customizable Alerts
We know that it's important to you that baby's sleeping safe and comfortably. Check the temperature in your nursery from anywhere in your home and receive audible or on screen alerts for anything outside of the temperature range you set. Customizable Feeding and Nap Timer
We know you have enough to think about, let Willow do the thinking for you. Our timer lets you choose audio or on screen alerts when it's time to feed your baby or put them down for nap. It will even remind you if your last feeding was on the left or right. Lullabies, Nature Sounds & White Noise
The Willow monitor features three classic lullabies, soothing white noise and dynamic nature sounds. Set customizable timers that turn the music off automatically so you can rest too.
Specifications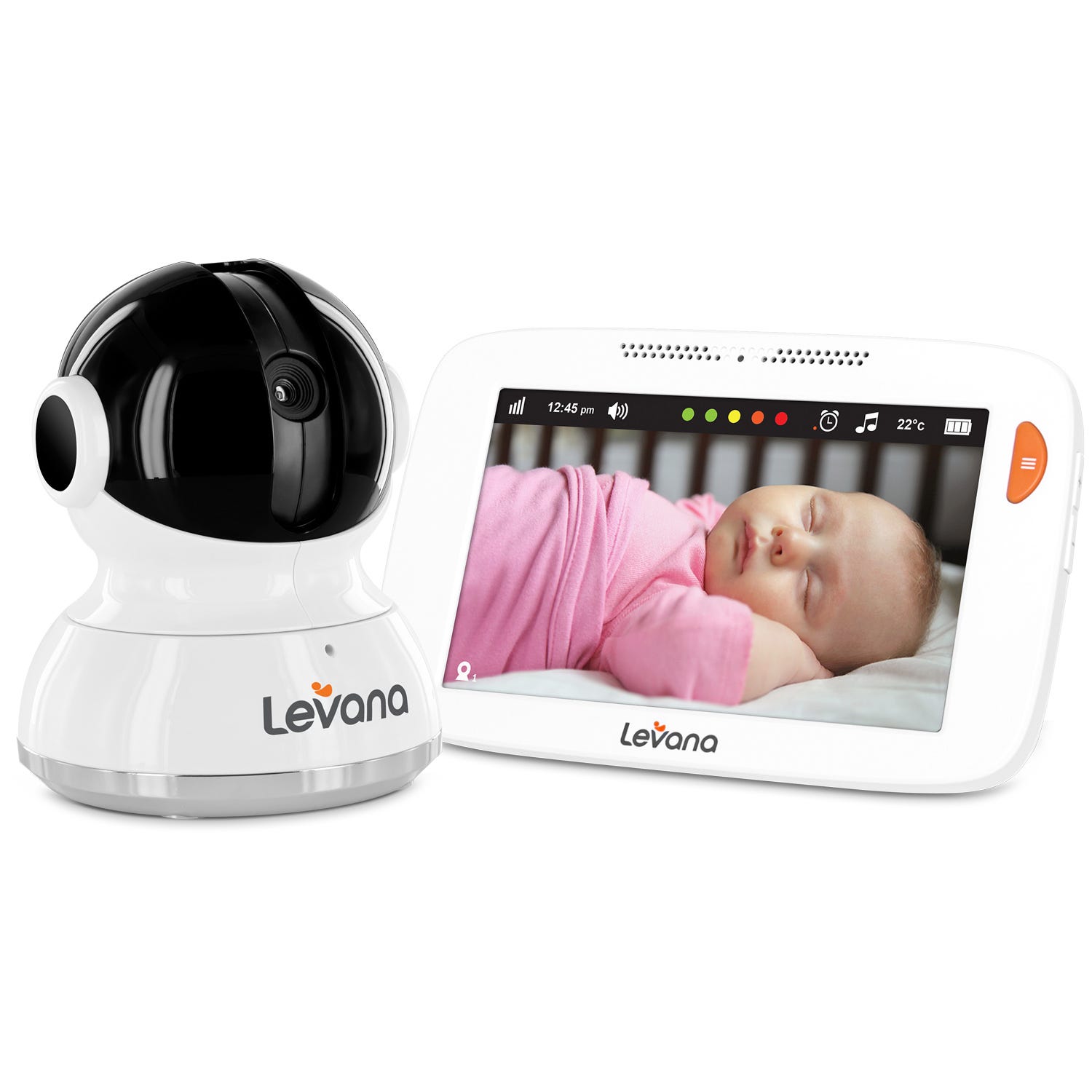 Monitor Specifications

MONITOR

Monitor Type
TFT LCD Touchscreen
Screen Size
5" Screen
Touchscreen
Yes
Resolution
800 x 480
LCD Brightness
Adjustable - 5 Levels
Frequency
2.4GHz
Private Signal
Yes
Technology
Digital FHSS
No. of hop/sec
300
No. of hopping channels
19
Channel Bandwidth
3.375 MHz
Data rate
3 Mbps
Max Transmission Range
500 ft
Optimum Transmission Range
150 ft
Expandable
Up to 4 Cameras
Number of Cameras
1
Micro SD Recording
No
Micro SD Capacity
No
Record Photo
No
Record Video
No
Zoom
2x (Zoom once @ 2x)
Quad Screen
Yes
Split Screen
Yes
Auto-Scanning/Sequence Mode
No
Microphone
Yes
Talk to Baby™
Yes
Lullabies
Yes (Lullabies, White Noise & Nature Sounds)
Feeding & Nap Timers
Yes (User Defined)
Battery Type
Li-Polymer
Battery Capacity
2400 mAh
Battery Connection
Charging Contact
Battery Life
Up to 8 hrs
Battery Life
Up to 12 hrs
Battery Low - Visual Warning
Yes
Battery Low - Audible Warning
Yes
USB Charging
Yes
Volume Indicator LED
Yes
Key Lock
No
Housing
ABS Plastic
Power Adapter
5V 1500mA USB
Operating Temperature
0 C to 45 C ~ 32 F to 122 F
Dimensions
3.66 in. x 5.79 in. x 0.59in
Weight
0.45 lbs (battery inserted) ~ 0.35 lbs (battery removed)
Camera Specifications

CAMERA

Image Sensor
CMOS
Resolution
640 x 480
Frame rate
25 FPS
Viewing Angle
50 Degrees
Focal Length
3.0 mm
Optimal Focal Distance
2-10 ft.
PTZ Control
Yes
Range Of Motion - Horizontal
110 Degrees
Range Of Motion - Vertical
300 Degrees
Number of IR LEDs
8
IR Wave Length
940 nm
Night Vision
Yes
Night Vision Distance
12ft
Battery Operable
No
Speaker
Yes
Temperature Sensor
Yes
Wall Mountable
Yes
Power Input
100~240VAC
UPC
061783263457
What's Included

Pan/Tilt/Zoom Night Vision Camera
5" Baby Video Monitor
Rechargeable Battery
2 Power Adapters (USB Plug for the Monitor & 3.5mm Plug for the Camera)
Quick Start Guide
1 Year Warranty
Lifetime Customer Support
DISCLAIMERS
Strangulation Hazard: Children can become entangled in cords. Power cords should be kept at least 3ft away from the crib and baby's reach at all times. Failure to do so could be fatal. Baby monitors/cameras with power cords should never be hung on or near the crib.
This product is not a toy.
Product intended for indoor use only.
This product contains small parts. Exercise care when unpacking and assembling the product. Failure to do so can result in choking or death.
This product does not replace responsible adult supervision. Check on your child at regular intervals and make sure your monitor is always adequately charged. Failure to do so can be fatal.
This is not a medical product. If there is a problem with the child/baby, please call 911 immediately.
Levana highly recommends the use of an Uninterruptible Power Supply (UPS) with surge protection when plugging in the camera and monitor.
We reserve the right to change models, configuration, or specifications without notice or liability. Product may not be exactly as shown.
Optimum range is 150ft when signal is passing through walls or floors. Microwave ovens (when in use) may cause signal disruption at close range. Buildings with metal frames may also cause signal disruption. Maximum transmission range is 500ft.
Night vision range up to 12ft under ideal conditions. Objects at or beyond this range may be partially or completely obscured, depending on the camera application.
Battery life of 12 hours based on Power Save mode. Battery lasts an average of 8 hours with continuous audio/video usage.
©2016 LEVANA®. All rights reserved. LEVANA®, the LEVANA® logo, Aria™ and other LEVANA® marks may be registered. All other Trademarks are the property of their respective owners