Overview
Defender® Wireless Security System can be used to monitor video in any indoor or outdoor space at any time of the day. This wireless plug and play system allows for easy set up. The wireless, weather resistant cameras included with this system have 24 infrared LEDs that allow you to see up to 75ft in the dark. Ideal for monitoring what matters most. Camera Signal is Wireless. Camera & DVR Must be Connected to a Power Source
ClearVu™ digital wireless technology makes set-up hassle free. This advanced system automatically connects when turned on – no wiring required. Superior digital functionality ensures that the signals remain strong as you monitor your business or home wirelessly, up to 450ft away. LONG RANGE NIGHT VISION
See it all in pristine detail, day or night: 520 TVL cameras with 75ft night vision leave nothing to the imagination. The indoor/outdoor camera provides you with a clear, secure picture, even when you monitor after-hours in a dark location. The camera comes equipped with advanced night vision that let you see clearly in the dark, up to 75ft away! The LED activates automatically when it gets dark. SMARTPHONE VIEWING IN 1STEP™
Defender®'s free 1 Step™ Remote Viewing software instantly networks your DVR with the Internet. View your video feeds live, receive instant email alerts and watch any previously recorded footage from anywhere in the world with an Internet connection on your smartphone, tablet or computer. 500GB DELIVERS 2YEARS OF MEMORY
The included 500GB HDD allows for continuous monitoring and can store over two years' worth of recorded footage. Maximize available memory with motion activated recording and H.264 compression technology. DVR alerts will activate to notify user when HDD is full. Back up and transfer footage to USB flash drive or external hard drive via USB port.

DISCLAIMERS
Only models from serial number 150401013 forward will have the color coding located on the back of the DVR.
Night vision range up to 75ft under ideal conditions. Objects at or beyond this range may be partially or completely obscured, depending on the camera application.Using lowest quality settings at 1 FPS
Optimum range is 150 feet when signal is passing through walls or floors. Microwave ovens (when in use) may cause signal disruption at close range. Buildings with metal frames may also cause signal disruption. Maximum transmission range is 450ft.
This product contains small parts. Exercise care when unpacking and assembling the product.
DEFENDER® does not endorse any DEFENDER® products for illegal activities. DEFENDER® is not responsible or liable in any way for any damage, vandalism, theft or any other action that may occur while a DEFENDER® product is in use by the purchaser. We reserve the right to change models, configuration, or specifications without notice or liability. Product may not be exactly as shown.

©2013 DEFENDER®. All rights reserved. DEFENDER®, the DEFENDER® logo and other DEFENDER® marks may be registered. All other Trademarks are the property of their respective owners.
Specifications
PHOENIX™ Wireless Security Camera (22300)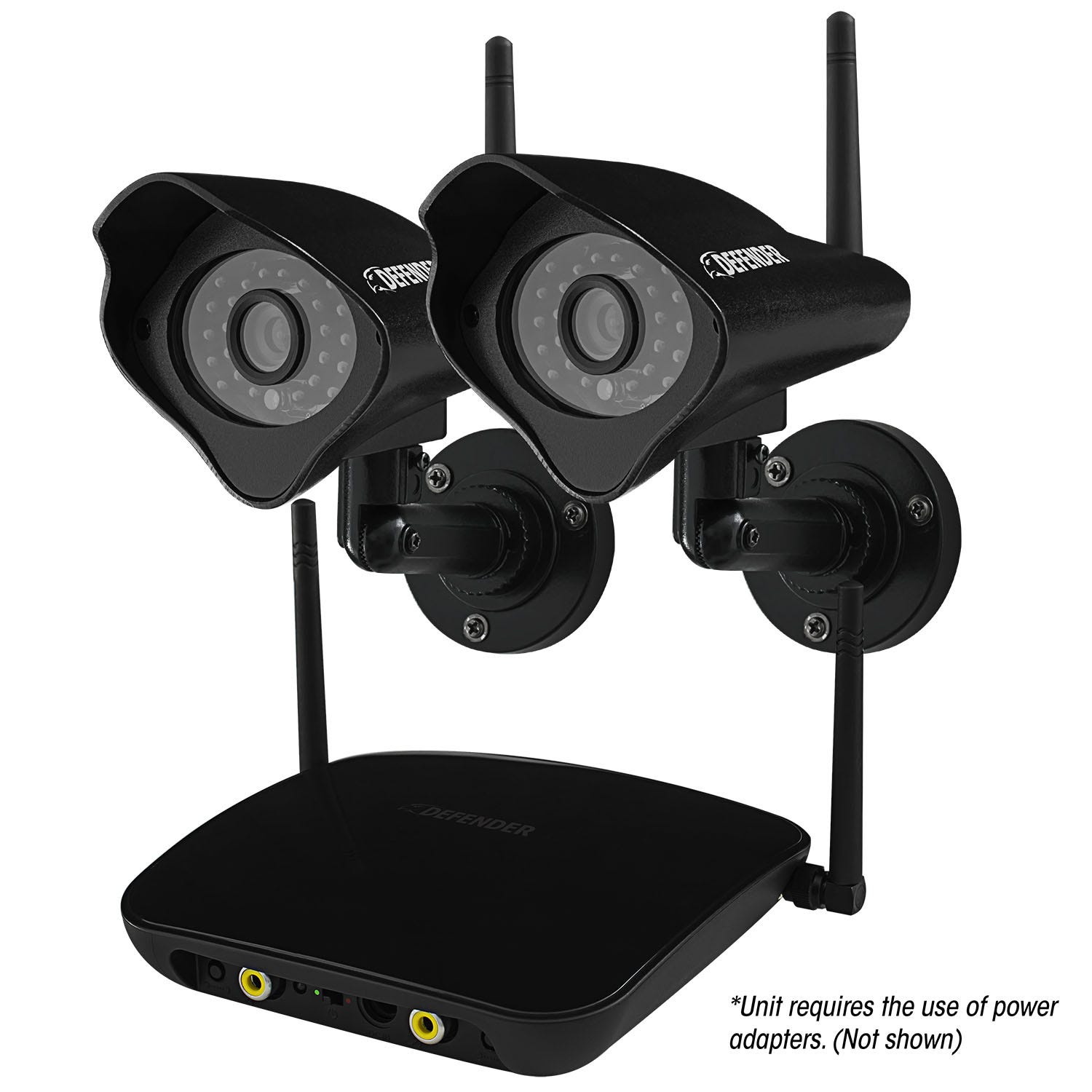 Image Sensor
CMOS
Resolution
640 x 480
Number of IR LEDs
24
IR LED colour
Black
Viewing Angle
Degree 48 (Horizontal)
Focal Length
3.6mm
Optimal Focal Distance
35ft
Transmission Range
450ft
Optimum Transmission Range
150ft
IP Rating
IP65
Keys
Pair Button
Housing Material
Anodized Aluminium
Wall Mountable
Yes
Camera Power Input
DC6V 800mA
Power Adapter Input
100-240V ~ 50/60Hz 0.15A
Operating Temperature
-10º C ~ 50ºC
Operating Humidity
Less than 90% RH
Dimensions
6.18" (L) x 5.75" (W)
Resolution Wireless Receiver
640 x 480, 352 x 240
Frame rate Wireless Receiver
25FPS
Frequency Wireless Receiver
2.4GHz
Technology Wireless Receiver
Digital FHSS
No. of hop/sec Wireless Receiver
1,000
No. of Hopping Channels Wireless Receiver
32
Channel Bandwith Wireless Receiver
2 MHz
Data Rate Wireless Receiver
4 Mbps
Transmission Power Wireless Receiver
+19 dBm
Transmission Range Wireless Receiver
450ft
Optimum Transmission Range Wireless Receiver
150ft
Out of Range Alert Wireless Receiver
Yes
LEDs Wireless Receiver
Power Link x 2
Keys Wireless Receiver
2 x Pair Button
Housing Material Wireless Receiver
ABS Plastic
Power Input Wireless Receiver
DC6V  800mA
Power Adapter Input Wireless Receiver
100-240V ~ 50/60Hz 0.15A
Operating Temperature Wireless Receiver
0°C~50°C
Operating Humidity Wireless Receiver
Less than 90% RH
Dimensions Wireless Receiver
4.80"(L) x 1.10" (W)
Weight Wireless Receiver
0.14 Kgs
UPC
061783252888
What's Included
2 PHOENIX™ Pro Cameras
1 PHOENIX™ Pro Receiver
3 Power Adapters
2 Video Cables with BNC Adapters
Mounting Hardware
Quick Start Guide
1 Year Warranty
Lifetime Customer Support
Customer Reviews
Stanley R

February 18, 2016

I have had two prior security systems and the Defender System is far superior to those. Easy to install, plus if you happen to run into any difficulties, they respond quickly to resolve the issue. Great Company.

mark

February 5, 2016

love this system . i have 2 defender systems and turned on many friends to them.
Michelle in tech support is the best !!

Mike

February 5, 2016

The system advertises 150' from receiver to camera for optium picture quality. I have to differ with that, from my camera to receiver, I lose my signal constantly on two of my cameras, and they're mounted 13' up on the gabal ends, and receivers I had to mount seven feet from the floor towards the ceiling to get any reception. One camera is within 30 lineal feet and I vary from one to two bars of reception. The manual, and my sales man at Home Depot stated I will have no problem if the cameras and receivers are with 150' linear feet from each other. Boy, they were way off with the linear footage for an optimum picture. The picture quality is very poor, the furthest camera is 63' away from the receiver and both mounted as high as possible. The picture still jumps, such as i second apart just like still shots; again, I believe it is because of the range. I wish they had more power or an antenna extension to boost the reception, and the signal at the camera. I believe larger antenna's on both ends just might clear up this major operation defect.

The setup program was very easy to navigate through online, and they're videos are very useful, well done, informative, and easy to follow through Defenders website.