Regular Price: $89.99 USD
Special Price $59.97 USD
Overview
Think owning a multifunction home robot is the stuff of science fiction? The WowWee Robosapien Remote Control Robot is a full function fast moving robot minion suitable for all your world domination needs. This easy-to-use humanoid is ready for eons of fun right out of the box; there's no complicated setup or need for a computer. Robosapien's 60-plus commands are easily controlled by an ergonomic remote, not some impossible-to-understand logarithms or formulas.

Robosapien is a sophisticated fusion of technology and personality. Loaded with attitude and intelligence, Robosapien is the first robot based on the science of applied biomorphic robotics. With a full range of dynamic motion, interactive sensors and a unique personality, Robosapien is more than a mechanical companion -- he's a multi-functional, thinking, feeling robot with attitude!

Sit back and watch as this 14" personal robot goes through movements and activities you never thought possible in a home robot, from its hilarious kung-fu motions and "caveman" voicing, to shaking hands and picking up objects around the house. Plus, the Robosapien doesn't get around rolling on hidden wheels to approximate walking. It actually walks, and runs for that matter!
At a Glance:
Designed by a NASA scientist
Real multi-speed fast dynamic walking, running, and turning (does not roll)
Fast, full function arms with grippers and working hands
67 pre-programmed functions including pick-up, throw, kick, sweep, dance, fart, belch, rap, and many different kung-fu moves
Speaks fluent international "caveman"
Programmable "reflexes" to touch, pickup, kicks, or sound
Up to 84 program steps, with 4 program modes for advanced operations
No computer required, all functions handled by ergonomic remote control
Three demonstration modes: Disco dance, Rude behavior, and Kung Fu kata
Runs on regular batteries for over 6 hours
Simple enough for kids, advanced enough for adults
Ideal for ages 6 and up.
Specifications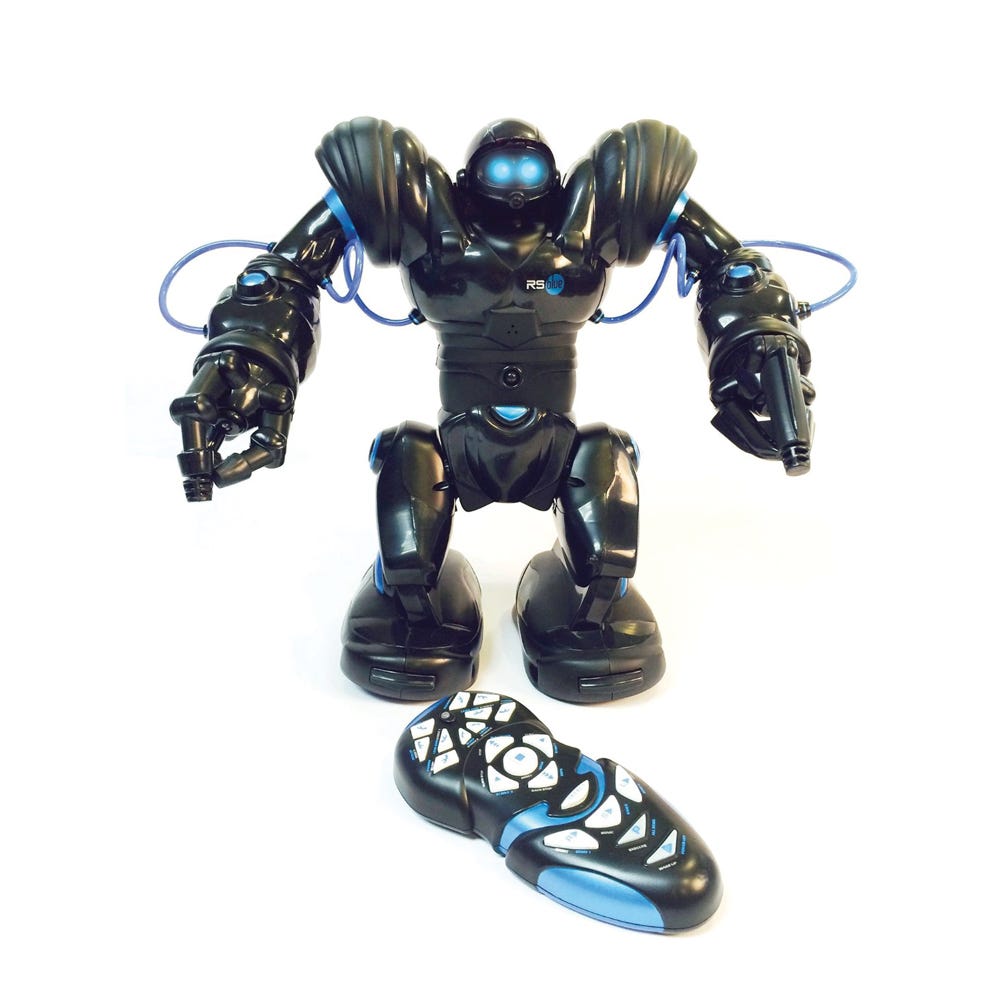 UPC
771171180159
What's Included
One 14" Robosapien: 12" x 6.5" x 14"
IR Dongle: 2.375" x 1" x 2.625"
Remote Control: 3.5" x 1" x 7.25"
Instruction manual