Overview

PREMIUM FEATURES
Premium components ensure serious performance, natural sound and superior audio reproduction
High-end Neodymium balanced tweeters produce high frequencies with captivating clarity
Natural sounding 5 inch midrange driver and powerful 6.5 inch polymer-treated woofer deliver a rich, room filling experience
Meticulously-crafted audio-grade MDF wood cabinetry significantly reduces cabinet resonance and distortion
Industry leading full lifetime parts and labor manufacturer's direct warranty with lifetime customer support

The Fluance XL5F High Performance Tower Speakers are engineered as a part of the Reference Series with premium components that skillfully cater to your audio needs. Get ready for a harmonious experience that will instantly transport you to your favorite concert.

Prolific Audio Performance
The Reference Series is an overall masterpiece in audio precision and performance. Each component has been tuned and perfected to create immersive sound reproduction any audiophile can respect. Whether you're watching your favorite movie or listening to your cherished vinyl these speakers will reinvigorate your love for great audio.

Hear the Finest Details
Every intense scream and soft whisper will be heard in distinct detail. The Neodymium tweeters produce the highest frequencies so accurately you will feel as if the sound effects are alive in your auditory cortex. Controlled, smooth and never too aggressive these speakers will deliver every subtle nuance perfectly.

Clarity & Balance
Your favorite movies, so real you can almost smell the popcorn. The midrange driver is engineered for optimal linear movement to handle the highest volume levels and still ensure sonic precision. This allows for crystal clear dialogue and vocals to ensure a cinematic experience of a lifetime.

Deep & Lowdown
From the roaring thunder on the horizon to the rumble of an enemy tank, you will feel every movie with dramatic immersion. The woofer and tuned bass port have been carefully developed to achieve maximum low-frequency for a heart-pounding bass performance in any listening environment.

A Passion for Great Audio
Utilizing only superior components and expert audio engineering, the XL5HTB is a testament to the performance that can be achieved when a passion for sound excellence takes center stage. The Reference Series uses audio grade MDF wood for a warmer more natural sound.
Specifications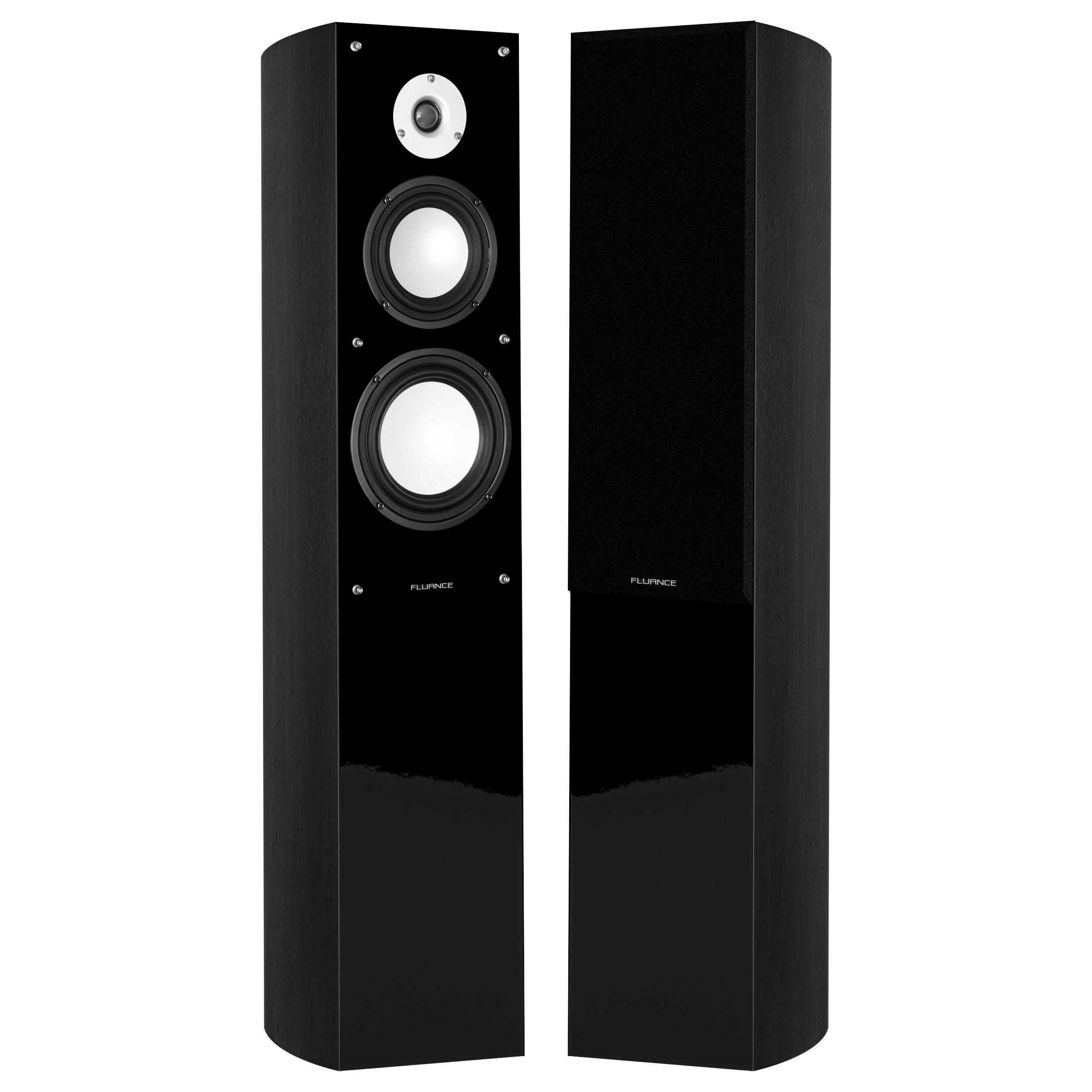 Speaker Configuration
3 Way - 3 Driver Floorstanding Main Speakers
Tweeter
1 inch Neodymium Balanced Silk Dome Ferrofluid Cooled
Midrange
5 inch Polymer Treated Butyl Rubber Surrounds
Woofer
6.5 inch Polymer Treated Butyl Rubber Surrounds
Power Handling
40 – 200 Watts
Frequency Response
45Hz - 20KHz
Sensitivity
88dB
Crossover Frequency
580/4600 Hz Phase Coherent - PCB Mounted Circuitry
Impedance
8 Ohm Compatible
Enclosure
Tuned Rear Port Bass Reflex Tower Design
Dimensions
40.2 x 9.2 x 11.8 inches (H x W x D)
Speaker Weight
13.41 kg/speaker
Series
REFERENCE
Certifications
CE Certified, RoHS
Frequency Response Graph

Click to Expand

UPC
061783265789
What's Included
Two High Performance Floorstanding Tower Speakers
Eight Isolation Floor Spikes For Use On Hardwood Or Carpeted Areas
Instruction Manual
Lifetime Customer Support
Full Lifetime Parts and Labor
Customer Reviews
Maksym

January 21, 2017

I got these spekers two weeks ago. Sound really good and every day better and better.
Look also very nice.
And I don't want to speak about price: it like for free.
Thanks Fluance a lot for so beautiful speakers for so attractive price!

P.S. Few months ago I bought Fluance turntable and now I happy to have great couple.


Maksym

5

Vinny Palmieri

January 8, 2017

I always had good speakers,when my last pair went I took a chance on these having never heard of Fluance . For the price and a few good reviews I figured they would be good too.I was WRONG, they are GREAT. Right out of the box they sounded as good as my old ones,but after 10 hours to break them in it was like I had never really heard music I have listened to 100 times.I can not be happier that I got them.I highly recommend them!

Vinny Palmieri

5

Malcolm

January 4, 2017

I received these 2 days ago and have been very impressed for the price!! I was not sure what to expect at the rock bottom price these were. They fit exactly what I wanted to pay for my use. Usually you can't get a bookshelf speaker at this price and I wonder how you do it?
There is plenty of really good firm bass and I will not need a subwoofer. If anything.....the highs may be a little harsh at times but they are new so I will see if that changes with time.
The fit and finish is second to none even if they were 3 times the price!
Do not hesitate to buy these if they fit your needs.

Malcolm

5

bob

January 1, 2017

Very nice product. Predictably a bit tubby and not very solid at the deep bottom but mated with a decent sub, operates very nicely, especially with airy open recordings. Fantastic value at the reduced price.

bob

4

Stuart

December 22, 2016

Just got these speakers today (7 days). The packaging was in good shape and double boxed. They feel like really good quality and look great! Hooked them up to my Onkyo TX-NR609 and they sound great! I was a little skeptical about the bass but right out of the box they sounded sick. Ive only played them for about 30min and the sound will only get better! Very satisfied with these tower! Especially for the price. They are worth more!

I also contacted Fluance Customer Service with just general questions and they emailed back right away and answered my questions.

Will definitely buy from Fluance again!

Stuart

5

Whit

December 10, 2016

Using these to replace Klipsch bookshelf fronts in a setup with a Polk center and sides. These have by far the best fidelity. While the other speakers produce pleasing tonalities, these present a far richer set of harmonic overtones. For stereo sources, running just to these speakers with my Okyo's direct mode works well. For multi-channel video source, they blend find with the Polks.

Whit

5

John Golsby

November 30, 2016

Exceptionally punchy bass and clarity across the frequency spectrum makes me very glad I purchased a pair of XL5fs. Incredible value at this price point.

John Golsby

5

Scott

November 1, 2016

Just received these speakers today (not even 2 days after ordering) and hooked them up next to a pair of equal size towers from a bigger name Best Buy brand. There is no comparison. These towers were almost half the price (on sale granted) but 4 times the sound. Much fuller bass and mid bass without overshadowing the mids and top end. Amazed with the look,feel and sound for this ridiculous price. If they stand the test of time I will consider them true giant killers.

Scott

5

DOUGLAS

October 4, 2016

Received speakers today -- well packed and all intact -- driven with an Onkyo TX-8020 sourced with a variety of music from broadcast FM and CD's, sound is sweet and full -- still breaking in and can only get better!

DOUGLAS

5

Volar

September 8, 2016

Fantastic Speakers

Volar

5
Resources
Manual
FAQs
Do I need a receiver/amplifier for these speakers?
All Fluance passive speakers (unpowered) require a receiver or amplifier to provide them power and a connection to your home theater or media setup.

For more information on how to match your speakers and amplifier, please see our video:
What size speaker wire do I need?
At Fluance, we recommend using 12 gauge speaker wire to get the best performance from your speakers.