Overview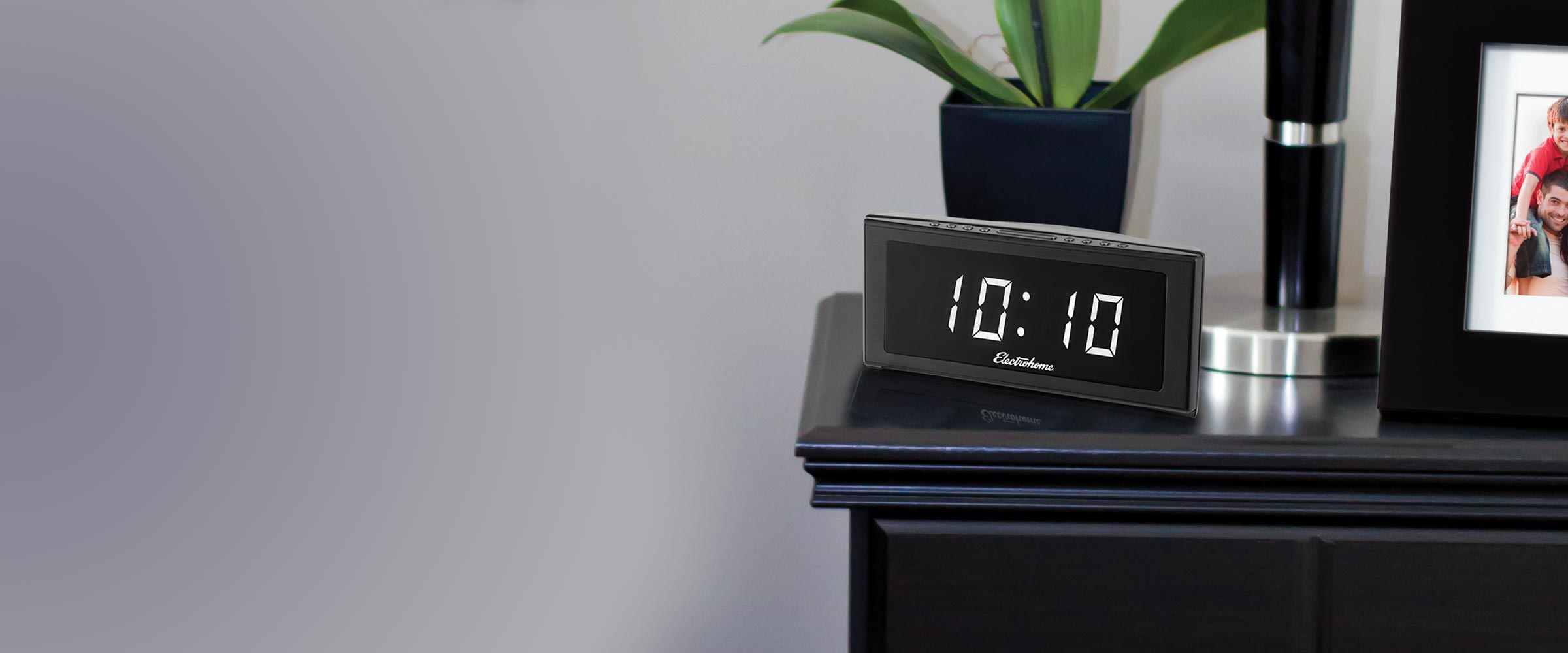 Jumbo Alarm Clock Radio
Brighten your mornings with the 1.8" Jumbo LED Alarm Clock Radio by Electrohome – no squinting required.
Jumbo 6.5" flat-screen display
The modern display makes for clear and precise visibility from anywhere in the room. Reading the time, date, and indoor temperature is easy on these large, easy to read 1.8" red LED digits. Four dimming options give you control over your screen's brightness, from full illumination to an unlit display.
Automatically sets the time & date with Daylight Savings
Plugging your clock radio into a wall outlet will display preprogrammed time and date settings moments after it's taken out of the box. And setting up Daylight Savings Time has never been easier thanks to SelfSet technology: simply specify your time zone and Daylight Savings Time will automatically adjust each spring and fall.
Digital AM/FM radio with 20 station memory
Treat yourself to crystal clear audio every morning with the digital tuner that locks onto the strongest point of the radio signal, giving you the best reception and static-free sound. The clock's digital display eliminates the tuning dial found on most conventional alarm clocks. Easy to use electronic controls make programming the device's 20 station presets and seeking your favorite station simple.
Rest assured that your alarm will sound even during a power failure
WakeUp technology means your alarm settings will remain active even through power interruptions. When the clock strikes your desired wake-up time, the built-in battery backup will automatically activate and provide you with your cue to rise.
Convenient features
This Clock Radio comes complete with a collection of helpful features including: calendar, programmable daily dual alarm with weekend cancellation that can be tailored to fit your weekly routine, the option to wake to buzzer or radio, and convenient Sleep/Snooze timers
Specifications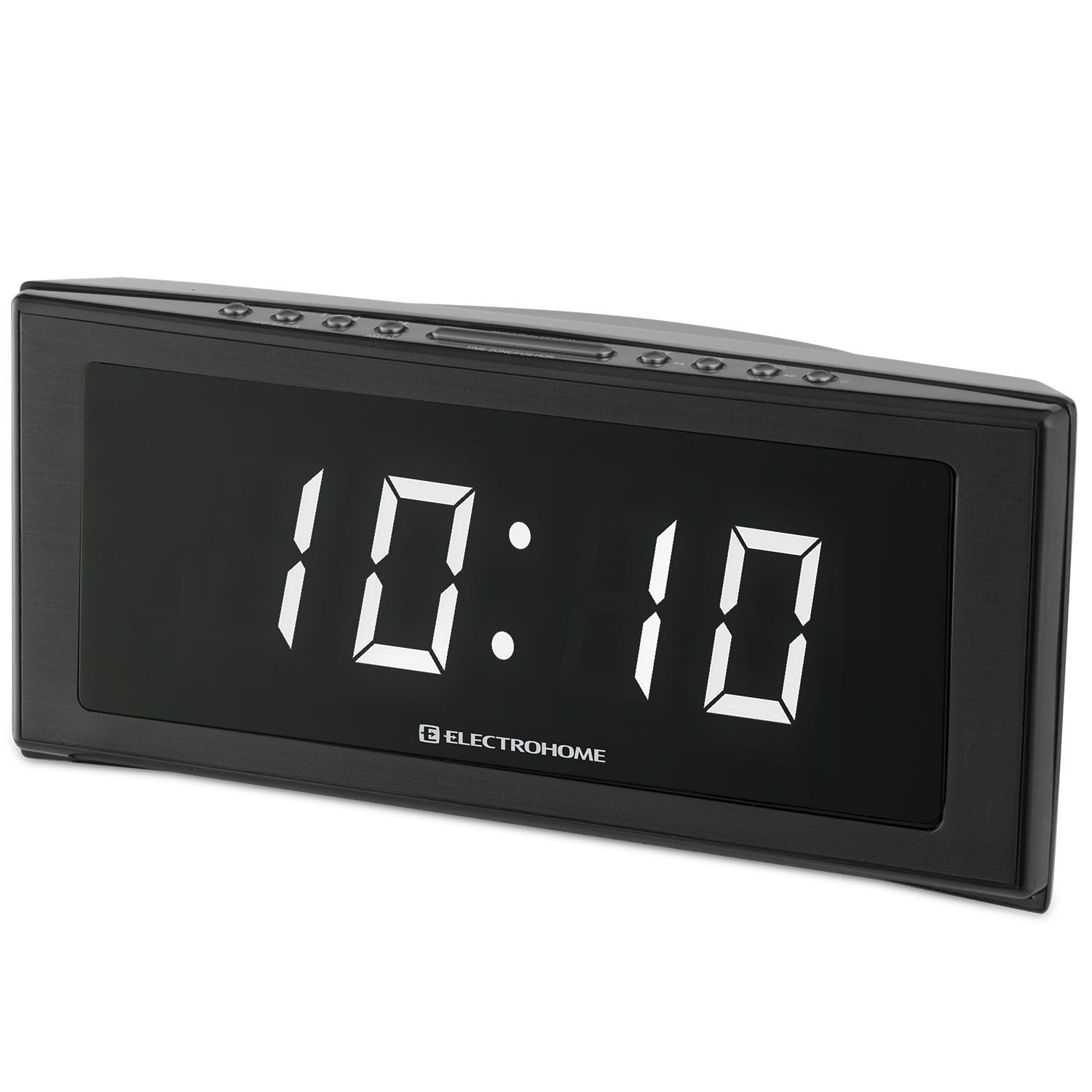 | | |
| --- | --- |
| Display Size | 1.8" |
| Display Colour | White LED |
| Automatic Time Set | YES |
| Sure Alarm | No |
| Wake Up | Yes |
| Battery Back-up for Time | Yes |
| USB Charging | No |
| PLL Digital Radio Tuner | AM/FM |
| Radio Station Pre-sets | 10 AM/10 FM |
| Dual Alarm | Yes |
| Calendar Display | Yes |
| Indoor Temperature Reading | No |
| Adjustable Brightness | off, low, medium, high |
| Sleep Timer | Yes |
| Battery Required | 1 x 3V, CR2032 Flat Lithium battery (Included) |
| Speaker Size | 2.0" 0.5W, 8 Ohms |
| Volume Indicator LED | Yes- numerical display of volume value |
| Frequency Range (AM) | 520 - 1710 kHz |
| Frequency Range (FM) | 87.5 – 107.9 MHz |
| Power | AC120V 60Hz, 5W |
| Battery Backup | Auto - after power loss |
| Number of Alarms | 2 |
| Alarm Options | buzzer, radio |
| Projection Flip | No |
| Projection Focus | No |
| Time/Date Restore | Auto - after power loss |
| Dimensions | 8.5 x 3 x 4 inches |
| Unit Weight | 1.20 lbs. |
| Unit Color | Black |
| Certifications | ICES, ETL/CETL, NRCan |
| UPC | 061783257678 |
| What's Included | 1.8" Jumbo Alarm Clock Radio, Instructional Manual, Quick Start Guide, 1 x 3V, CR2032 Flat Lithium battery, Lifetime Customer Support |
Customer Reviews
BigBoy

July 2, 2018

Great clock. This is my 2nd one. I have a red display for my work. I love that it's digital tuner for radio so whatever station you set no static or turning the knob here and there for the music. Additionally I found out that it automatically updates daylight saving. White display is much brighter than the red one. If don't like light in your room I would recommend the red display. If you want a nightlight this is for you. I left this in the restroom to listen to while I shower and found that at night it's bright enough for me to use the restroom without turning on the light. As my other digital clocks die I plan to replace them with this or red display one. - Verified Store

BigBoy

5

Ed H

June 26, 2018

Very hard to set up initially. Lowest volume is still really loud. - Verified Store

Ed H

1

Katie J

June 26, 2018

Not the easiest to figure out the functions but it's a nice size and VERY bright display. - Verified Store

Katie J

3

PKR

May 23, 2018

The size of the numerals is just what my mom needed. She has macular degeneration. However the other features are very difficult for me to use and impossible for her. - Verified Store

PKR

3

GG

April 16, 2018

Great clock with great display. Easy to set. - Verified Store

GG

5

heather v

April 15, 2018

It is a little loud even at its lowest setting as the volume isn't a roller it is fixed setting but I sleep with a sound machine and it works out ok for me.
The buttons could be a bit larger and do not need to serve double duty as there is room enough for this.
My biggest complaint is that the snooze button blends right in and is very hard to decern while you are 1/2 asleep as to what button is the snooze..... I wound up gluing a piece of soft rubber or fabric onto the top of it and now I have no issues.
But even with these faults it is better than most of the alarms that are out there. Trust me I went through at least half a dozen before this one!!!
It has a battery back up that actually functions and will make your alarm work even with out power which I cannot believe in the day this is not more common. They all say battery back up but only to keep your setting *Sheesh!*
It has M-F or S/S or M-S however you need dual alarm.
Its a keeper with just a small modification. - Verified Store

heather v

3

Noah C

April 10, 2018

Bought this clock in November. LED's stopped working in April. Previous version lasted for about 10 years before the LED's stopped working. Junk. - Verified Store

Noah C

1

Murph

March 24, 2018

This was my third attempt hoping that the first 2 were anomalies. They weren't. Each clock' display would eventually fade out or areas would go dark rendering the clock unusable. I recommend you look elsewhere for a digital clock. - Verified Store

Murph

1

Chris S

March 7, 2018

The brightness on my clock also malfunctioned after only 6 months to the point where the display is unreadable. Additionally the 'advanced SelfSet technology [that] automatically displays the correct time and date for a hassle-free setup' never worked as advertised. I have other self-setting clocks that work just fine in the house so I know I'm within range of the RF signals needed for that to work properly. I have a 30 year-old Emerson AM/FM alarm clock (analog; remember those?) that's still going strong. It completely trounces this piece of junk. Steer clear. - Verified Store

Chris S

1

Amber K

January 31, 2018

After looking at several alarm clocks online we decided to give this one a try. This clock is impossible to figure out. I couldn't set the time never got the radio to work and one day the alarm started going off out of no where and wouldn't turn off. The clock wasn't plugged in and I had no idea when we first got it that there are batteries inside. After searching for a screwdriver listening to the obnoxious noise I finally got the batteries out and the alarm went off. I haven't attempted to use it since then and I'm really unhappy that I wasted money on a defective product. - Verified Store

Amber K

1

margy g

January 29, 2018

Buttons were too small and audio was unclear - Verified Store

margy g

1

Snowman

January 15, 2018

Auto time set is wrong. Dst button is intermittent. And the text on each button is too small to read. I was looking for something easy to setup and use but this missed the mark. - Verified Store

Snowman

2

Deb M

January 9, 2018

Horrible clock. Nearly impossible to figure out how to set the alarm. Buttons are tiny and very confusing. The digital clock quick working within 3 months. - Verified Store

Deb M

1

Brothers J

December 30, 2017

Except for the large numbers not user friendly. Very complicated to figure it out - Verified Store

Brothers J

1

Salvador R

December 28, 2017

Big numbers you could see - Verified Store

See all reviews

Salvador R

5