Overview

Alarm Clock Radio with Time Projection
Wake up on the right side of bed with the Magnasonic Time Projection Alarm Clock Radio.

Start Everyday with Simplicity
We developed the world's easiest to use alarm clock and packed it with innovative & useful features. Plug it in, select your time zone and it automatically sets the time. It even adjusts itself for Daylight Savings Time. Set it once and don't worry about it again.

Automatically Adjusting Day & Night Display Brightness
This clock radio intuitively adjusts the display's brightness based on your room's lighting. Never be blinded at night by overly bright alarm clocks again or squint in the middle of the day to read a dim display. Easily read the time day or night.

Project the Time on Wall or Ceiling
Rolling over in the middle of the night to see the time when you're half asleep isn't pleasant. Easily spot the time on the wall or ceiling with the 180-degree swivel projection. The time will always remain in convenient view; all you have to do is open your eyes.

Rest Assured Your Alarm Will Still Sound During a Power Outage
Never worry about missing an early appointment or waking up late for that important job interview due to a power failure. The battery backup automatically restores your time and alarm settings and will activate your alarm at the scheduled time in the event of a power loss.

Dual Alarm for Separate Wake Times
Program separate wake times for you & your partner during the work week, weekend, or full week allowing you to set your schedule and not have to worry about setting your alarm.

Brimming with additional innovative features:
Automatic time set, date display, digital AM/FM tuner, sleep timer, wake to radio or gradual wake buzzer, radio presets
Get the quality sleep you need and deserve.
Specifications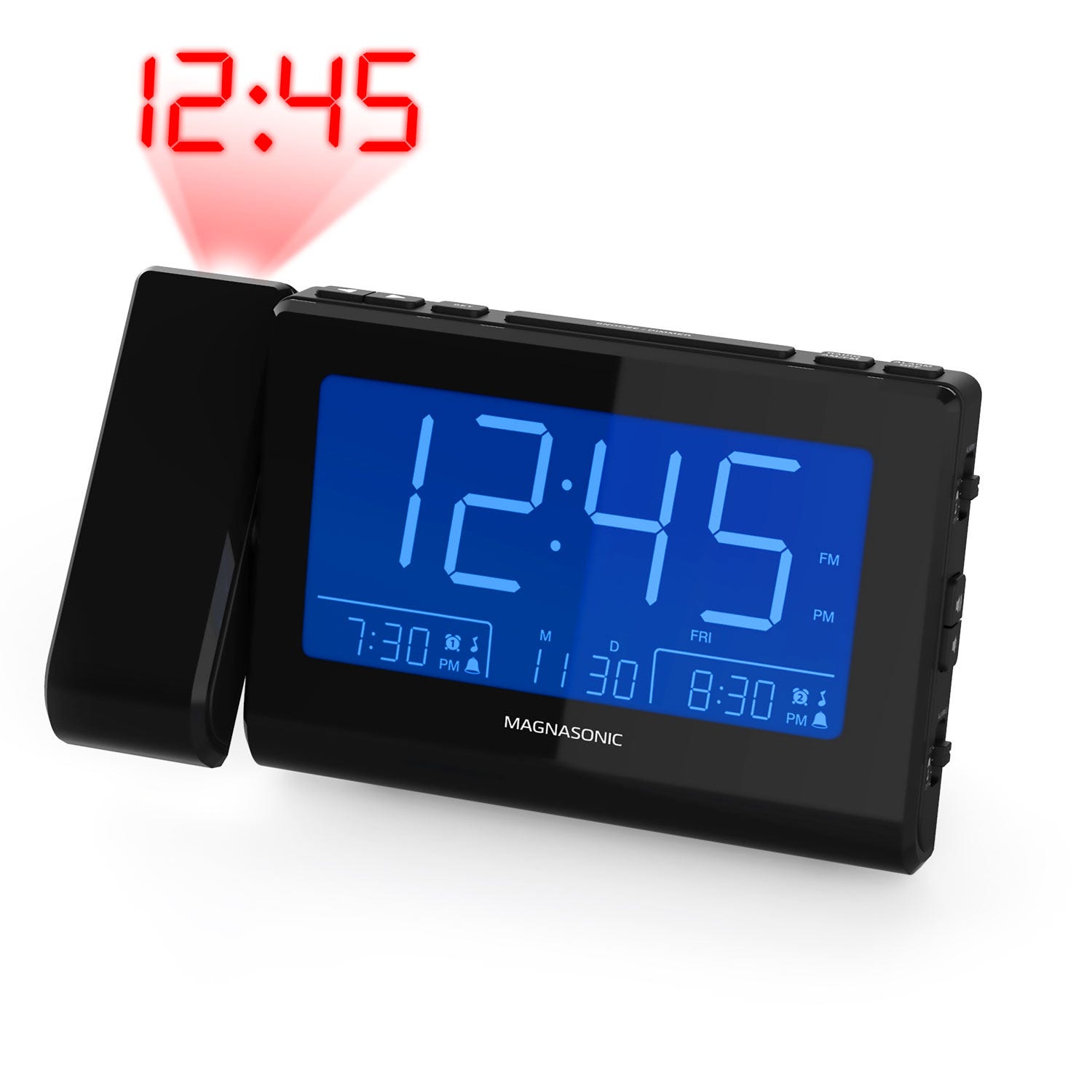 Display Size
4.8" LCD
Display Colour
White/ Blue
Dimensions
2.9 x 7.5 x 4.1 inches / 7.37 x 19.1 x 10.4 cm (HxWxD)
Automatic Time Set
Yes
Sure Alarm
Yes
Wake Up
Yes
Battery Back-up for Time
Yes
USB Charging
No
PLL Digital Radio Tuner
AM/FM
Radio Station Pre-sets
10 AM, 10 FM
Dual Alarm
Yes
Calendar Display
Yes
Indoor Temperature Reading
No
Adjustable Brightness
Auto, High, Medium, Low, Off
Sleep Timer
Yes
Daylight Savings
Yes
Time Zones
8 (Newfoundland – Hawaii-Aleutian)
USB Charging Power
No
Speaker Size
2" 1.5W, 8 Ohms
Volume Indicator LED
Numerical display of volume value
Power Input
AC 120V, 60 Hz
Audio Inputs
None
Frequency Range (AM)
AM – 520 – 1710 kHz
Frequency Range (FM)
FM - 87.5 – 107.9 MHz
Power
AC Power
Projection Swivel Tilt
180°
Number of Alarms
2 (week, weekday, weekend)
Alarm Options
Radio, Buzzer
Projection Flip
Yes
Projection Focus
Yes
Time/Date Restore
1 x 3V, CR2032 Flat Lithium Battery (Included)
Unit Weight
1.30 lbs
Unit Color
Black
Certifications
FCC/ICES, ETL/CETL, NRCan
What's Included
CR62 Clock Radio
Instruction Manual
5ft Power Cable
1 x 3V, CR2032 Flat Lithium Battery (installed)
Lifetime Customer Support
1 Year Manufacturer's Warranty
Customer Reviews
Dave C

July 29, 2021

All good.

Dave C

5

Martin W

July 26, 2021

I like the night auto dim feature. The projection is large and clear.

Martin W

5

Amazon Customer

July 14, 2021

dislike that it stop working

Amazon Customer

2

Anne D

July 14, 2021

REpond a mes attentes qualite / prix

Anne D

5

nancy

July 3, 2021

great features. the lighting is great, the display easily read, love that the ceiling display is so clear.

nancy

5

Amazon Customer

July 1, 2021

This is a nice clock. Easy to set up, display is very adjustable. The actual clock is really too bright. Needed to set something in front of it.

Amazon Customer

4

Bjet

June 30, 2021

No projector brightness or Alarm buzzer volume adjustment (very faint) Display dimmer option low 1 or off not visible (black screen). Can't see ceiling time in daytime at all, Useless! No show battery + side in unit or manual. Not easy to use or set up as indicated in nor to see ceiling time, must turn to look at display anyways

Bjet

2

Arsène

June 22, 2021

J'ai bien fait de me fier aux commentaires, c'est le meilleur réveil de ma vie1) simple à utiliser, tellement bien pensé et intuitif, plein de bon sens et de logique ça fait du bien (je hais la technologie)2) il donne l'heure en fluo, en sombre, au mur, au plafond, bref impossible de ne pas trouver son bonheur. L'éclairage qui s'ajuste à la lumière de la pièce, encore du bon sens3) on peut se réveiller en radio ou avec des bip bip et la qualité de la radio est très bonne, les options sont claires et simples4) le prix!!!!!!!ma famille est jalouse de mon réveil et je les comprends.

Arsène

5

Brentson W

June 8, 2021

If you have high frequency hearing issues, this may not be your best choice. Even with alarm volume turned all the way up, it is hard to hear. Have to use radio station.

Brentson W

3

wade

June 6, 2021

the blue backlight is a bit annoying, but it has the projection feature, so i just look at that.easy setup, the manual is a little small for ageing eyes.

wade

5

Grammy j

June 5, 2021

I have searched for over two years and bought multiple alarm clock radios -- this one is Perfect !!It is easy to use in all respects--setting up; changing settings, easy to read, etc. Without a doubt you get more value for the money !!

Grammy j

5

Brooke S

June 4, 2021

Preety much junk. Was looking for something that went to the correct time on its own after putting in the time zone. Couldn't get tit to change time zone. Instructions were for several different models. Don;t know if I got a lemon or it's just a very low quality product but I would advise against buying it.

Brooke S

1

Grammy A

June 2, 2021

Exactly what I was looking for! Easy to program, update and read. I love the feature that the readout automatically dims and brightens with the room lighting. This is the projection clock you want!

Grammy A

5

rubyb

May 28, 2021

User friendly. My 3rd

rubyb

4

Doug F

May 27, 2021

Great. We have 2

See all reviews

Doug F

5