Overview

Alarm Clock Radio with USB Charging
Wake up on the right side of bed with the Magnasonic USB Charging Projection Alarm Clock Radio.

Start Everyday with Simplicity
We developed the world's easiest to use alarm clock and packed it with innovative & useful features. Plug it in, select your time zone and it automatically sets the time. It even adjusts itself for Daylight Savings Time. Set it once and don't worry about it again.

Charge Your USB Devices as You Sleep
Our smartphones and tablets get a lot of facetime throughout the day leaving brave risk-takers with perilously low levels of power. Rather than moving your furniture frantically, hoping that final 1% lasts while diving for a concealed power outlet; simply plug your phone into your easily accessible bedside clock USB charging port.

Project the Time on Wall or Ceiling
Rolling over in the middle of the night to see the time when you're half asleep isn't pleasant. Easily spot the time on the wall or ceiling with the 180-degree swivel projection. The time will always remain in convenient view; all you have to do is open your eyes.

Automatically Adjusting Day & Night Display Brightness
This clock radio intuitively adjusts the display's brightness based on your room's lighting. Never be blinded at night by overly bright alarm clocks again or squint in the middle of the day to read a dim display. Easily read the time day or night.

Dual Alarm for Separate Wake Times
This smart clock lets you set individual alarm schedules for the week, weekdays, and weekends for you and your partner. The backup battery retains and restores all of your settings if the power goes out, allowing you to go to bed knowing your alarm will go off on schedule.

Brimming with additional innovative features:
Automatic time set, aux 3.5mm input, indoor temperature (C/F), date display, digital AM/FM tuner, sleep timer, wake to radio or gradual wake buzzer and radio presets
Get the quality sleep you need and deserve.
Specifications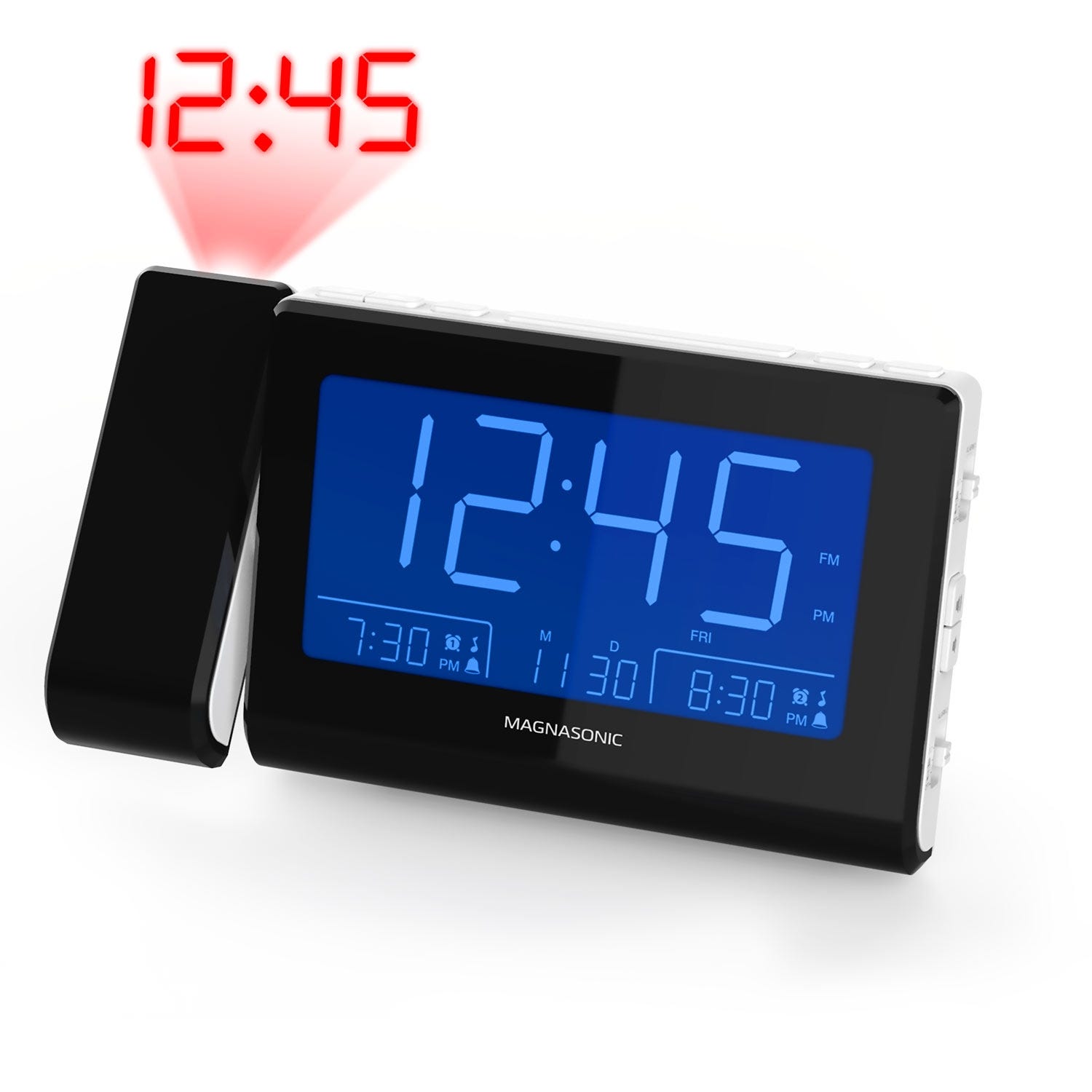 Display Size
4.8" LCD
Display Colour
White/ Blue
Automatic Time Set
Yes
Daylight Savings
Yes
Time Zones
8 (Newfoundland – Hawaii-Aleutian)
Sure Alarm
Yes
Wake Up
Yes
Battery Back-up for Time
Yes
USB Charging
Yes
PLL Digital Radio Tuner
AM/FM
Radio Station Pre-sets
10 AM, 10 FM
Dual Alarm
Yes
Calendar Display
Yes
Indoor Temperature Reading
Yes
Adjustable Brightness
Auto, High, Low, Off
Sleep Timer
Yes
Battery Required
1 x 3V, CR2032 Flat Lithium Battery (Included)
USB Charging Power
Single, 1.0A
Speaker Size
2" 1.5W, 8 Ohms
Volume Indicator LED
Numerical display of volume value
Power Input
100-240V 50-60 Hz
Audio Inputs
1 x 3.5 mm Aux In (Aux cable not included)
Frequency Range (AM)
AM – 520 – 1710 kHz
Frequency Range (FM)
FM - 87.5 – 107.9 MHz
Power
DC 5.0V 1.2A
Battery Backup
Yes - 1 x 3V, CR2032 Flat Lithium Battery (Included)
Projection
Yes
Projection Swivel Tilt
180%C2%B0 Tilt
Number of Alarms
2 (week, weekday, weekend)
LCD Screen Size
4.8"
Alarm Options
Buzzer, Radio
Projection Flip
Yes
Projection Focus
Yes
Time/Date Restore
Yes
Dimensions
2.9 x 7.5 x 4.1 inches
Unit Weight
1.05 lbs
Unit Color
White
Certifications
FCC Certified
UPC
061783263686
What's Included
CR64 Clock Radio
Instruction Manual
1 x 3V, CR2032 Flat Lithium Battery (installed)
100V-240V (50/60Hz) AC Power Adapter
Lifetime Customer Support
1 Year Manufacturer's Warranty
Customer Reviews
Matheu D

September 3, 2020

This clock WAS good. I've had it for 7 months and all of a sudden it just died. I always have it plugged in and now the display comes on to only show the incorrect date and nothing else. Nothing else works now.

Matheu D

1

Lesa

June 24, 2020

Bought as a Gift for Elderly. LOVES IT. The radio reception is great, the temperature & date options are nice to have. The dual alarm feature is nice for weekdays & weekends. The auto adjustable brightness is a bonus. The radio station presets are easy to do. The large screen and digits is very easy for viewing. The buttons are large & somewhat simple to use, especially for elderly. The projection feature is fabulous - especially for Elderly. I expect to purchase another for myself!! Worthy Purchase!!

Lesa

5

TT

June 7, 2020

I have been enjoying this alarm clock for 6 months until it totally lost power yesterday. Nothing is seen on the screen except there is a faint red projection light. I am trying to find the seller contact info for warranty inquiry and came across with this review page.

TT

1

Colleen R

May 13, 2020

So easy to use. Got for my elderly mom. Shr loves it!

Colleen R

5

Sharon S

April 10, 2020

I liked the easy to read face, projected time, controls, and setup. There are 2 alarm choices. I always use double alarms. The first is the beep. I sat it at the loudest setting but found it was very weak. The worst is the radio whether it is used as an alarm or as is. I use A.M. as the second alarm and the amount of static it produced is deafening which muffles any voice to the point of being inaudible. So dissapointing as a radio--forget about listening to the news, weather, daily updates, or your music. You can't wait to turn the thing off. It didn't matter where I put the radio. I had seen reports about the static but thought the manufacturer had fixed this problem because I had also seen how this model was considered one of the better brands. The problem was NOT fixed! After using it, I would say it failed my tests as a 2 alarm clock radio and a radio. The static is your alarm, not the beep or music. Don't even bother considering this clock radio as a radio. Just consider it only as a clock and if that is all you need then you're fine. Otherwise, keep looking!

Sharon S

1

katherine d

April 3, 2020

Great

katherine d

5

Photograper

March 17, 2020

I ordered 2 of these and both have the same issue, incorrect time. It's suppose to be an automatic time with Daylight Savings time update but this clock is now 5 minutes behind the current time. Both of them! One is in Ohio the other is in Florida . . . go figure. . . . From the beginning it was 2 minutes behind then progressed to 5 minutes behind. Not sure where it will stop. It's a nice unit except for that. So if you want accurate time, don't buy this one

Photograper

2

Mona

March 12, 2020

I love my clock Radio. I really like the illumination on it . Great buy!

Mona

5

L. R

March 11, 2020

I love this clock. This is the second one we have purchased. I also like that the time is already set right out of the box. Even if you unplug it, the time is still set

L. R

5

RichardB

March 8, 2020

Very easy to setup and use, having the time on ceiling is addictive in the middle of the night

RichardB

5

Jojo

March 2, 2020

Nice but for me, complicated on the instructions.

Jojo

3

Amazon Customer

February 19, 2020

I love this little alarm radio. Want to get another one for second bedroom

Amazon Customer

5

ted b

February 15, 2020

I LOVE that the light on this adjusts by itself if you prefer and the shine on the ceiling aspect is awesome for peeking in the middle of the nigt at the time. VERY cool it shows the temperature in the room as an added plus. I like that it has a sleep timer to go to sleep listening to the radio once in a while so I don't use up my phone battery all the time. It has a nice large display to see from anywhere in your room. AND I can charge my iPad and Iphone with it as well. Now if it only brought me breakfast in bed!!

ted b

5

Pammy S

February 8, 2020

Looks great, works great.

Pammy S

5

Bill C

February 5, 2020

Item did not come with power supply. Contacted company twice with zero response. Not happy.

See all reviews

Bill C

1