Overview

TV and Movies Without Limits
Your PC or laptop can play every media format available, from any source. If you already have a collection movies and TV shows stored on your computer, and also want to watch new content from Netflix, Hulu, YouTube, or directly from a broadcaster's website, Nyrius ARIES™ Pro is the best option for bringing everything to your home entertainment system without running messy cables. You can easily stream 3D 1080p resolution to your HDTV or projector.

Games Just Got Bigger
Bring the gaming experience back to the couch. Nyrius ARIES™ Pro has a powerful long range signal that has no latency. You can be confident that when you press a button, ARIES™ Pro will respond with audio and video that is completely in sync with the game, it's real time. You won't get "pwnd" by lag from ARIES™ Pro. It's powered by a USB port on your computer, so you're not anchored to an outlet, making it easy to sit comfortably while playing.

No Laptop, No Problem
ARIES™ Pro makes it super easy to connect a desktop computer from another room to your HDTV. Simply plug in a wireless keyboard and mouse into the receiver's USB port (adapter included) and you can have full control of your desktop from your living room. With the flexibility of being able to connect up to 8 transmitters to one receiver, you can also use ARIES™ Pro with devices that have a USB port to power the transmitter. Connect to your PS3, PS4, Xbox 360, Xbox One, satellite or cable receiver and switch between transmitters.

The Longest Range Available
This thing is strong. Really strong. Offering the longest range available in wireless HDMI, ARIES™ Pro can stream uncompressed 3D and 1080p video and audio up to 160ft away passing through walls and floors with ease. Whether your computer is in the same room or at the opposite end of your house, ARIES™ Pro always transmits razor sharp video and audio without any latency. This powerful digital signal will not interfere with Bluetooth or Wi-Fi signals throughout your home.

Simple Plug & Play
You want it to be simple, so that's exactly what we did. There's no software required for your computer and connects directly into an HDMI port. Pairing a new transmitter is a cinch. Setup takes only a minute, making it easy to catch up with what's on your favorite shows.
Specifications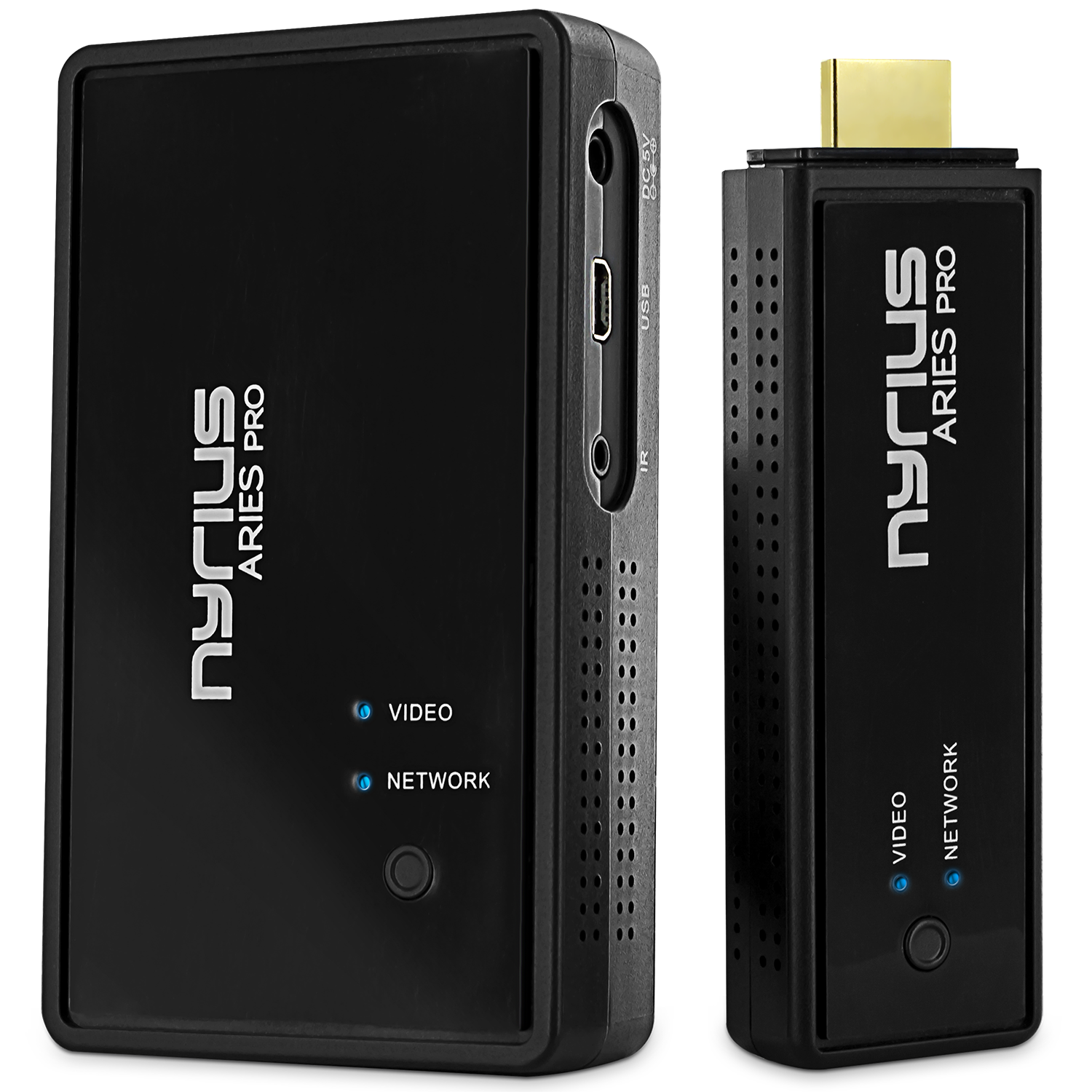 | | |
| --- | --- |
| Supported Video Resolution | TV: 1080p, 1080i,720p, 576p, 480p PC : 1024x768, 1280x1024, 640x480, 800x600 |
| 3D COMPATIBLE | Yes |
| Audio Formats Supported | Uncompressed 7.1 PCM , DTS , Dolby Digital Surround Sound |
| Video Formats Supported | TV: 1080p, 1080i,720p, 576p, 480p PC : 1024x768, 1280x1024, 640x480, 800x600 |
| Ports & Interfaces | HDMI, Mini-USB |
| Wireless Range | 160 feet open space (clear line of sight) |
| Transmission Frequency | 5.15 ~ 5.25 GHz 5.25 ~ 5.35 GHz 5.47 ~ 5.725 GHz 5.725 ~ 5.850 GHz |
| System Latency | ≤1 ms |
| Remote Control IR Frequency | 38 KHz |
| Antenna | PCB Antenna |
| Wireless Technology | GigaXtreme Technology |
| Environmental Requirements | Operating temperature: -10° to 40° C Storage temperature: -20° to 80° C Relative humidity: 15 ~ 8 5 %RH |
| Display Compatibility | Any high-definition television including 3D TVs containing an HDMI port, including popular models from these manufacturers: Hitachi, JVC, LG, Mitsubishi, NEC, Panasonic, Philips, Pioneer, Samsung, Sony, Sharp, Toshiba, Vizio, Westinghouse |
| Remote Control | No |
| Power Supply | 5V DC or USB |
| Transmitter Dimensions | 3.85 x 1.14 x 0.57 inches (LxWxH) |
| Receiver Dimensions | 3.89 x 2.2 x 0.81 inches (LxWxH) |
| Adapter Compatibility | Nyrius does not recommend using Digital to Analog Adapters with our ARIES Products, however HDMI to miniHDMI/microHDMI adapters are compatible |
| System Requirements | Any source device with an HDMI® such as a Blu-ray, PS3®, PS4®, Xbox 360®, Xbox One® or cable box. Optimized for use with a laptop or desktop system containing an HDMI port including popular models from these manufacturers: Alienware, Lenovo, Dell, HP, A |
| Standard Protocol | HDMI 1.3, HDCP 1.2 |
| Bandwidth | 20 MHz / 40 MHz |
| TX/RX Channel | 4RX / 1 TX |
| UPC | 061783266663 |
| What's Included | Digital Wireless HD Transmitter, Digital Wireless HD Receiver, External IR Remote Extender, 100-240V AC Power Adapter, 5 ft HDMI Cable, Right Angle Adapter, MiniUSB to USB Cable, Quick start guide, 1 Year Warranty, Lifetime Customer Support |
Press

TechHive Reviews the Nyrius Aries Pro Wireless HDMI Transmitter
"The Aries Pro delivers a crisp and vibrant 1080p HD signal (and supports 3D), whether you're transmitting video footage, surfing the web, or playing games. And whatever the case, I didn't notice a hint of input lag during use, meaning frantic, twitch-based shooters and other tense games are just as playable as slow-paced puzzlers."
Read the Full Review

Android Authority Reviews the ARIES Digital Wireless HDMI Transmitter And Receiver System
"The quality of the image is quite stellar"
Watch the Full Review

Desrtuctoid Reviews the Nyrius Aries Pro Wireless HDMI Transmitter
"If you need to send HD video and audio wirelessly, the Aries Pro is an excellent solution, and at about a $250 street price it's quite a bit cheaper than any of the professional products you'd have to buy to get similar results. Highly recommended."
Read the Full Review
Customer Reviews
Richard Loh

July 19, 2016

Great product that worked well with minimal/zero intervention for 2 yrs with receiver stuck to back of led tv without being switched. Repeat buy for office in Singapore and great help from whitney at customer service. Not sure though why extra transmitter is no longer available like my purchase 2 years ago with 3 transmitters and it was usd250/set then and now usd399 though whitney helped again to advise on 10% discount code.

Richard Loh

5

William John

December 8, 2015

Nyrius Aries Pro is simply awesome, very easy to setup, been using it for over 6 months now, haven't used any other brand but I am very happy with the quality, it has a good throughput to the Large TV from my laptop both which are in a medium sized conference room...Overall very satisfied...Also, Berenice from CWD Sales and Service was professional, courteous and very helpful in resolving my issue after upgraded to Win10..just had to restart the receiver from the TV..would recommend this device for HDMI wireless connectivity.

William John

5

thevideoman

October 28, 2015

I was planning to buy a much more expensive set of these, but just couldn't afford it. Luckily I came across the Nyrius ARIES Pro, which is just as good as the much more expensive brand. I would buy a second set if two could be used in close proximity. I use it in a multicam setup centered around Blackmagic Design ATEM Television Studio. I am loving it!!!
- Verified purchase from Nyrius trusted store. -

thevideoman

5

Steven M. Berwick

October 28, 2015

I do not usually write reviews, but I had to chime in on this cool little gadget. Regardless of what other reviewers have posted about whether or not this broadcasts a "truly uncompressed" signal doesn't really matter much if you are a simple home or business user that simply needs your laptop screen to be broadcasted to a TV screen with HDMI input. THIS ARIES PRO unit DOES THE JOB and DOES IT BEAUTIFULLY!! Pulling it out of the box, I simply plugged in the transmitter to my HDMI port on my laptop, plugged in the USB cable from the transmitter to an open USB port, then plugged in the receiver to an available wall outlet for power (110v AC) and plugged the HDMI cable in from the receiver to the back of the TV, changed the "source" (or "input" on some TV's) to HDMI, and bammo!! There my laptop screen showed up, bright and crystal clear! I had a regular HDMI cable running from the laptop to the TV, and I truly honestly have to say that I do not see a difference in quality! The picture is bright and clear, and there was absolutely NO LAG TIME, whether browsing the internet, watching videos on YouTube, or watching movies on Netflix. This unit from Nyrius performed flawlessly. So seriously, folks, if you are considering a wireless HDMI setup, THIS IS IT!! You WILL NOT be disappointed. So don't let all the other reviews about "poor quality", or "not a true uncompressed signal" fool you - I don't know what system they're using or what they're expecting this unit to do (perhaps restore crappy analog quality to a digital clearness?!) but it works PERFECTLY for me. And I tend to be fussy about my quality. Yes, as others mentioned, the transmitter does seem to run quite warm, but so long as it was made to be this way, then I can't complain about that either. Now I can set my laptop up all the way across the room (24 feet away for my place) and have DVD-quality video on my TV without running the lanky wires! BUY IT! You WON'T be disappointed!!!
- Verified purchase from Nyrius trusted store. -

Steven M. Berwick

5

mw

October 28, 2015

We have the NPCS550 running wireless 1080p video from the back of our Red Epic to a field monitor for crew to see what the camera is seeing. It's amazing, we looked at $3000 options from switronix and $1200 options from Teratek. For the price this is a home-run. One of the things that makes it useable is that it takes power from standard usb power sources. I was able to get a field monitor with usb power to connect to the receiver and my brother soldered a usb power socket into my switronix v-mount plate (turns out the plate already had the hole for a USB socket). We'll probably buy another of these if we can use 1 transmitter and 2 receivers together.
- Verified purchase from Nyrius trusted store. -

mw

4

El sie Nicohls

October 28, 2015

I bought this product through Amazon for use with an Epic X camera that has an HDMI port. That port works great as a 1080p monitor-out when teamed with the Aries wireless transmitter. So far I have only used the product to act as a transmitter of camera picture to a Dell 23 inch monitor which attaches to the receiver, also via HDMI.

I had to do some jury-rigging to get power to the transmitter but was able to accomplish this using a 12000 ma power bank with the right cable to plug in to the mini, micro... or whatever the specialty USB port is called that's on the transmitter. Same is necessary for the receiver unless it is close to a wall outlet.

I'll be doing a two camera shoot in about two weeks and plan to set one of them up as somewhat of an unattended robot. Using the nyrius pro digital I plan to monitor the B cam, being locked off, while operating the A cam as a mobile camera. Haven't tested yet but I think I should be able to connect to my tablet and monitor the B camera that way. With a direct remote connection, I can then turn record on or off as I see fit in order to save the media space that is utilized by the high data rate of the Ultra-high rez of the Epic camera.

Testing so far has gone well while I do notice the receiver and the transmitter seem to get pretty warm. I'm testing in a non-air conditioned environment during the middle of summer in West Texas, so I'm guessing this won't be an issue since there were none during the test. I've only done short distance use so far so I cannot attest to the 160 foot line-of-sight range advertised.

After I use this one for awhile and am satisfied the unit is solid, I may purchase another one for use with the other camera as connections to director's monitors on movie sets.
- Verified purchase from Nyrius trusted store. -

El sie Nicohls

4

Web Systems Cafe

October 28, 2015

Easy to setup, works great with no lag at all for all media I tested. Price was right too compared to other options I tried.
- Verified purchase from Nyrius trusted store. -


Web Systems Cafe

5

Marc

October 28, 2015

I use the Nyrius Aries Pro with my Red Epic Camera and it works great. If you use it with the Epic camera I suggest you get a 1ft HDMI cable and a 1ft Mini Usb to Usb cable. I attached it using an L bracket and some velcro. I did spend a lot on a D tap to USB (about $100) from Paralinx which sells the "Cinema" Version of this product.

1ft HDMI
[...]

1ft Mini Usb to Usb
[...]

PARALINX PTAP to USB Regulator Power Cable
[...]
- Verified purchase from Nyrius trusted store. -

Marc

5

jlmuszyn

October 28, 2015

I purchased this product in order to send a wireless HDMI signal from my dvd bluray player to my projector located on the other side of the room. The product worked right out of the box. A few helpful tips for someone working with this setup. The transmitter requires a USB connection for power, so if you are not transmitting from a laptop, you are going to need a usb to wall adapter in addition to supply power. I cannot tell the difference between using the wireless and the wired connection with a Blu-ray Disc. The quality looks clear and there is no delay between the picture and sound. The unit comes with no instructions and I spent about 5 minutes on their website trying to locate a manual. I never found it and just figured it out myself. There is a customer support phone number that is available during business hours. This unit saved me having to go under the house to run an HDMI cable.
- Verified purchase from Nyrius trusted store. -


jlmuszyn

5

Mark

October 28, 2015

I got this to use with my iPad. Apple TV limits what is wirelessly streamed, like Amazon Prime. So using an Apple HDMI adaptor with this product made since, and works great. You do need a USB power source for the transmitter so I am running a small USB battery pack with it. Using a full case for the iPad I velcroed the transmitter and the USB battery pack on the back. System works great. The video quality is the same with running a cable and I do not notice any lag. With large video transitions, like closing a video clip then opening another the system does get a blank screen now and then. After about 3 seconds it picks back up again. But this is only with large video hungry full motion clips. Streaming a movie etc. over it is seamless.
- Verified purchase from Nyrius trusted store. -

Mark

4

Kyle Conner

October 28, 2015

Nyrius Aries Pro works just like its counter parts that cost up too 3 and 4 times as much. I would recommend this device to anyone looking for a compact wireless system. Works with Canon 5DmkII & mkIII, Sony FS700, Red Epic-X, Red Epic-M Dragon. Also it does seem to work at more then 160 ft something more like 250 ft.
- Verified purchase from Nyrius trusted store. -

Kyle Conner

5

gone _west

October 28, 2015

I got this to stream from a laptop to a large screen television. It was a plug and play installation, without gotcha's. There is no perceptible lag or stuttering; the picture and the sound match. What I see on my laptop I see on the Big Screen, including slideshows from my picture files as well as content delivered through the internet. The only thing I had to do to get to five stars was adjust the color settings on the nvidia graphics card inside the pc. Before adjusting the nvidia card the images on the large screen television had a faded dull look.

Before buying and installing this product, I tried the Google Chromecast device for streaming from the pc to the large screen television. I could not get consistent sound and image alignment. The Chromecast lagged and stuttered. To broadcast an espn360 game, amazon prime or a local picture (but no slide show whatsoever) required kludge workarounds, and not worth the extra effort given the lag and stuttering.

In my opinion, the Nyrius Pro does what it says it will do and does it well. The Chromecast is a half baked product, more tease, than performance.
- Verified purchase from Nyrius trusted store. -

gone _west

5

Jason

October 28, 2015

Works exactly as advertised. No interruptions whatsoever. I'm very happy with this product. I've had it for several weeks now and honestly was expecting some sort of interference or drop out issue. NONE at all!
- Verified purchase from Nyrius trusted store. -

Jason

5

OCDC

October 28, 2015

We had purchased through BHPhoto a very high end WSDI system for sending wireless video from our camera rigs to a reference monitor. We also wanted to be able to use the device on multicam live productions to minimize the labor of laying cable.

Needless to say, the high end ($2000 per unit) did ok for simple camera to field monitor, close range, but not so much for live events where drop outs or interference is unacceptable.

So we returned the high end system, purchased these to try, and in my opinion... Its the same hardware... Just cased differently. So basically the $2000 pro cine models are nearly identical hardware, recased, and modded perhaps with an HDMI to SDI input adapter.

What these are GREAT for: Sending HDMI HD 1080 Video across a room in a non-critical environment (meaning youre simply viewing, not relying on it to record or stream live). You can use it on a laptop in a presentation environment. Send HDMI from a moving camera to a reference monitor for the director to watch. HOWEVER, you really do need line of sight between the transmitter and the receiver. Even at 10-20 feet, drop outs can happen if the transmitter moves around corners, into another room, or is behind a closed door. We setup our receiver (Rx) on a C-Stand, and raise it up in the air, because even people, bodies, etc, in a crowded room can cause the occasional glitch. Line of sight, unobstructed, <30-40 feet and it works rock solid.

Dont count on it for critical feed solutions, such as to a record deck, switcher, or live stream event. Run HDSDI.

Also, these units dont fair well outdoors. Likely because the Rx relies on the Tx's signal from bouncing off walls. In an open space, the signal has nothing to contain the feed... So distance and line of sight become even more critical.

For the money, the unit IS handsdown the best WHDMI solution out there. Skip the $1500-$3000 models from pro-video suppliers. This is the same thing. Unless youre going to drop $20,000+ on a truly pro-wireless setup, this is your unit.

Lastly, in regards to delay, the image is visually delay free. Likely 1 frame behind... which isnt noticable to most people. However, if you run this in a setup where other gen-lock sync events occur, that 1 frame (plus other 1 frame delays introduced by other hardware) may become an issue.
- Verified purchase from Nyrius trusted store. -


OCDC

5

Nuk

October 28, 2015

The Nyrius Aries Pro wireless HDMI is such an amazing product that opens up a lot more flexibility and convenience for our digital entertainment experience.

What's in the box:
- Wireless HDMI transmitter
- Wireless HDMI receiver
- 100-240V AC power adapter
- 5-foot HDMI cable with a right-angle (elbow) HDMI adapter
- Mount for the receiver w/Velcro (if you want to attached the receiver to your HDTV)

Video game consoles:

I have our Xbox normally hooked up to a 42" HDTV in the living room, but sometimes we want to connect it to a projector when we have a small party or when my son has sleepover. I have all the necessary adapters and cables already but I would have to move the Xbox close to the projector which is always a hassle. Using the Nyrius wireless HDMI, I don't even have to take out the Xbox from the entertainment center. I can now project the content on the wall which produces the biggest screen as possible in the house. Whether it is video games, movies, or just browsing the internet, you can do it all. My kids can now play Halo, Rayman and their other favorite games. (Note: Games that use the Kinect will not work properly unless you get an extension to place it in front of the screen. Skylanders or Disney's Infinity use a portal that will require you to run back and forth to change characters.)

Laptop:
It is even more convenient using a laptop with an HDMI output. It doesn't need a separate power source because the laptop's own USB slot can supply the HDMI dongle the power it needs.

BluRay player:
Easy as Plug and play.

DSLR camera with HDMI output:
Most cameras have the micro HDMI output. You may need an adapter to regular HDMI and probably a female to female HDMI adapter.

No audio output from a projector?

I got the same problem before as both of my HD projectors doesn't have an audio output. I wanted to hook up the big speakers with a subwoofer but HDMI will not allow you to do that. Initially I solved it with an HDMI to VGA adapter which works fine except it is a low res VGA. Now I got this J-Tech HDMI to HDMI & audio adapter (B00G9FDJNA)to send out HDMI res plus a separate audio output I need to drive my speakers. This only extracts stereo, you may want to look for other products which are available now that has optical output and 5.1 audio.

I even saw a video using the Nyrius Aries Pro flying strapped on an RC chopper broadcasting a live aerial HD video to a monitor.

This is just an awesome product. I still remember when just an HDMI cable will set you back 50 bucks a pop. Now, you get the convenience of wireless transmission.

A sample of this product was sent to me for review purposes.
- Verified purchase from Nyrius trusted store. -

See all reviews

Nuk

5