Overview

Premium Features
Skillfully timbre matched 5 speaker system that will envelope you with cinematic, theater quality sound at home.
Premium components ensure superb sound and dynamic, full range audio reproduction.
Engineered MDF wood construction to reduce cabinet resonance and provide a warmer more natural sound.
High performance soft dome tweeters provide accurate high frequency response; Powerful 5 inch polymer-treated midrange drivers for delivering a rich, clear, room filling experience.
Industry leading full lifetime parts and labor manufacturer's direct warranty with lifetime customer support.
The movie theater experience now playing in your living room. The Fluance AV5 Home Theater System accomplishes just that. Combining two powerful bookshelf loudspeakers, and timbre matched center channel and surround sound speakers this system ensures you are bringing the theater experience home. The AV5HTB is engineered with only premium components that will successfully recreate a movie's sound effects as they were meant to be heard. So sit back, relax, turn down the lights and enjoy your favorite movies in true Fluance sound.
Movies Like Never Before
A muscle car roars by, gun shots go off behind you, and a helicopter flies over head… you realize you are sitting in your living room. Fluance has just successfully accomplished what it set out to do, bring the theater experience home. The AV5HTB ensures that you can enjoy all your favorite movies in true surround sound. From thrilling explosions to bone-chilling sound effects, you will appreciate paramount performances like never before.

Big Speaker Sound, Serious Performance
Fluance believes everyone should experience audio in it truest form. The AV5HTB takes that vision and develops it into a powerful home theater speaker system. From the high performance drivers, to the premium silk dome tweeters, this system will execute a more accurate and natural sound for years to come. The combination of high-quality components and a rich black ash finish result in speakers that look great and sound even better. Engineered MDF wood construction significantly reduces cabinet resonance and distortion for impeccable audio. Whether watching your favorite movies or listening to your vinyl records, the AV5HTB will encapsulate with a soundstage you would expect from a much larger system.

A Passion for Great Audio
Fluance has successfully revolutionized home audio. Utilizing only superior components and expert audio engineering, the AV5 is a testament to the performance that can be achieved when a passion for music takes center stage. The AV5 uses engineered MDF wood for a warmer more natural sound, unlike plastic cabinets which do not create quality audio reproduction. The perfect complement to any audiophile's lifestyle, you'll be enjoying live performances in your home for years to come.
Specifications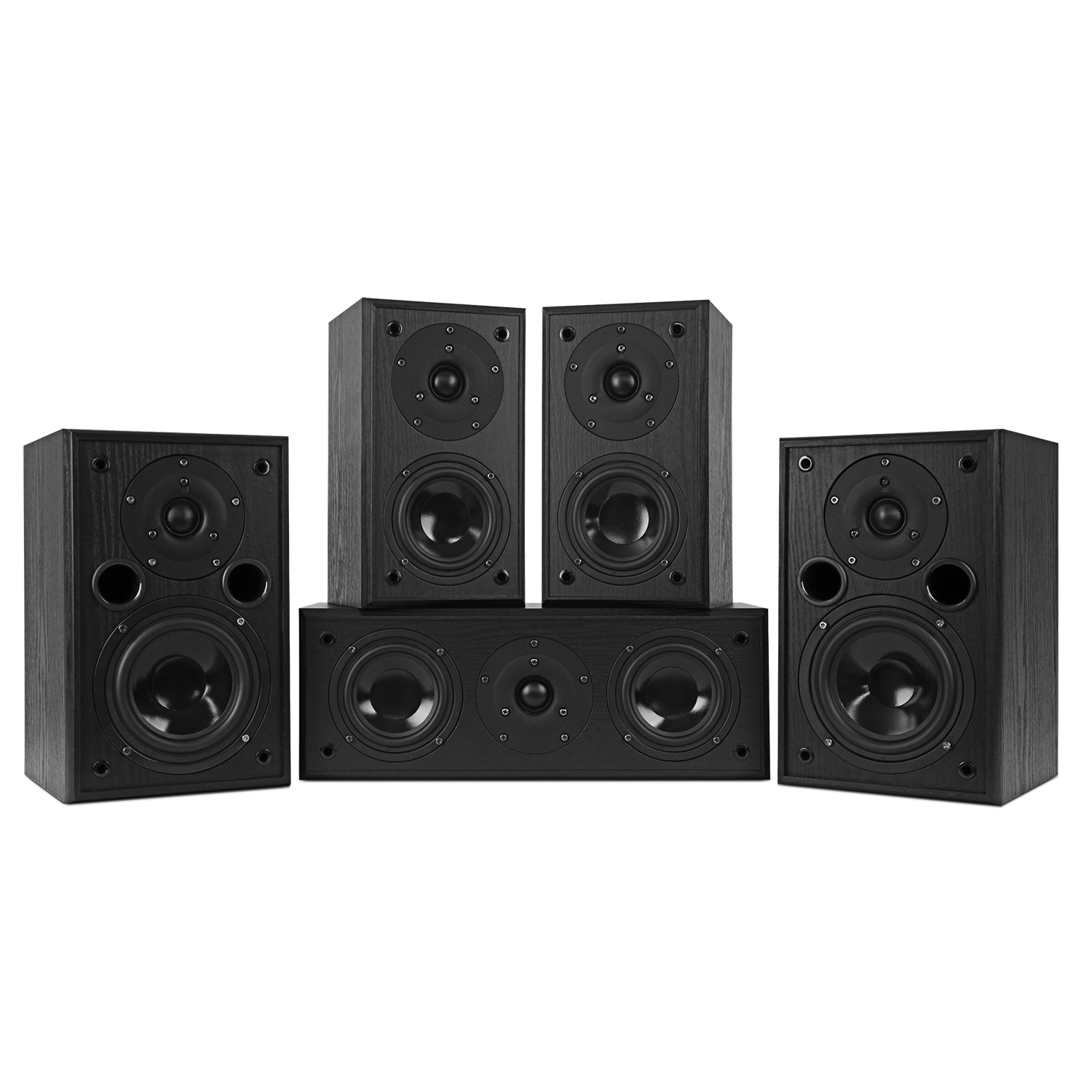 Center Channel Specifications
▼
Speaker Configuration
2 Way - 3 Driver Center Channel
Tweeter
3/4 inch Titanium Soft Dome Ferrofluid Cooled For Longer Life
Woofer
Dual 4.0 inch Poly-coated Drivers
Power Handling
10 - 100 Watts
Frequency Response
120 - 20K Hz
Sensitivity
86±2dB
Crossover Frequency
4000 Hz Phase Coherent - PCB Mounted Circuitr
Impedance
8 Ohms
Enclosure
Acoustic Suspension Design
Dimensions
6.0 X 16.2 X 6.6 inches
Speaker Weight
9.0 pounds
Frequency Response Graph

Click to Expand

Bookshelf Speakers Specifications
▼
Speaker Configuration
2 Way – 2 Driver Bookshelf Loudspeaker
Tweeter
1 inch Soft Dome Ferrofluid Cooled
Woofer
5 inch Poly-coated Driver with Butyl Rubber
Power Handling
10-100 watts
Frequency Response
70-20KHz
Sensitivity
87dB
Impedance
8 Ohms
Enclosure
Tuned Front Port Bass Reflex Bookshelf Design
Dimensions
11 x 7.5 x 8.5 inches
Speaker Weight
9.0 pounds/speaker
Frequency Response Graph

Click to Expand

Surround Speakers Specifications
▼
Speaker Configuration
2 Way - 2 Driver Surround Speaker (Wall Mountable)
Tweeter
1 inch soft Dome Ferrofluid Cooled for longer life
Woofer
4 inch Poly-coated Driver with Butyl Rubber
Power Handling
30 - 100 Watts
Frequency Response
120Hz - 20KHz
Sensitivity
87dB
Crossover Frequency
7000 Hz PCB Mounted Circuitry
Enclosure
Acoustic Suspension Design
Dimensions
9.7 x 5.9 x 6.2 inch
Speaker Weight
5.25 pounds
Frequency Response Graph

Click to Expand

Certifications
CE Certified
Subwoofer Included
No
Fluance Speaker Size Comparison Chart

UPC
061783263082
What's Included
One Center Channel Speaker
Two Bookshelf Loudspeakers
Two Rear Surround Sound Speakers with Integrated Wall Mounting Brackets (keyhole slots)
Instruction Manual
Full Lifetime Parts and Labor Manufacturer's Direct Warranty
Lifetime Customer Support
Customer Reviews
Amazon Customer

May 31, 2017

very excellent speakers going to buy more - Verified Store

Amazon Customer

5

Colin M

May 18, 2017

Sounds great!! - Verified Store

Colin M

5

Tim C

May 17, 2017

System rocks. Was worried going from late he to swall speakers but have been proven wrong. - Verified Store

Tim C

3

YVES

May 15, 2017

I am very pleased with he sound comes out the Fluance speakers. I will also consider to purchase a power sub to fully complete the set.Love it! - Verified Store

YVES

5

James Waner

April 20, 2017

I was reluctant to make this purchase thinking that the low price probably indicated low performance but I was wrong. Completely wrong. The AV5HTB is a pleasant surprise. Great sound, good looks and an amazing value.

James Waner

5

Anything T

April 17, 2017

I have to say that I was quite impressed on the sound quality of this speakers. Still have some adjustments to do and currently waiting on the speaker stands to be delivered but boy did it sound good. The build quality was impressive as well, matched the rest of the entertainment system. This by my account, would be a definite 'must buy' for those looking for big sound for a small place. The one thing I would like to point out is that the center speaker is big so make sure you have the cabinet space for it. Great buy!!!! - Verified Store

Anything T

5

Cory G

April 5, 2017

Great sound, moderate price. I went to the movies with the gf a few weeks ago and she said my basement home theater sounded better. As a nerd, I took this as a great sign that the sound quality is noticeable to someone who really doesnt care very much about things like surround sound and noice quality. - Verified Store

Cory G

5

John Connolly

March 20, 2017

I have had my eye on Fluance for years, but was reluctant to pull the trigger on something that I couldn't listen to first. When I was shopping for a smallish outfit for my man cave at $150 I figured how can I lose, they have to be at least as good as a Monoprice set right. Wrong, they are not only better than anything Monoprice has ever even dreamed about producing, they would probably give the acclaimed Pioneer systems a good run. Definitely better than anything I have heard at Best Buy. I'm talking working class Best Buy, not Magnolia stuff. If you are thinking about it, just do it. Fluance has a tendency to discontinue lines just as you're starting to lean that way.

John Connolly

5

Amazon Customer

February 25, 2017

Great speakers for the price. Researched all brands and read many reviews before deciding on the Fluance. Paired them with a Marantz receiver and the sound is great. Quality built. - Verified Store

Amazon Customer

5

Otto B

December 4, 2016

These speakers are perfect for my setup. I live in a small apartment and these sound great! - Verified Store

Otto B

5

tminsart

December 2, 2016

Outstanding product. I replaced my old Klipsch with these and couldn't be happier. Great value for the price. - Verified Store

tminsart

5

Donald

November 21, 2016

Good value, paired with Denon AVR-S510BT receiver and Polk Audio PSW10 10-inch powered sub. Music sounds terrific, TV sound good, movies very good. Only caution- pay attention to the dimensions, because these are bigger than you think. I had planned to replace ceiling-mounted 'surround sound in a box' speakers front and rear, but the fronts are now wall mounted next to the TV because they looked pretty silly given their large size. As long as you note the dimensions and they work in your space, I think you'd be hard pressed to find a better value for a mid-range home theatre. - Verified Store

Donald

4