Overview
Offering an exciting performance in any listening environment, the AVC is a flawlessly made two-way center channel speaker. Featuring superb sound radiation and rich timbre, the AVC is the perfect choice for any well balanced home theater system. Plus, with top reproduction qualities in both music and dialogue, you'll feel as if you're part of the on-screen experience.









Designed for today's high definition audio, the AVC performs exceptionally in Dolby Surround and DTS systems. Placing you in the center of the action, from the smooth vocals of your favorite singer, to a movie's spine-chilling sound effects, the center channel speaker sits above or below your HDTV to project distinct vocals and sounds for your enjoyment.

Premium Components Ensure Serious Performance
The AVC center channel's superior tweeter produces high frequencies with captivating clarity at all volume levels. This center channel's dual midrange drivers are essential to hearing the notes that are most easily recognized by the human ear. Vocals and speech have never filled a room so vividly, bringing the listening experience to life with every scene and soundtrack.

Engineered Wood Cabinetry
This Fluance Classic Series center channel speaker has been precision-crafted to ensure a natural, distortion-free sound. Utilizing only premium components and boasting a classic black ash finish, the AVC offers a pure listening experience that will harmonize perfectly with any modern living area.
Specifications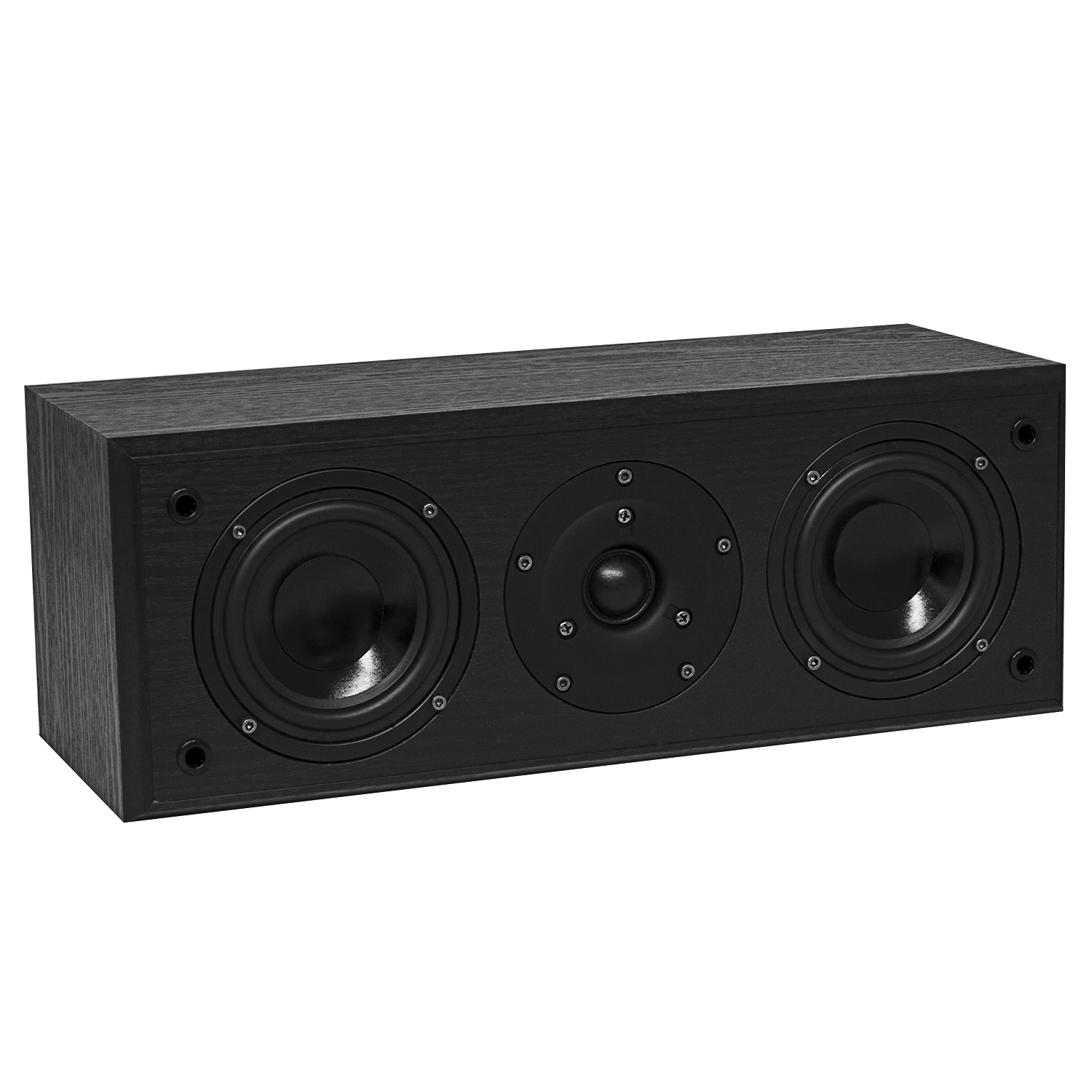 Speaker Configuration
2 Way - 3 Driver Center Channel
Tweeter
3/4 inch Titanium Soft Dome Ferrofluid Cooled For Longer Life
Woofer
Dual 4.0 inch Poly-coated Drivers
Power Handling
10 - 100 Watts RMS
Frequency Response
120 - 20K Hz
Sensitivity
86%C2%B12dB @ 2.83V / 1m
Crossover Frequency
4000 Hz Phase Coherent - PCB Mounted Circuitr
Impedance
8 Ohms
Enclosure
Acoustic Suspension Design
Dimensions
6.0 X 16.2 X 6.6 inches
Speaker Weight
9.0 pounds
Series
CLASSIC
Certifications
CE Certified
Subwoofer Output
No
Frequency Response Graph

Click to Expand

Fluance Speaker Size Comparison Chart

UPC
061783257593
What's Included
One Center Channel Speaker
Instruction Manual
Full Lifetime Parts and Labor Manufacturer's Direct Warranty
Lifetime Customer Support
Customer Reviews
chris b

February 21, 2019

California, United States

I bought these based on owning a pair of the Elite bookshelf speakers. The Elite speakers were so good i wanted to fill my house up with more sound, and I found a nice Pioneer Elite Reciever to build a home theater around. Most of my listening is to music on CD's, but I also am watching more and more concerts and appreciate the center channel which allows the focus of the producer to be heard much better than simple stereo. As others have noted the sound quality improves with age. My suggestion is listen to music all the time. Have Fun! my next purchase will be the BiPolar surround speakers.

chris b

5

Larry K

March 19, 2017

Looks good but doesn't fit in space ( my bad) so haven't used it yet. - Verified Store

Larry K

4

Diane E

December 17, 2016

Great sound! - Verified Store

Diane E

5

R. M

August 19, 2016

This replaced a small Energy brand speaker. Seems like the overall sound in my system is fuller and voice clearer, but I was expecting it to be more dramatic. Overall Satisfied with it as a center speaker. Nicely packaged to protect it in shipment. -Verified Store

R. M

4

k.crawford

June 26, 2016

The best center channel on the market, super crisp and clear with full range when needed. -Verified Store

k.crawford

5

Mike

June 9, 2016

Absolutely perfect. I didn't know what I was missing until I had these. -Verified Store

Mike

5

Amazon Customer

May 23, 2016

There hasn't been one friend who has been to my house and heard this FLUANCE SYSTEM in action and had anything bad to say about it...One of my friends offered to buy it from me, NO WAY!!!!!!! Trust me you won't be disappointed. .... -Verified Store

Amazon Customer

5

Thomas N

May 1, 2016

Better than I expected. Slightly on the bright side, but that's just what this hard-of-hearing veteran needed. All dialog ( Lima Charley ). -Verified Store

Thomas N

4

Dimitry B

April 14, 2016

amazing sound !!!! -Verified Store

Dimitry B

5

Luke N

March 7, 2016

Great value! This center channel speaker performs extremely well, especially at this price point. I have a mid-range Pioneer receiver and XL7F Fluance towers. The dialog in movies was being overpowered by the other sounds, so I decided it was time to get a center channel speaker. After researching countless models, including in-wall speakers and +$500 speakers, it was difficult to go with anything else. The money-back guarantee, reputation, reviews, and experience gave me the confidence to make the purchase. I wish I had bought them sooner. Not only do they look great, they sound awesome. -Verified Store

Luke N

5